There are a couple reasons I made this cake.  First of all, it was my Bill's birthday this past Friday, the 5th of July.  Growing up, Bill used to love Suzy-Q's, those spongy little Hostess chocolate cakes with the fluffy and creamy white filling.  Secondly, using my great-aunt Margery's Devil's Food Cake combined with a white frosting a professional baker gave me years ago, the finished cake tastes like a Suzy-Q, except I made it in the form of a layer cake.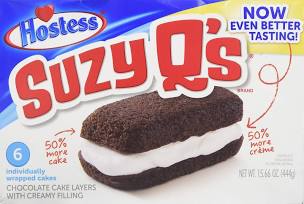 Aunt Margery's cake is the recipe my mom used many times for family birthday celebrations.  It can easily be made into a 9-by-13-inch size, two 8-inch round or square cakes, or cupcakes.  I have no idea where Aunt Margery got the recipe, but I remember as a child she used to listen to a radio program where she lived in Iowa, and people would call in and give the listeners their favorite recipes.  As she listened to the program, Aunt Margery used to jot down the recipes with any scrap of paper she had nearby.  I even found some of her recipes scribbled on the inside of her checkbook. This recipe could have been from that radio program, but who knows.  Wherever it is from, it's a keeper.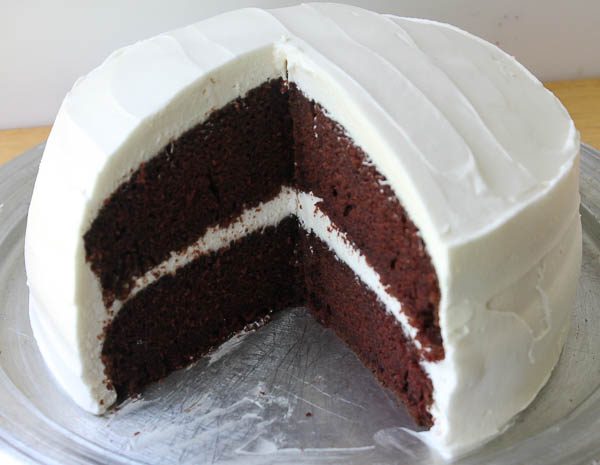 The cake is best made and frosted the day before.  Cover and refrigerate overnight.  It not only cuts better, but gives it time to set and become even more moist!  It will keep for several days if refrigerated.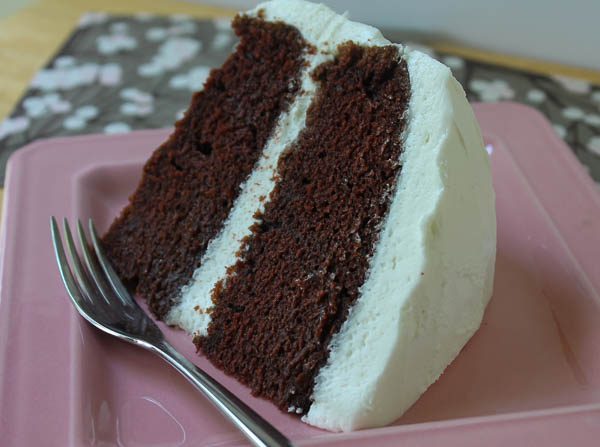 Aunt Margery's Devil's Food Cake
Ingredients
3 cups all-purpose flour
2 cups granulated white sugar
2 teaspoons baking soda
1 teaspoon salt
6 Tablespoons unsweetened cocoa powder
¾ cup vegetable or canola oil
2 cups lukewarm water
2 Tablespoons white vinegar
1 teaspoon vanilla extract
Instructions
Heat oven to 375 degrees. Grease and flour two 8-inch round cake pans, set aside.*
Sift the dry ingredients together into large bowl of electric mixer.
Add all remaining ingredients and beat until well blended. Mixture will be on the thin side.
Pour into prepared pans. Bake for about 30 minutes or until a tester inserted in the center comes out clean.
Remove pans from oven and place on wire racks to cool for 10 minutes. Turn out of pan and cool completely before frosting.
Note:* Cake can be made in a 9-by13-inch pan, two 8-inch round or square cake pans, or can be made into cupcakes. Cupcakes will not take as long to bake.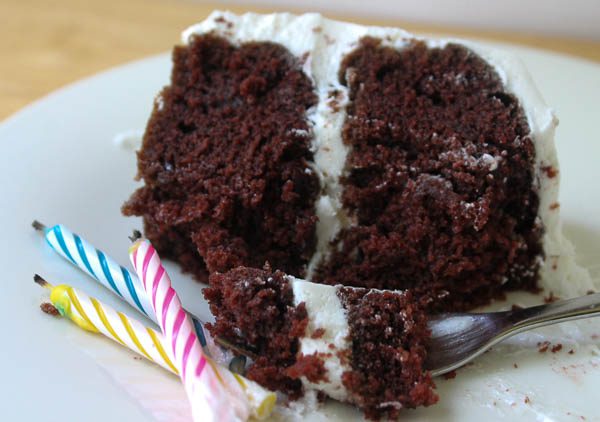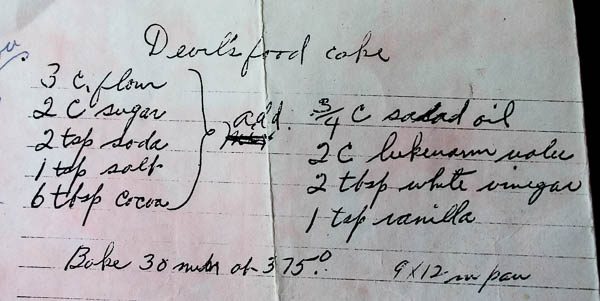 Aunt Margery's original handwritten recipe that I have had in my recipe box for decades.  She rarely wrote out an entire recipe with instructions!
Note on this frosting:  It makes a lot, but I am always glad to make a full batch because it freezes well for months.  It really does taste like the Suzy-Q filling, and the cake really does too. Happy Birthday, Bill!  You are going to be asking for this cake and frosting again.
White Butter Frosting
Part 1: Blend until smooth and fluffy:
1 pound tub solid vegetable shortening (Crisco)
1/2 pound butter
1-1/2 pounds powdered sugar
1/8 teaspoon salt
Part 2:  Mix with a fork:
1/2 pound powdered sugar
4-1/2 teaspoons meringue powder (good to add, but not essential)
1/3 cup water
2 teaspoons vanilla extract
Place Part 2 into Part 1.  Beat 5 to 10 minutes or until light and fluffy, like whipped  cream.
This makes a lot of frosting.  Not all will be used for the cake, but the frosting freezes well and will keep for 6 moths or more.