"Is this Heaven?"
"It's Iowa."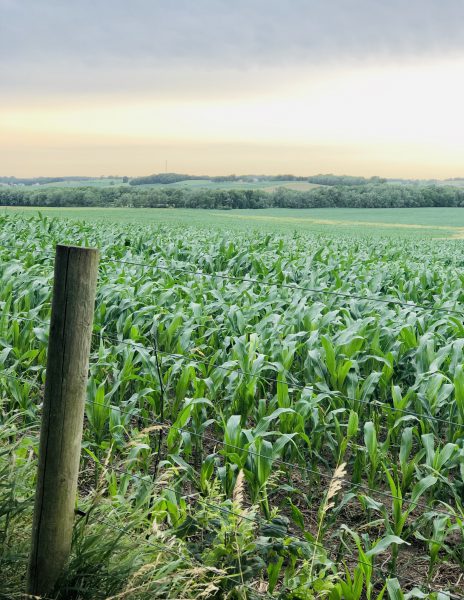 I always loved that quote from Field of Dreams because I have always thought of Iowa as a little piece of Heaven.  Every summer and sometimes in between, I spent many happy times in rural Iowa to visit my great-aunt Margery, who I wrote about in my last blog about her wonderful Devil's Food Cake recipe.  I loved playing in the cornfields, jumping in the corn silo, awakening to the haunting yet pleasant sound of the mourning doves outside the window, then smelling whatever Aunt Margery was making for breakfast.  I still smile every time I think of those times.
Many of my pioneer ancestors traveled across the country in covered wagons and decided to settle in Iowa, in the rural towns of Olin, Anamosa, and Wyoming, where my Aunt Margery lived.  Anamosa is where one of my favorite artists, Grant Wood was born.  Wood's most famous work is considered to be American Gothic, but my favorites are his landscapes.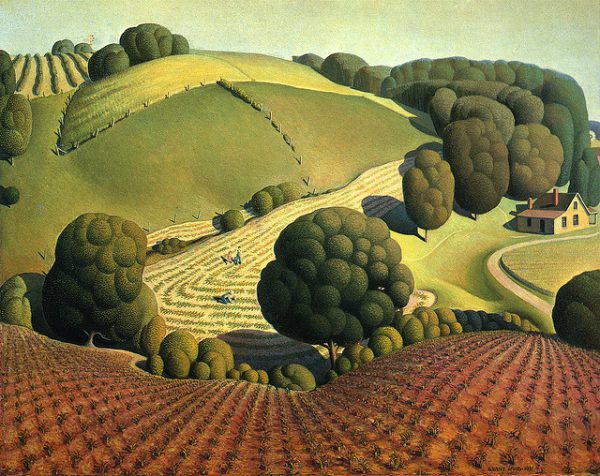 My daughter Kara found another new favorite, a Grant Wood cookbook!  This American Gothic Cookbook has recipes from Grant Wood himself, his sister, friends, and fans of his work.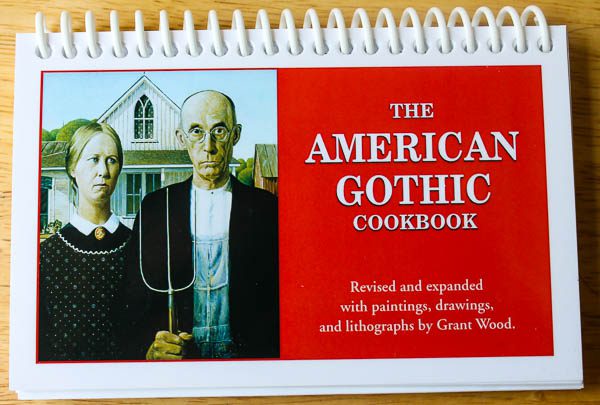 Do you know who were the models for this painting?  Grant Wood's sister and his dentist!
Grant Wood was known to love picnics, so what better recipe to try than his own favorite potato salad.  The potatoes must still be warm to start this salad and then chilled until cold.  It's really good!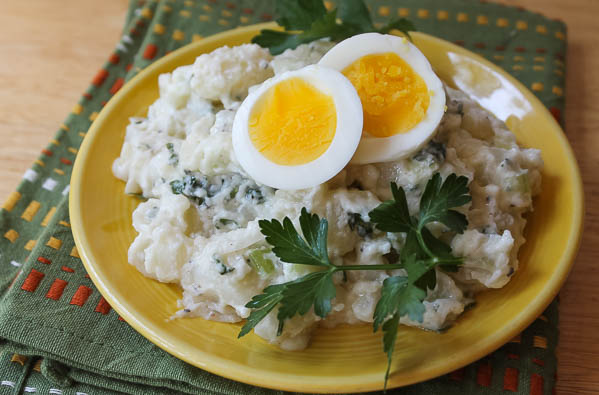 For such a small cookbook, there are lots of recipes.  Some other ones that sound good include Poppy Seed Rolls, Duckling with a honey sauce, Picnic Bean Casserole, Nan Wood's Stuffed Cabbage, American Gothic Cheese Loaf, Pumpernickel French Bread (Wood studied in France), Corn-on-the-Cob Iowa Style, Hot Green Pepper Jelly, Corn Relish, Rhubarb-Strawberry Jam, Sour Cream Drop Cookies, Grant Wood's Strawberry Shortcake, Rhubarb Upside Down Cake,  Granny Pie, and Grandmother's Kuchen.
Grant Wood's Potato Salad
Author:
The American Gothic Cookbook
Ingredients
6 potatoes, cooked in skins, peeled while hot
1 large clove garlic, halved
½ cup salad oil or canola oil
3 Tablespoons white vinegar
1 teaspoon salt
½ teaspoon ground black pepper
1 small onion, grated or thinly sliced
3 Tablespoons minced parsley
½ cup diced celery
2 to 3 Tablespoons chopped pickle
Mayonnaise, enough to bind salad
Hard-cooked eggs for garnish
Instructions
Cook, peel, and dice potatoes while still warm, as directed in ingredient list.
, Rub a salad bowl well with the cut garlic. Add the oil, vinegar, salt, pepper, and parsley to the bowl; blend well.
Add the diced or sliced warm potatoes to the dressing in bowl and carefully toss. Gently stir in the celery and pickle.
Cover and immediately refrigerate for at least several hours. Stir in enough mayonnaise to bind salad together; mix well and either serve immediately or refrigerate again until serving time, Before serving, garnish with sliced hard-boiled eggs, as many as you like.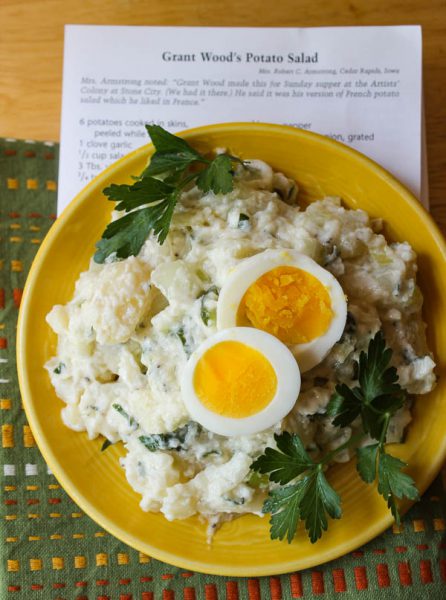 "All the really good ideas I ever had came to me while I was milking a cow." — Grant Wood. …