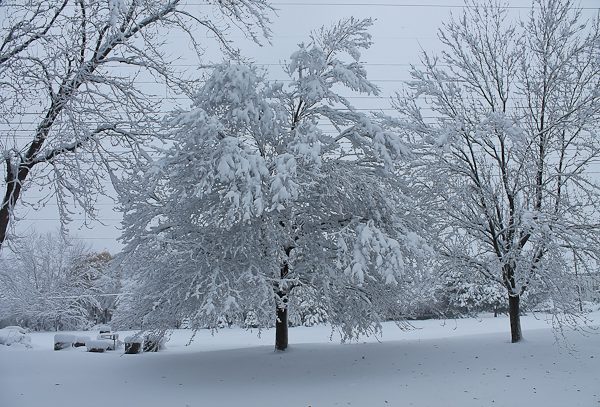 Such crazy winter weather has been experienced all over the country.  Here in the Chicago area, we even hit a 40 degrees below zero wind chill factor at one point.  My backyard looks like this at the moment, and it's certain more will come as winter is far from over.  When it becomes freezing with a blanket of beautiful snow, I head to the stove to make something warm and comforting.
I found many hot beverage recipes this winter from a small but lovely cookbook with a title that would capture images of keeping warm on a cold day:  A Cozy Book of Coffee & Cocoas, by Susann Geiskopf-Hadler.  I received this book from Christina Conte of christinascucina.com 
Christina knew my daughter, also a Kristina, when Kristina lived in Los Angeles.  When Kristina moved from LA to New York City several years ago, she had a giveaway of most of her cookbooks to fellow blogger friends.  Many came over to go through the books and other kitchen items, and Christina was one of them.  When Christina heard about the flood last summer that destroyed most of my cookbooks, she sent me a box of books with a lovely note saying that some of them had belonged to Kristina and she wanted me to have them back.  I don't recall which ones were Kristina's but they are all great!
Such a nice selection!  I plan on diving into all of them.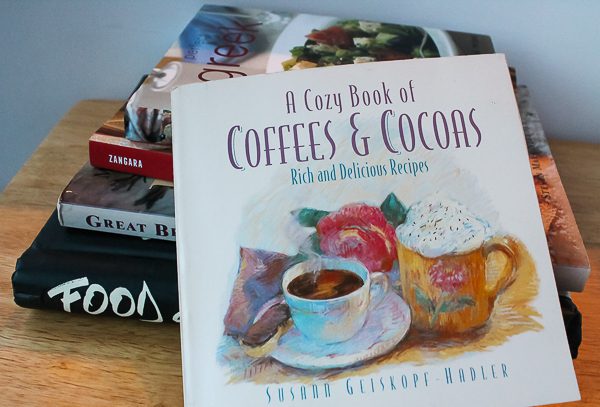 I have loved using The Cozy Book of Coffees & Cocoas in the last couple months and decided it would be the one to write about as I am gazing out at new fallen snow this morning.  The hot coffee and espresso recipes offer a Yule Latte with eggnog, powdered white chocolate, hazelnut syrup, cinnamon, and nutmeg.  Caramel Hazelnut cappuccino adds caramel and hazelnut syrups to the espresso.  A Canadian Coffee has shots of Kahlua, Amaretto, and Bailey's Irish Cream into dark roast coffee and topped with whipped cream.
My favorite hot chocolate recipe is the Orange Spice Hot Chocolate.  It smells so good with cinnamon, nutmeg, and a little orange extract in the Dutch process cocoa.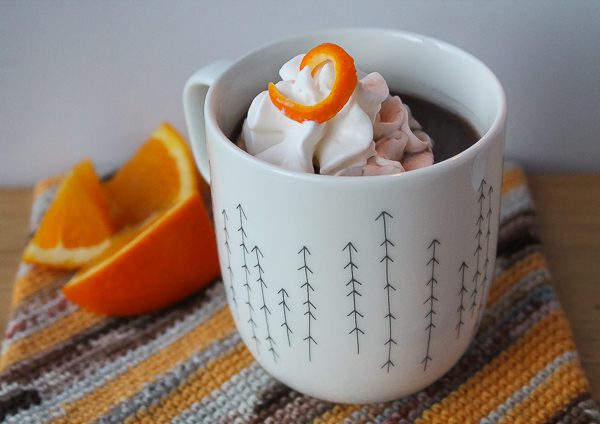 Be sure and check out Christina's website.  Her recipes are amazing!  It's so funny that I chose to make a hot chocolate because after I made and photographed it, I went to Christina's page to see what she had up for today.  Yep – a hot chocolate!  We must have been on the same wavelength.
Thank you for all these lovely cookbooks, Christina!  I'll be making more from all the books and checking out your site often, as I love how you have so many British and Scottish recipes and I happen to be of almost 100% British and Scottish heritage; except….for the love of haggis.  My Scottish blood has not taken a liking to that just yet.  Maybe you can convince me with your haggis stack recipe on your site.  It looks amazing!

Orange Spice Hot Chocolate
Author:
Susann Geiskopf-Hadler
Ingredients
2 Tablespoons Dutch process cocoa
2 Tablespoons granulated sugar
⅛ teaspoon ground cinnamon
Pinch of freshly grated nutmeg
Pinch of salt
¼ teaspoon orange extract
¼ cup hot water
1-1/2 cups low-fat milk
Garnish: Whipped cream, orange slices or zest strips (optional)
Instructions
Place cocoa, sugar, cinnamon, nutmeg, and salt in a saucepan. Gradually whisk in the orange extract and hot water.
Heat over medium-high to a rapid simmer and cook for 2 minutes, stirring constantly. Gradually pour in milk, whisking to incorporate, and heat through but do not boil.
Remove from heat and beat with a hand mixer until slightly foamy, if desired, or add a dollop of whipped cream. Serve immediately. Serves 2.