Hands down, these are my husband's favorite Christmas cookie.  They are the first ones made every year.  Unfortunately when the Culinary Cellar flooded the recipe was lost.  It was published in December 1978, in what was the last issue of Sphere magazine.  It was called "Sphere's Cuisine" for that month because in January the magazine was then renamed just "Cuisine."  But fortunately because of my wonderful readers, every issue of Sphere was mailed to me, and over the course of a year, I had the full set back on the shelves, and of course the cookie recipe.  I have the best readers.
Sometimes you will see these cookies called "Neopolitan Cookies," with the ribbon look of different flavors.  I have seen many variations but these are our favorite.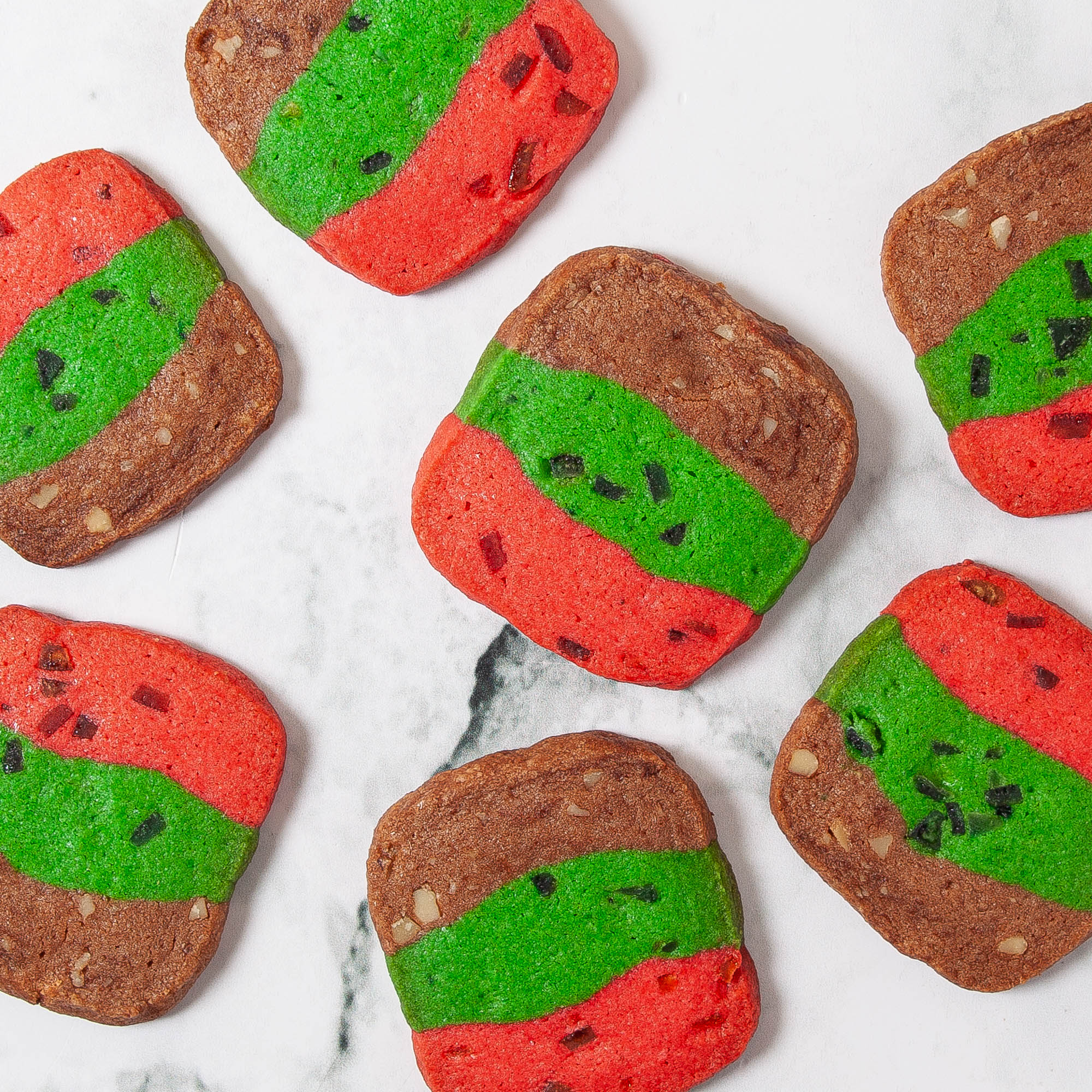 If you are wondering why I have a photo of wax paper below, it's because it is the perfect size box to hold the cookie dough while it chills and keeps the square shape.  I have tried different boxes of wax paper or foil, but the Reynold's Cut-Rite Wax Paper box is the exact size needed.  (No, I am not paid to say this!) After removing the wax paper roll from the box it is lined with pieces of wax paper to hold the dough and makes it easy to remove after chilling.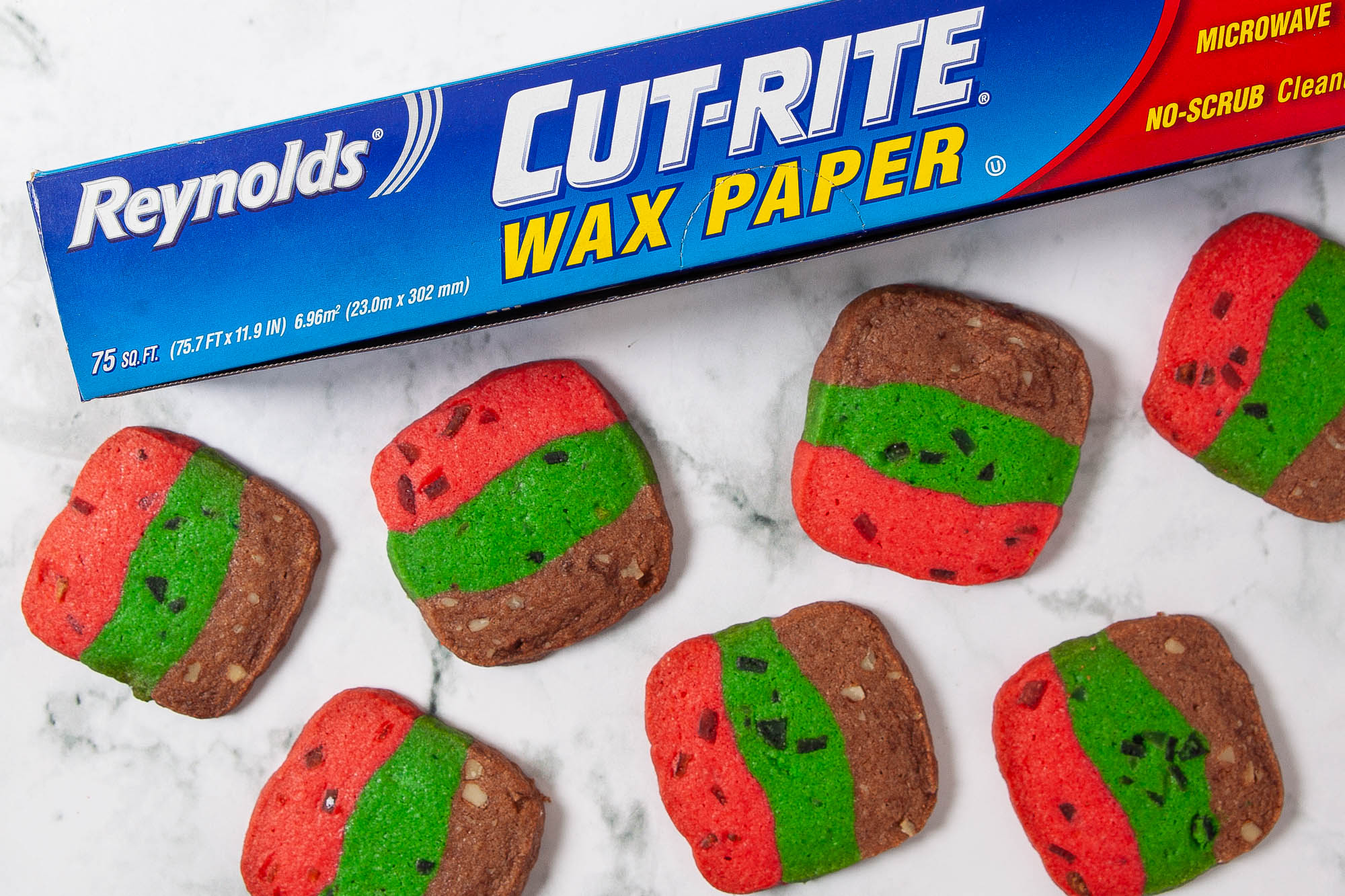 The dough is mixed and then divided equally into thirds.  One part is tinted red with chopped red candied cherries; the next part is tinted green with chopped green candied cherries; the last layer has melted unsweetened chocolate and chopped walnuts.  Each layer is patted separately into the box, the box is then closed tightly (I use tape to hold it shut firmly) then chilled overnight or even a couple days is fine too.  To bake, the roll is removed from the box, wax paper pieces for lining are peeled off, and using sharp knife the dough is sliced lengthwise, then again crosswise making approximately 6 dozen pieces.
The cookies are a bit more work than other cookies but my husband will tell you they are worth it, and they look so festive and colorful on a plate of cookies to share.  It wouldn't be Christmas at our house without them.

Christmas Ribbon Cookies
Author:
Sphere's Cuisine, December 1978
Ingredients
1 cup unsalted butter, softened
1-1/4 cups sugar
1 egg
1-1/4 teaspoons baking powder
1 teaspoon vanilla extract
¼ teaspoon table salt
2-1/2 cups all-purpose flour
few drops of red food coloring
¼ cup chopped candied red cherries
few drops of green food coloring
¼ cup chopped candied green cherries
1 ounce square unsweetened chocolate, melted and cooled
¼ cup finely chopped walnuts
Instructions
Cream butter and sugar until light and fluffy. Beat in egg, baking powder, vanilla, and salt. Gradually mix in flour to make a stiff dough.
Divide dough equally into thirds. Add red food coloring and red cherries to one piece of dough and mix well. Add green food coloring and green cherries to another dough and mix well. To the last piece of dough mix in the cooled melted chocolate and walnuts.
Remove the roll of wax paper from a box of Reynold's Cut-Rite Wax paper, which is the perfect size for these cookies. Line the box with pieces of wax paper to fit.
Pack the chocolate dough evenly into the bottom of prepared box. Add another layer of the green dough and pat down evenly on top of chocolate layer. Top with a layer of red dough patted down evenly over green layer. Close box and tape top and ends to hold firmly shut. Refrigerate overnight until very firm.
Heat oven to 350 degrees F. Remove dough from carton and peel off wax paper lining. Using a sharp knife cut the dough lengthwise in half to make 2 long bars. Cut each bar crosswise into ⅛-inch slice pieces. Place on a nonstick baking sheet or one lined with parchment paper. Bake until edges are barely golden, about 8-10 minutes. Cool on wire racks. Makes approximately 6 dozen.