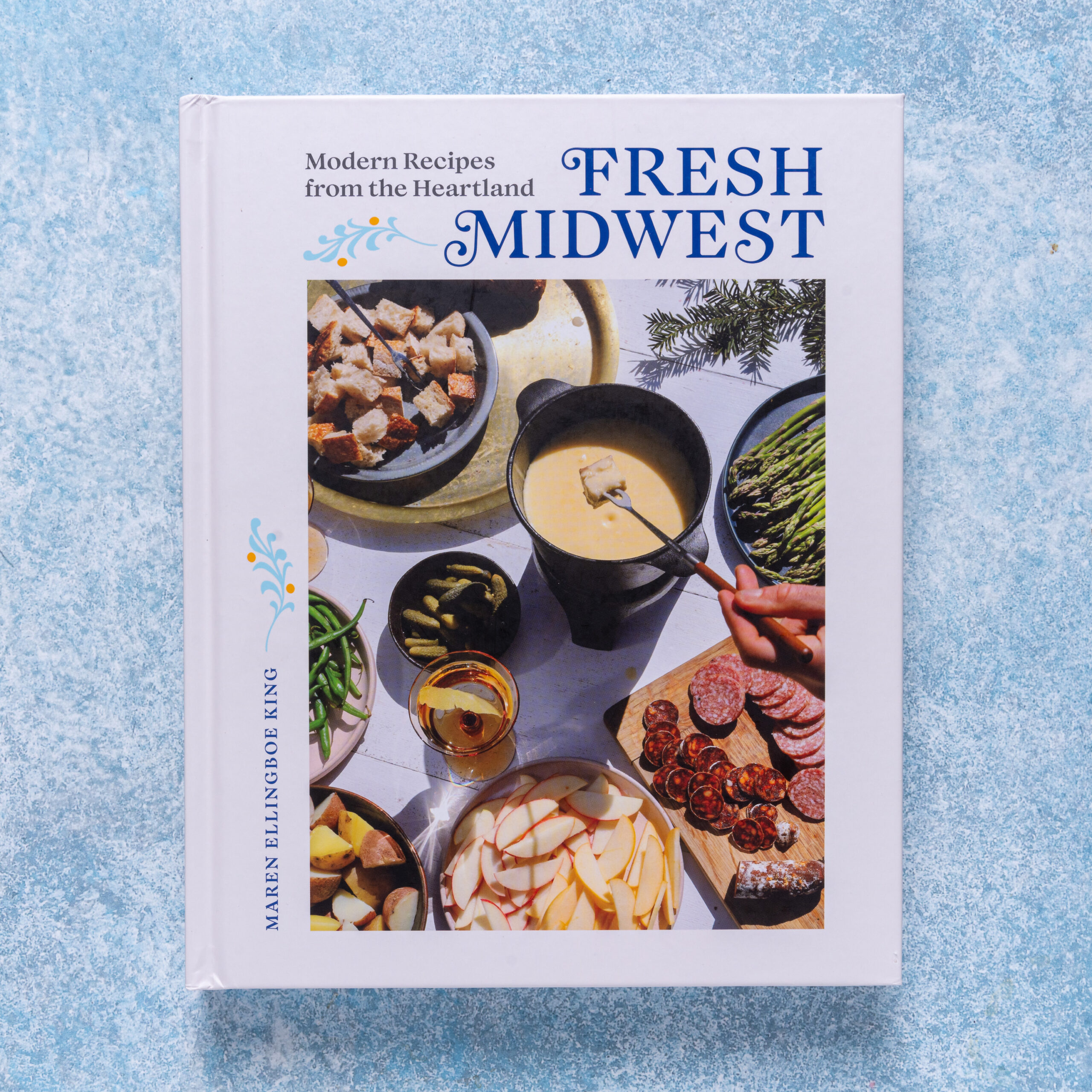 This cookbook has classic Midwest comfort food recipes along with the influence of the author's Scandinavian roots from her grandmother and great-grandmother.   I love this book as it mirrors my love of growing up with Midwest cooking and my husband's Nordic family recipes and culture.  Combine those and you have some of the best regional cooking in the country.
Over this past weekend, I had been reading through the cookbook looking for something that sounded so good I couldn't wait to get in the kitchen.  After about thirty minutes searching I realized it was one of those rare cookbooks where I wanted to make everything.  As I turned each page, I was sure I found something but then turned the page and there was another, and another, and suddenly I had reached the end of the book.  I loved  everything.  I told my daughter Kristina about it and she wanted to borrow it.  When she returned it I was not surprised to find post-it notes sticking up on so many pages.
Starting with the Breakfast and Brunch chapter there is an almond kringle calling out to me.  The Cardamom Coffee Buns remind me of our Finnish family recipe.  Soups like Smoked Trout Corn Chowder for a lunch reads like a recipe from my husband's Finnish relatives in the Upper Peninsula of Michigan.  Chicken Wild Rice Soup sounds like my mom.  I can't forget the "hotdishes" of Minnesota like a ham and potato, or spring vegetable pot pie hotdish.  Vegetables are numerous such as grilled corn with dill butter; rhubarb compote; scalloped potatoes; or a sour cream potato salad.  Comforting main dishes are probably my favorite.  The Caraway Roast Chicken should be our next Sunday dinner.  Melted butter is mixed with caraway seeds, fennel seeds, coriander seeds, fresh thyme, and garlic, rubbed over the chicken, then scattered around is lemon quarters, onions, and fennel bulbs.  I swear I could smell it just from the description.  My wonderful son-in-law Joe is from Wisconsin and a hunter, so I will have to make the Venison Tenderloin with a Lingonberry-Red Wine Sauce.  Or Kristina will make it since she put a post-it note on the page!
My husband Bill actually made my decision on what to make when he brought home some beautiful peaches.  In the lengthy dessert chapter with its Orange Poppyseed Cake, Rhubarb Custard Pie, Sour Cream Sugar Cookies, and Lemon Pound Cake with Berries, is a recipe for Cardamom Stone Fruit Cobbler made with peaches, plums, and lots of cardamom.  I found what was going to get me in the kitchen.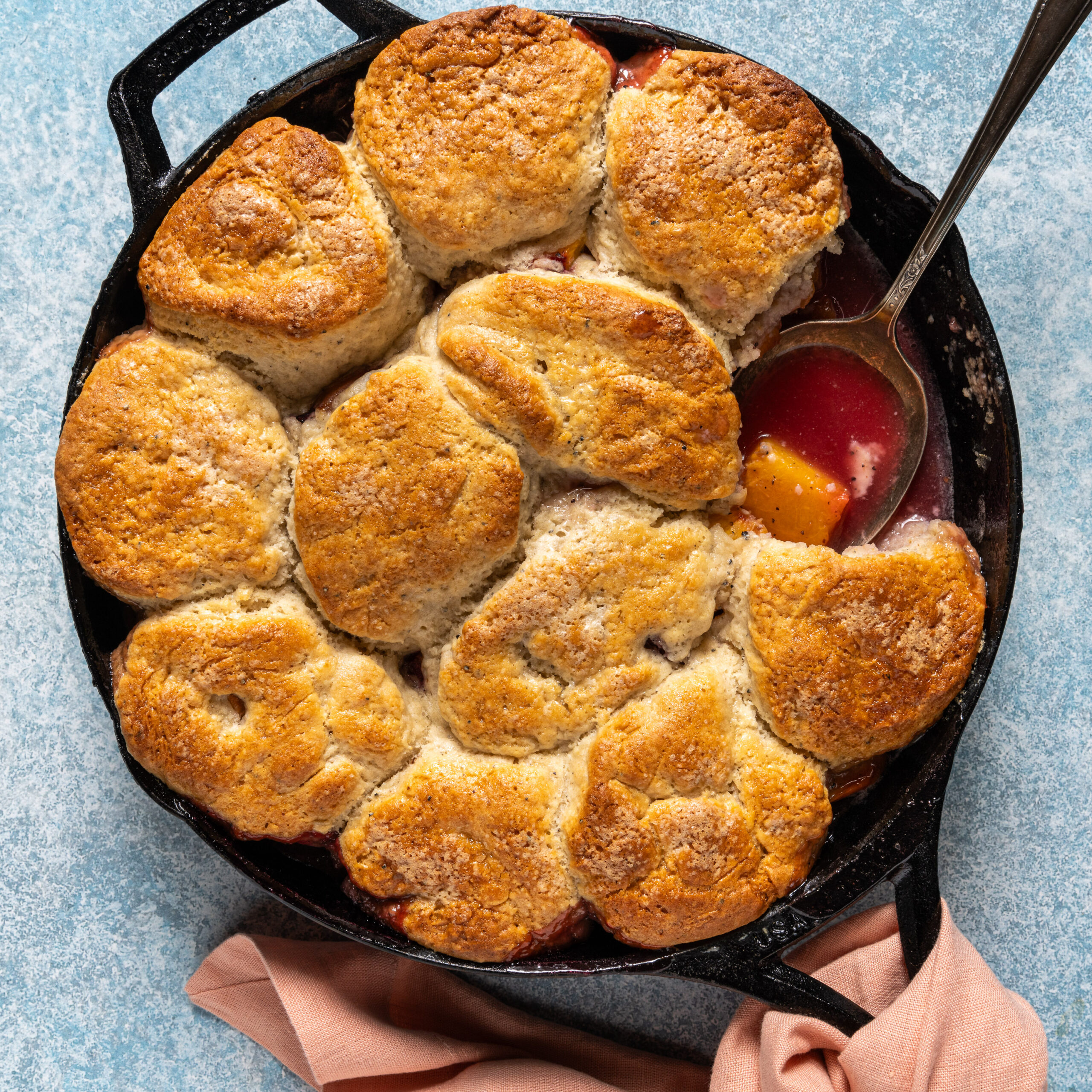 While Bill went back to the store to buy even more peaches and some plums, I went to my pantry and got my special stash of coarse ground cardamom that I got in Finland.  It's the most fragrant cardamom you will ever find.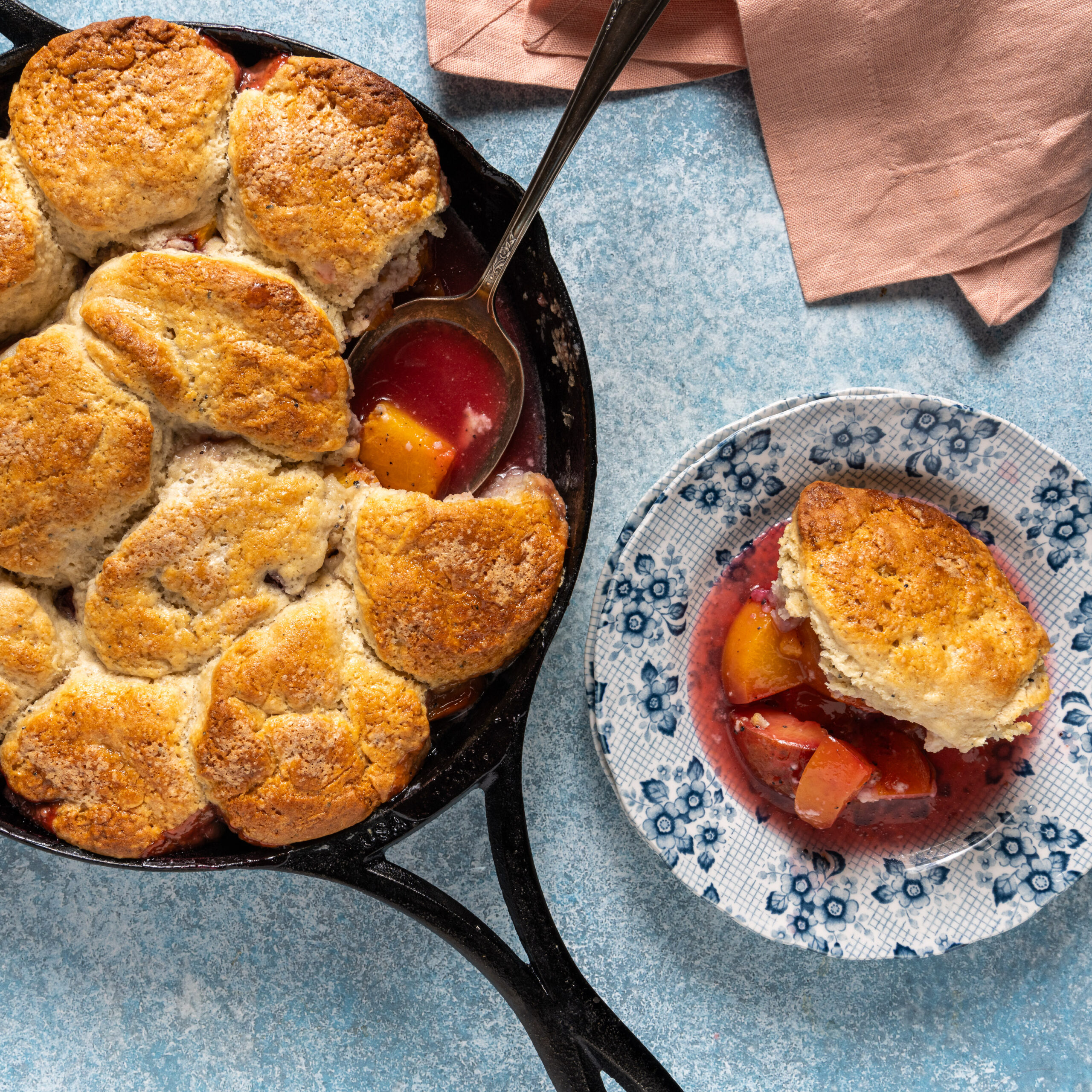 Cardamom is in both the fruit filling and the biscuit topping.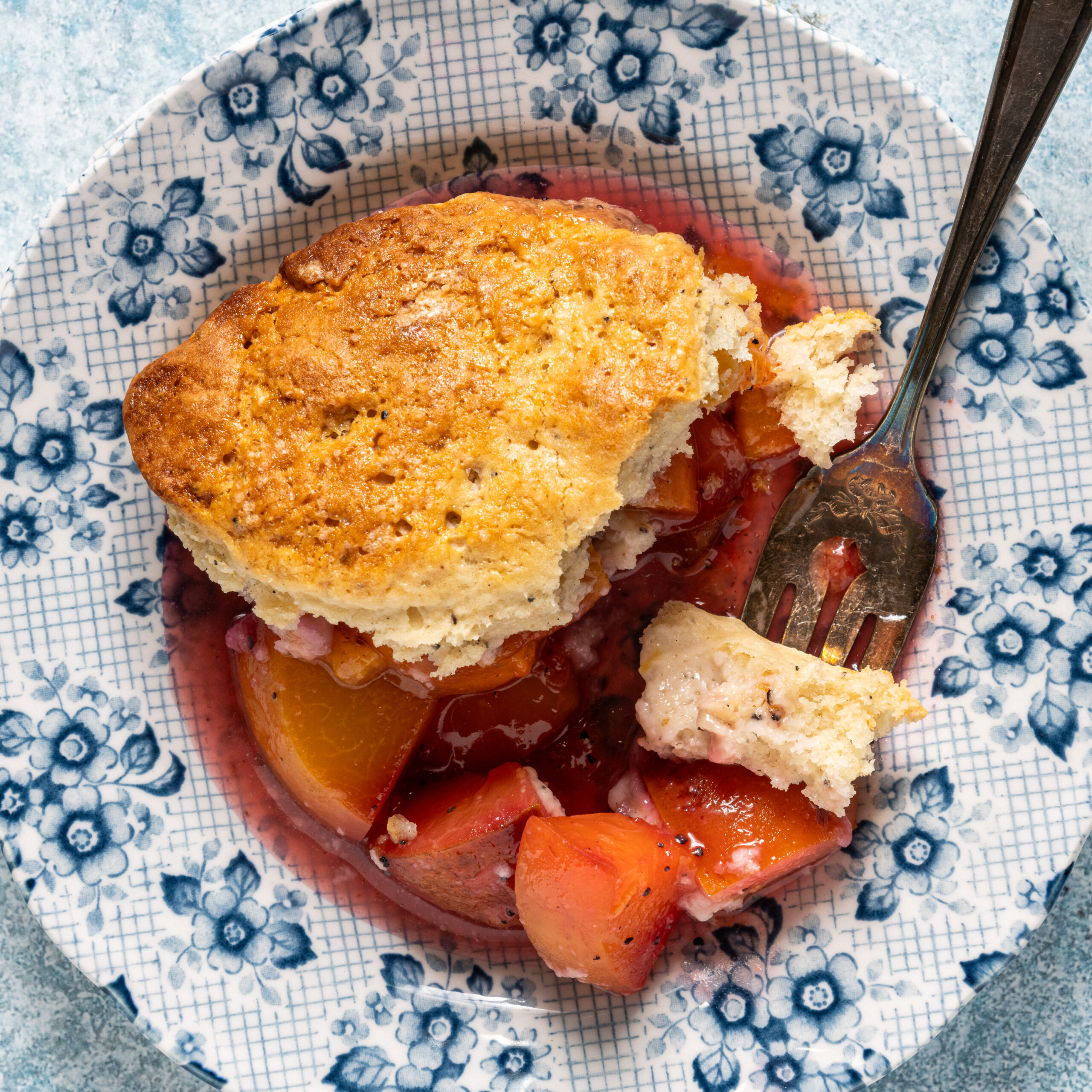 You can even see the little specks of cardamom throughout.  Every bite is pure bliss.
Buy this cookbook.  You're welcome.

Cardamom Stone Fruit Cobbler
Author:
Fresh Midwest by Maren Ellingboe King
Ingredients
For Buttermilk Biscuits:
2 cups all-purpose flour, plus more for dusting
¼ cup granulated sugar
1 Tablespoon baking powder
1 teaspoon ground cardamom
¾ teaspoon kosher salt
½ teaspoon baking soda
6 Tablespoons unsalted butter, chilled and cut into 1-Tablespoon size pieces
1 cup buttermilk
For Fruit Filling:
4 pounds peaches and plums, pitted and cut into 1-inch pieces*
½ cup granulated sugar
2 Tablespoons cornstarch
1-1/2 teaspoons ground cardamom
1 teaspoon vanilla extract
½ teaspoon kosher salt
¼ cup heavy cream, for brushing on biscuits
*Note- I used 2 pounds of peaches and 2 pounds of plums but you can also use blackberries or raspberries
Instructions
Make the biscuits: Mix the flour, sugar, baking powder, cardamom, salt, and baking soda in a large bowl. Add the butter and working quickly, smash the butter into the flour mixture with your hands or a pastry blender until you have pea-size pieces. Gradually add the buttermilk, mixing with a fork as you go until the mixture comes together to form a shaggy dough.
Turn the dough onto a lightly floured surface. Shape into a disc and cover tightly with plastic wrap. Chill for at least 1 hour and up to a day.
Roll the chilled dough to a ¾-inch thick disc. Use a 2-inch biscuit cutter to cut biscuits as closely together as possible. Reshape dough scraps and cut more, making 12 total altogether. Transfer the biscuits to a parchment-lined baking sheet and chill while making filling.
Make the Fruit Filling: Heat oven to 375 degrees F. Mix the peaches and plums, sugar, cornstarch, cardamom, vanilla, and salt in a large bowl. Toss well to combine. Spread the fruit in an even layer in a deep 9-inch cast iron skillet or deep cake pan. Place the biscuits on top of the fruit, fitting them in as snugly as you can. Place the pan on a rimmed baking sheet to collect drips (and it will!) Brush the biscuits with the cream.
Bake for 50 to 60 minutes or until the berries are bubbling and the biscuits are golden brown. Let cool for 15 minutes before serving. The cobbler can be made up to 6 hours ahead. It's great served with vanilla ice cream.