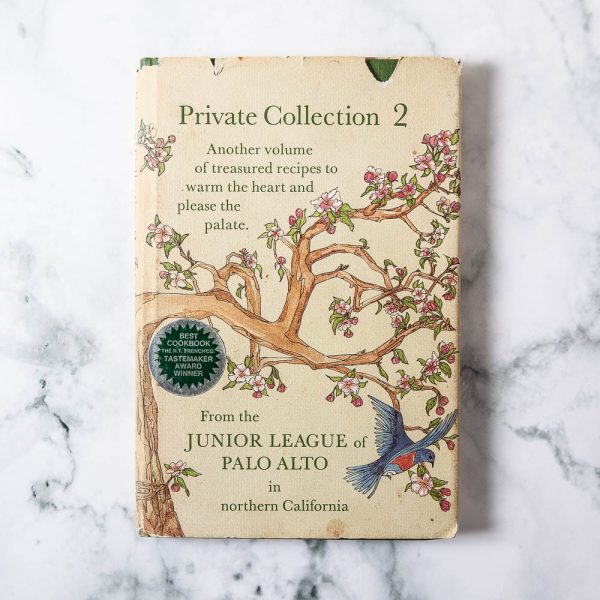 I have written about this cookbook before along with its partner, the original Private Collection.  It's because I can't say enough about it.  I've made just about everything in both books, so I'm sure there will be even more blogs about them in the future.
Junior League cookbooks have a reputation for offering great recipes.  When my daughter Kristina and I were rearranging and shelving cookbooks in The Culinary Cellar, I had forgotten how many Junior League cookbooks I have.  So many great ones, and I love them all, but the award-winning Private Collections are my favorites. They are edited by Bonnie Stewart Mickelson who founded the Les Cheneaux culinary school in beautiful Upper Michigan.
One recipe from Private Collection 2 that I have made for years is simply called "Homemade Bread."  It makes four big, beautiful loaves that don't even require kneading.  They turn out perfect every time I have made them and we can never get enough.  However, in the last couple months yeast packages have been very hard to find due to the pandemic.  When my daughter Kristina finally found some we both agreed that the only bread to make was the "Homemade Bread."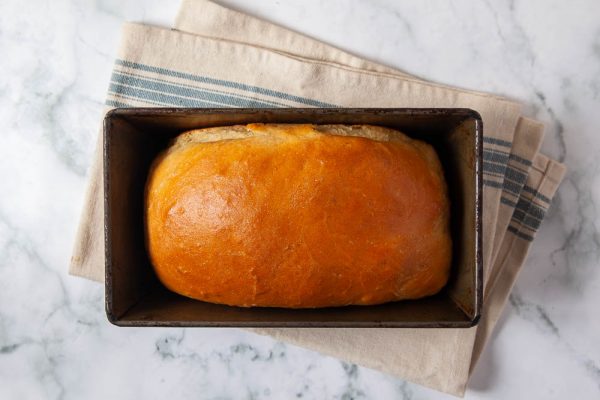 Look at this beautiful huge loaf, and there are three more!  It's fluffy white on the inside and golden on the outside.  You will not be able to resist having a slice while still warm.  I hope it is easier for everyone to find yeast because I don't want you to miss making this bread.

Homemade Bread
Author:
Private Collection 2 from The Junior League of Palo Alto
Ingredients
2 packages active dry yeast
2 Tablespoons sugar
½ cup lukewarm water
1 cup powdered non-fat milk
4 cups unbleached flour
4 cups lukewarm water
⅓ cup vegetable or canola oil
5 teaspoons salt
8 cups unbleached flour
Instructions
Combine yeast, sugar, and the ½ cup lukewarm water in a small bowl. Let it sit until it foams, about 10 minutes.
In a very large bowl, put powdered milk, 4 cups of the flour, and 4 cups lukewarm water. Add yeast mixture, Stir with a sturdy wooden spoon until well-blended. Cover and let sit in a warm place for 1 hour.
Add remaining ingredients and mix well.. Cover and let sit until double in bulk, between two and four hours.
Turn out onto a floured work surface and divide into four parts. Dough will be sticky. Shape each part into a loaf, working out any air bubbles. Put into four greased 9-by-5-inch loaf pans. Cover and let sit until double, about one hour.
Bake loaves at 350 degrees for about 45 minutes or until golden and bread sounds hollow when tapped. Remove bread from pans and cool on wire racks.