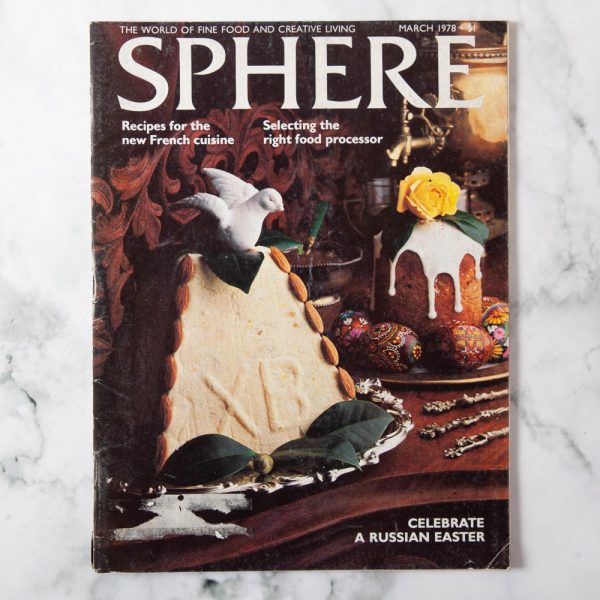 I got behind on several of my monthly Sphere reports and need to catch up.  This month has lots of Easter ideas.  Even though Easter has obviously passed, I'll still tell you about the article on Easter food traditions from Russia.  The appetizer menu includes platters of herring, smoked salmon, liver pate, red caviar, eggplant caviar,  cucumbers and radishes in sour cream, pickled mushrooms, and rye breads.  Main dishes have a huge variety to please everyone with ham, lamb, turkey, and halibut.  Drinks include vodka, dry red wine and dry white wine.
One of the specialties is the majestic "Paskha," which you can see above with the dove on top.  It is a snowy pyramid of sweetened cottage cheese enriched with a vanilla bean, almonds, candied citron, lemon peel, cream, sour cream, and lots of butter.  There is a special mold used for this that is lined with cheesecloth and refrigerated at least 24 hours.  Jokes are told of Russian women sending their husbands to spy on neighbors' paskha to compare to theirs.
Other articles include many recipes both sweet and savory for egg use, Nouvelle French cuisine, festive breads including Italian Easter Bread, Kulich, and scones, and many side dish suggestions for an Easter feast.  In a non-food article, if you would ever like to learn the art of cultivating and learning the history of Bonzai, there is much to read on the subject in this issue.  I read recently that in addition to jigsaw puzzles being popular during the pandemic, learning to make tiny Bonsai trees is also a popular at-home activity for the whole family.
When looking for a recipe to make for this month and since I don't have a paskha mold, I decided on an old classic standby, Creme Brulee, one of my favorite desserts.  This one is made in a 1-1/2 quart oven-proof dish or bowl.  I used a deep quiche dish and it worked perfectly.  It looked pretty with the scalloped edges.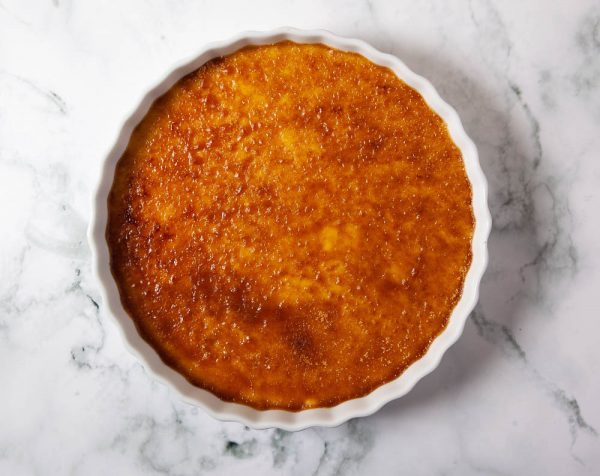 It is served scooped out with some fresh sweetened strawberries alongside.  It has that delectable crunchy top that shatters and a heavenly creamy base.  It's good with strawberries or use your favorite berries.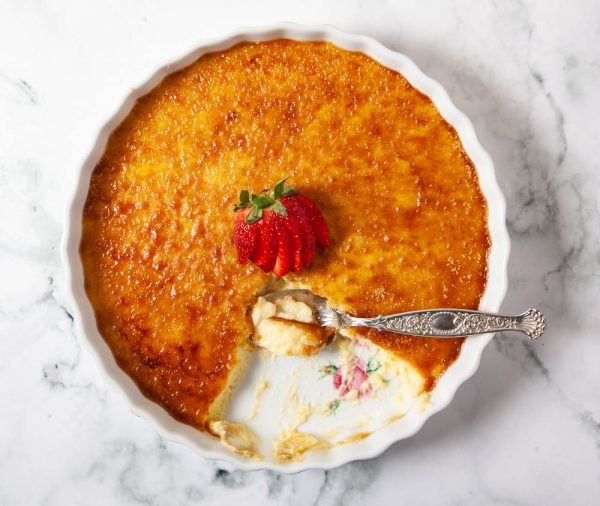 Creme Brulee with Strawberries
Author:
Sphere Magazine March 1978
Ingredients
2 cups half-and-half
1 cup whipping cream
2-inch piece vanilla bean, split
8 egg yolks
½ cup granulated white sugar
1-1/2 teaspoons grated fresh lemon peel
2 Tablespoons Grand Marnier or other orange-flavored liqueur
¾ to 1 cup packed light brown sugar
3 cups strawberries, hulled and sugared
Instructions
Combine half-and-half, cream, and vanilla bean on top of a 2-quart double boiler; heat over simmering water until scalded, about 10 minutes. Mix egg yolks and granulated sugar in medium size bowl. Stir in scalded cream gradually.
Transfer egg mixture to the top of double boiler and heat over simmering water, stirring constantly until custard thickens and coats a spoon. Place custard in pan in a large bowl of ice water; stir about 3 minutes. Remove vanilla bean. Stir in lemon peel and Grand Marnier.
Pour into a 1-1/2-quart oven-proof bowl or dish. Cool to room temperature, cover, and refrigerate overnight.
Sieve brown sugar and sprinkle evenly over custard, about ¼-inch thick. Heat oven to broil. Place dish in a pan of crushed ice and broil just until sugar is caramelized, about 2 minutes, watching carefully as it can quickly burn. Remove from oven and let stand for 5 minutes. Cool completely in refrigerator. Serve with sweetened strawberries. Serves 8.