When I received a box of cookbooks from an Arizona address, I was thrilled that some Arizona/Southwest books might be inside.  I had many that were lost in the flood of The Culinary Cellar.  Gwen Minnier who generously sent me the cookbooks must have read my mind because there they were, right on top!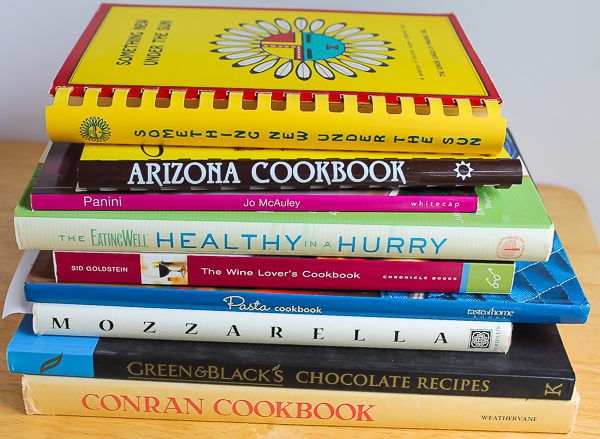 Gwen included a very sweet note that said she could not imagine losing all her cookbooks, as they all have a place in her heart.  She said it best for those of us who love cookbooks: "If it's possible to be sentimental about books, then cookbooks would be those books!"  I completely agree, Gwen!
Gwen went on to say that some of these books are old, some new, but all with good recipes.  "My cookbook bookcase is bursting at the seams," she explained, "so sharing these with you just seemed like the right thing to do."
This is a great group of books with some real favorites along with the southwest cooking.  I love Eating Well cookbooks, and anything chocolate, cheese, pasta, and cooking with wine.  Since Labor Day is upon us, I decided to try a grilling recipe using two of my favorites, flank steak and corn, from the wine cookbook.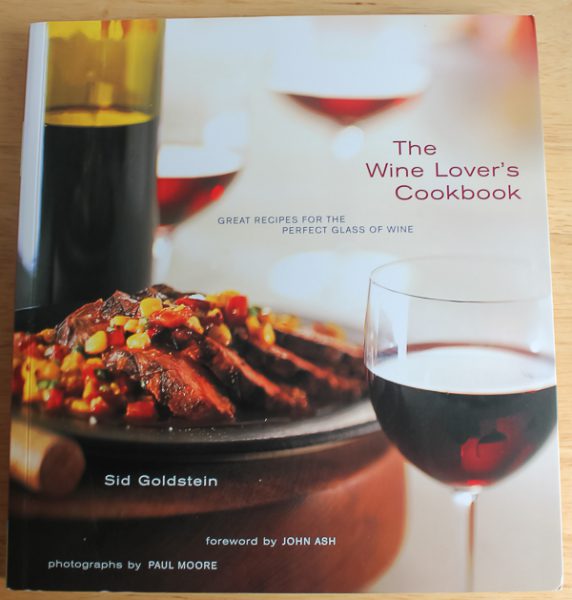 I love cooking with wine.  This book is fabulous with ideas of cooking and serving with many varieties of white and red wines for appetizers, seafood, beef, chicken, pasta, pizza, risotto, desserts, and much more.  The grilled flank steak has a delicious marinade using dry sherry, soy sauce, sesame oil, Worcestershire, and chipotle.  The steak is paired with a salsa made with fresh corn off the cob, pancetta, roasted red bell pepper, white wine Worcestershire sauce, jalapenos, sherry wine vinegar, and fresh basil.  How's that for getting the taste juices going?  It's so good and a perfect grilling idea for Labor Day weekend.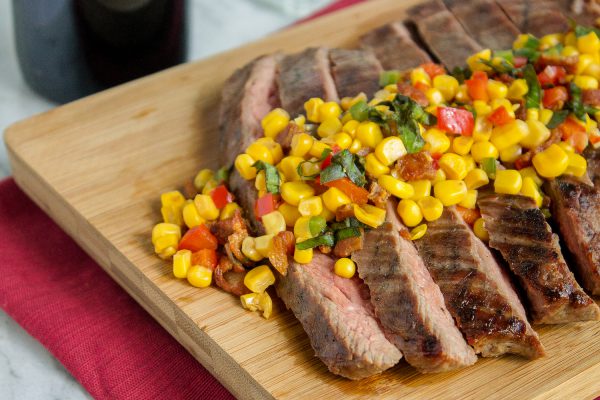 It tastes as good as it looks.  Being the Midwest girl that I am, I like fresh corn in just about anything!
Thank you, Gwen, for all the lovely books.  They all have a special place on the new Culinary Cellar shelves.  I continue to be grateful beyond words for the generosity of my readers.

Grilled Flank Steak with Roasted Corn Pancetta Salsa
Author:
The Wine Lover's Cookbook by Sid Goldstein
Ingredients
Marinade:
⅓ cup dry sherry
3 Tablespoons reduced sodium soy sauce
1 Tablespoon toasted sesame oil
1 teaspoon Worcestershire sauce
½ cup sliced yellow onions
⅛ teaspoon freshly ground black pepper
1 rehydrated dried chipotle pepper, stemmed and minced, or ¼ teaspoon chipotle in adobo sauce
2 pounds flank steak
Salsa:
4 ears fresh corn, husks removed
Olive oil
2 ounces pancetta or bacon, chopped
½ cup chopped roasted red bell pepper
1-1/2 teaspoons minced roasted garlic
½ teaspoon white wine Worcestershire sauce
2 teaspoons minced jalpenos
2 teaspoons sherry wine vinegar
2 Tablespoons chopped fresh basil
Kosher salt and freshly ground black pepper
Instructions
To make marinade: Combine all marinade ingredients in a small mixing bowl and whisk thoroughly. Place steak in a large, sealable plastic bag and add marinade.
Refrigerate for 4 to 5 hours, turning bag occasionally.
Remove steak from marinade and reserve marinade for basting.
To make Salsa: Heat oven to 350 degrees. Rub corn cobs lightly with olive oil and place on a baking sheet. Roast in oven for 45 minutes. Remove corn and scrape kernels off cobs (should produce about 2 cups of corn) and place in a medium mixing bowl.
In a medium skillet over medium-low heat, cook pancetta or bacon until lightly browned. Remove from pan and drain on paper towels to dry, then mix with corn. Add the bell pepper, garlic, Worcestershire, jalapenos, vinegar, and basil to the corn. Mix thoroughly, season to taste with salt and pepper, and refrigerate. Bring to room temperature before serving.
To grill flank steak, prepare fire and place flank steak flat over the heat and grill for 5 minutes per side, until rare. Remove from grill and let rest under foil for 5 minutes. Slice steak on an angle against the grain. To serve, place steak on serving plates and top with salsa. Serves 4.