Hoppin' John is a traditional Southern dish believed to bring good luck when eaten on New Year's Day.  The black-eyed peas are symbolic of coins or pennies.  When eaten with greens, the greens represent money, and if served with cornbread, the golden shade is supposed to be like gold.  This is one of many explanations I found about Hoppin' John.  And when it comes to recipes, I found Hoppin' John prepared with ham, bacon, andouille, salt pork, bell peppers, pickled peppers, pinto beans, cannellini beans, black-eyed peas; also served as a soup, chili, over rice, mixed with rice, or in a slow cooker.  It seems there are endless ways to prepared Hoppin' John.  The one thing I found in common was that it is definitely supposed to be eaten for good luck in the New Year.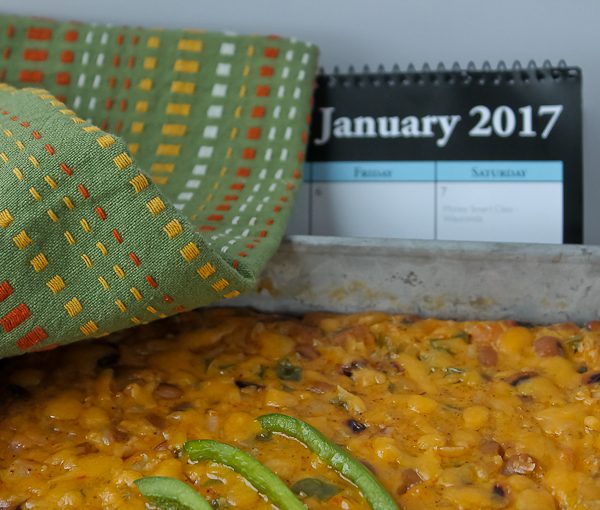 Another tradition I found is to leave three peas on one's plate to ensure the New Year will have not only luck, but also fortune and romance.  The recipe I decided to try was Hoppin' John baked and cut into squares.  It has the traditional ingredients of black-eyed peas, green pepper, onion, brown rice, and ham.  It was so easy and so good!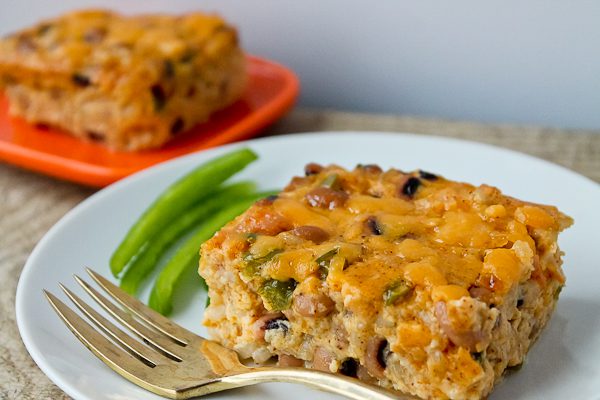 Did you know that on the day after New Year's, the leftover Hoppin' John is then known as "Skippin" Jenny," further demonstrating one's frugality, bringing a hope for even better chances of prosperity.  No matter how you  make and serve Hoppin' John, I wish you luck, fortune, and romance in 2017!

Hoppin' John Squares
Ingredients
2 Tablespoons unsalted butter
½ cup chopped green pepper
2 Tablespoons finely chopped onion
2 Tablespoons all-purpose flour
¾ teaspoon chili powder
¼ teaspoon ground cumin
¼ teaspoon salt
1-1/4 cups whole or 2% milk
1 cup shredded cheddar cheese, divided
1 can (15 ounces) black-eyed peas, drained
1 cup cooked brown rice
¾ cup diced cooked ham
2 beaten eggs
Instructions
Heat oven to 350 degrees. Grease an 8-by-8-by-2-inch baking pan; set aside.
Melt butter in a skillet over medium heat. Add green pepper and onion; cook and stir until softened. Stir in flour, chili powder, cumin, and salt. Add milk and stir until bubbly and mixture has thickened.
Remove from heat and stir in ¾ cup of the cheese, peas, rice, ham, and beaten eggs; mix well. Spoon into prepared pan. Bake for about 35 minutes or until set.
Remove from oven and sprinkle with remaining ¼ cup of shredded cheese. Let stand 5 minutes. Cut into squares and serve. Serves 6.