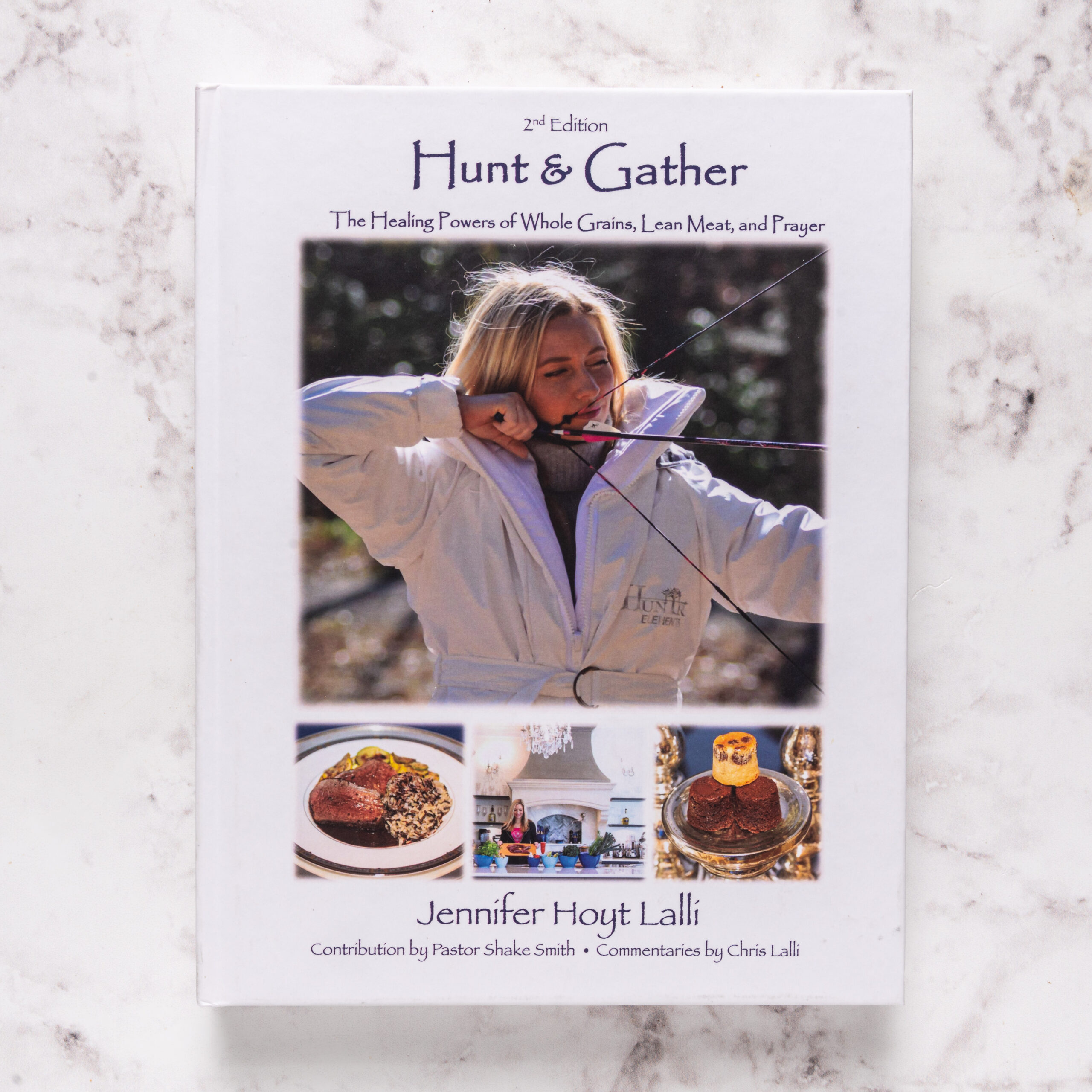 I will always treasure this cookbook because it was the last gift I received from my brother Alan, who recently passed away.  It is a cookbook about the healing powers of healthy food and faith.  The author shares her passion for hunting and foraging while hoping to encourage others to enjoy healthy foods like whole grains, lean meats, and a well-balanced diet and life, leading to overall well-being.
It is a very large book with so much to read from the author who believes good nutrition will feed both physical and spiritual needs.  As quickly learned, it is not your average cookbook with ordinary recipes.  It is definitely an interesting cookbook with wonderful recipes while appreciating the ingredients that are foraged or hunted in the great outdoors.  This cookbook claims to be for "Carnivores, Grainiacs, Vegans, and Vegetarians who hunt, gather, forage, harvest, and love." The recipes are divided into these categories along with breads, legumes, soups, juicing, and some sweets (like Vanilla Chai Latté Macarons!)
I wanted to try a recipe that used something I have never cooked with before.  Being a fan of buckwheat flour for items such as pancakes and muffins, I had yet to cook with buckwheat groats.  I found a salad using the groats with mushrooms, garlic, micro greens, tossed with a vinaigrette and baby turnips, among the ingredients.  Not only was it delicious, look how gorgeous and colorful it is.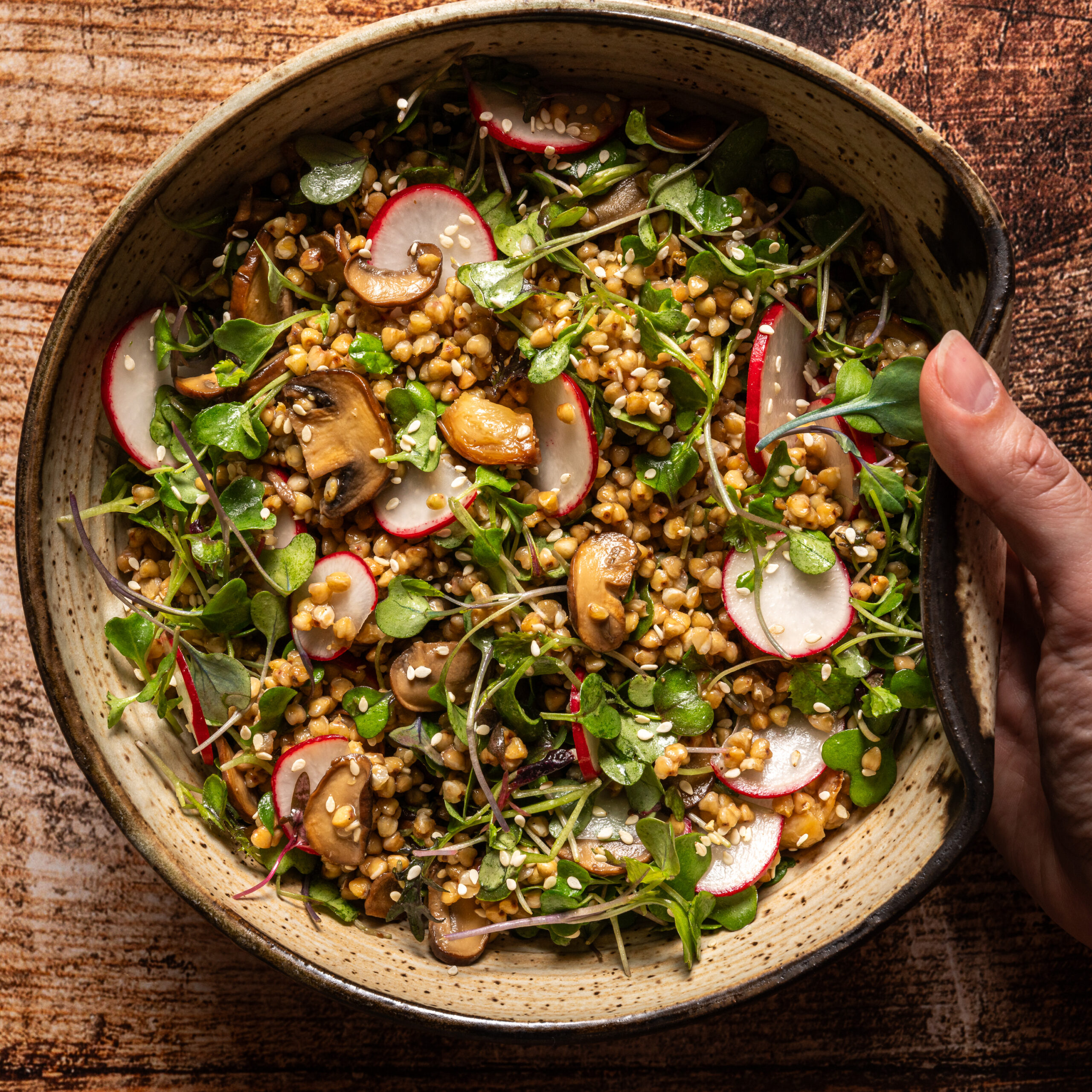 I couldn't find the called-for baby turnips anywhere, so I substituted radishes which added a crispness like a thinly sliced raw turnip and the addition of the bright red edges.  Since I am a fan of toasted walnuts, I also added those.  This salad is exceptionally beautiful, delicious, and healthy.  I am now a fan of the earthy flavor and texture of (gluten-free) buckwheat groats.
As I said, this is a different kind of cookbook with lots of reading, but also with intriguing recipe ideas using all kinds of ingredients. The recipes are easy to read and follow, and in a larger print than most cookbooks.  Now I am craving this salad again.  And I must try those macarons.

Buckwheat with Mushrooms, Roasted Garlic and Micro Greens
Author:
From Hunt and Gather by Jennifer Hoyt Lalli
Ingredients
For the Roasted Garlic:
1 whole head of garlic with skin on
2 Tablespoons olive oil
1 teaspoon sea salt
3 grinds of black pepper
For the Mushroom Sauté:
1 Tablespoon olive oil
1 Tablespoon butter
10 cremini mushrooms, sliced
1 teaspoon sea salt
2 Tablespoons rice wine vinegar
For the Buckwheat Groats:
1 cup buckwheat groats, unroasted
1 egg
1-3/4 cups water
For the Salad:
1 teaspoon sea salt
10 grinds of black pepper
2 Tablespoons rice wine vinegar
3 Tablespoons white wine vinegar
Juice of 1 lemon (about a scant ¼ cup)
2 cups micro greens
6 baby turnips, sliced into thin coins (can substitute thinly sliced red radishes)
1 teaspoon sesame seeds
(I tossed in about ½ cup toasted walnuts just because I love them in salads (optional)
Instructions
For the roasted garlic: Preheat oven to 375 degrees F. Cut the garlic bulb in half to expose all of the cloves. Place on a foil-covered pan and drizzle cloves with oil, salt, and pepper. Roast for 45 minutes. Remove from oven and gently squeeze the cloves out of their skin and set aside, reserving oil in pan.
For the mushroom sauté: Heat the oil and butter in a skillet on high heat. Add the mushrooms and sauté until golden. Reduce heat to medium-high, add salt and vinegar and scrape pan to deglaze. Remove from heat and set aside.
For the buckwheat groats: In a medium mixing bowl, whisk the egg. Stir in the buckwheat groats to coat. Heat a nonstick sauté pan over medium heat. Add the egg-coated groats and stir until dry, about 4 minutes, while breaking up most of the clumps. Bring the water to a boil in a saucepan. Add the groats and simmer for 10 minutes. Drain well, then transfer to a rimmed baking sheet and spread in a layer to cool to room temperature.
For the salad: Prepare while groats are cooling. In a large salad bowl whisk together the sea salt, black pepper, rice wine vinegar, white wine vinegar, and lemon juice. Add the groats, roasted garlic and its oil, sautéed mushrooms, micro greens, turnips or radishes, sesame seeds, and toasted walnuts if using. Toss gently to combine. Serve slightly warm or room temperature.