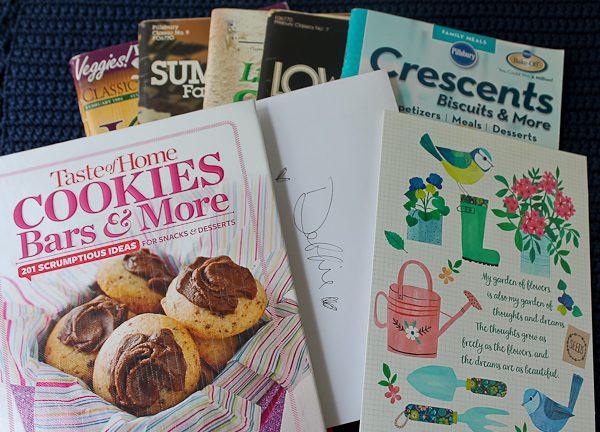 Marina Castle Kelley sent me this group of books to help rebuild The Culinary Cellar.  As I was looking through them last night I decided that today, Sunday, needed a dessert.  I found a really great-sounding one in the Taste of Home Cookies, Bars & More book.  I then went to read Marina's Facebook page this morning and saw that she loves to bake and really loves chocolate.  She is a volunteer Field editor for Taste of Home which is why she probably sent this book because she loves their recipes.  The other booklets are all Pillsbury, which are wonderful.  I even used to have a couple of them that were lost in the flood and now have them back.
Here are some more interesting facts I learned about Marina from her Facebook page:  She is a former Federal Officer at Homeland Security.  She and her husband Joe have 15 grandchildren and 2 great-grandchildren! Marina and I share a love of Trader Joe's.  She signed up for a 5-week cake decorating class, and just today she made an angel food cake.  I didn't make a cake from the Taste of Home cookbook but I did make the Blackberry Cheesecake Bars.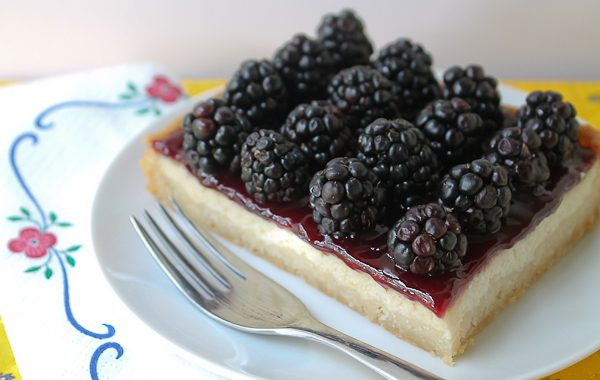 They are so good!  I love blackberries which is why I chose this recipe.  I made the base last night to get it nice and chilled and added the blackberry jam and fresh blackberries this morning.  The base is refrigerated sugar cookie dough, and the filling is a mixture of ricotta, mascarpone, sugar, eggs, vanilla, lemon juice and peel, and touches of orange juice and Amaretto.  It was a hit with my Bill!
Thank you for the books, Marina!  I'll be watching your page to see how the cake decorating goes, and of course, photos of your grandchildren.  What's more fun than photos of babies and food?

Blackberry Cheesecake Bars
Author:
Taste of Home Cookies, Bars & More
Ingredients
1 tube (16-1/2 ounces) refrigerated sugar cookie dough
1-1/2 cups ricotta cheese
1 carton (8 ounces) mascarpone cheese
½ cup sugar
2 eggs, lightly beaten
3 teaspoons vanilla extract
2 teaspoons grated lemon peel
1 teaspoon lemon juice
1 teaspoon orange juice
1 Tablespoon Amaretto (optional, but really good in my opinion!)
1 cup seedless blackberry spreadable fruit
2-2/3 cups fresh blackberries
Instructions
Preheat oven to 375 degrees F. Lightly grease a 9-by-13-inch pan. Let cookie dough stand at room temperature for 5 minutes to soften slightly. Press dough onto bottom and 1-inch up the sides of prepared pan. Bake 12-15 minutes or until golden brown. Set aside on a wire rack to cool.
Meanwhile, in a large bowl of electric mixer, beat ricotta cheese, mascarpone cheese, and sugar until blended. Add eggs, beat on low speed just until combined. Stir in vanilla, lemon peel, citrus juices, and Amaretto. Pour into crust.
Bake 20-25 minutes or until center is almost set. Cool for 1 hour on a wire rack.
Place spreadable fruit in a small microwave-safe bowl, and microwave on high for about 30 seconds or until melted. Spread over cheesecake layer; top with blackberries. Refrigerate until serving time. Serves 12.
Note: I made the crust and filling, covered it in foil and refrigerated overnight. Almost right before serving, I added the blackberry spread and blackberries. I didn't chill too long because the jam will bleed into the filling.