In 1955  Chef-Boy-Ar-Dee introduced his boxed pizza mix to supermarket shelves which was revolutionary at the time.  Ettore Boiardi was a real person who founded the company in 1928 after his family immigrated to America from Italy.  As a young child I thought it was so fun to help my mom stir water into a packet of flour from the mix and it magically turned into a dough.  I  thought it was something so much more exotic than helping her make a meat loaf.  That's how my love of pizza began.  Thank goodness my palate has matured.  From Marc Vetri and David Joachim's book, Mastering Pizza, I can learn the science and art of homemade pizza.
The book will explain the science going into the pizza dough whether it is made in a home oven, cast iron pan, wood oven, kamado-style grill, gas grill, or charcoal grill.  The authors say if you really want to learn about pizza, start with the dough.  Great dough is what makes great pizza.
A lot of pizza books will focus on "one" dough or the "best" method for making pizza.  The authors say there is no "one" pizza dough to rule them all and there is no one "best" method.  It depends on what you are trying to achieve and what tools you have.  Different doughs and different ovens make different pizzas.  The first few chapters of the book dive into various types of flour and ovens that can be used to make Naples Dough Pizza, Roman Dough Pizza, Whole Grain Sourdough Pizza, or Pizza Al Taglio.  Other chapters cover sauces, toppings, and even moves on to calzones, rotolos, focaccia, and even dessert pizzas like Wood Oven Crème Brûlée Pizza, or Home Oven Nutella-Stuffed Pizza!
I decided to start my lessons not with a pizza but with a focaccia.  As the authors said try first with what you have on hand and what tools you have available at the moment.  I really wanted to try a grilled pizza, or one on my Ooni Pizza oven, but outdoor cooking is not conducive to a Chicago winter at this time.
I made the "Heritage Wheat Rosemary Focaccia" because I had what was called for: whole grain spelt, King Arthur Bread Flour, yeast, sea salt, olive oil, and fresh rosemary, plus a half-sheet pan.  It looked and tasted good but I didn't get those airy bubbles that are supposed to show with a focaccia when cut.  I'll try again!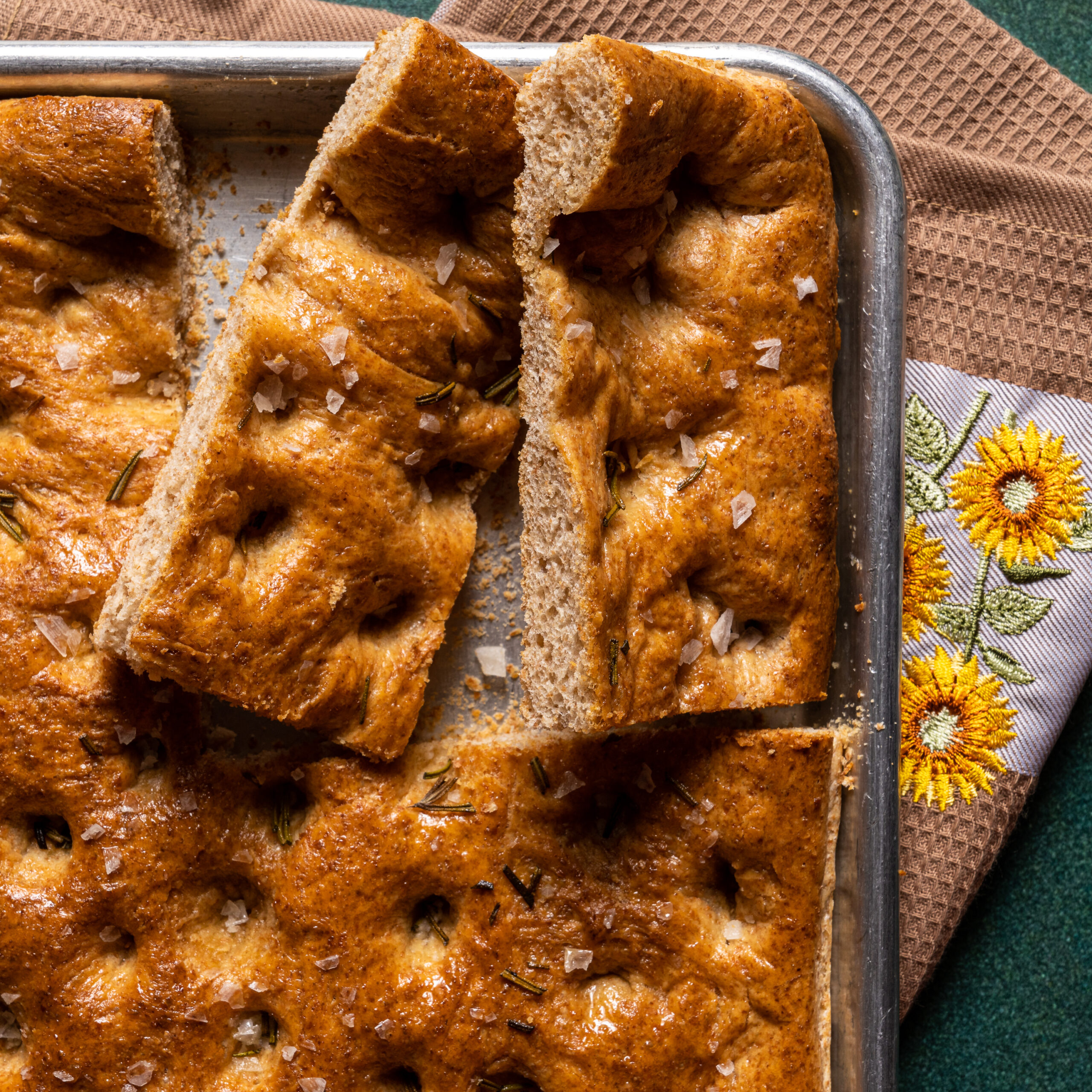 If you are a serious pizza lover who loves making your own, don't delay in getting this cookbook.  Pizza brings people together in a way nothing else can. As the authors say, "There's just something magical about hot pizza."

Heritage Wheat Rosemary Focaccia
Author:
Mastering Pizza by Marc Vetri and David Joachim
Ingredients
2 cups (258 grams) whole grain spelt
2 cups (258 grams) King Arthur Bread Flour
1-1/3 cups (307 grams) water at 55 degrees F (13 degrees C)
2-1/4 teaspoons (7 grams) active dry yeast (1 packet) or 1-1/2 Tablespoons fresh yeast
1-1/2 teaspoons (9 grams) fine sea salt
1 Tablespoon (13 grams) extra virgin olive oil, plus some for the pan and drizzling
Leaves from 2 sprigs fresh rosemary
Flake salt for garnish
Instructions
To Mix and Knead: Put flours and water in the bowl of stand mixer fitted with the dough hook. Add the yeast and water and mix on low speed for 2-3 minutes. Switch to medium speed, add the salt, then stream in the oil. Mix until dough is smooth and silky, about 10 minutes.
To Ferment: Transfer dough to an oiled bowl, cover and let rise in a warm place until doubled in size, about 1 hour.
Lightly oil a half-sheet pan (18-by-13-inches) then punch down the dough and turn it out onto the oiled pan. Fold the dough over itself in thirds, cover tightly and let rise in a warm spot for 30 minutes. After 30 minutes, punch down the dough, fold it over itself again in thirds, cover tightly and let rise in a warm spot for another 30 minutes.
To Shape and Ferment Again: Press the dough onto the baking sheet, all the way to the edges of the pan, so the dough is about ½-inch thick. Dimple the surface all over with your fingertips. Cover and let rise in a warm spot for a final 30 minutes. The multiple risings help create lots of bubbles and flavor in the dough.
To Bake: Preheat oven to 500 degrees F (260 degrees C.) Drizzle the top of the focaccia with oil and tilt the pan to get oil in the holes, or press the oil right into the holes with your fingertips. Scatter on the rosemary and some salt. Bake until golden brown, 20 to 25 minutes. Cool in the pan on a wire rack and then cut into 3-inch squares. Serve warm or at room temperature.