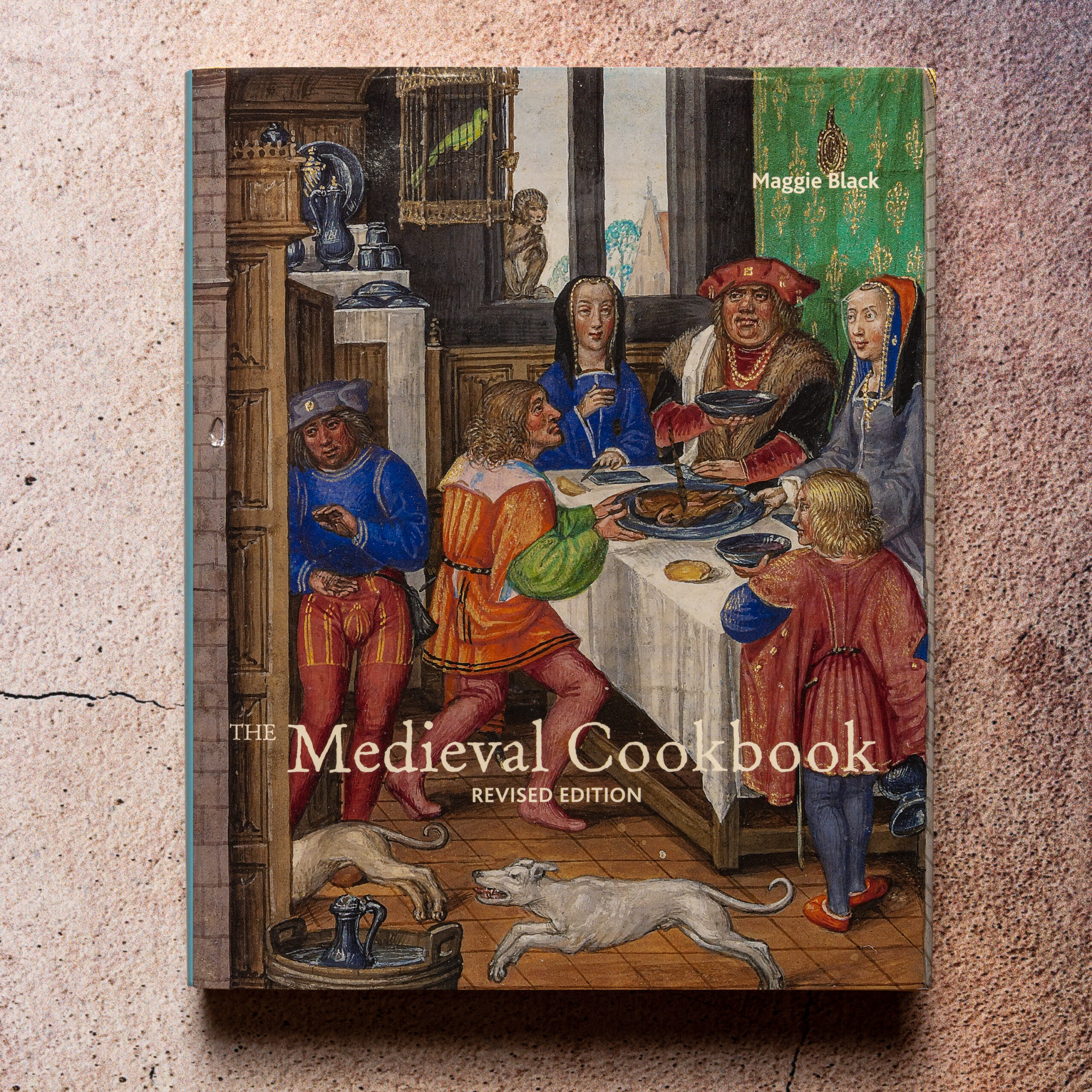 This cookbook will take you on a gastronomic journey of not just recipes but also a social history of the time.  The recipes are drawn from the earliest cookbooks of the fourteenth and fifteenth centuries.  Food habits of the rich and the poor differed greatly.  The wealthy had ample fresh and imported foods, while the peasants had to subsist on mostly salted and pickled flesh food, and only what could be planted on their local land.  I can't even begin to tell you of all the history as there is so much to read about in this book.  All I can say is if you love the history of food and recipes adapted for a modern cookbook, you will love this book.
My daughter's mother-in-law, Mary Louise, who goes by Lou, gave me this cookbook for Christmas.  It is my first Medieval cookbook to be welcomed on the Culinary Cellar shelves. Thank you, Lou!
The chapters have the most fascinating titles such as Chaucer's Company, Of Manners and Meals, The Court of Richard II, Courtly and Christmas feasting, After Doomsday, and Of Herbals and Simples.  Throughout the book are beautiful works of art and drawings from museums.  One of my favorites is a painting of a housekeeper teaching her pupil how to care for wines, as well as how to use it in making preserves.
As mentioned, the peasants had to live off what they could grow or hunt, and subsisted on soups and stews (called pottages) with cabbage and leeks, and sometimes meat from peacocks or other wildlife.  Bread was always made with grains and served with the soups.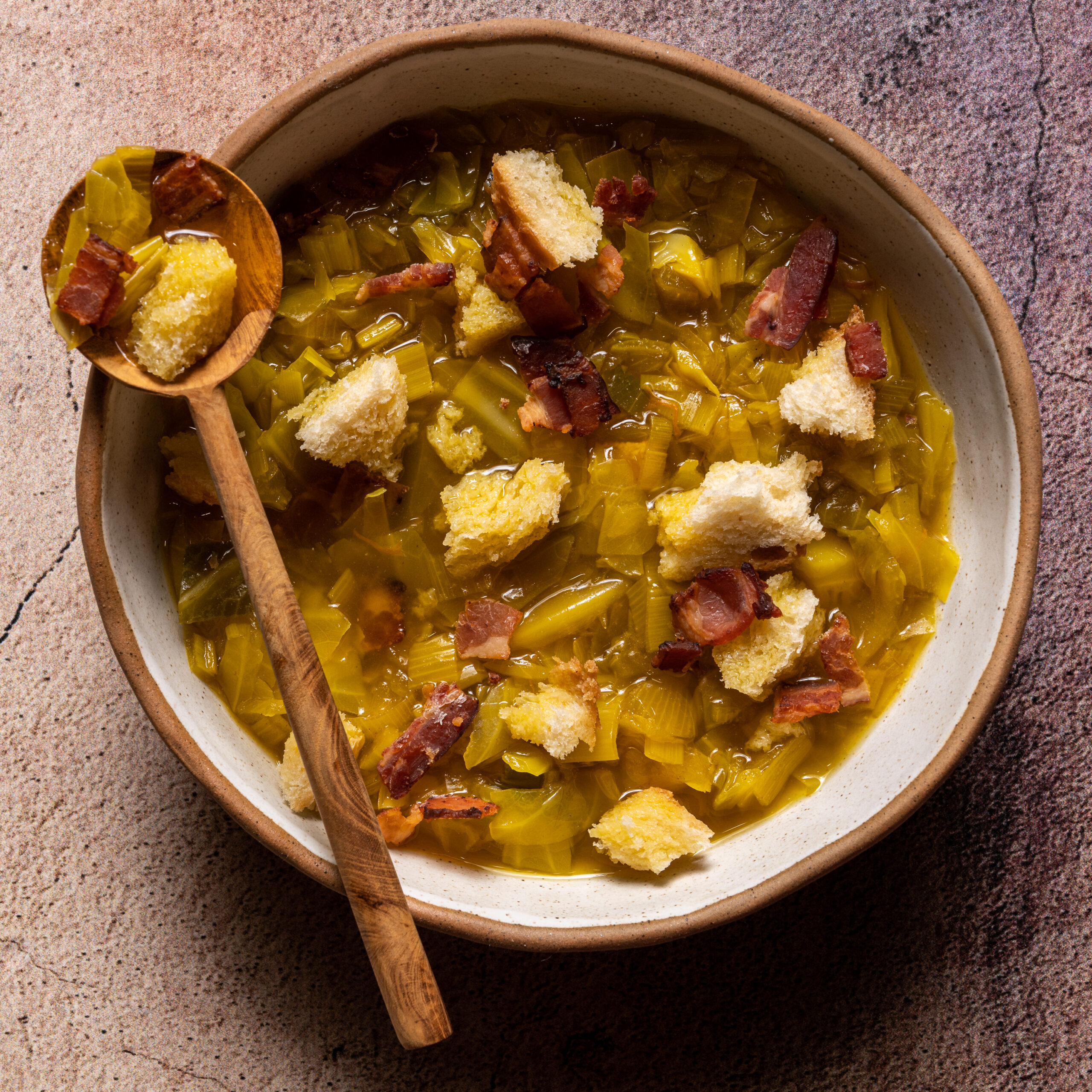 I decided to make the "Cabbage Chowder" as it seems that was made often.  Here is the original recipe as written:
"Caboches in potage. Take caboches and quarter hem, and seeth hem in gode broth with oynouns ymynced and the whyte of lekes yslyt and ycorue smale.  And do therto safroun and salt, and force it with powdour douce."
I think we can see how it was quite a chore to recreate recipes from manuscripts!  The author, the late Maggie Black, tells of her painstaking journey to develop the cookbook. For this recipe she adds that if peasants happened to have meat from a pig, bacon would be added for flavor, and always with bread, both well-known medieval additions. If lucky, also with homemade butter or cheese, and some salt or spices.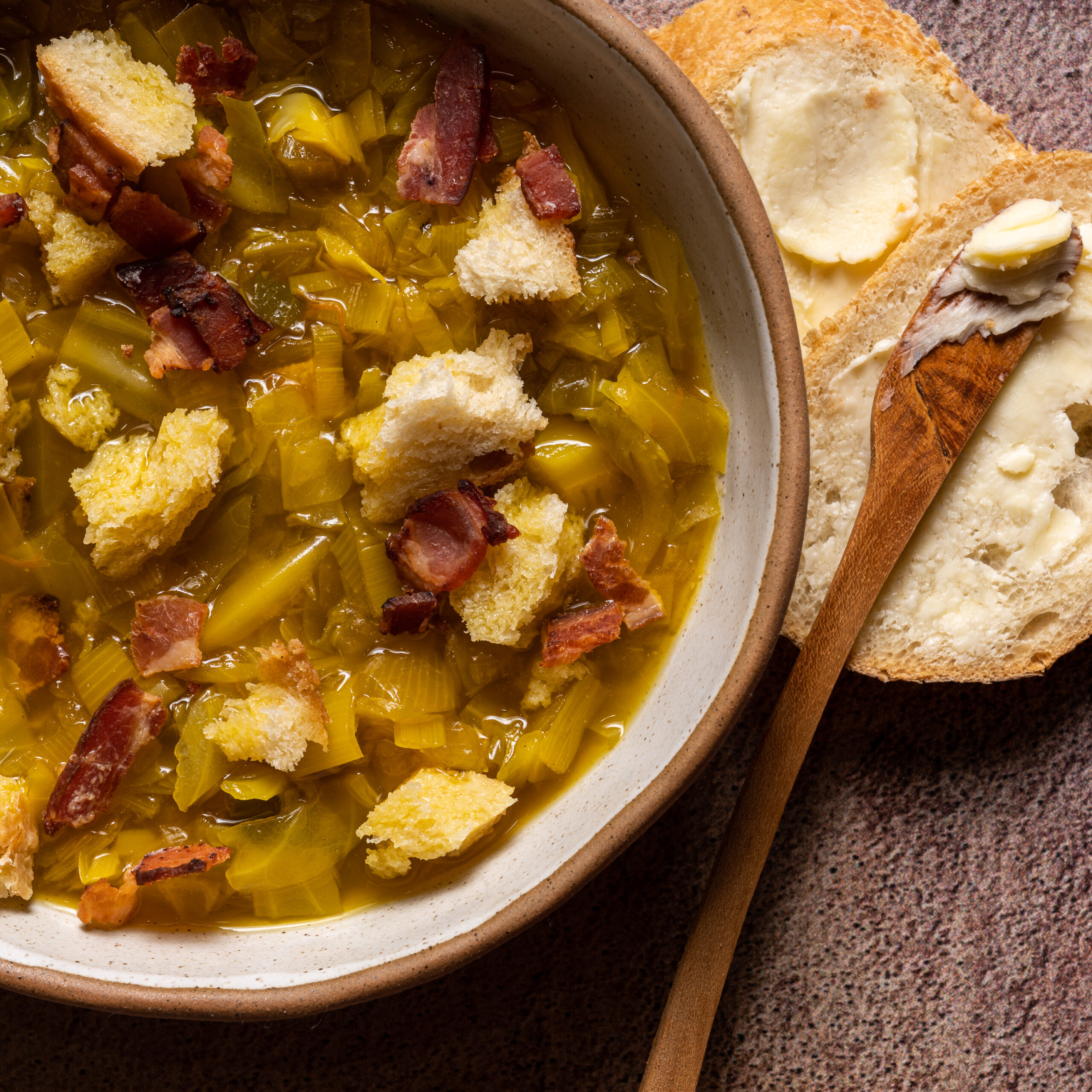 The chowder was surprisingly good!  I don't know what I expected but it was very satisfying.  It's not only very easy to make but every bite was a taste of history.

Medieval Cabbage Chowder
Author:
The Medieval Cookbook by Maggie Black
Ingredients
8 cups chopped green cabbage
3 cups chopped leeks (white part)
2 cups chopped onion
4 cups vegetable stock (yes, they made stock first from whatever vegetables available!)
1 teaspoon saffron
¾ teaspoon salt
¼ teaspoon ground coriander
¼ teaspoon cinnamon
¼ teaspoon sugar
Note: not sure if all of these spices were available in Medieval times, but the author also tried to enhance for modern tastes)
For serving: pieces of cooked bacon and bread
Instructions
All ingredients are added to a large pot, bring to a boil, then heat turned down to a simmer and cooked until vegetables are tender, about 25 to 30 minutes. Top each serving of soup with pieces of cooked bacon and snippets of bread.