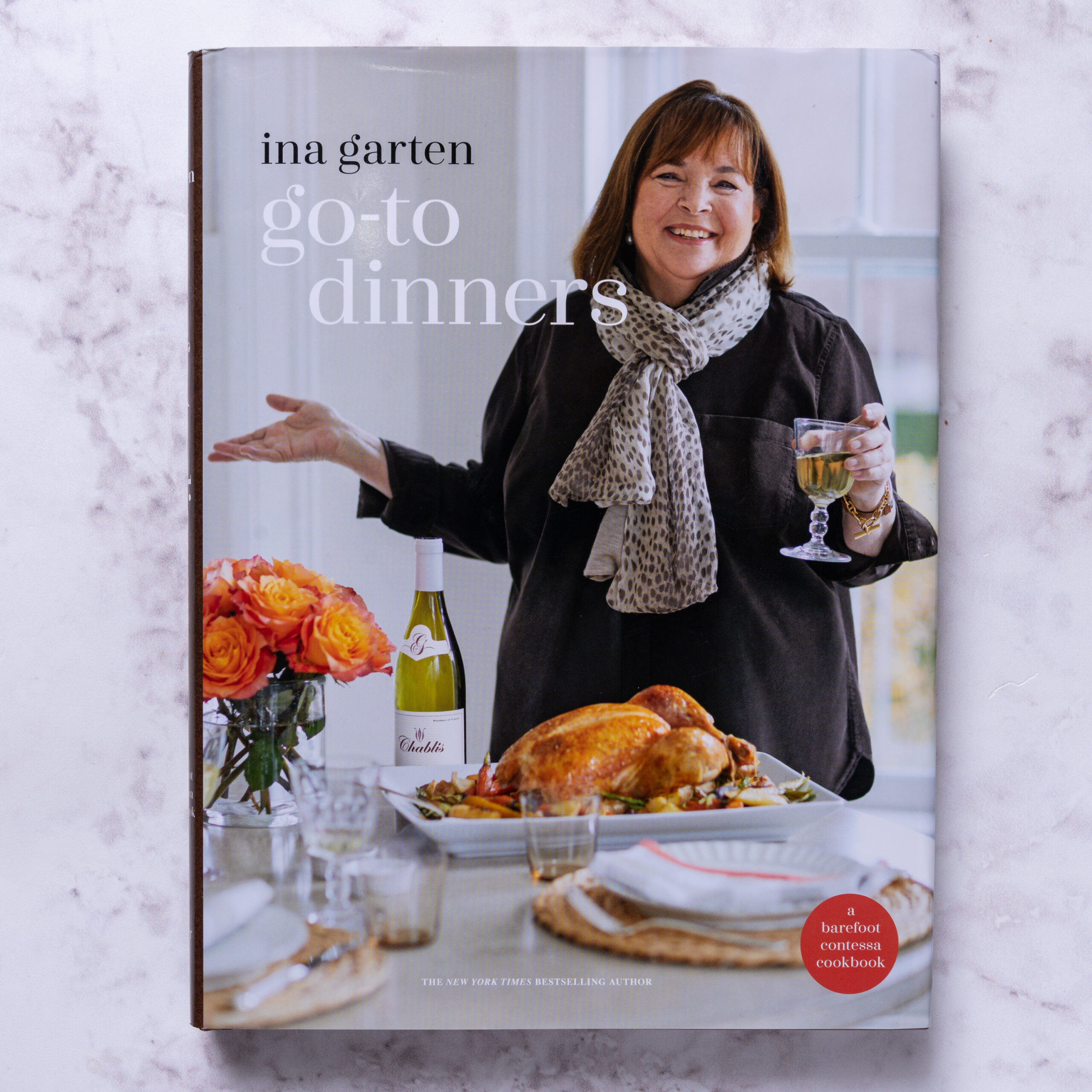 Ina Garten is said to be America's most trusted home cook even though she has won a James Beard award and five Emmy awards, not usually won by a home cook.  Ina has a way of relating to her readers and viewers by being approachable, friendly, caring, and someone who seems like she could be your friend, sister, mother, or grandmother.  Ina appeals to all ages.  And of course, her recipes are not difficult but delicious and comforting.
I have always enjoyed watching Ina's cooking shows and having her cookbooks on hand.  The books are seen around my kitchen often when I am pondering what to make for dinner while noting all I have on hand are some chicken thighs or pork chops in my refrigerator wanting to try something new.  I can always find something in one of Ina's cookbooks.
Go-To-Dinners includes freeze-ahead, make-ahead, and prep-ahead meals, in addition to drink ideas, vegetables and sides, and desserts, all to help complement dinners, if desired, and even breakfast for dinner which I enjoy.  The Light Dinners chapter has a variety of soups, sandwiches, and salads. I love the Tuscan White Bean Soup, and the lobster sandwiches with avocado. Many of the recipes from the Vegetables and Sides chapter are roasted, which is Ina's favorite method.  The Dessert chapter includes tarts, cakes, cupcakes, pies, cookies, and more.
My favorite chapter is the Family Dinners with ideas for pork, beef, fish and seafood, pasta, ham, sausage, some meatless, and chicken.  They all sound delicious and I know I will be making many recipes from this chapter.  I started with the "Creamy Chicken Thighs with Lemon and Thyme." I cook a lot with chicken thighs and I love the combo of lemon with fresh thyme.  The thighs are roasted and then nestled in a sauce of onions, leeks, crème fraîche, lemon slices, and fresh thyme sprigs.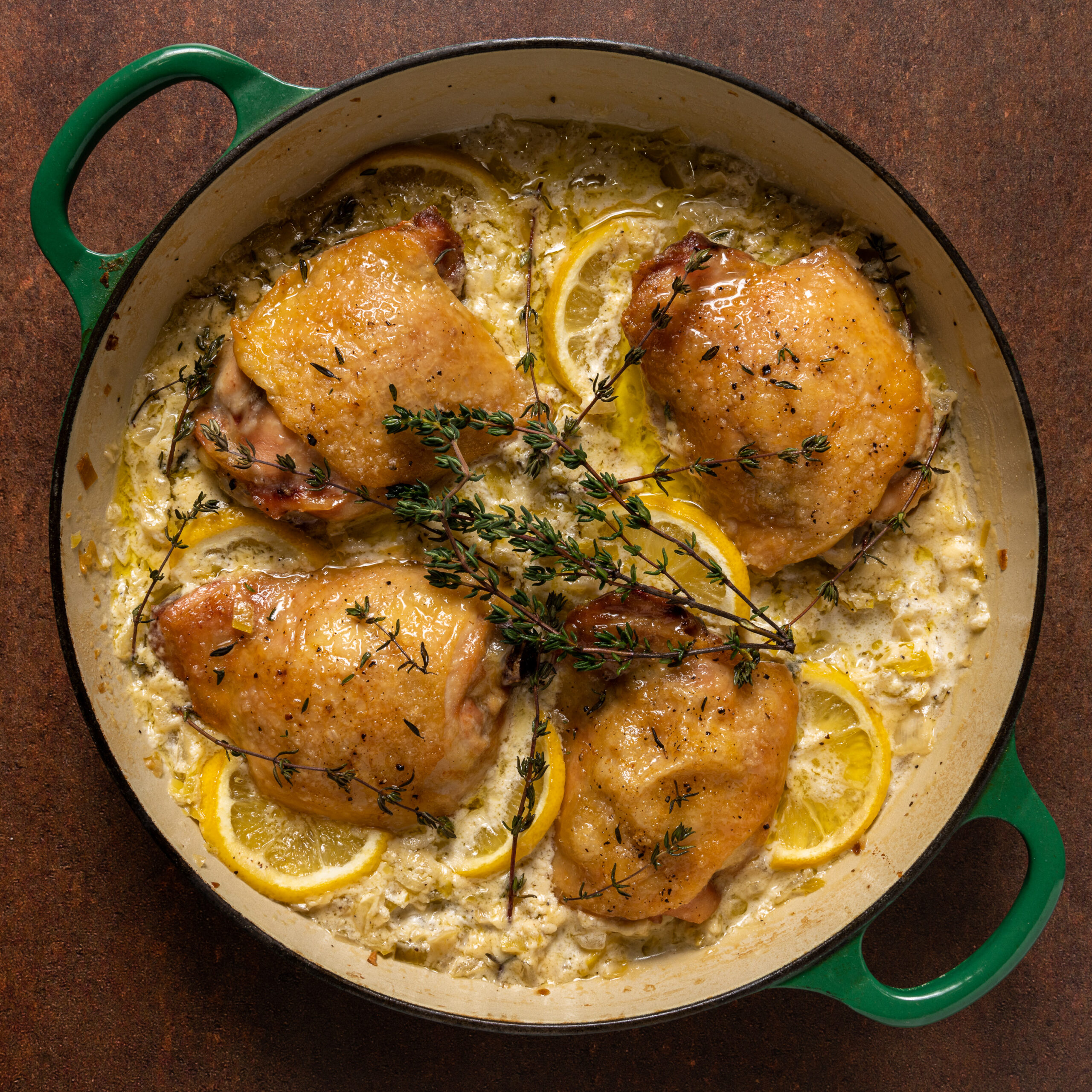 Not only was it delicious and easy but it looked beautiful and smelled heavenly!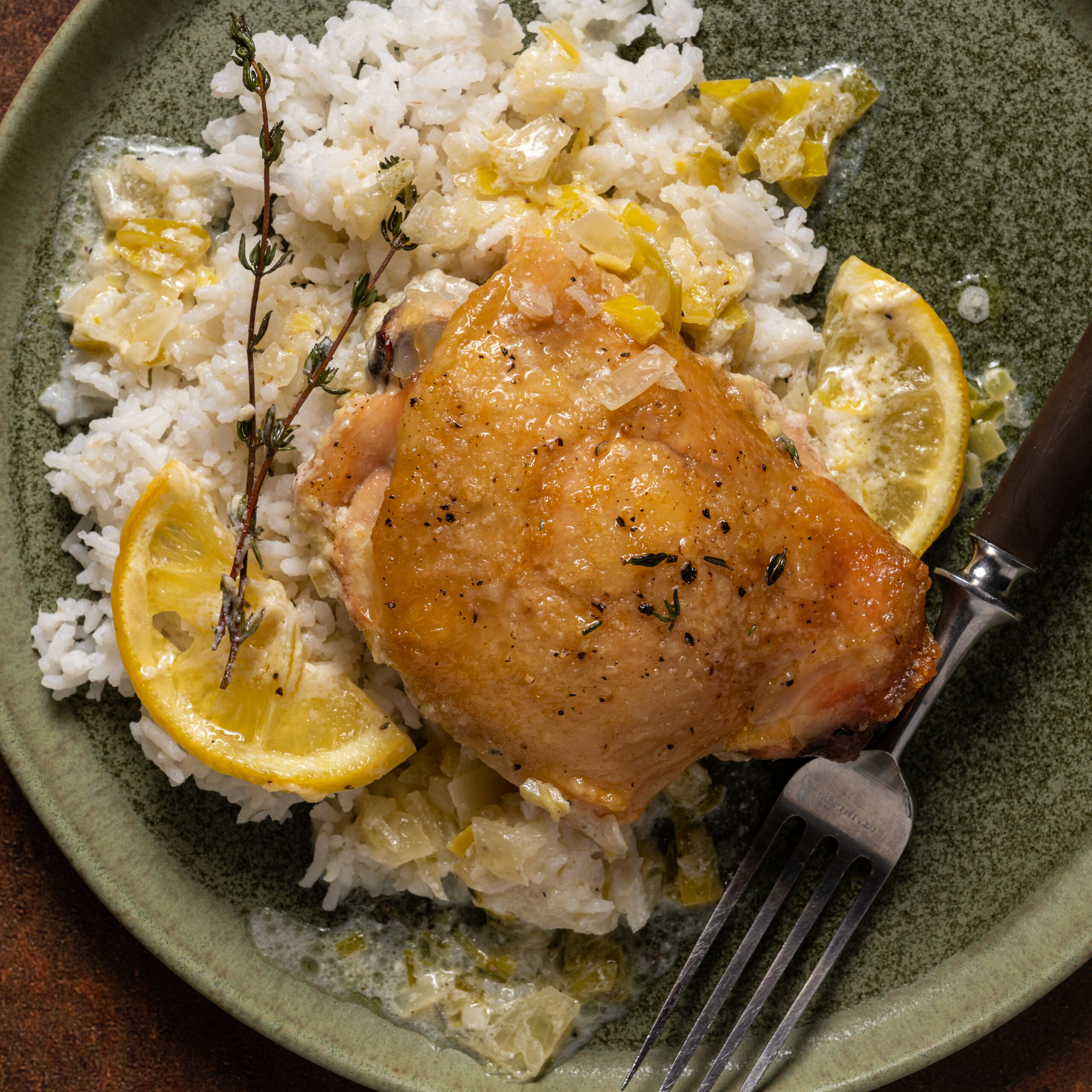 The dish is served with either rice or couscous.
This is an easy meal to prepare weeknights and is also special enough for dinner guests where it could be served with the asparagus cacio e pepe from the vegetable and sides chapter, and from the dessert chapter, an easy chocolate mousse.  Dinner is served!
Creamy Chicken Thighs with Lemon and Thyme
Author:
Ina Garten's Go-To Dinners
Ingredients
3 pounds bone-in, skin-on chicken thighs
olive oil
Kosher salt and freshly ground black pepper
2 Tablespoons unsalted butter
1-1/2 cups chopped yellow onions
1-1/2 cups chopped leeks, white and light green parts
2 teaspoons minced garlic
½ cup chicken broth
½ cup dry white wine, such as Pinot Grigio
½ cup crème fraîche
2 Tablespoons freshly squeezed lemon juice
½ small lemon, sliced into thin half rounds
8 to 10 sprigs fresh thyme
Cooked basmati rice, or couscous
Additional fresh thyme sprigs for garnish, optional
Instructions
Preheat oven to 400 degrees F. Place the chicken on a sheet pan, skin side up and pat dry with paper towels. Rub with olive oil and sprinkle with salt and pepper. Roast for 30 to 40 minutes until cooked through and the skin is golden brown; set aside.
Meanwhile, heat the butter and 2 Tablespoons of olive oil in a large (12-inch) ovenproof sauté pan over medium heat. Add the onion and leeks and sauté for 5 to 7 minutes until tender. Add the garlic and cook for 2 minutes. Add the chicken stock and wine and simmer for 5 minutes. Whisk in the crème fraîche, lemon juice, and salt and pepper to taste.
Nestle the chicken thighs into the sauce in the sauté pan. Tuck the lemon slices among the thighs and scatter the thyme sprigs on top. Place the pan in the oven and roast, uncovered, for 15 minutes. Serve hot over rice or couscous. Serves 4.