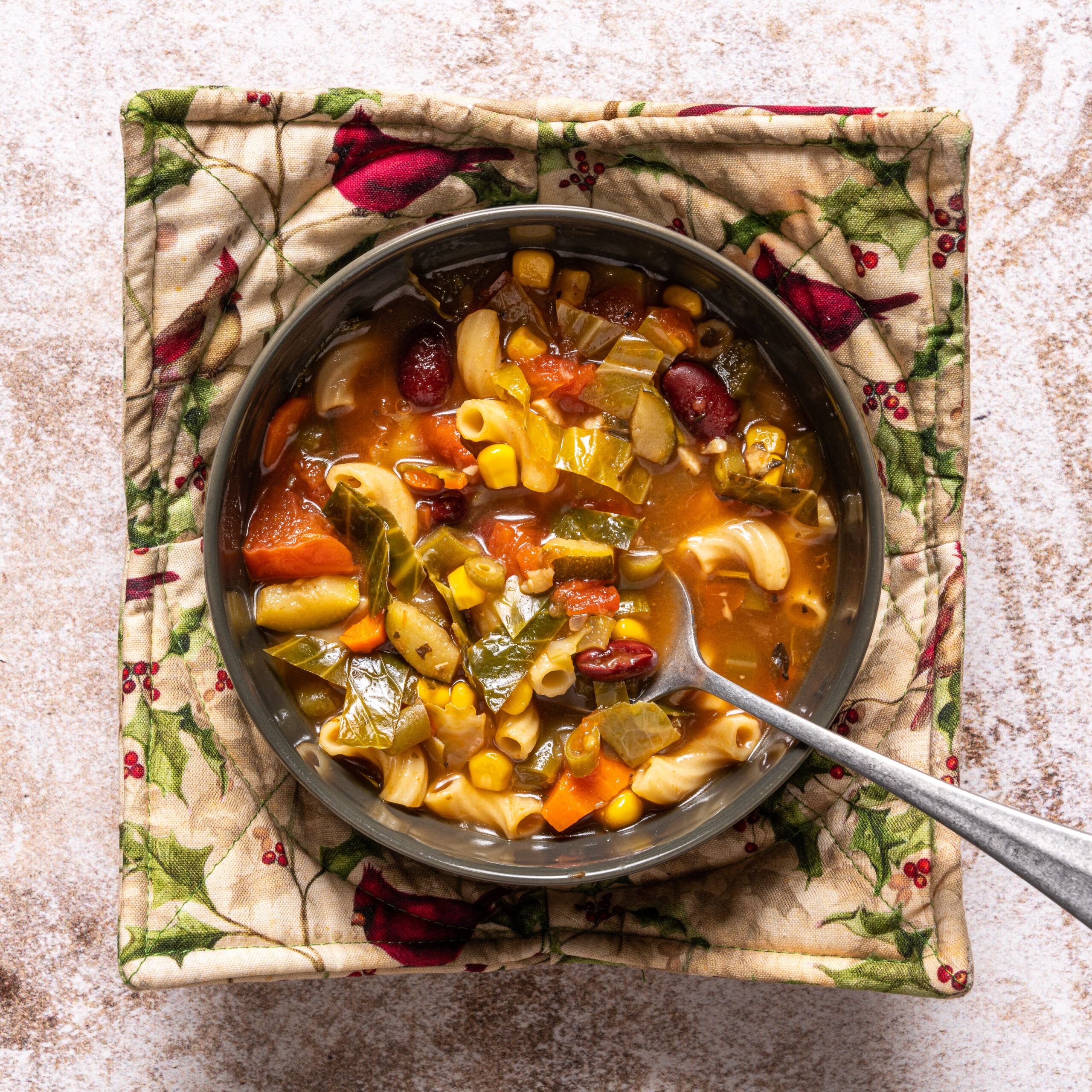 Whenever I wake up to more snow, I always get the urge to make soup.  This was today's choice.  It's a very hearty soup from an old Weight Watcher cookbook called "Day by Day" published in 2000. You don't need to be a WW member to buy or use their cookbooks.  They always give the nutritional info and the recipes are all so good and healthy.  I have lots of WW cookbooks and use them often.
This particular book (which is actually more like a magazine) has so many recipes that I have made over the years for healthy versions of some of my favorite meals such as Eggs Benedict (with a yogurt sauce in place of Hollandaise), a lower fat version of biscuits with sausage gravy, lots of pizza ideas, Fettucine Alfredo (made with skim milk and a small amount of light cream cheese), cinnamon rolls, and desserts like a chocolate silk cheesecake, red velvet cake, and a variety of cookies.
The soup takes a lot of chopping which I actually like doing as I'm looking out the kitchen window at the beautiful snow-covered trees and bushes.  Everything sparkles!  The recipe makes a big batch so you can refrigerate it for several days or freeze it for a couple months.  You'll be happy you have extra for later on another snowy day.

Fresh Vegetable Soup
Author:
Weight Watcher's Day by Day cookbook
Ingredients
2 Tablespoons olive oil
2 cups chopped onion
5 cloves garlic, minced
2 cups chopped celery
2 cups (2-inch) cut green beans, about ½ pound
1-1/2 cups fresh corn kernels (I didn't have fresh corn so used a 15 ounce can whole kernel corn, drained)
1 cup thinly sliced carrots
1 medium zucchini, halved lengthwise and sliced (about 1 cup)
1 teaspoon dried basil
1 teaspoon dried oregano
1 teaspoon dried rosemary
4 cans (14-1/2 ounces each) beef broth
1 can (15 ounces) kidney beans, drained and rinsed
4 cups chopped seeded tomatoes
⅔ cup elbow macaroni
1 can (8-ounces) tomato sauce
2 cups thinly sliced green cabbage
¾ teaspoon salt
¾ teaspoon pepper
For garnish- grated Parmesan cheese, optional
Instructions
Heat oil in a stockpot or Dutch oven over medium-high heat. Add onion and sauté for 2 minutes; add garlic and sauté another minute. Stir in celery and next 9 ingredients (celery through kidney beans); bring to a boil. Cover pan, reduce heat, and simmer for 30 minutes.
Add tomatoes, macaroni, and tomato sauce. Bring to a boil; cover and simmer for about 12-15 minutes or until macaroni is just tender. Add cabbage, salt, and pepper, and cook another 5 minutes or until cabbage wilts. Ladle into soup bowls and sprinkle each serving with some grated Parmesan cheese, if desired. Makes 8 servings, about 2 cups each.