My cooking friend Arlene and her charming husband Herb stopped by The Culinary Cellar to drop off a box of books.  They were actually the first people to see the sad, empty cellar after the flood but now I have their books to help make it alive again!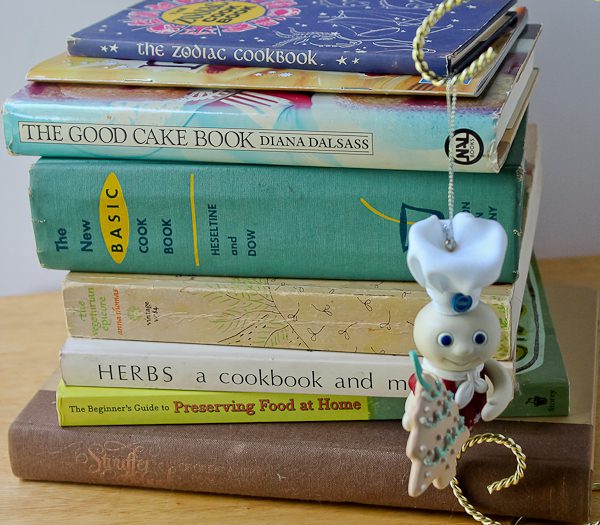 All kinds of good books here for baking, canning, and a vegetarian cookbook from Arlene's high school boyfriend!  Then there's the Zodiac cookbook and an extra surprise, a Pillsbury Doughboy Christmas ornament, which I love.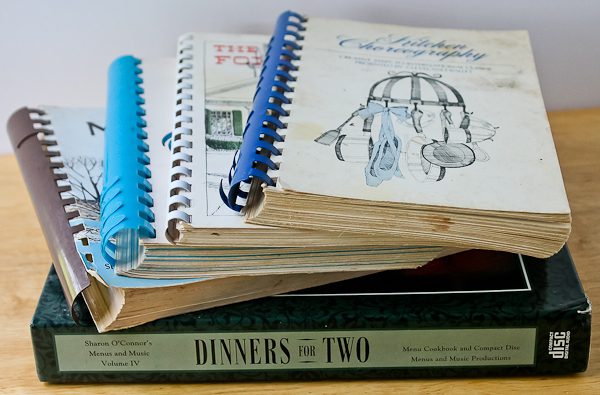 I love community cookbooks and here are some along with a special boxed "Dinners for Two" which includes recipes from romantic country inns and music from the San Francisco String Quartet.
Here's one I decided to cook from today because I love Pike Place Market in Seattle!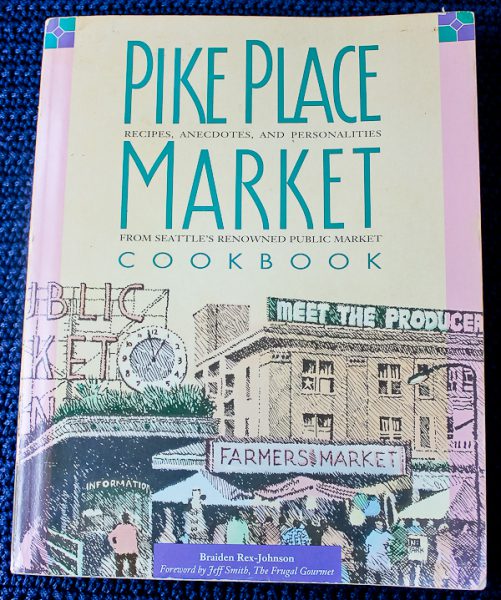 I have only been to Seattle once but have wanted to go back ever since.  Such a lovely city, my good friend Kim lives there, and I would head right to Pike Place again.  What an incredible market it is.  The recipe for Blueberry-Peach Cobbler sounded perfect for this time of year and it was probably the easiest cobbler I have  made, not to mention delicious.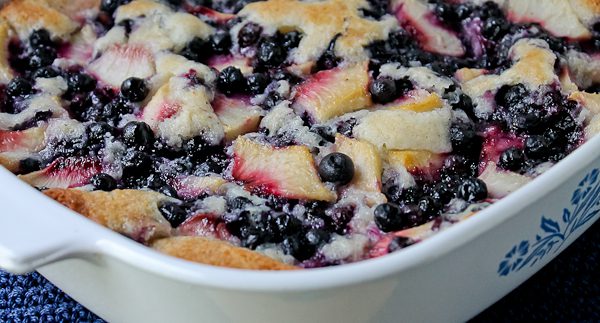 While the oven is heating up, butter is placed in the pan to melt.  Meanwhile, a simple batter is mixed and spooned right over the melted butter (don't mix, just plop it on).  Then the blueberries and peaches are mixed with some sugar and spooned over the batter, again, not mixing.  Pop it in the oven and it's done.
I was so happy Arlene and Herb stopped by.  They are very busy people!  That day they happened to be on their way to a party then a play.  Arlene keeps busy writing children's books – she has written forty!  She also has been a three-time Pillsbury Bake-Off finalist in addition to being a multiple winner in Taste of Home magazine contests including a grand prize for her cookies that were made from a spice cake mix, and most recently she won a Chicago Diabetes contest for her Shepherd's Pie topped with Butternut Squash.  I would call Arlene multi-talented indeed, not to mention generous and kind.  Thank you, Arlene, for these wonderful books, and for letting me find this great cobbler recipe!

Blueberry-Peach Cobbler
Author:
Pike Place Market Cookbook
Ingredients
½ cup butter
1 cup flour
¾ cup sugar
2 teaspoons baking powder
½ cup milk
2 cups sliced peaches
1-1/2 to 2 cups blueberries (I used 1-1/2)
½ cup sugar
Instructions
Place butter in a 2-1/2 quart baking dish and place dish in oven. Preheat to 350 degrees F and let butter melt while oven is heating. Remove when butter is melted.
Meanwhile, in a mixing bowl combine flour, the ¾ cup sugar, and baking powder. Add milk and stir just until blended. Spoon batter over melted butter in baking dish, but do not stir.
Combine fruit and the ½ cup sugar. Spoon over batter, but do not stir. Bake until fruit is bubbly and crust is golden brown, about 45 to 55 minutes. Serve warm, with whipped cream or ice cream, if desired. Serves 6-8.