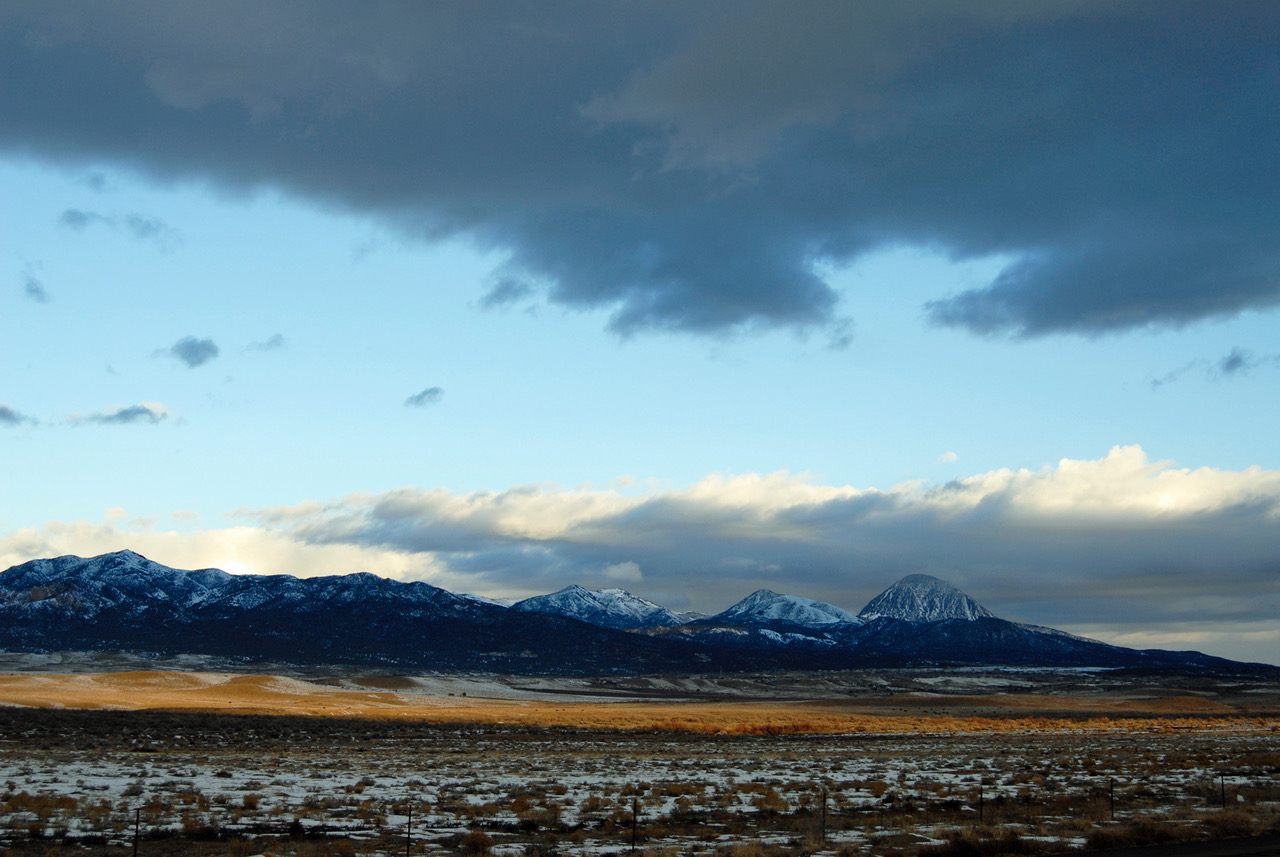 At the base of the legendary and majestic Sleeping Ute Mountain on the far right, between Four Corners Monument and Mesa Verde National Park in Colorado, lies the home of the Ute Mountain Ute Tribe.  Nearby is also the home of the Navajo now known as Diné, which means "the people."  It's on this sacred land where the Ute Mountain Ute Tribe produces the best blue cornmeal you will ever taste.
I would never have had the honor to write about this incredible Blue Cornmeal (and there are more products!) if not for my forever friend Gayle.  We have been friends since eighth grade.  Gayle lives near the Ute Mountain Utes and discovered the blue cornmeal at a local organic grocery.  The cornmeal has been produced by the Bow & Arrow Brand since 1962.  They have a 7,700 acre farm using state-of-the-art sustainability practices to produce award-winning NON-GMO, 100% whole grain, gluten-free, and Kosher corn products.  They harvest and mill the corn on the reservation and offer it from their sacred land to your kitchen.
Corn is one of the main staples of Native American life.  Every Spring, many Diné families plant large fields of corn, and not just for nutrition, but it is also an important part of Diné prayer.  The pollen of the corn is dusted off the tassels and used in ceremonies as a blessing, and offered in prayer.
Gayle sent me a bag of the Blue Cornmeal for my birthday a couple weeks ago and I was immediately hooked.  It's the best I have ever tasted, hands down.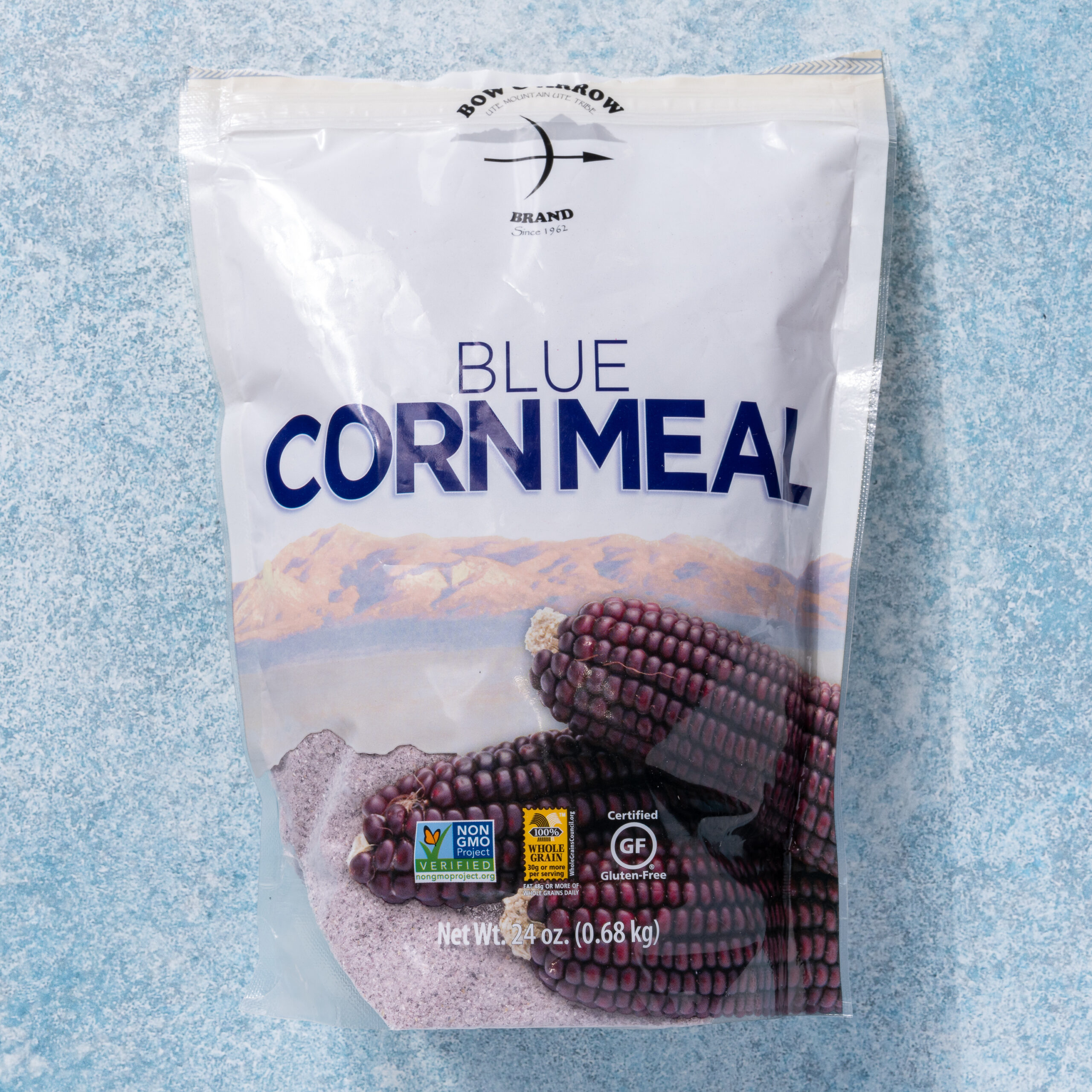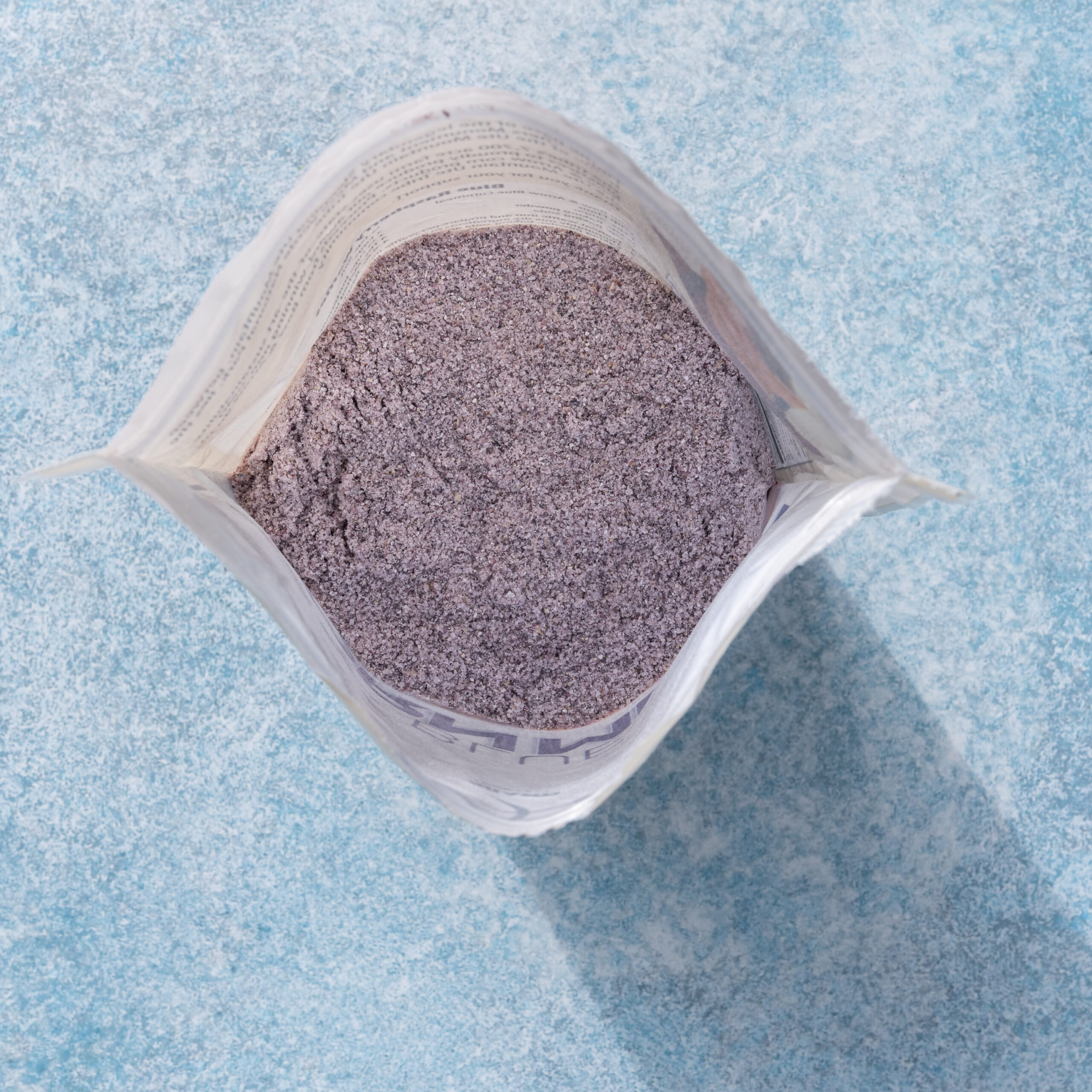 Look at that color!
Corn is used to make many traditional dishes, including "kneel-down" bread, blue corn mush, tortillas, dried steamed corn, and roasted corn.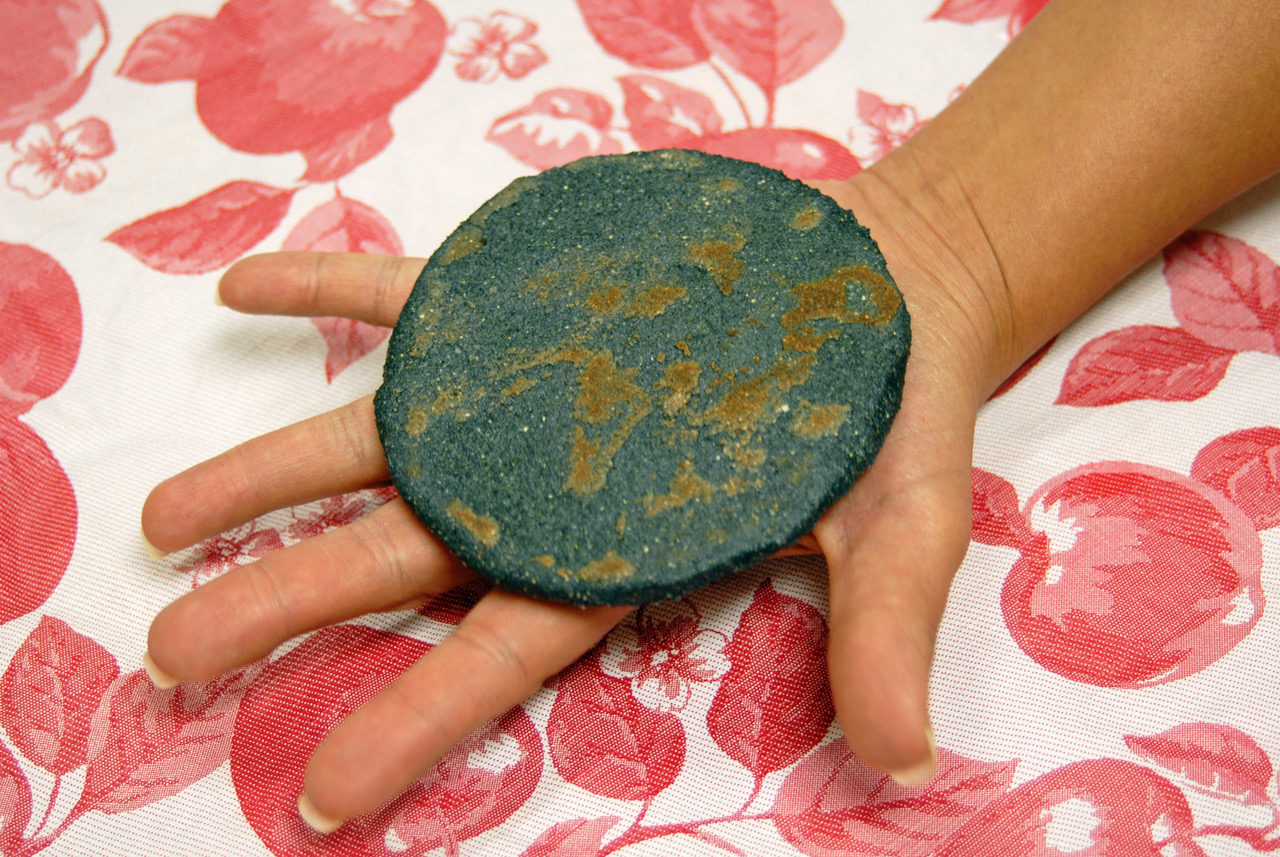 Here is a gorgeous blue corn tortilla.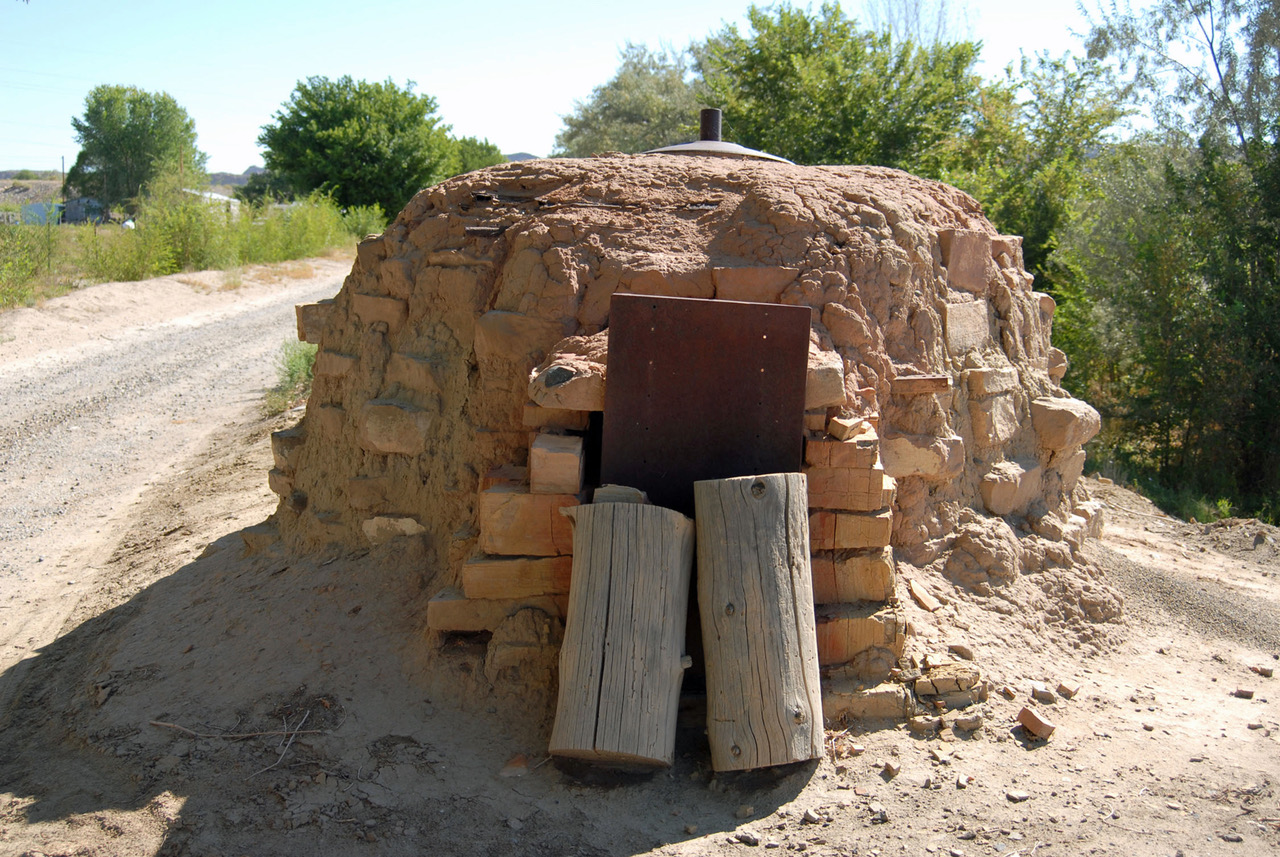 This is an oven for steaming corn-on-the-cob with the husks on.  A wood fire burns all night while the cobs soak in water elsewhere.  In the morning, the corn is dropped down into the oven and the top covered.  The corn steams and is pulled out the front door.  It's a chewy, nutty treat.  It is also dried, shucked, and stored for stews in the winter.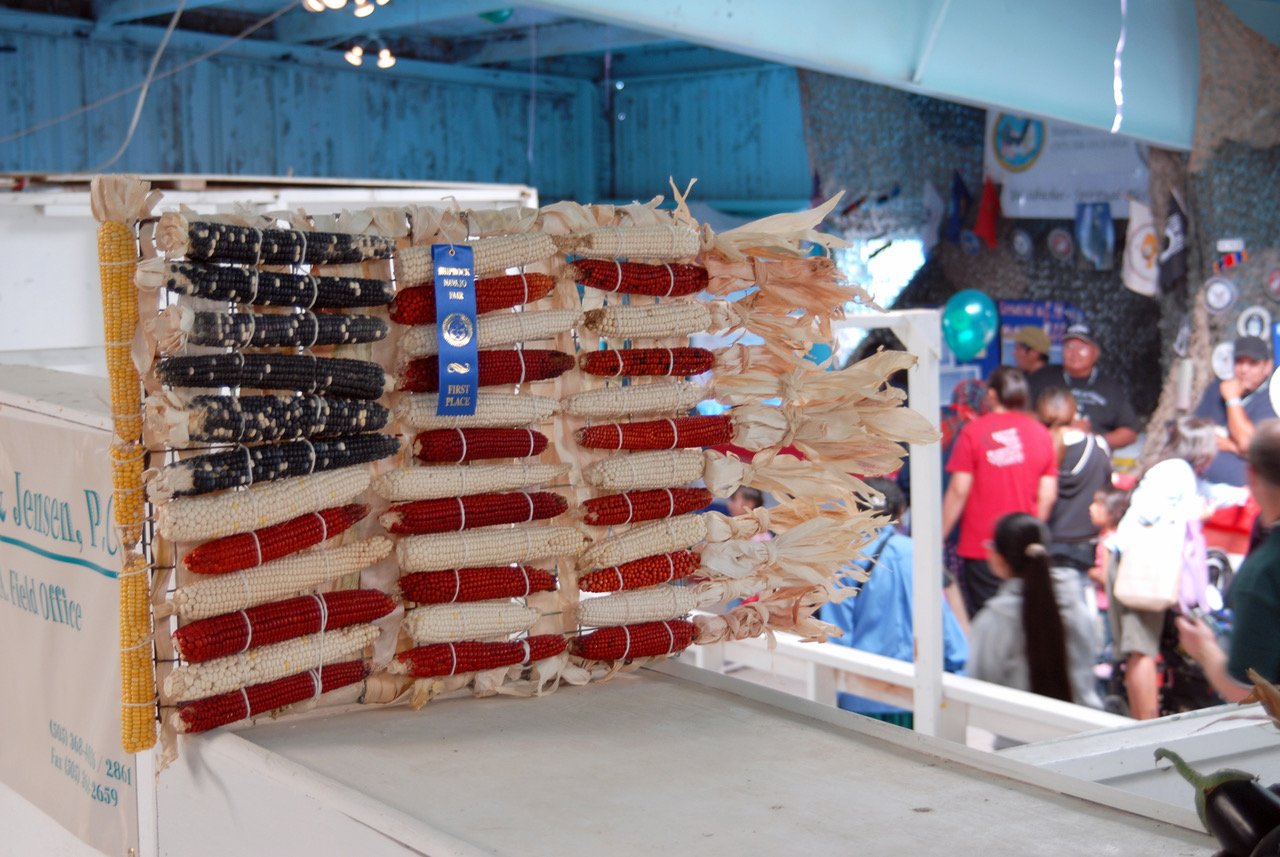 Ears of corn are also used for fun.  This corn flag won a 1st place blue ribbon at the Shiprock Navajo Fair!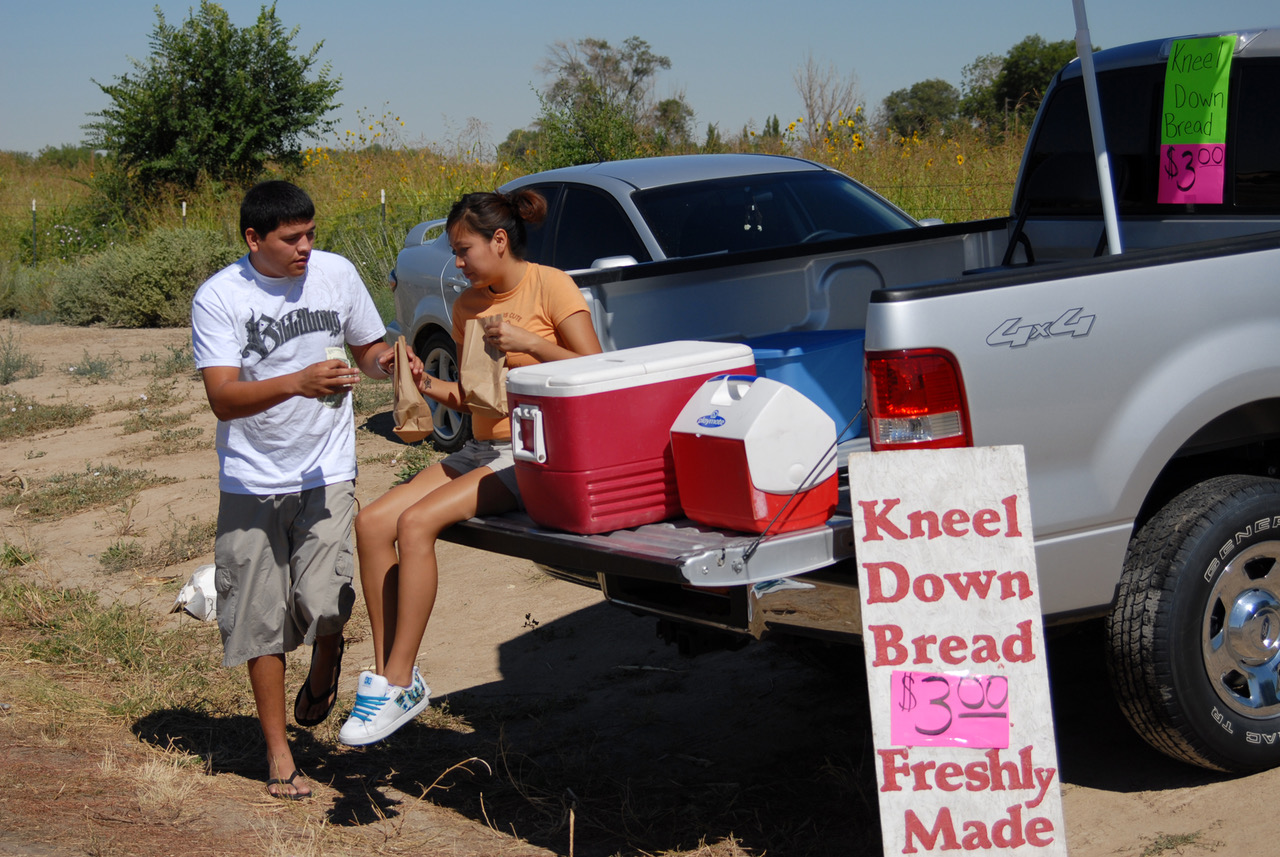 Selling the Kneel Down bread at the roadside.  Wish I could taste it!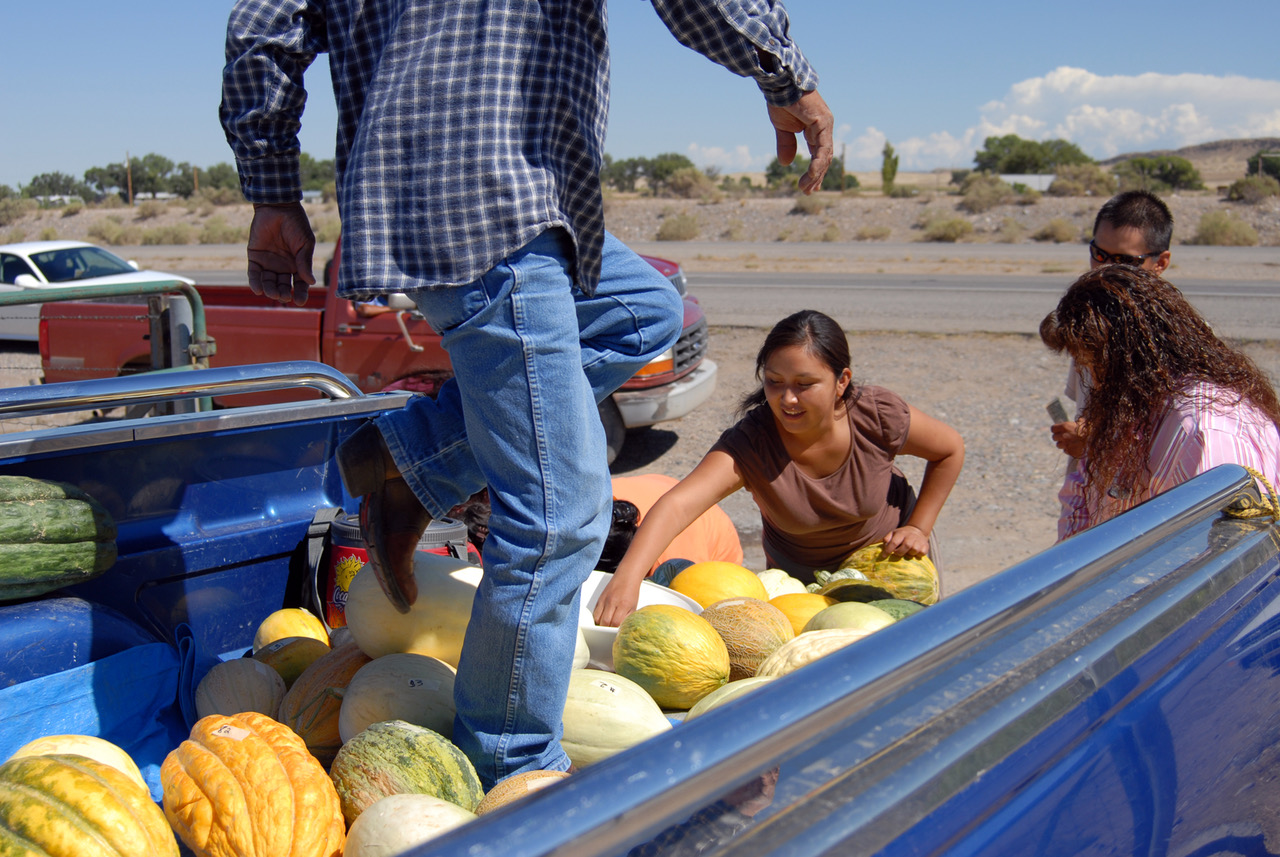 Selling large squash and melons from the back of pick-up trucks.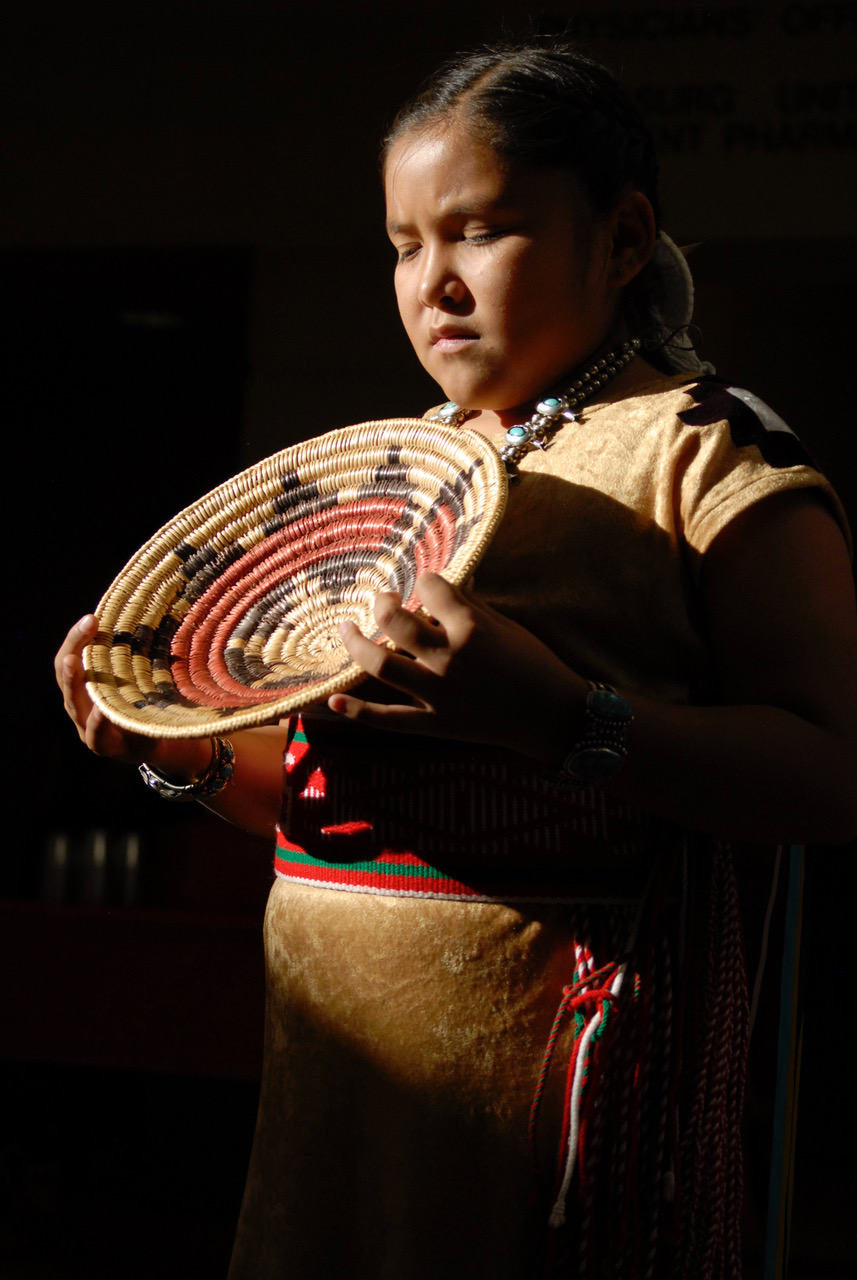 This beautiful photo is of a young Diné girl who holds a wedding basket as she dances.  In a traditional Diné wedding ceremony, blue corn mush is served to the couple from the basket.  A wedding basket is a perfect gift for a couple getting married, especially since dried blue corn can be seen in the weaves.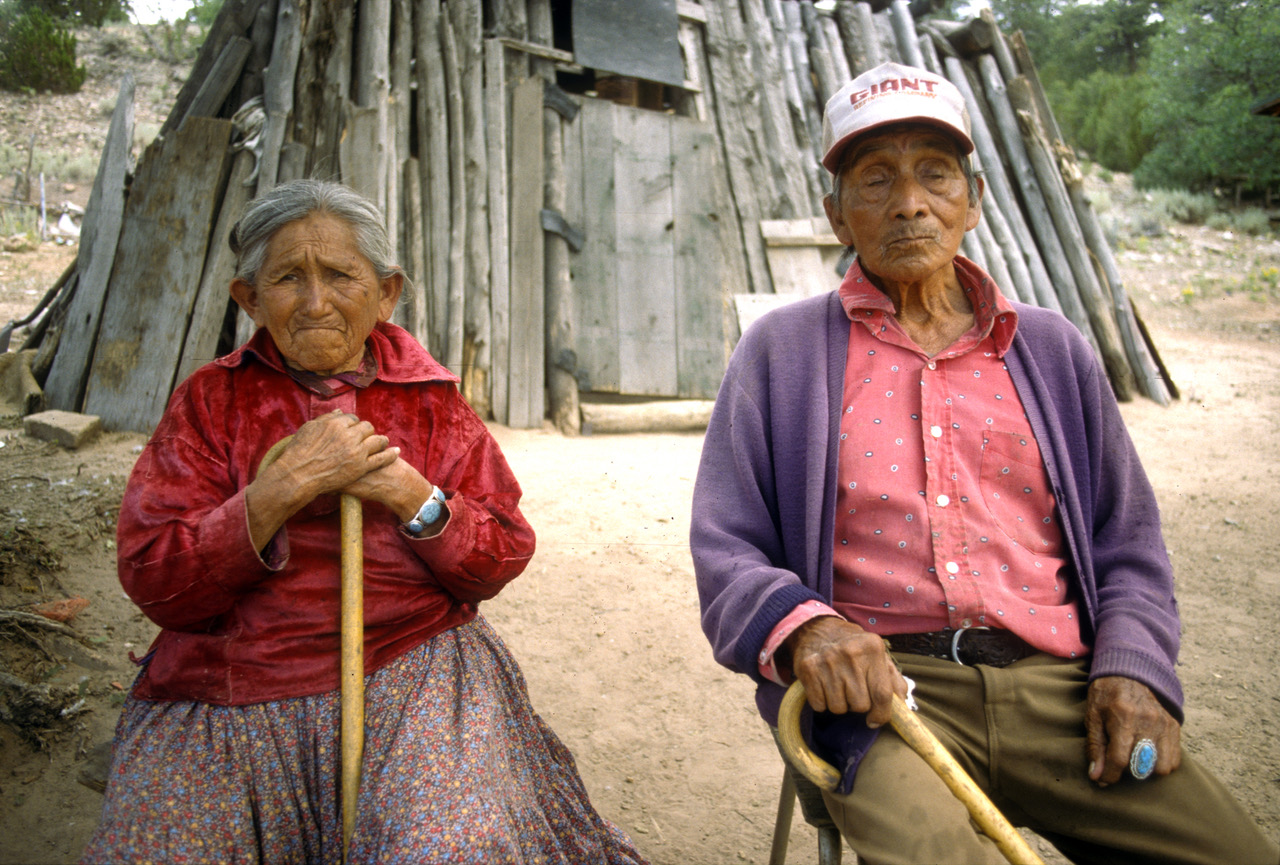 I adore this photo.  Gayle says any elder will tell you that blue corn mush is their favorite comfort food.
I already have my first favorite blue cornmeal recipe.  I made the "Blue Raspberry Waffles" right from the back of the package.  They were beyond delicious – we LOVED them!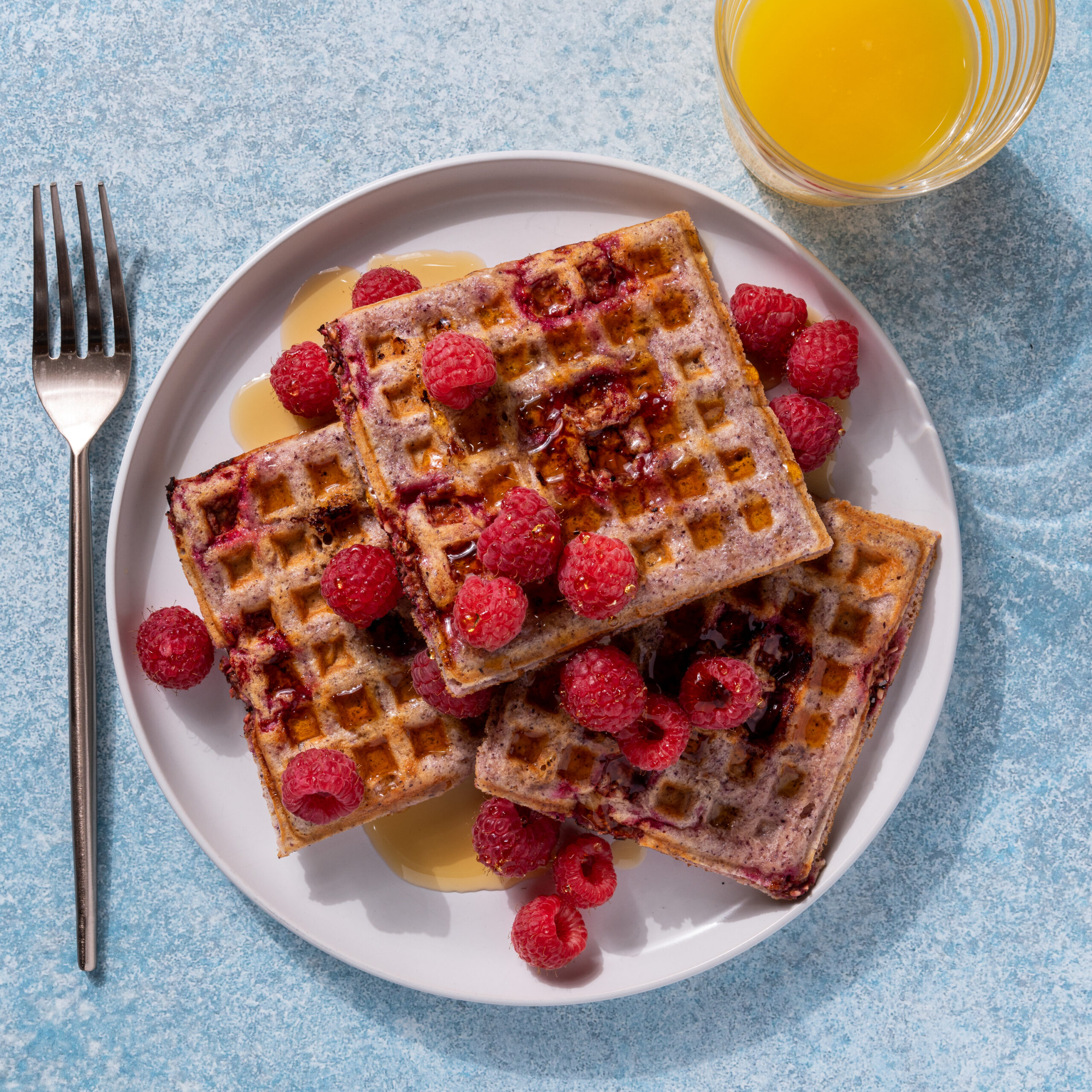 Fresh raspberries are folded into the cornmeal batter, then sprinkled with more raspberries when cooked, along with drizzles of syrup.  You can see how beautifully the berries in the batter infused into the waffles. The waffles are also good topped with plain yogurt or just dusted with powdered sugar.
Gayle also sent me a cookbook with even more blue cornmeal ideas.  I think my bag of the cornmeal will disappear fast!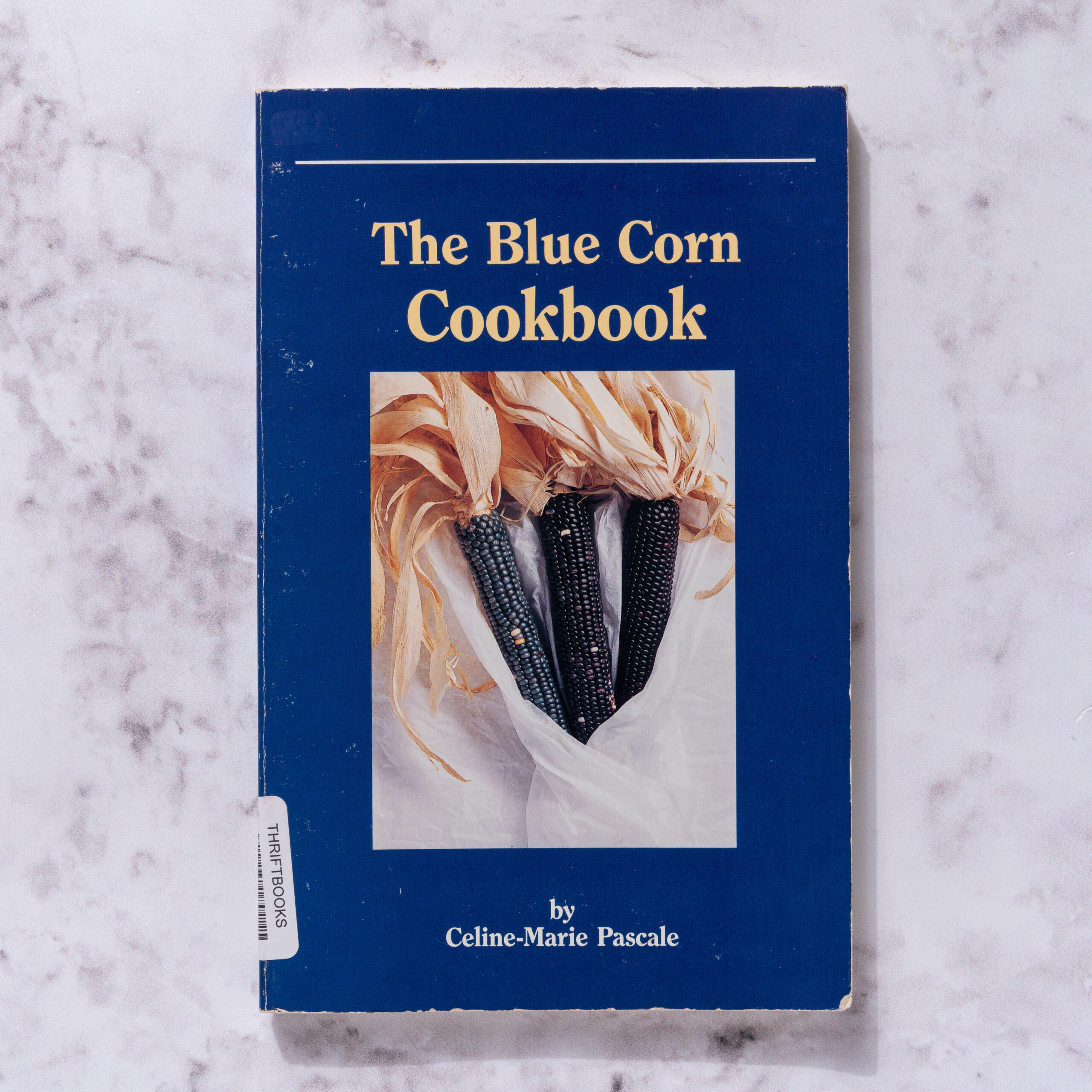 Thank you, Gayle, for introducing me to this amazing product.  I will definitely order more, as I want to try many of the recipes on the Bow & Arrow website.  There are recipes for waffles and pancakes; polenta and grits; appetizers; main dishes; desserts; cookies; cakes and cobblers; breakfast; breads and tortillas; biscuits, scones, and muffins; and side dishes. The rich blue cornmeal makes any cornmeal recipe special, delicious, and nutritious.  Remember that you can also order white and yellow cornmeal.

Blue Cornmeal Raspberry Waffles
Author:
Bow & Arrow Brand Blue Cornmeal
Ingredients
1 cup Bow & Arrow Blue Cornmeal
1 cup all-purpose flour
3 Tablespoons granulated sugar
¼ teaspoon baking powder
¼ teaspoon baking soda
¼ teaspoon salt
3 large eggs
1-1/3 cups buttermilk
4 Tablespoons melted butter
6 ounce container fresh raspberries
Instructions
Preheat waffle iron and prepare per waffle iron directions.
Thoroughly mix dry ingredients in medium bowl.
Thoroughly mix wet ingredients in a large bowl.
Fold dry ingredients into wet ingredients. Mix until just combined. Don't overmix.
Gently fold in raspberries.
Cook waffles according to your waffle iron instructions.