This is the time of year when many high school students are anxiously awaiting to receive college acceptance letters or emails.  No matter where they decide to attend, upon arrival on that first day, it is discovered that there is no more mom's cooking.  Dorm food awaits.  Sometimes it's good, sometimes not so good, but many times there might be one or two favorites that will help get through the late night studying.
When my youngest daughter Kara attended Indiana University the treat of choice for the students was the Special K Cookies, which are similar to Rice Krispie Treats but made with Special K cereal instead.  When Kara graduated, I bought a cookbook of student favorites so I would have the recipe to surprise her here and there.  She still loves them.
When I received many boxes of cookbooks from Polly in Washington (more on Polly and her books in a future blog!), included was this cookbook of favorite recipes from the residence halls of Purdue University.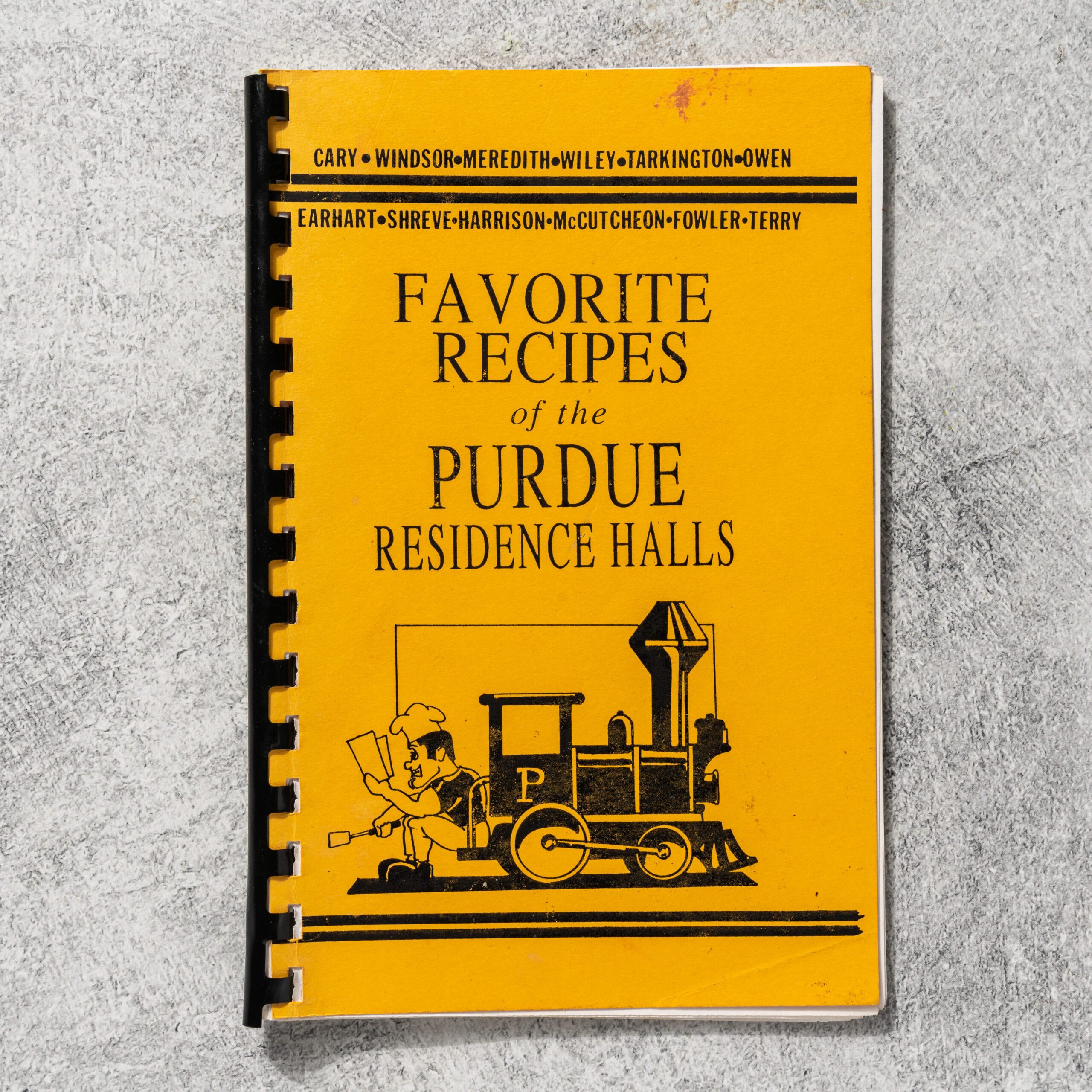 I was immediately intrigued to see what Purdue students enjoyed.  Turns out, it was quite a bit.  Favorites included entrées like enchiladas, sweet-sour pork, chicken chimichangas, Monte Crisco sandwiches, and tuna-potato chip casserole.  They loved salads like garden vegetable, Hawaiian ambrosia, and pasta salads.  Side dishes such as cheesy and rich New Orleans potatoes, or noodles Romanoff.  To warm up in the cold Indiana months chili was popular, along with cream of broccoli and Canadian cheese soups.  I am betting the warm and gooey butterscotch rolls were popular before an early morning class.  And for desserts, who doesn't love a good chocolate crinkle cookie, Scotcheroos, turtle brownies, chocolate eclair torte, Hello Dolly Bars, or the one I decided to make, Banana Oatmeal Cookies.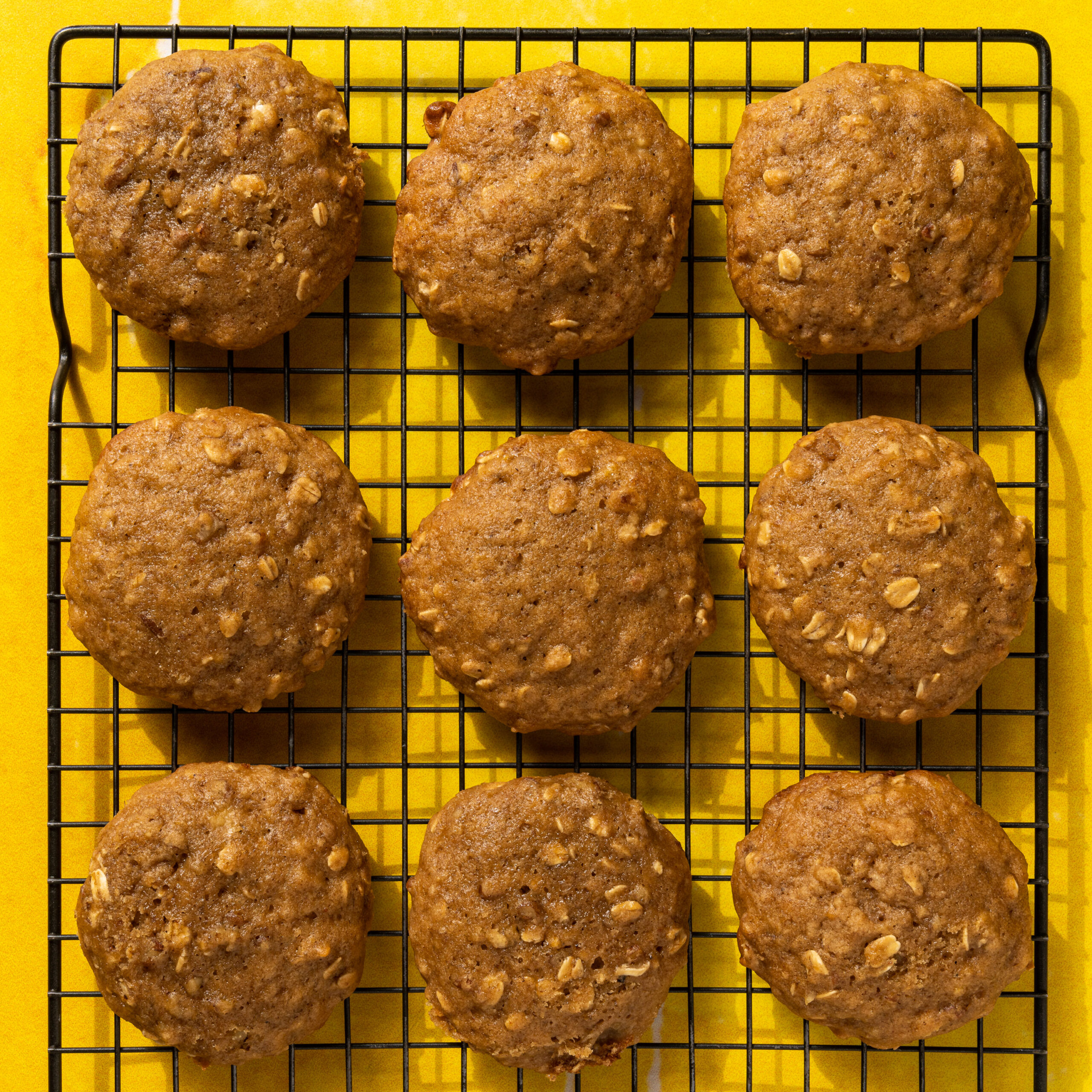 While those warm gooey butterscotch rolls sound wonderful, sometimes it's just easy to grab and run with a cookie that is a little healthier made with lots of fresh mashed bananas, oatmeal, and aromatic spices.  These cookies could be named Breakfast Cookies.  They are not a crispy cookie; it's cake-like as a muffin or banana bread.  My husband loved having them for coffee in the morning, and even my 10-month old granddaughter liked having tiny bites.  They were easy for her to chew since they are so soft, plus she loves bananas.
If any of you reading this attended Purdue or had a child attend, was there a favorite food you remember?  Or chime in with a favorite from any college!

Banana Oatmeal Cookies
Author:
Favorite Recipes of the Purdue Residence Halls
Ingredients
2 cups packed brown sugar
½ cup plus 1 Tablespoon softened butter
2-1/2 cups all-purpose flour
1 teaspoon table salt
¾ teaspoon baking soda
¾ teaspoon cinnamon
¼ teaspoon nutmeg
2 eggs, beaten
3 large ripe bananas, mashed
1 cup old-fashioned rolled oats
¾ cup finely chopped pecans
Instructions
In bowl of electric mixer, cream together brown sugar and butter.
Sift together flour, salt, baking soda, cinnamon, and nutmeg into a large mixing bowl.
Cut in butter mixture to flour mixture using a pastry blender. Stir in beaten eggs, mashed bananas, oats, and nuts until well-blended. Cover bowl and refrigerate at least 1 hour.
Heat oven to 350 degrees F. Drop spoonfuls of dough onto a nonstick baking sheet, or a lightly greased cookie sheet to make about 3-1/2 dozen cookies. These will be smaller cookies, but if you like them little bigger (as my husband does) make 2-1/2 dozen using a cookie scoop.
Bake for 10-12 minutes or until golden around the edges and cookies are done in the middle. Remove from oven and let sit for a minute on the baking sheet before removing to a wire rack to cool completely.