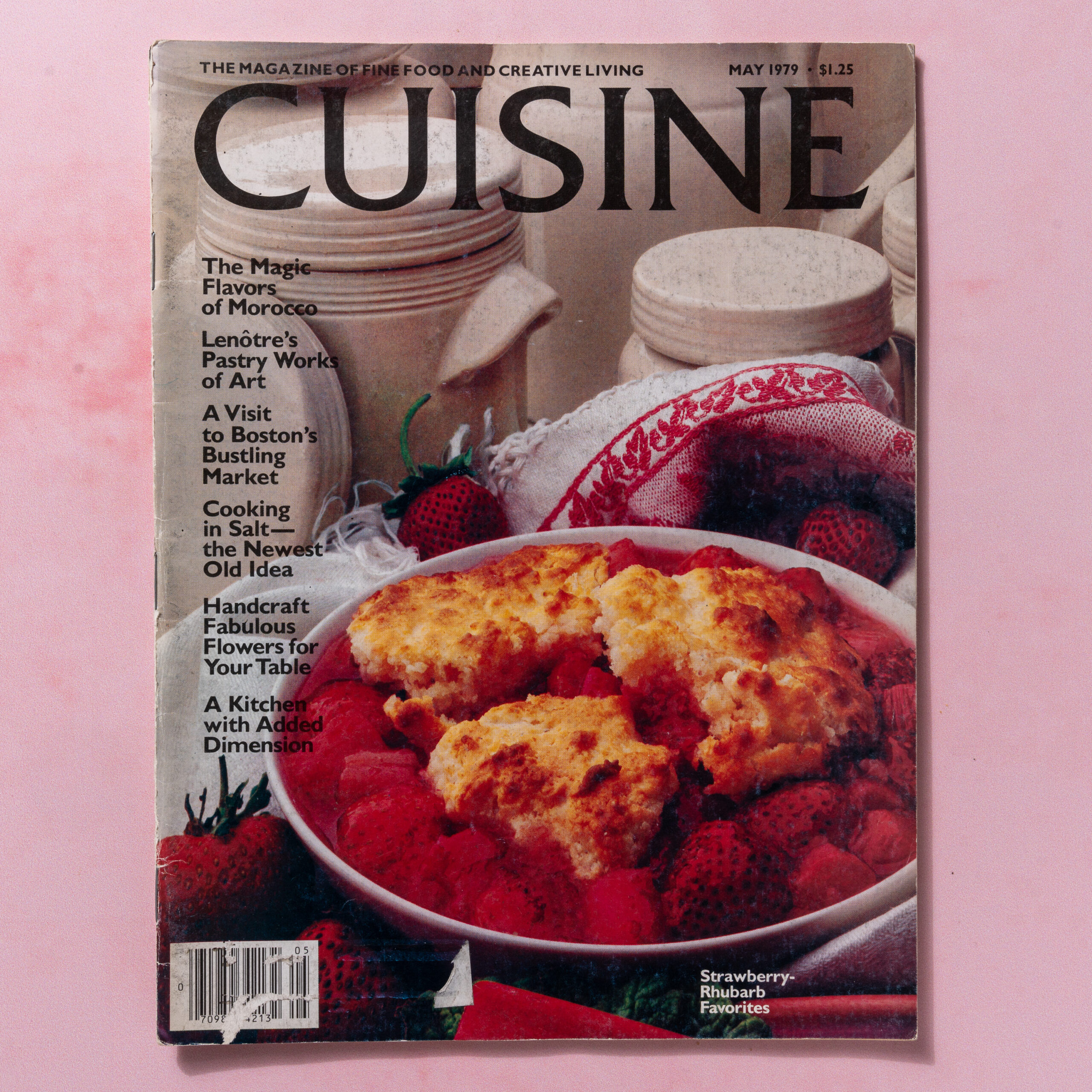 One of the first articles in this May 1979 issue of Cuisine magazine is all about the grand master of French pastry, Gaston Lenôtre who offers treasured recipes for some of his masterpieces.  The chef began his culinary life in a little shop popular for its petits fours, then he soared to the top of the catering trade with elaborate wedding parties and baptismal feasts.  He eventually renovated an old Paris restaurant, Pré Catelan, and the rest is history.  His elegant recipes included in this issue are a Chestnut Charlotte,  Autumn Meringue Cake, and an exquisite Easter Cake.
The next article was a Moroccan feast with a full dinner menu with classics like Lamb Brochettes,  Sweet Couscous with Honey, a variety of fresh vegetables and salads, oranges in rosewater,  almond cookies, and mint tea.
"Cooking in Salt" was an interesting article to read, as I have never tried this ancient method of using salt as a unique coating coating to seal in all the natural juices of the food that it incases.  The recipe a veal roast baked in salt uses seven cups of kosher salt.  A Macedonian leg of lamb uses four cups; stuffed Rock Cornish hens use fifteen cups, and a 2-pound pike uses ten pounds!
After reading all these tempting recipes, I decided on something more simple, as elaborate French pastries would surely be amazing, and a Moroccan feast a fun idea for a dinner party, but since it's Springtime, I opted for the recipes that paired rosy rhubarb and ripe strawberries.  Rhubarb, which reaches its peak in May and June, is usually thought of and used as a fruit but is really a vegetable.  Rhubarb brings a zest to strawberries, and together their sum is livelier than their parts.
The cover of the magazine features a strawberry-rhubarb cobbler.  Inside you will find more strawberry-rhubarb combos for punch, lattice pie, a freezer conserve, muffins, a sauce, coffee-cake, sweet-sour pork, and some luscious bars with a meringue topping which is what I decided to make.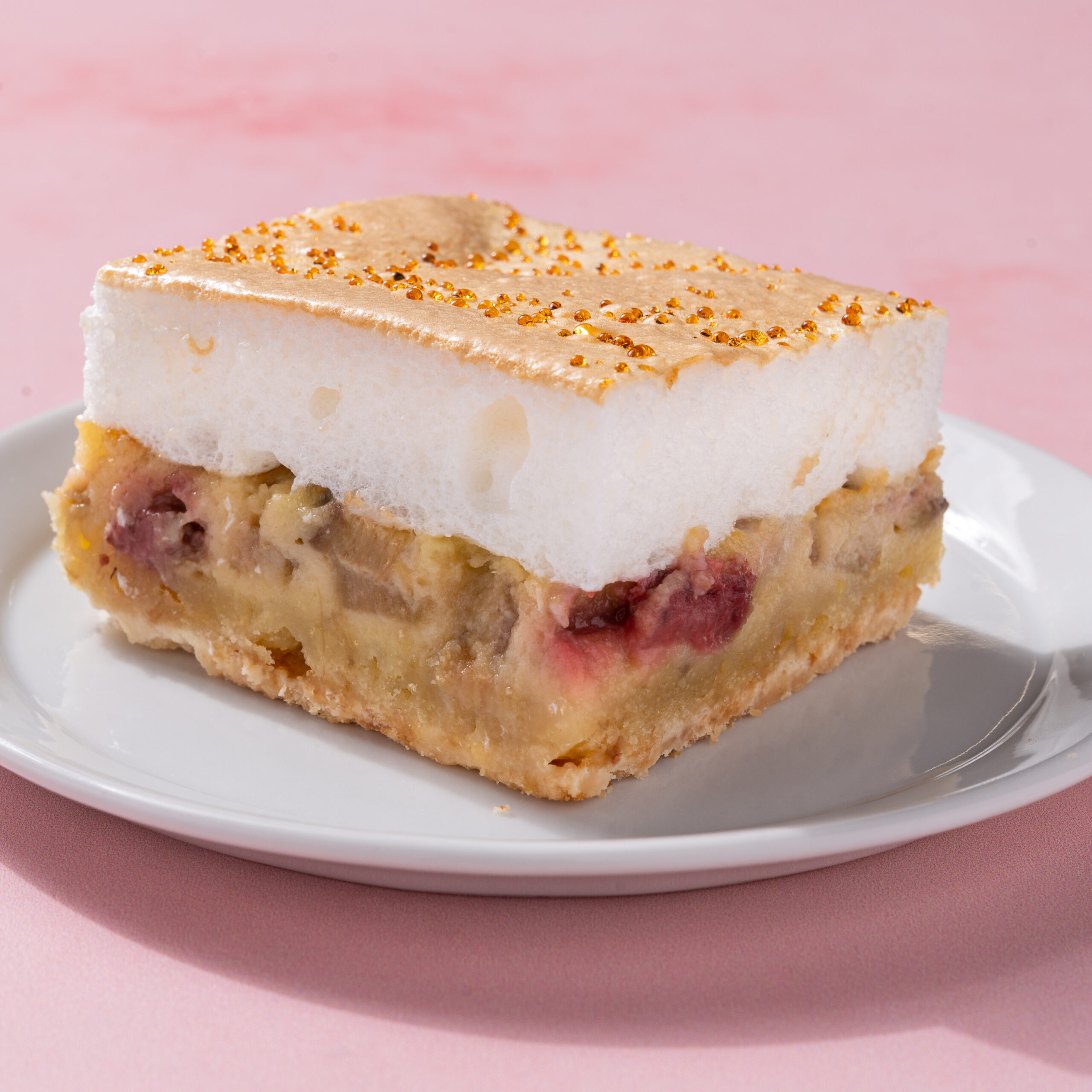 For the bars, the first layer is a shortbread type of crust, followed by a rich filling of chopped rhubarb and strawberries with cream and egg yolks, and topped with a tall layer of meringue.  It's not overly sweet and so good.

Laura's Strawberry-Rhubarb Bars
Author:
Cuisine Magazine May 1979
Ingredients
For Crust:
1-3/4 cups all-purpose flour
2 Tablespoons powdered sugar
½ cup cold butter, cut into bits
For Filling:
1-1/2 cups granulated white sugar
¼ cup all-purpose flour
¼ teaspoon salt
6 egg yolks
1 cup whipping cream
4 cups sliced fresh rhubarb
1 cup sliced fresh strawberries
½ teaspoon lemon juice
Meringue Topping:
6 egg whites
½ cup granulated white sugar
Instructions
Heat oven to 350 degrees. Grease a 9-by-13-inch baking pan; set aside.
For crust: Mix 1-3/4 cups flour and the powdered sugar in a medium mixing bowl. Cut in the butter with a pastry blender until mixture resembles coarse crumbs. Press mixture evenly into the prepared baking pan. Bake until golden, about 10-12 minutes.
For filling: Mix the 1-1/2 cups sugar, flour, and salt in a large bowl. Lightly beat egg yolks and stir into the sugar mixture along with the cream. Stir in the rhubarb, strawberries, and lemon juice. Spread mixture evenly over crust. Bake until firm, about 1 hour.
Beat egg whites in large mixer bowl until foamy. Beat in ½ cup sugar one Tablespoon at time until stiff peaks form. Spread over the rhubarb mixture in pan. Bake until light brown, 10-15 minutes. Cool in pan on wire rack. Cut into squares. Makes 8-10 servings.