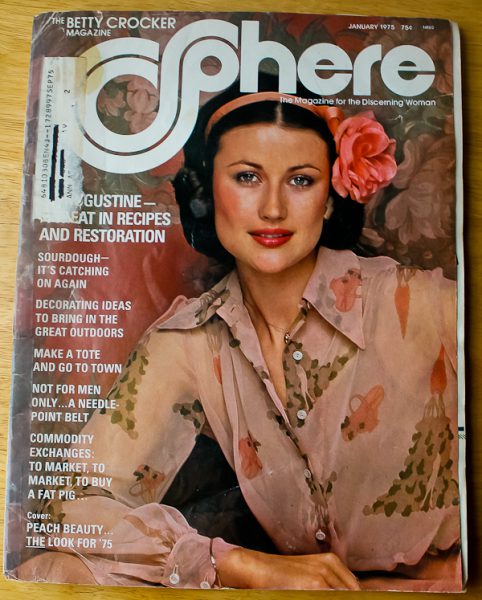 Yay!  It's another whole new year for Sphere magazine recipes!  I have had a busy week with requests from those who love and miss this vintage magazine, at least six emails asking for everything from a wedding cake recipe to an issue that included exercises for the new year.  The requests never stop from my fellow Sphere enthusiasts.
The January 1975 issue features an extended article on Spanish cuisine in the New World from St. Augustine, the oldest city in our country.  Ponce de Leon was Florida's first tourist, stepping on our shores Easter Sunday in 1513, in search of gold, but also leaving us a legacy of delicious foods.
Another article is all about sourdough baking.  There are easy instructions on how to make a starter and then pages of sourdough recipes for items such as breads, pancakes, muffins, biscuits, and cinnamon rolls.
But since January is designated National Soup Month, I decided to make the recipe for a soup that sounded wonderful, Sausage and Lentil Soup, with Italian sausage, fennel seed, celery, carrots, onions, tomatoes, and a touch of lemon.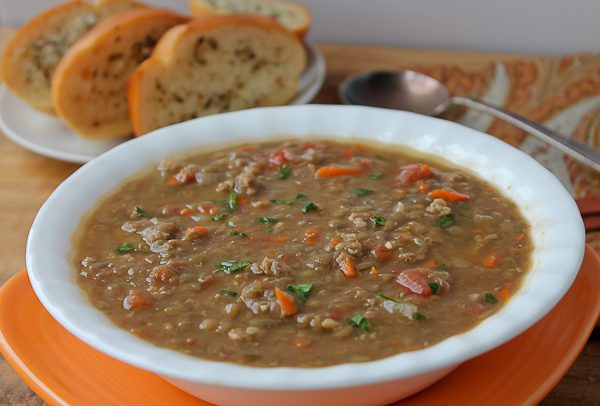 The lentils are cooked separately, pureed in a blender, then combined with a delicious sausage mixture.  I loved this soup!  It makes a lot and I definitely will be freezing some.  It was great served with my favorite garlic bread.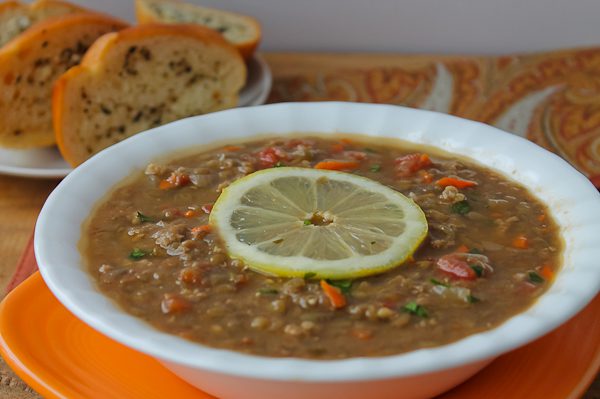 I thought since there was a little lemon juice in the soup, a garnish of sliced lemon might look nice.  This is optional, but does look nice and bright, don't you think?
I love the use of fennel seeds in the soup.  Fennel is an old herb with an interesting history.  It was thought to be a symbol of flattery and an emblem of heroism.  As a medicinal remedy, it was believed to be a cure for poor eyesight, spells of wheezing, and prolonged hiccups.  And more interestingly, as an aphrodisiac and an aid to weight loss.  Herbalists from the 14th to the 17th century recommended that overweight persons eat fennel to curb their appetites.  I guess this is a good soup for the New Year and those who are looking to lose those holiday pounds.  However, I don't think the Italian sausage in the soup will help much in that area!  But it sure is good.

Sausage and Lentil Soup
Author:
Sphere Magazine, January 1975
Ingredients
1 package (16 ounces) dried lentils
3 quarts water
2 Tablespoons instant beef bouillon
1-1/2 teaspoons fennel seed, divided
1 pound mild Italian sausage, bulk or links
1 can (28 ounces) petite-diced tomatoes, undrained
1-1/2 cups chopped onions
¾ cup finely chopped celery
¾ cup finely chopped carrot
3 Tablespoons chopped flat parsley or cilantro
1 bay leaf
1-1/2 teaspoons salt
¼ teaspoon ground black pepper
1 Tablespoon lemon juice
Instructions
Heat lentils, water, bouillon, and 1 teaspoon of the fennel seed in a 6-quart Dutch oven to boiling. Boil for 2 minutes. Remove from heat and cover. Let stand for 1 hour.
Heat lentil mixture to boiling; reduce heat and cover. Simmer until lentils are tender, about 40-45 minutes. Set aside to cool slightly.
Meanwhile, prepare sausage mixture: Remove casings from sausage (if using links). Cook and stir sausage and remaining ½ teaspoon fennel seed in a large skillet until sausage is browned. Stir in all remaining ingredients and mix well.
Heat sausage mixture to a boil, reduce heat and cover. Simmer until vegetables are tender, about 40-45 minutes.
Pour slightly cooled lentil mixture, 4 cups at a time (and using all the liquid), into a blender container. Cover and blend until smooth. Return pureed mixture to Dutch oven. Repeat until all lentils are pureed.
Remove bay leaf from sausage-tomato mixture, then stir into pureed lentils. Heat until hot. Garnish with snipped parsley and/or float a thin lemon slice, if desired.