I recently made a huge fruit salad that we ate for a couple days and also gave some to our daughter to take home, but still had a small amount left.  Not wanting to toss some still beautiful blackberries and peaches, I decided to make a small cobbler.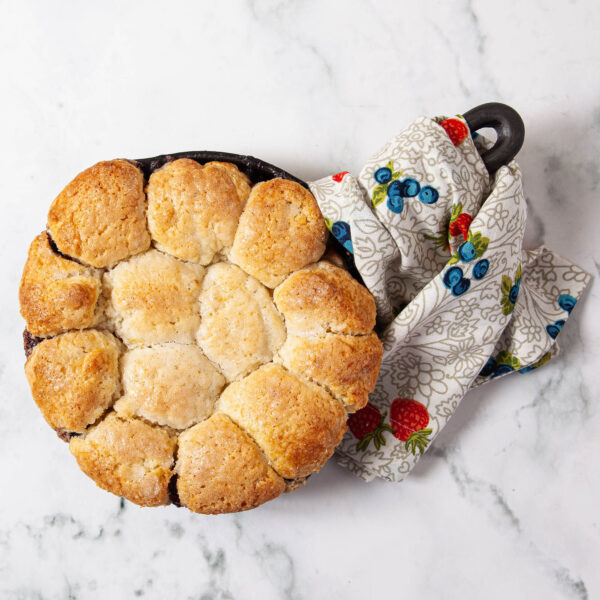 I always like to find reasons to make something different in my very small 6-inch cast iron skillet.  I love cast iron.  It looks so homey and comfy, and besides, it was one of my favorite items I got from my great-aunt in Iowa.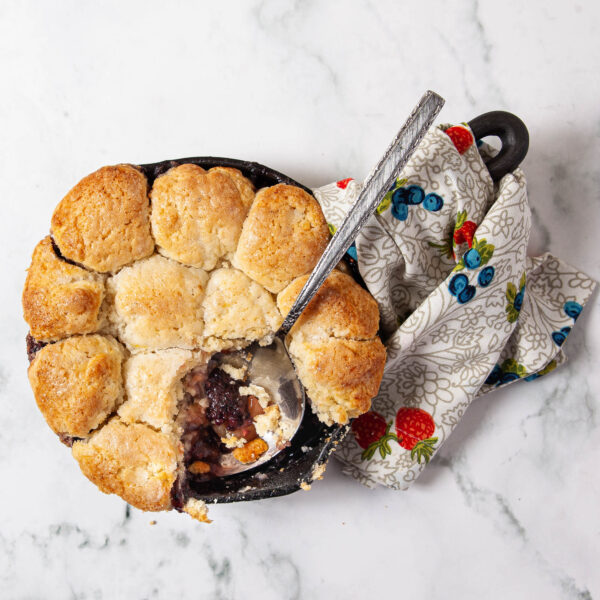 Even though it turned out to look more like a fruit pot pie, it was still great served warm with a scoop of vanilla ice cream.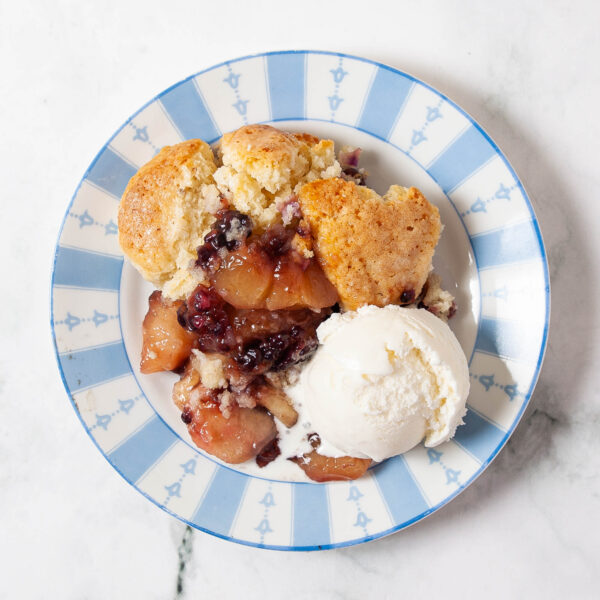 Since the skillet is so small, the cobbler is perfect for 2 or 3 people.  You can make it with your  choice of other summer fruits too.  Check out your local Farmer's Market for ideas.  Hurry, summer is fading soon!  Oh, but next is apples, pears, and so much more for fall baking.  Watch for cool weather baking and cooking soon!

Summer Fruit Skillet Cobbler
Ingredients
For Bottom layer:
1 cup blackberries
2 cups peeled, pitted, and sliced peaches
⅓ cup granulated white sugar
2 Tablespoons cornstarch
1 teaspoon freshly grated lemon peel
⅛ teaspoon table salt
Biscuit Topping:
½ cup cake flour
¼ cup all-purpose flour
1 Tablespoon granulated white sugar
1 teaspoon baking powder
⅛ teaspoon table salt
3 Tablespoons cold unsalted butter, cut into small pieces
½ cup heavy cream, divided
For Skillet:
1 Tablespoon unsalted butter
reserved 2 Tablespoons heavy cream (from biscuit topping)
2 teaspoons granulated white sugar, for sprinkling on top
To serve:
Scoops of vanilla ice cream
Instructions
Heat oven to 375 degrees F.
For Bottom Layer: Place fruit and remaining bottom layer ingredients in a mixing bowl. Toss gently to coat fruit and set aside.
For Topping: In another mixing bowl whisk together both flours, sugar, baking powder, and salt. Using a pastry blender, cut in butter to form small pieces. Measure the ½ cup heavy cream, then remove 2 Tablespoons to a small cup and set aside. Stir remaining cream into flour mixture with a fork and stir until it clumps. Turn dough out onto a lightly floured work surface and knead a few times to form a ball. Pat dough into ½-inch thickness. Cut out small rounds of dough.
To assemble: Melt the Tablespoon of butter in a 6-inch cast iron skillet or other heavy oven-proof skillet or pan at least 2-inches deep. Scrape reserved fruit and their juices into the pan; remove from heat. Top with the rounds of dough and brush with the reserved 2 Tablespoons of cream. Sprinkle the 2 teaspoons sugar evenly over dough.
Place pan on a foil-lined rimmed baking sheet to catch juice overflow. (Yes, it will drip so don't skip the foil) Bake for 30 to 35 minutes or until nice and golden. Let rest about 15-20 minutes before serving. Serve warm with a scoop of vanilla ice cream.