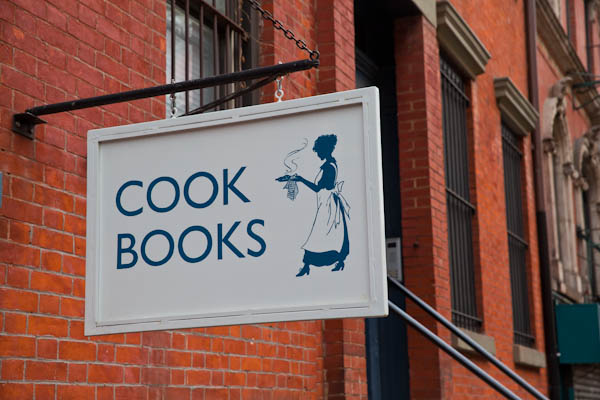 Every day when I turn on my computer, this is the wallpaper that greets me on the screen.   I never tire of looking at it.  This is the sign outside Bonnie Slotnick's iconic cookbook store in New York City.  I wrote a blog about this amazing place when I visited back in 2016 and dream of returning.  To me, this beats Disney World as the happiest place on earth.  I could live there.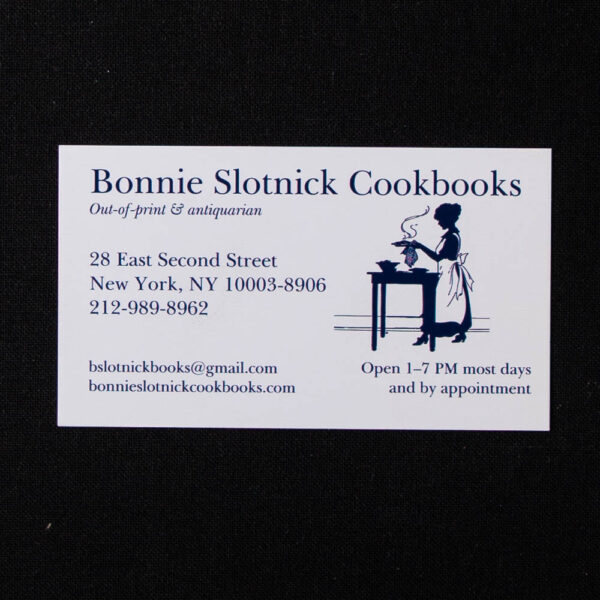 While there with my daughter Kristina, we bought a pile of books along with a big envelope filled with old recipes clippings which I love as much as cookbooks!  Imagine my surprise and delight when Bonnie recently sent another envelope of clippings for Kristina to give me.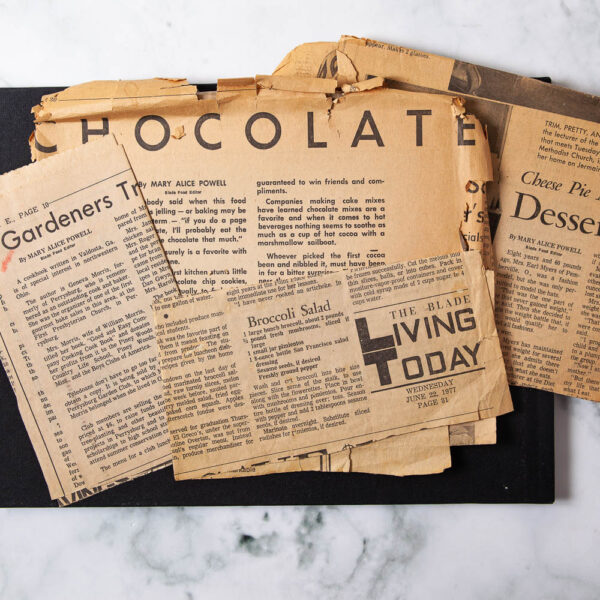 I was so excited to see two things in this pile of treasures.  First was that many of the clippings were from the wonderful Mary Alice Powell, former food editor of the Toledo Blade.  And secondly, these clippings belonged to Miriam Brickman who passed away about a year ago.  Miriam was a professional and executive chef who trained at Le Cordon Blue in Paris.  She was an instructor of French and Italian cuisine at the New School in New York City.  It was an adventure in itself just to see what sort of clippings she found worthy of saving.  I learned that she loved cheesecake as there were many, and mostly she seemed to love many of the basic comfort foods like breads and desserts.  I was amused how she also jotted down recipes on any scraps of paper such as bank deposit slips and torn off pieces of a grocery bag.  Anyone who loves recipes never passes down the opportunity to write down a recipe on anything that happens to be available at any unprepared moment.  Never pass up a good recipe!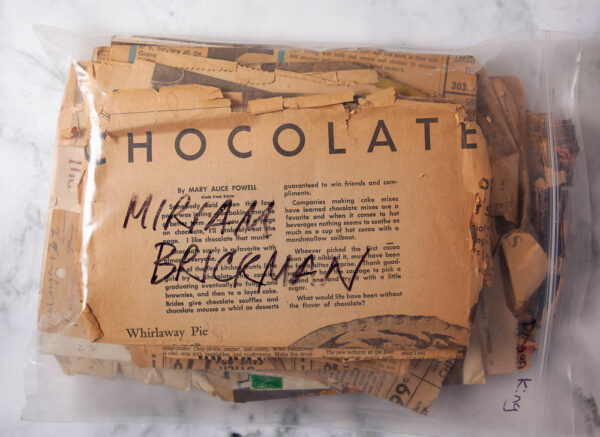 I had to try at least one recipe from the collection.  While sorting through the bag and repairing clippings that were badly deteriorating, I came across an old yellowed and stained index card for fudgy brownies dated September 1970.  It just so happened Kristina was off for a weekend at a beautiful cabin and wanted to take along a treat.  I made the brownies for her and also had some leftover chocolate icing in the freezer to frost them.  Kristina named them "Cabin Brownies" and declared them delicious!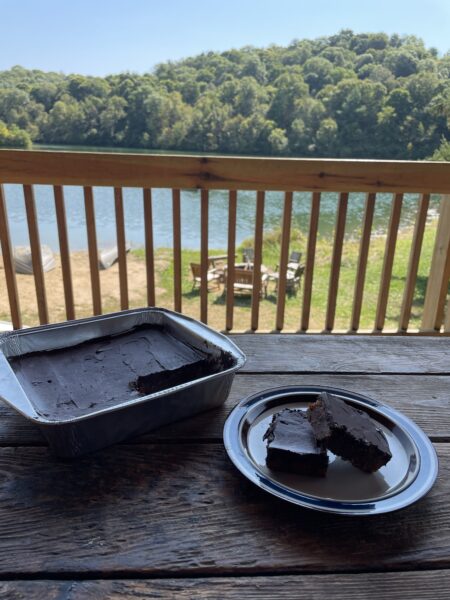 Next I think I will try one of those fabulous sounding cheesecakes and will report back.  Thank you so much, Bonnie Slotnick for the clippings.  They have a good home here and will always be loved.  Hope to visit you again sooner rather than later!

"Cabin Brownies" aka Fudgy Brownies
Ingredients
2 sticks (1/2 pound) unsalted butter
2 ounces unsweetened chocolate squares
4 eggs, room temperature
2 cups granulated sugar
1 cup all-purpose flour, sifted
pinch of salt
2 teaspoons vanilla extract
½ cup chopped pecans, optional
Instructions
Heat oven to 350 degrees F. In a saucepan over low heat, melt together the butter and chocolate.
Add eggs, one at time, beating after each addition.
Stir in sugar and mix well to combine.
Add flour and salt and mix until no trace of flour is seen.
Remove from heat and stir in vanilla. and nuts if using.
Scrap into a lightly greased 9-inch square baking pan. Bake for about 30-35 minutes or until done, but do not over bake. Let cool completely on a wire rack before cutting into squares. You can serve as is, dusted with powdered sugar, or ice with your favorite chocolate frosting.