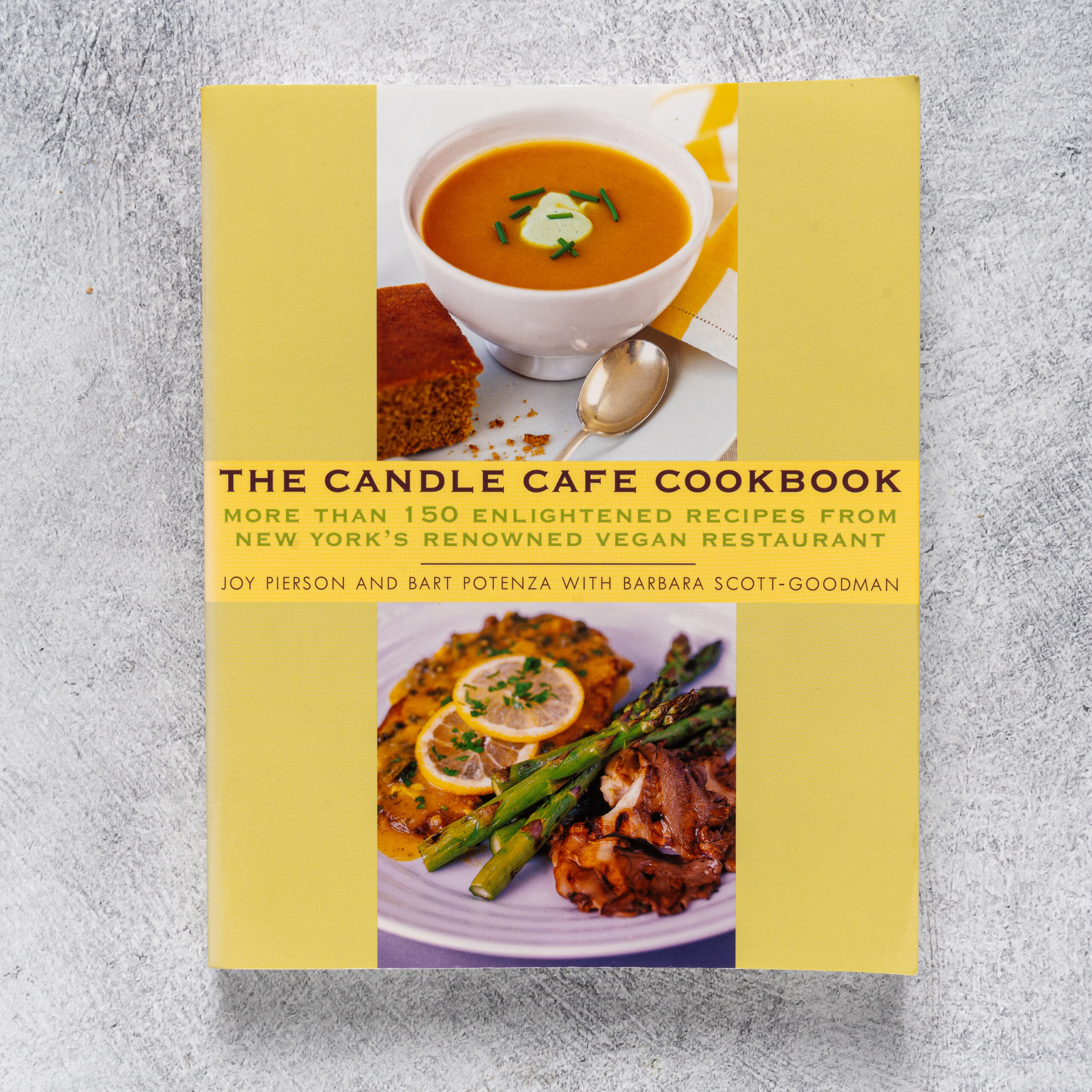 I have a confession to make.  When I picked up this cookbook and started thumbing through the pages, I thought the recipes sounded so good and very healthy without realizing it was a vegan cookbook.  It says it right on the cover but somehow my eyes didn't catch it.  If I had seen the word vegan before browsing through it, most likely I would have returned it to the shelf as I love chicken, fish, beef, and all the things vegans don't eat.  Well.. not that I am going to turn vegan but I certainly will be trying some of these recipes.  I had it in my head that I would have to eat tofu, which I just don't enjoy at all, but there are so many more options.
When I told my girls, both former New York City residents, that I bought a vegan cookbook with recipes from a restaurant called The Candle Cafe, they both excitedly responded that they loved it and had been there many times.  I was shocked as I never would have pictured my daughters who frequented everything from Katz's Deli, to famous pizza joints, to fine dining, would enjoy a vegan cafe.  Not only did the girls talk about the food, but also had to tell me all the celebrities they saw there, with  Kara relating that she literally bumped into Ted Danson.
I gave the cookbook a second look and I found recipes for appetizers, soups, salads, sandwiches, "burgers," wraps, main courses, vegetables, side dishes, sauces, desserts, breads, breakfasts, and bean, legume, and grain cooking.
It was burgers I wanted to explore first.  I loved the choices of an Eggplant Parmesan on a Hero roll, Portobello Mushroom Panini, and Black Bean Burgers, but then I came across the Brown Rice and Lentil Burgers, both which I love.  It also included other favorites in the ingredients like garlic, red onion, red bell peppers, and chipotle powder for some heat.  I put the finished burger on a whole wheat bun with some lettuce and tomato and thoroughly enjoyed it along with some sweet potato fries.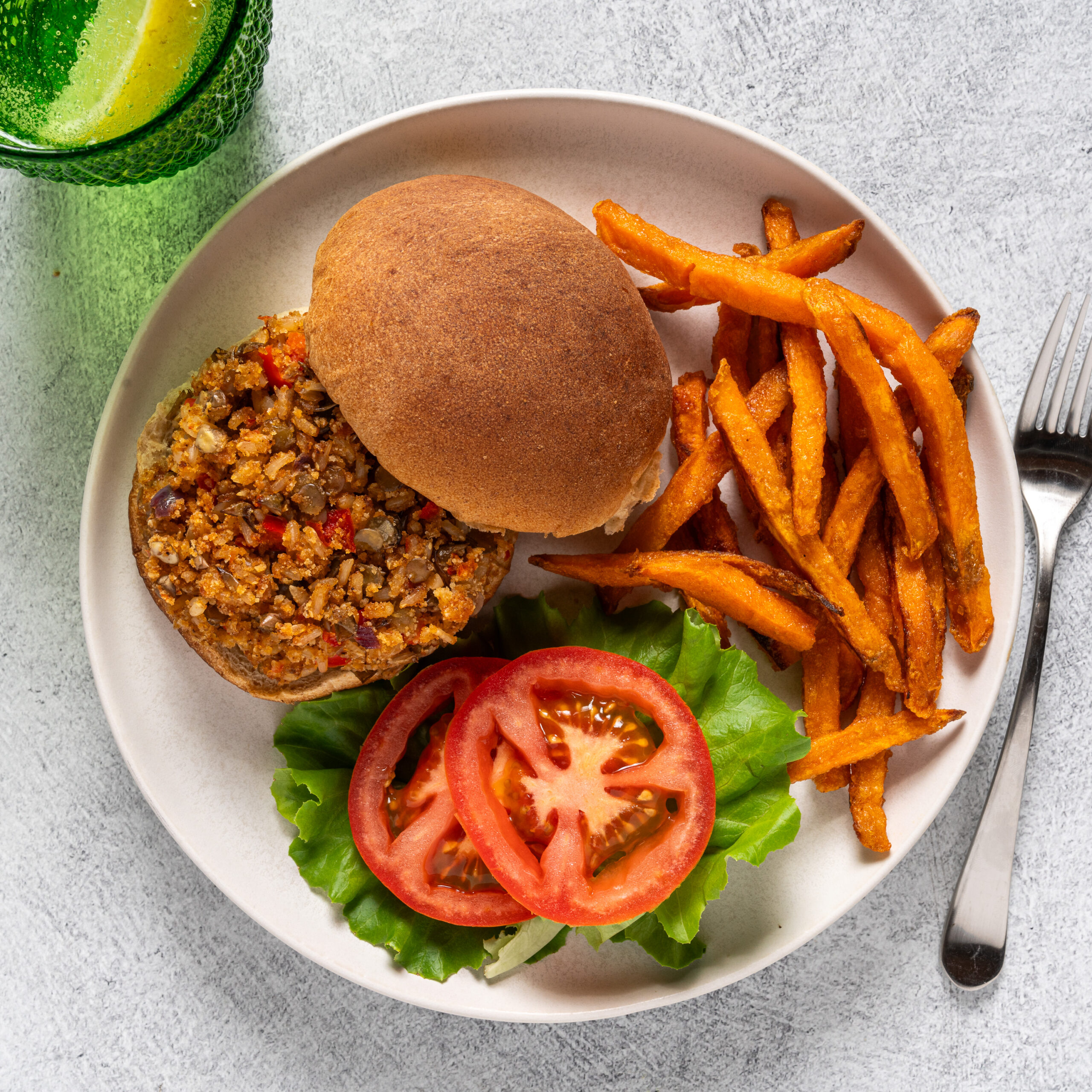 I had some of the mixture left over and used it for stuffed peppers.  Delicious.  Okay, I was convinced other vegan burgers could be worth exploring like the black bean burger; also a vegetable pot pie; a lentil chowder with potatoes and butternut squash; and cayenne-corn tortilla chips with guacamole; except not anything tofu quite yet… or maybe I will give some of the tofu recipes a try.  Maybe.

Brown Rice and Lentil Burgers
Author:
The Candle Cafe Cookbook
Ingredients
½ cup French lentils, rinsed and drained
1 cup brown rice
2 Tablespoons extra virgin olive oil
2 cloves garlic, chopped
1 medium red onion, chopped
2 medium red bell peppers, seeded deveined, and diced
1 teaspoon sea salt
1 teaspoon chipotle pepper powder, or chili powder
Bread crumbs or unbleached white flour to help bind (optional, but I found it necessary)
Instructions
In a medium saucepan bring 1-1/2 cups water to a boil. Add the lentils, reduce the heat, and cook until softened, about 15 minutes. Drain and set aside.
Meanwhile, in another medium saucepan bring 2 cups of water to a boil, add the rice, reduce heat, cover and simmer until the rice is just tender, about 40 minutes. Drain and set aside.
In a sauté pan, heat the olive oil over medium heat and sauté the garlic, onion, and peppers until softened; set aside.
Heat oven to 350 degrees F. In a large bowl combine the lentils, rice, and vegetables. Add the salt and chipotle powder and mix well. Add some bread crumbs or flour to hold the mixture together.
Make into 6 or 8 burger-sized patties and place on a baking sheet. Bake until burgers are slightly firm, about 15-20 minutes. (If you would rather make the mixture into a loaf to serve with mashed potatoes, press into a loaf pan and bake for 25-30 minutes.)
Note: I drizzled the formed burgers with a little olive oil before baking. (optional)