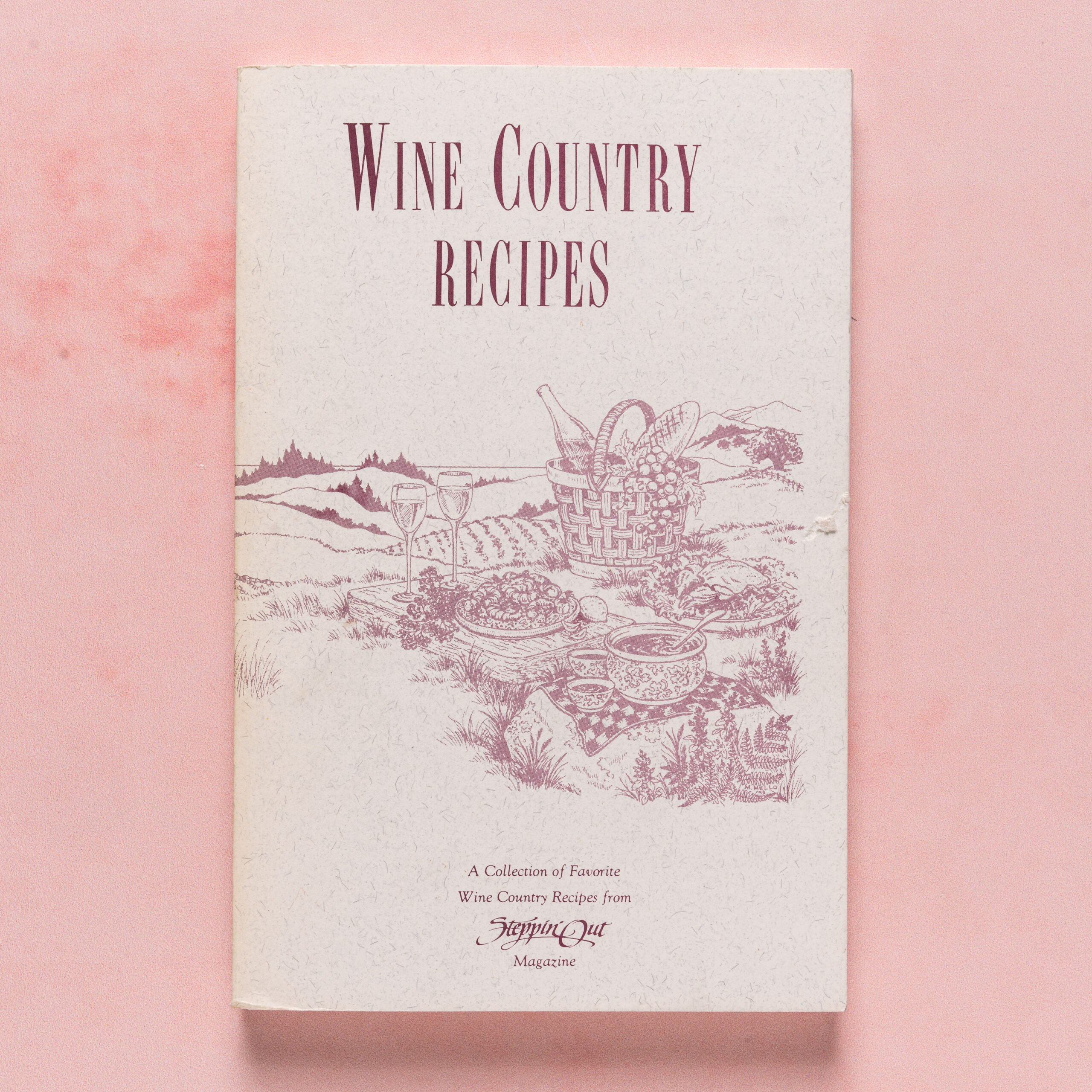 I don't think I have ever owned a cookbook dedicated to wine country recipes that wasn't wonderful.  It's hard to mess up recipes that blend fine wine and good food.  Ever since grapes were first crushed as the beverage of both commoners and kings, wine has been linked to food.  Wine was most likely the first meat tenderizer known to man plus its many aromatic compounds and flavors became like a liquid seasoning blend.
The first part of this cookbook has an easy-to-understand chart listing wine class such as appetizer wines, white table wine, red table wine, dessert wines, sparkling wines, and the best known types of each, along with the best food and wine combinations for light dishes, heavy dishes, desserts, and more.
The recipes in the cookbook are favorites compiled from wine country restaurants, Bed and Breakfast Inns, and wineries.  While dishes such as a leg of lamb with mustards, herbs, and a bottle of Cabernet Sauvignon; salmon with a shallot sauce and a dry white wine; or grilled medallions of vension with a blackberry sage sauce make me swoon, it was not the type of cooking I wanted to do this past Labor Day weekend.  I wanted a leisurely weekend breakfast from one of the Bed and Breakfast recipes.  I found it in the Lemon Pancakes from a 1916 inn on the Mendocino coast.  The Sandpiper House Inn was described as being surrounded by a garden, redwood trees, and ocean view overlooking a cove of huge sea rocks, with a full morning breakfast, and a place to refresh, renew, and enjoy the romance.  I wanted to close my eyes and imagine enjoying these pancakes for the holiday weekend.  It wasn't exactly a weekend of cool breezes and ocean air, but the pancakes were certainly memorable.
The pancake recipe does not use milk, but instead cottage cheese which added a wonderful richness and tang along with the lemon zest.  They are served with a raspberry sauce instead of maple syrup.  I am craving them again just writing about it.
I also wanted to experiment with a gadget I recently purchased to make perfectly round and same-sized pancakes.  I know this is also possible to do with a scoop or even eye-balling them, but I love gadgets.
It worked!  The pancakes were the perfect size and shape, and so easy to use and clean.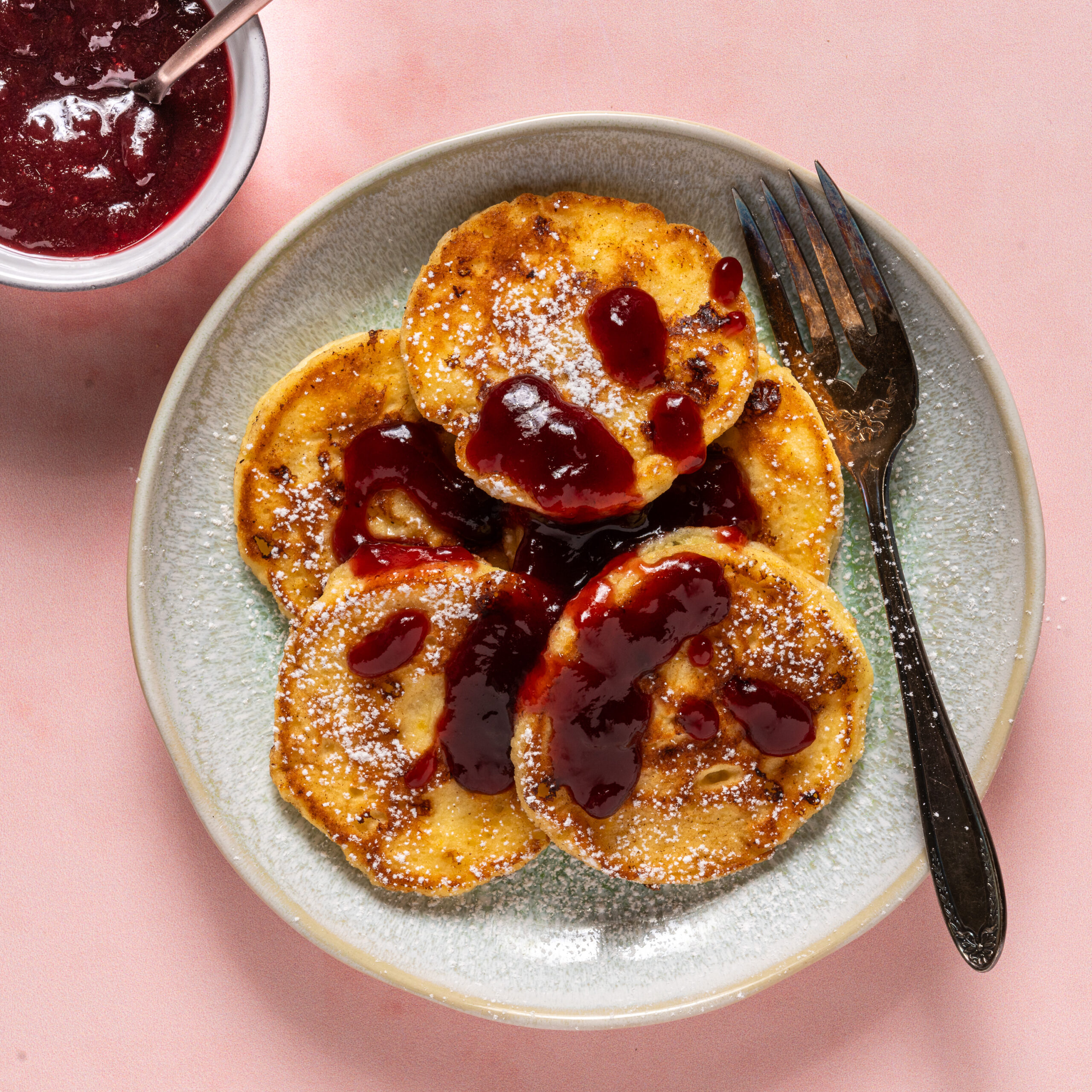 The raspberry syrup can easily be made more pourable than what I show here, but I loved seeing the color of the pancakes and the dusting of powdered sugar showing with a thicker version.
The venison with a blackberry sage sauce, or a rich beef stew, will have to wait for cooler weather, but for now, I'll be making more of these pancakes.

Lemon Pancakes with Raspberry Sauce
Author:
Wine Country Recipes
Ingredients
3 large eggs, separated
½ cup all-purpose flour
¾ cup small curd cottage cheese
¼ cup unsalted butter, melted
2 Tablespoons granulated sugar
¼ teaspoon table salt
¼ teaspoon baking powder
1 Tablespoon freshly grated lemon zest
For Raspberry Sauce:
⅔ cup seedless raspberry jam
2 Tablespoons freshly squeezed lemon juice
Garnish: Powdered sugar, and if desired, fresh raspberries
Instructions
Separate eggs and beat egg whites until stiff.
Stir together egg yolks, flour, cottage cheese, melted butter, sugar, salt, and lemon zest until well mixed. Gently fold in the beaten egg whites until there are no yellow or white streaks.
Heat a skillet or electric skillet to 325 degrees, grease lightly, and spoon in batter for each pancake. Cook slowly about 1-1/2 minutes, then turn and cook about 30 seconds more. Pancakes should be lightly and fluffy. Sprinkle each serving with powdered sugar and drizzle with raspberry sauce.
For raspberry sauce: Melt the jam in a small skillet or pan and stir in lemon juice. If you like a thinner sauce, add more lemon juice a little at a time. Serve warm.