This recipe card from my mom's box tells me a couple things.  Obviously it was well-used and all four of  us kids, my dad, and grandma (who lived with us) must have liked it or it wouldn't be ready to fall apart.  Secondly, the can size of pineapple called for is a "No. 2" instead of 20 ounces.  Way back when, that's how cans were sold, by a number.  You will see can sizes listed as numbers in old cookbooks.  Here is a list to help you out if you come across an old recipe that will tell you can sizes converted into today's use.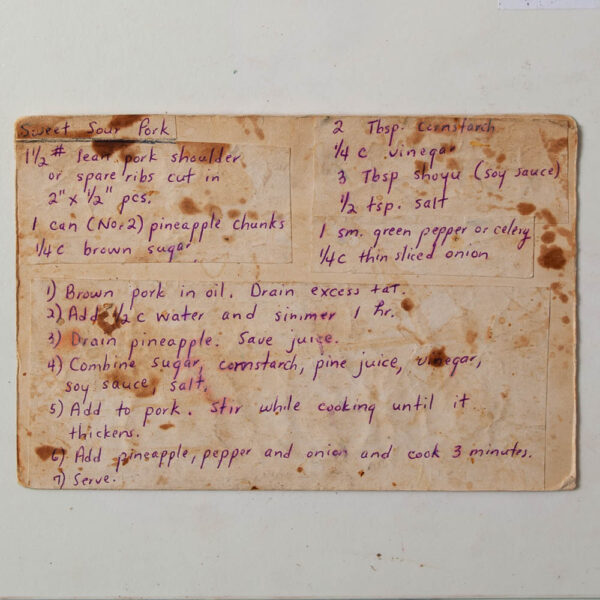 I hadn't made mom's version of sweet-sour pork in awhile, but the minute I began preparing and breathing in the ingredients. I was taken back to mom's kitchen.  It's just an every day recipe, not difficult with fancy ingredients, but I loved enjoying it again.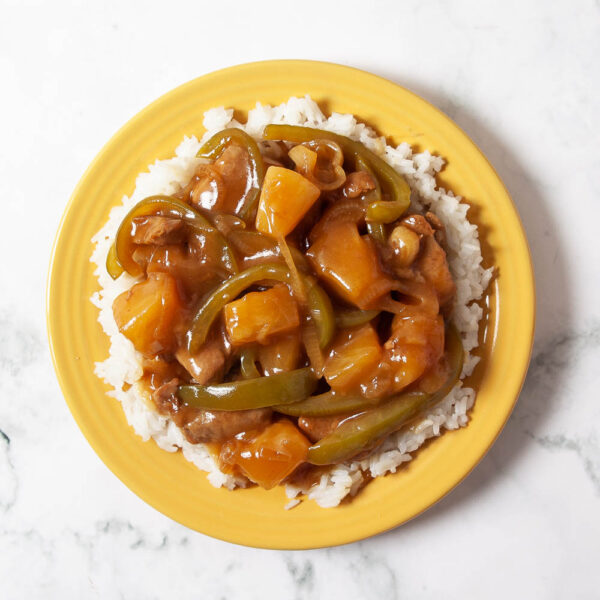 I took this photo after we had it for dinner last night, and by then the green pepper strips and pineapple lost color, but right when it is done and ready to serve, I can assure you the pepper strips will be a bright green, and the pineapple chunks were bright yellow before they got absorbed by the sauce.  Also, the recipe only called for 1/4 cup of sliced onion, but I added twice that because I love onions.  Soy sauce and which brand you prefer, might be different from soy sauce decades ago, so use the salt as you see fit for your tastes.
Treasure those old recipe cards. They have a history all their own.

Mom's Sweet-Sour Pork
Ingredients
2 Tablespoons vegetable oil or peanut oil
1-1/2 pounds lean pork tenderloin, cut into 2" by ½" inch pieces
½ cup water, plus more as needed
20 ounce can pineapple chunks in their own juice, drained, but reserve the juice for the sauce
¼ cup packed brown sugar
¼ cup white vinegar
3 Tablespoons soy sauce
2 Tablespoons cornstarch
½ teaspoon salt (or to taste)
1 small green bell pepper, cut into thin strips
¼ cup thinly sliced onion (or more if you like onion!)
Hot cooked rice, for serving
Instructions
Heat the oil in a large skillet over medium-high heat. Add the prepared pork pieces and cook, stirring often until it is browned on all sides. Add the ½ cup water to pan, reduce heat to low and cover pan. Simmer for 1 hour, checking the water every 20 minutes to make sure it has not boiled away, adding water as needed.
While pork is simmering, prepare sauce, vegetables, and rice so they are ready when the pork is done. For the sauce, in a bowl or large measuring cup, whisk together the reserved juice from draining the pineapple. (it should be about ⅔ cup), the brown sugar, vinegar, soy sauce, cornstarch, and salt. Whisk to blend well, then set aside.
Have the pepper and onion prepared, and the pineapple chunks ready to stir in at the end. Have rice cooked and kept warm.
When pork is ready, add the prepared sauce. Turn up heat to moderate and stir constantly for a few minutes to thicken sauce. Add the pepper strips, onion slices, and pineapple chunks to pan. Cook and stir for 3 minutes. Serve sauce over hot cooked rice.