My mom loved melons and we loved that she always made them into balls instead of chunks.  I think they not only looked pretty but were easier for little mouths to eat. We were always sad when melon season was over.  To us, they were a special treat.
When going through my mom's recipe box, I came across a recipe I had never made before.  It was a drizzle to toss with melons.  I am sure my mom probably made it because it had fresh ginger and honey, both of which she loved, but she probably thought we wouldn't have liked the taste of anything else on our melon balls.  She was probably right, but I couldn't wait to try it  now.
First I had to make the melon balls of cantaloupe, watermelon, and honeydew.  I got out mom's melon baller that she used when we were young.  It still works great.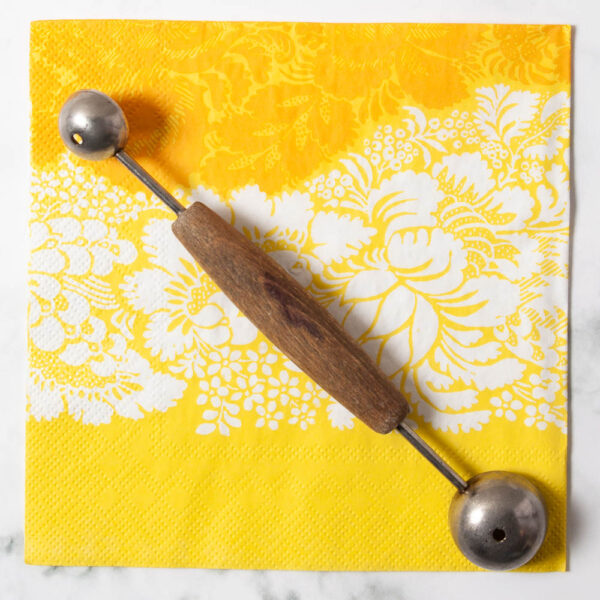 The dressing is very simple, just small amounts of grated fresh ginger, honey, and lemon juice.  It is tossed with four cups of melon balls, then chilled for at least 4 hours and up to 24 hours, to bring out the flavors.  You can taste the ginger, but it is very subtle, and the honey adds a touch of sweetness with the lemon juice adding a bright flavor. I loved it!
To serve, spoon into individual bowls and sprinkle with fresh blueberries.  It's so pretty and would be a beautiful fruit salad for Mother's Day.
P.S. There is a bonus recipe below!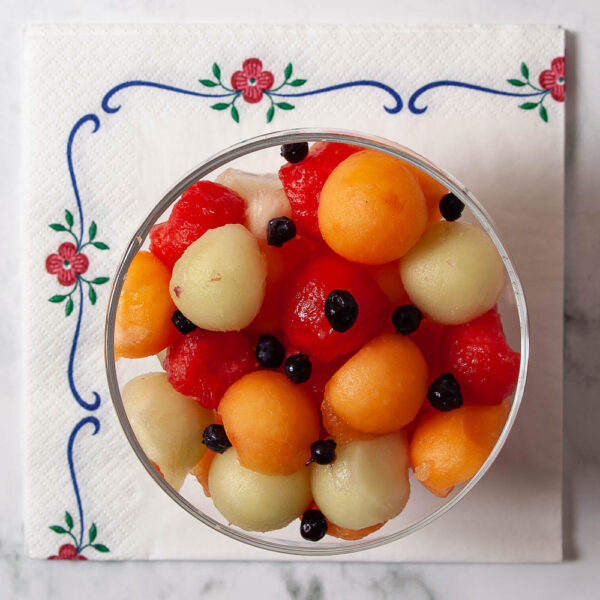 Cantaloupe, Watermelon, and Honeydew
Ingredients
4 cups of melon balls, a mixture of cantaloupe, watermelon, and honeydew
2 teaspoons honey
1 teaspoon grated fresh ginger
1 teaspoon lemon juice
Fresh blueberries to sprinkle on top
Instructions
Place the melon balls in a large bowl.
Prepare drizzle by stirring together until well-blended, the honey, ginger, and lemon juice. (I use a small glass measuring cup)
Drizzle over the melon balls in the bowl and gently toss to coat them. Cover bowl and refrigerate for at least 4 hours or up to 24 to bring out the flavors.
To serve, stir balls well, then spoon into pretty individual dessert dishes, sprinkle with some blueberries and serve immediately.
Since you already have fresh ginger, I have a bonus recipe for you!  Mom called this "Ginger Lemonade."
It can be served like a hot tea or chilled and poured over ice.  This recipe is only for those who love fresh ginger and a tiny kick of cayenne pepper because it is strong!  I love it.
Bonus Recipe:  Mom's Ginger Lemonade
2 Tablespoons grated fresh ginger, unpeeled
2 cups boiling water
2 Tablespoons honey
2 Tablespoons fresh lemon juice
Dash of cayenne pepper (and only a dash!)
Place ginger in a teapot.  Add boiling water and let steep for 5 minutes for a slightly milder taste, and 10 minutes for a stronger taste.  Place a small strainer over a bowl or large measuring cup and pour in liquid to strain out the ginger; discard ginger. Stir the honey and lemon juice to the hot liquid.  Serve hot or let cool, then chill and serve over ice.