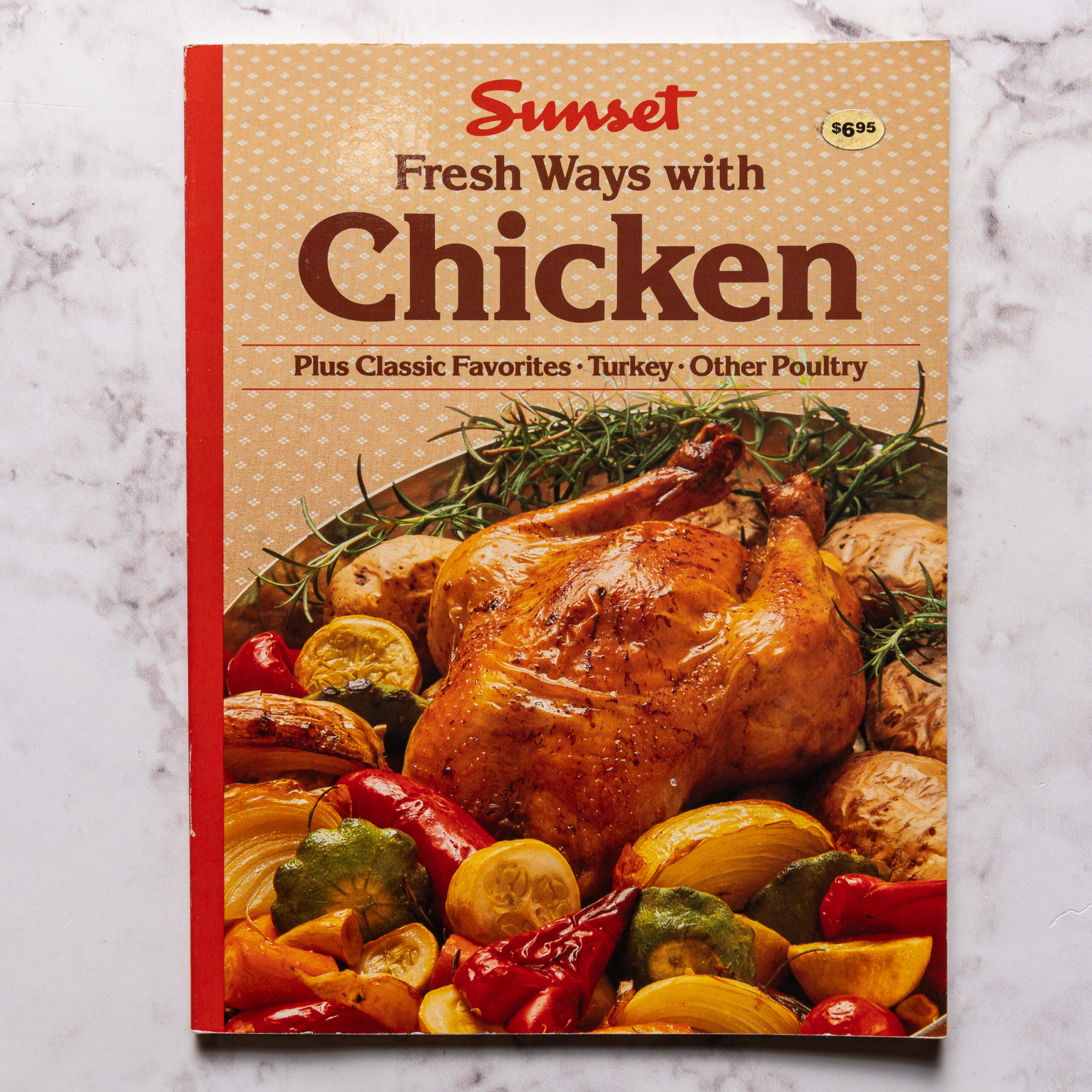 I have subscribed to Sunset magazine for decades and had many of their cookbooks until I lost them in a flood.  My dear friend Priscilla has sent me boxes of cookbooks since the flood to help rebuild the Culinary Cellar shelves.  Along with this 1986 Chicken book, Priscilla sent others in the Sunset series, most from the 1970's and 1980's, including an Italian, Pasta, Desserts, Casserole, Dinner Party, Hors d' oeuvres, and Microwave.  There are many more, every one of them great, as are the recipes in Sunset Magazine.
The Chicken book has more than 150 recipes for other poultry too, such as turkey, duck, goose, quail, pheasant, and other specialty birds.  There are step-by-step illustrations on quartering, boning, and carving, as well as tips of thawing, storing, purchasing, and handling.  Recipe preparation includes roasting, broiling, baked, simmered, poached, steamed, barbecued, and in salads, appetizers, soups, and sandwiches.  Sunset is always so thorough in their cookbooks.
Since snow is on the ground here, a recipe called "Winter Chicken Salad" caught my eye since I had some leftover roast chicken.  The salad has toasted almonds, a dressing with lemon juice and zest, honey, Dijon, poppy seeds, green onion tops, sliced red apple, and moist-packed dried apricots.  So many good flavors!  It was delicious.
I'll be doing future posts on other Sunset publications.  Thank you, Priscilla, for all the ones you sent.  I am thrilled to have them back.

Winter Chicken Salad
Author:
Sunset publications
Ingredients
⅓ cup chopped almonds
⅓ cup freshly squeezed lemon juice
⅓ cup vegetable or canola oil
2 Tablespoons poppy seeds
2 Tablespoons honey
2 Tablespoons Dijon mustard
½ teaspoon grated lemon peel
½ cup moist-pack apricots
4 cups bite-size pieces cooked chicken or turkey
1 medium-size red apple
¼ cup sliced green onion tops
Salt, to taste
Lettuce leaves, optional
Instructions
Heat oven to 350 degrees. Spread almonds in a shallow baking pan and toast in oven until golden; set aside.
In a medium mixing bowl, stir together lemon juice, oil, poppy seeds, honey, mustard, and lemon peel. Add apricots and stir to coat, then cover and let stand for 30 minutes to 1 hour. Lift out apricots and set aside. Stir chicken into dressing. (At this point, you may cover apricots and chicken mixture separately and refrigerate until the next day.)
Core and thinly slice apple. Stir apple, green onion tops, and reserved almonds into chicken mixture; season to taste with salt.
To serve, line 4 individual plates with lettuce. Mound about a fourth of the chicken salad in center of each. Garnish each serving with a fourth of the apricots. Makes 4 servings.