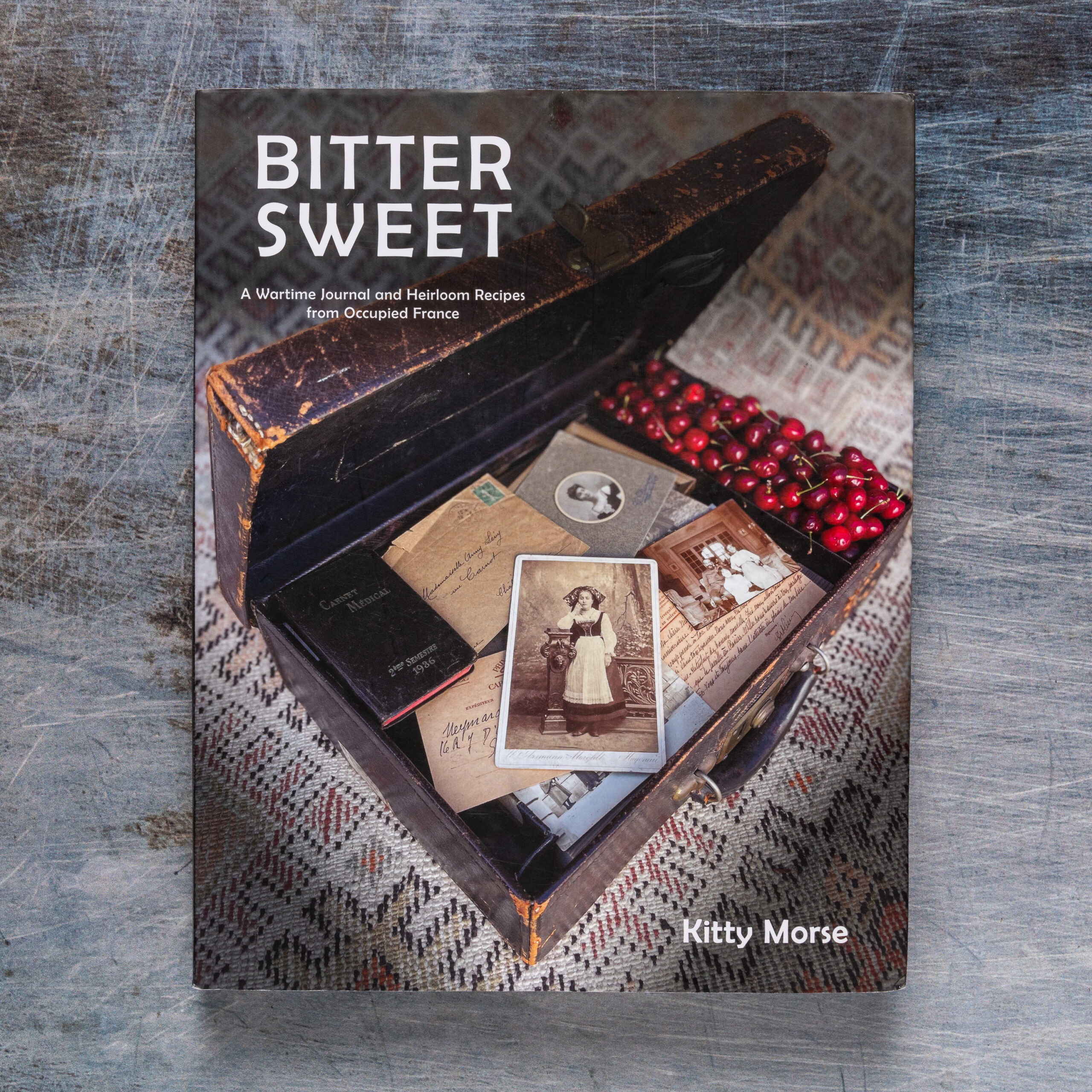 This book is truly a bitter sweet tale of author Kitty Morse's  family, some who did not survive World War II or were deported to Auschwitz-Birkenau in 1944.  Years later, Morse found an unfamiliar and half-hidden valise in the closet of her late mother but something held her back from opening it, maybe a fear of what it would hold.  Three years later, on the third anniversary of her her mother's death, Morse summoned up the courage to open it.  Inside she discovered her great-grandfather's wartime journals inside with family letters along with harrowing tales of trauma, racism, and heartbreak.  It took her breath away.
Digging deeper into the valise, Morse found something of inestimable importance to her.  It was a medical notebook, not filled with anything medical, but instead her great-grandmother's hand-written long lost family recipes, all food-stained and yellowed.  As an author of ten cookbooks, Morse was beyond astounded and grateful to find such a treasure.  She recognized many of the recipes that she remembered as a child.
The stories in this book will make you weep, and I can't begin to tell all the tales.  I highly recommend it not just for the history, but for great-grandmother Blanche's recipes.  They remind us that traditional foods can heal our souls in spite of unimaginable suffering with tastes of love surviving for generations.
I selected Blanche's "Zimmetkuchen" to make, a delicious cinnamon-dusted coffee cake with wonderful little holes filled with crème fraîche scattered on top.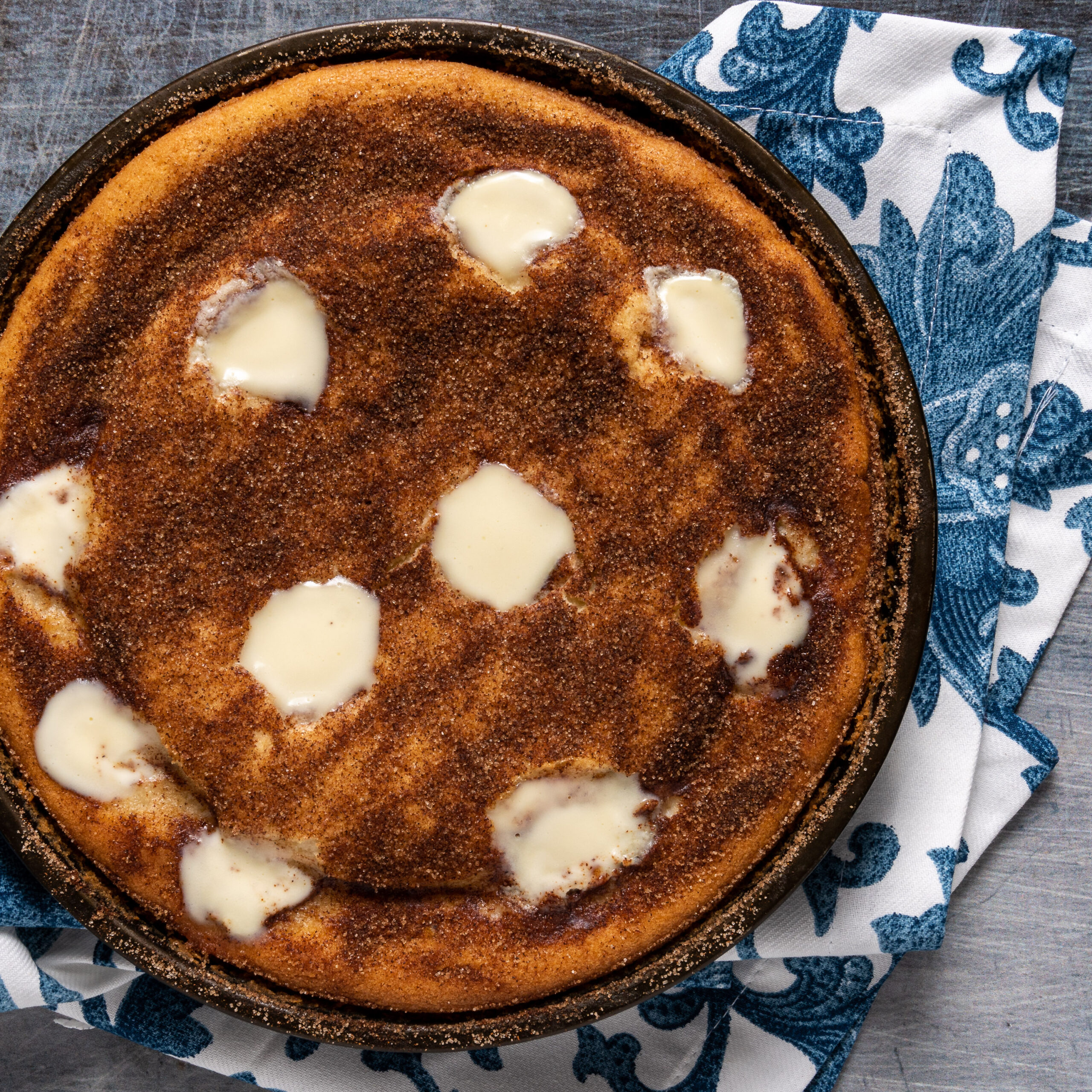 It was delicious with an intoxicating aroma.  After reading the book and then seeing the photos and recipes, one can easily imagine great-grandmother Blanche baking on a cast-iron stove wearing her apron, and lovingly serving it to her family.  Cooking evokes many emotional memories and it can be felt using this cookbook.

Cinnamon Coffee Cake with Crème Fraîche
Author:
Bitter Sweet by Kitty Morse
The coffee cake is also known as "Zimmetkuchen."
Ingredients
2 cups all-purpose flour
2 teaspoons baking powder
⅛ teaspoon salt
8 ounces unsalted butter, at room temperature
⅔ cup plus 2 teaspoons granulated white sugar, divided use
1 egg, at room temperature
½ cup whole milk
1 teaspoon ground cinnamon
8 teaspoons crème fraîche
Instructions
Heat oven to 350 degrees F. Put a round of greased parchment paper at the bottom of an 8-inch straight-sided baking pan*; set aside.
In a mixing bowl, mix the flour, baking powder, and salt; set aside.
In bowl of electric mixer, beat together the butter, ⅔ cup of the sugar, the egg, and the milk until smooth. To the same bowl, and in increments, mix in the dry ingredients until a thick batter is obtained. Pour the batter into the prepared pan and level with spatula. Bake for 20 minutes.
Meanwhile, combine the remaining 2 teaspoons sugar with the cinnamon. Remove the cake from the oven and sprinkle all over with the sugar-cinnamon mixture. Using a wine cork or something of similar size, create eight deep, uniformly distributed depressions in the cake. Fill each one with a teaspoon of crème fraîche. Return to the oven and bake for another 20 minutes. Unmold when cool. *Note- I used a springform pan and removed the sides after cooling.