I received an email from Mary D., who lives not too far away from me, actually near where I was born. Mary and her sister Joy read about the flood of The Culinary Cellar and wanted to donate several boxes of cookbooks.  It just so happened that my husband Bill had a job near Joy's home and stopped by to pick them up.  The boxes were stuffed with treasures!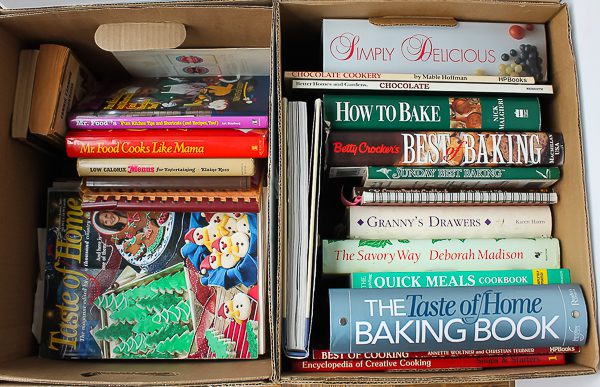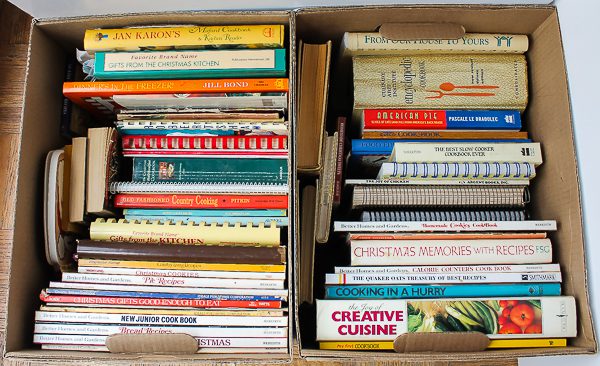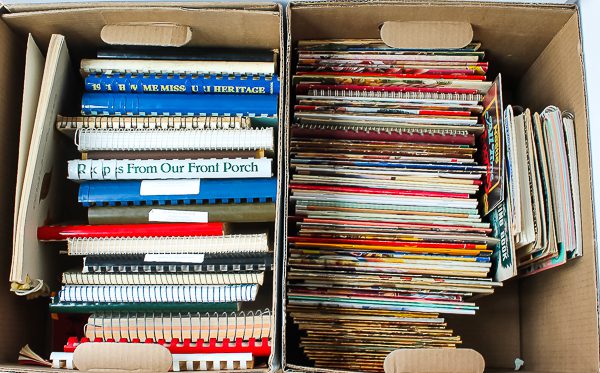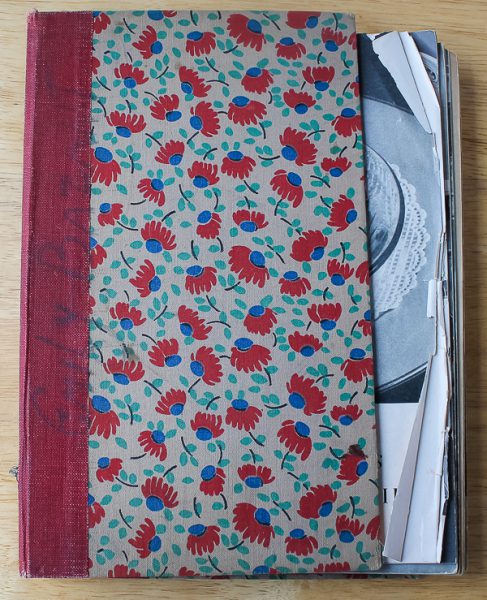 I had the best time going through this old notebook with recipes from the 1930's and '40's.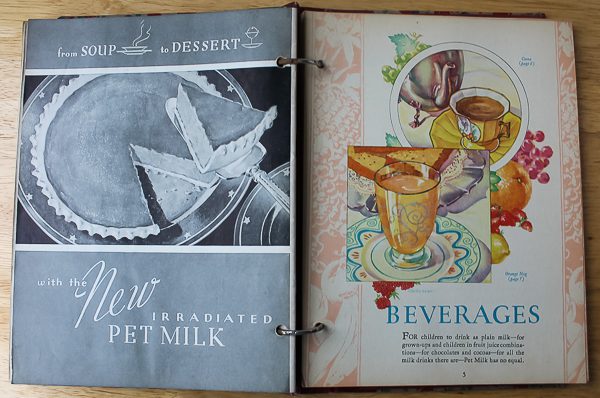 Most of the recipes used Pet Evaporated Milk, or rather as they called it, "The New Irradiated Pet Milk." Don't you love these old photos?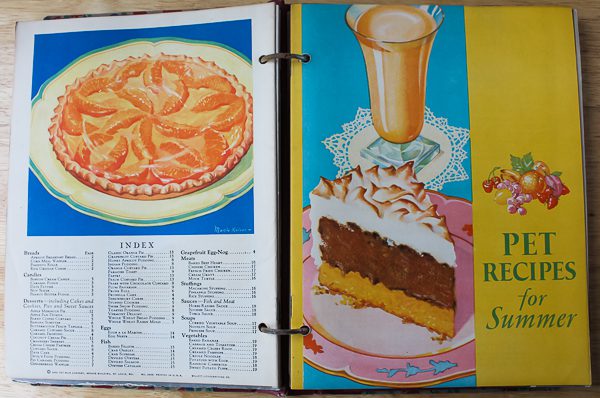 Tucked inside were old handwritten recipe cards. How fun is that?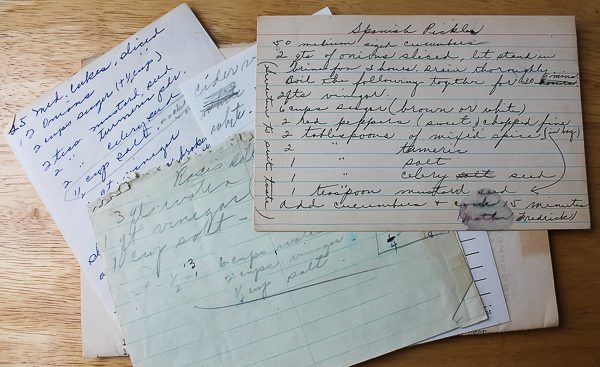 One of my favorite books turned out to be this incredible self-published cookbook from a woman named Betty Janssen in Wisconsin. Every recipe is lovingly hand-written by Betty.  As I looked through it, I wanted to make everything!  I loved how you can see on the cover where someone set down their coffee cup.  Little touches like that are priceless.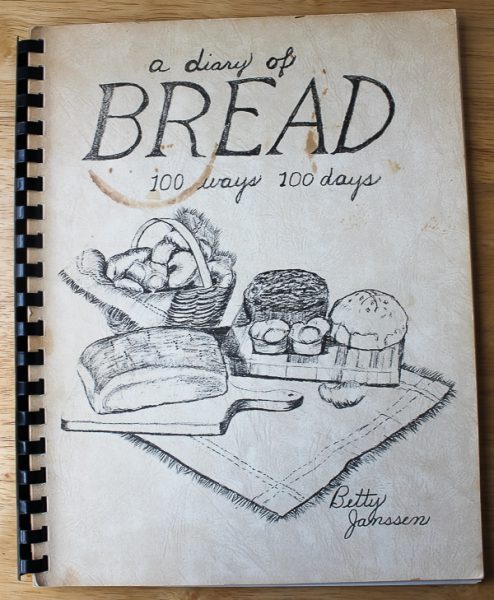 Betty obviously was an expert at baking bread.  Below is her dedication in the book to her husband Larry and their daughters, but also to all others who love to bake including the "Debbie's."  Thank you, Betty.  You can bet this Debbie will love your recipes!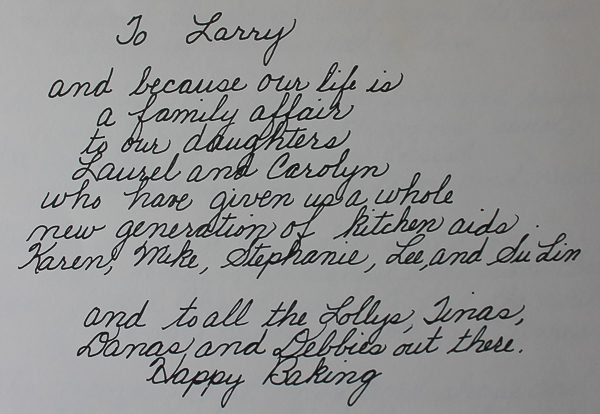 While sitting at the kitchen table looking through this wonderful collection of Betty's bread recipes, I had no idea which one to try first.  As I was pondering, I looked out the window and spotted my chives in the herb garden with the gorgeous purple flowers taking in the morning sun.  I remembered passing a page called "Chive Bread," and the decision was made.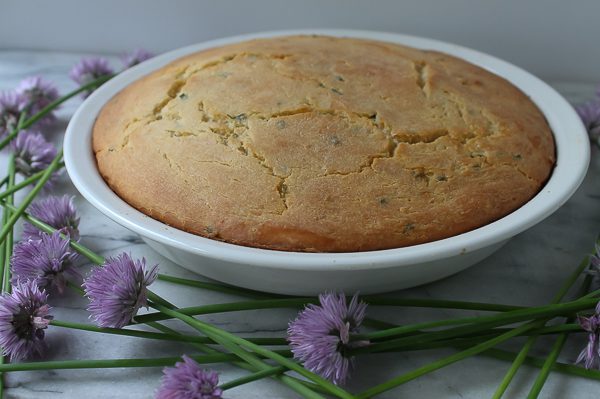 The bread is baked in a pie pan, which I don't remember ever doing before.  It looks like this out of the oven and can be served plain, or sprinkled with more chives on top.  Personally, I can never get enough of chives, so I liked the added ones on top.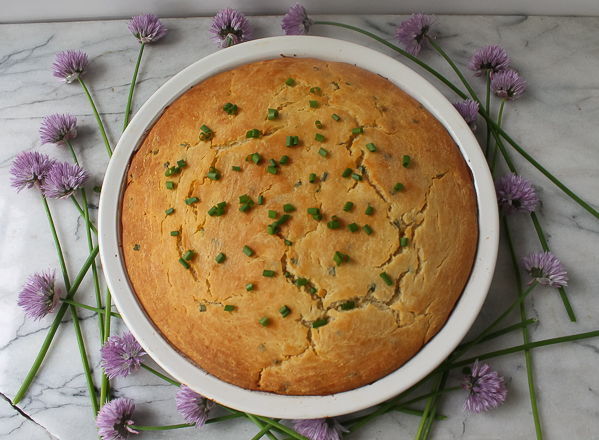 In fact, I like chives so much, next time I make this bread, more chives will be added to the batter.  I also found the bread is best served fresh out of the oven with butter.  Except, you guessed it, with more chives stirred into softened butter.  I loved it, and thought it was an extra special touch.  I like to think that Betty would approve.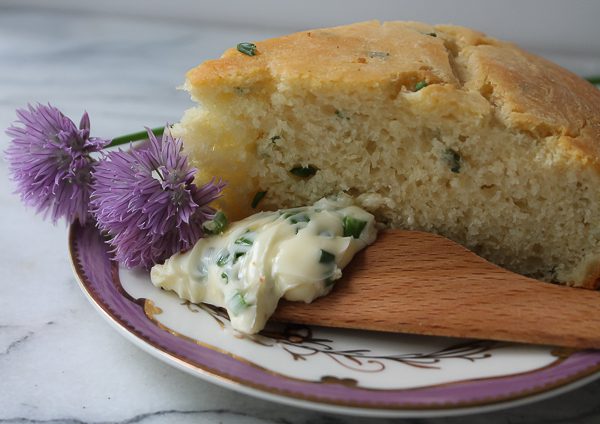 Chive Bread
Author:
A Diary of Bread by Betty Janssen
Ingredients
1 package active dry yeast
¼ cup warm water (105 to 115 degrees)
¼ teaspoon ginger
½ teaspoon sugar
2-1/3 cups all-purpose flour
2 Tablespoons snipped chives*
2 Tablespoons sugar
1 teaspoon salt
1 cup sour cream (not lite or fat-free)
1 egg
Melted butter, for brushing on loaf
Instructions
In large bowl of electric mixer, dissolve yeast, 1 teaspoon sugar, and ginger in the warm water. Let sit a few minutes to bubble up slightly.
Add 1-1/3 cups of the flour and the remaining ingredients, except melted butter. Beat on low speed for 30 seconds, then on high speed for 2 minutes. Stir in the remaining cup of flour.
Spread the batter evenly in a greased 9-inch pie plate. Brush lightly with some melted butter. Cover and let rise for 50 minutes. The batter will rise but will not double.
Heat oven to 350 degrees F. Bake until golden, about 25-30 minutes. Remove from oven and brush top with more melted butter. Serve hot with softened butter that has more chives mixed in. The bread is best served immediately after baking.
*Notes: For the bread, I would double the amount of chives in the batter. I thought it needed more, plus I highly recommend serving the bread hot with chive butter. All you have to do is add more snipped chives to softened butter.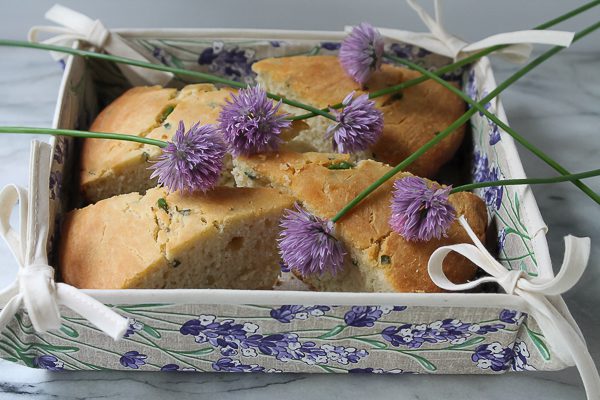 Thank you, Mary and Joy, for trusting me with your cookbooks.  They have a special place on my shelves.  And to Betty for sharing her family recipes for everyone to enjoy.