When I first saw the return address on a box of books from Wesson, Mississippi, I thought it must be from someone my daughter Kara knew, as she lives not far from Wesson.  But she didn't know anyone from Wesson, which means the books were from yet another wonderful stranger who read about the flood and wanted to help rebuild The Culinary Cellar library.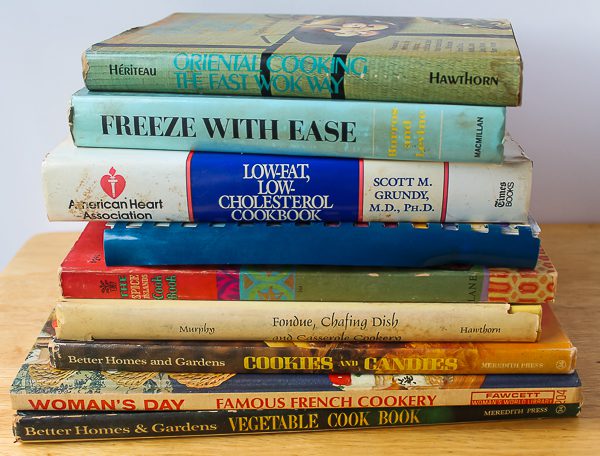 Julia from Wesson sent some wonderful vintage cookbooks, along with some Cook's Country and Taste of Home magazines.  Vintage cookbooks are a favorite of mine, and I looked through all of them before deciding on The Spice Islands Cookbook.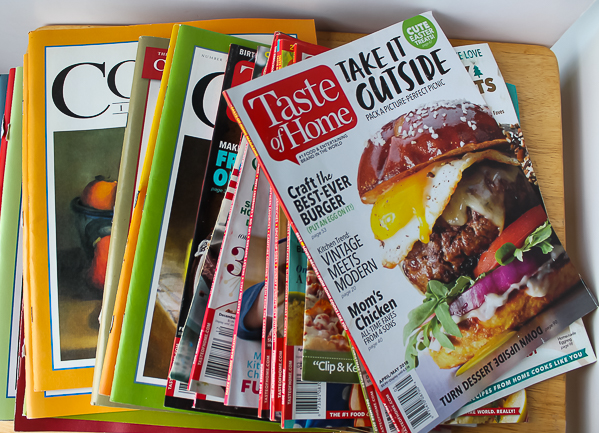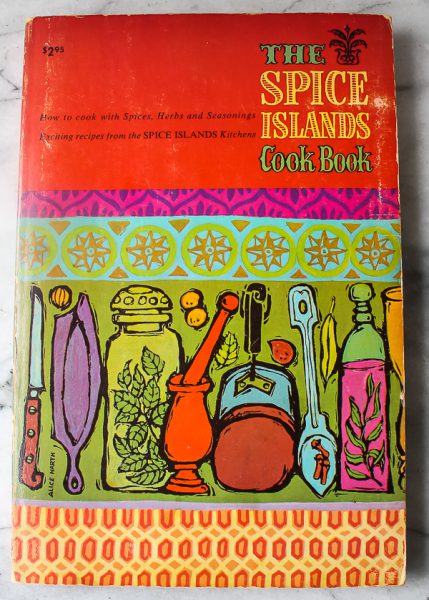 The recipes are from the Spice Islands Home Economics Staff, so I knew they would be carefully tested by the experts.  Not only that, but the first chapter tells of the history and intrigue of spices through time, and I must say the stories are as exciting as the recipes.  There were times when people would literally battle to the death for spices.  Spices had to be carried by camel caravans over long and torturous routes starting in Southern India, ran through Afghanistan, Persia, India, and into Arabia, crossing the Red Sea into Egypt where they were then shipped to Mediterranean ports.  The caravans met bandits along the way, and had to fight the elements in addition to all the dangers.  And after all that, the spices were still in such short supply, peppercorns were sold by each individual peppercorn!  Next time you purchase spices that are, of course, readily available now, open the jar and take a whiff, and thank everyone from centuries ago who discovered the secrets of cooking with spices.
The book has chapters for everything imaginable from appetizers to desserts, but I stopped at the bread chapter when I found a recipe for a braided bread using cardamom, one of my favorite spices.  It's called "Cardamom Coffee Braid" that also includes lemon peel, golden raisins, and walnuts, and has a lemon glaze.  It may sound complicated, but guess what – it uses a hot roll mix instead of having to figure out all the dry ingredients.  I can tell you with the cardamom, lemon, raisins, and nuts, it tastes like a homemade dough.  I love making yeast breads from scratch, but if you are short on time, or are a little apprehensive about yeast breads in general, you will love this recipe.  So easy and no long kneading time.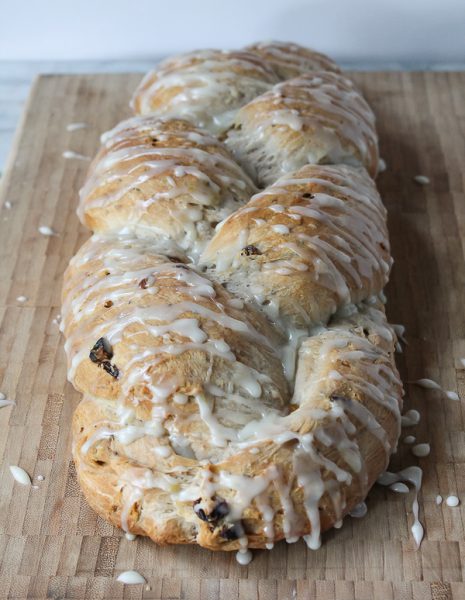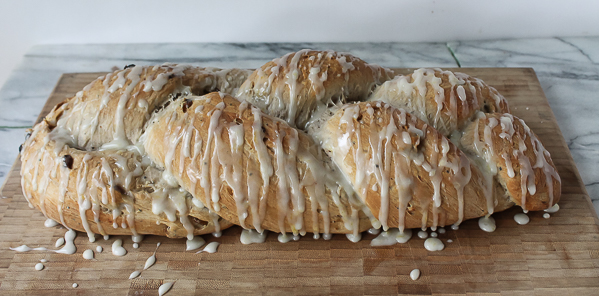 Look at this beauty!  The lemon glaze is drizzled over the hot bread, and the aroma that comes from the braid as it is being glazed is intoxicating!  It's not only beautiful, it's incredibly delicious.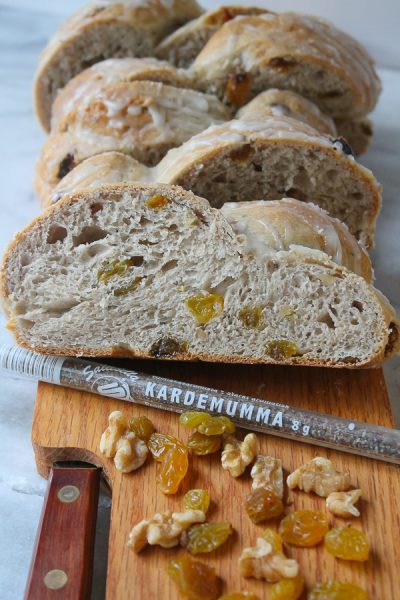 I love using the cardamom sold in Finland (Kardemumma) that my daughter Kristina buys every time she visits our Finnish relatives.  It is not finely ground, but coarsely ground and is the best cardamom I have ever used in baking.
The loaf is truly easy to make and looks like it's from a fine bakery.  It is best served warm to inhale and enjoy all the flavors, but it can also be warmed up the next day with a morning cup of coffee.
Don't forget to thank all the ancient explorers like Marco Polo and Magellan who explored and found the spices we still use today- and that we can buy big containers of peppercorns, not one-by-one!
Thank you, Julia, for all the books and magazines, and for this wonderful recipe that has already become a family favorite!

Cardamom Coffee Braid from The Spice Islands Cookbook
Author:
From the Spice Island test kitchens
Ingredients
For Bread:
1 package (16 ounces) hot roll mix (I used Pillsbury)
¾ cup warm water
2 Tablespoons melted butter
1 large egg, slightly beaten
2 teaspoons ground cardamom (or a little more if you really love cardamom!)
¼ teaspoon grated lemon peel
¾ cup golden raisins
¼ cup finely chopped walnuts
For Glaze:
½ cup powdered sugar
¼ teaspoon grated lemon peel
1 Tablespoon light cream
Instructions
For bread: Soften yeast from package in the warm water in bowl of electric mixer or mix by hand. Let sit a few minutes to bubble slightly, then stir in the butter, egg, cardamom, lemon peel, raisins, and nuts. Add the roll mix and mix until blended and dough holds together.
Cover the dough with waxed paper and let rise in a warm place until doubled, about 1 hour. Turn dough out onto a lightly floured work surface and knead for 2 or 3 minutes.
Divide the dough into 3 equal pieces. Shape each piece into a roll about 12-inches long,
Arrange the rolls on a lightly greased baking sheet about 1-inch apart. Braid loosely from the middle and pinch ends together.
Cover and let rise again until doubled, about 40 minutes. Bake in a preheated 375 degree F oven for 23 to 25 minutes or until golden. Remove from oven and slide onto a large board or platter.
Drizzle glaze over hot bread and serve hot.
For Glaze: Combine all glaze ingredients together in a small bowl until blended.