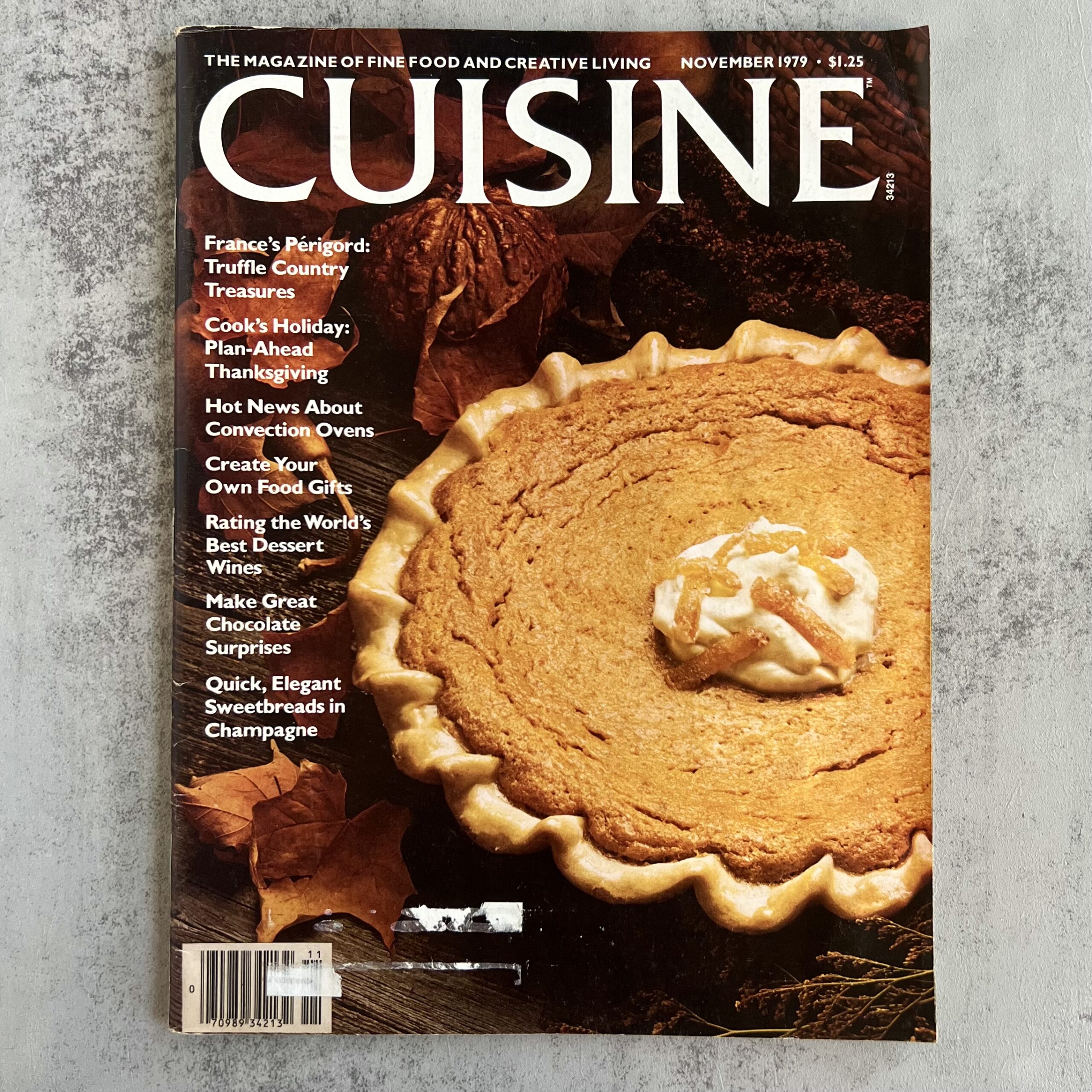 November and December issues of food magazines are my favorites.  Articles in this November 1979 issue of Cuisine magazine include making holiday hostess gifts like mini pâtés, cheese straws, homemade seasonings, chocolate madeleines, chocolate turtles, and a lemon marmalade.  Learn to make decadent chocolate and other flavors of truffles from the great Alice Medrich.  For the other kind of truffles, read about "The Riches of Périgord," France's famous truffle region.
I always make family favorites for Thanksgiving and Christmas but I also love to add something new every year.  In this issue cookbook author Perla Meyers has ideas for a plan ahead Thanksgiving dinner like the beautiful Ginger-Rum Pumpkin Pie on the cover, plus leftover suggestions.
My favorite make-ahead dish always starts with a cranberry sauce because it can be made weeks ahead and still tastes fresh.  I loved Perla's idea to add pears, apples, golden raisins, fresh orange juice and peel, cinnamon, nutmeg, and the crowning touch of Grand Marnier.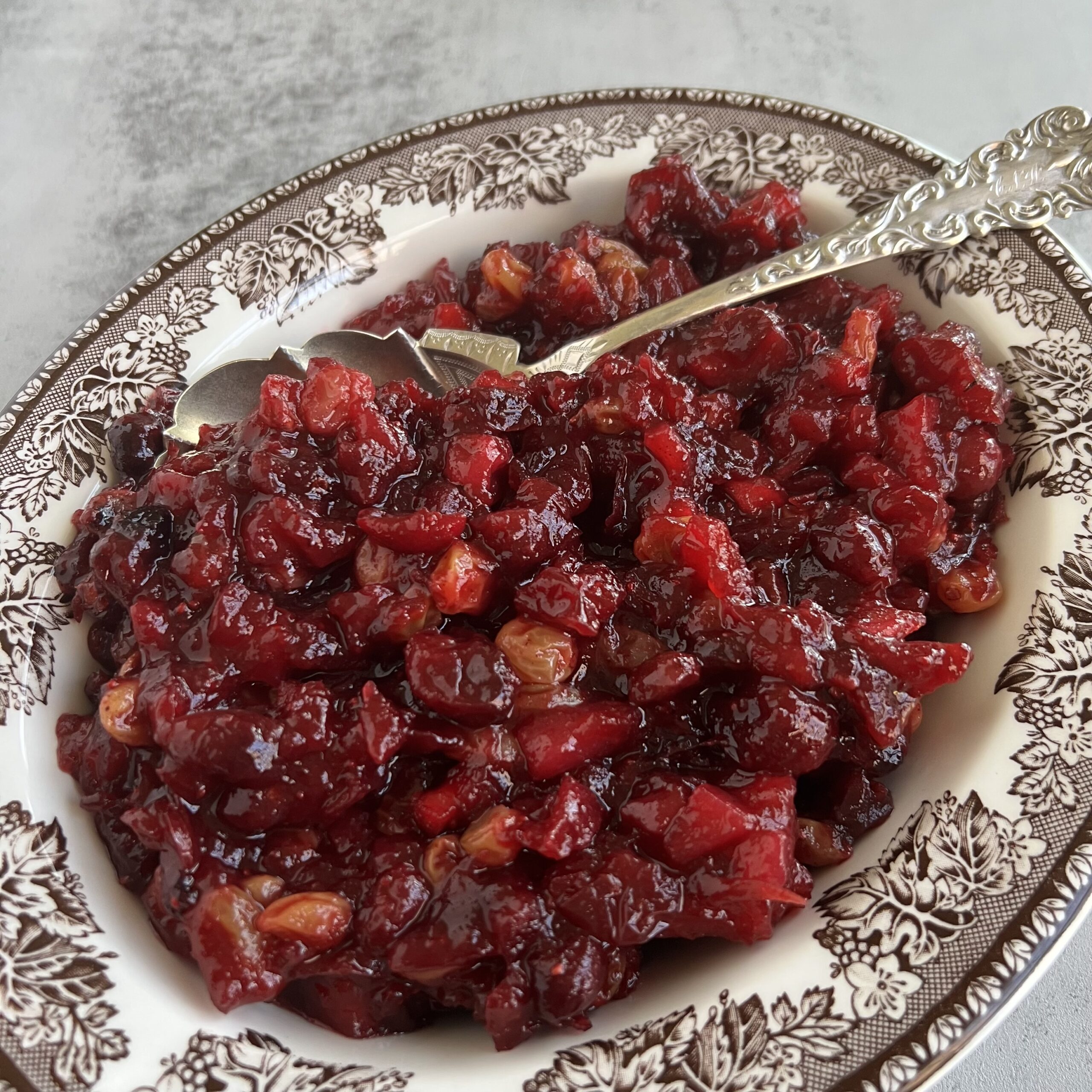 The recipe makes about 6 cups so it's good for a crowd.  Even if you are not hosting a large gathering, leftover sauce is wonderful to have for dessert crêpes or a sweet omelet.  The spicy and tangy sauce pairs beautifully with a roast duck or pork loin, and even served over vanilla ice cream or pound cake.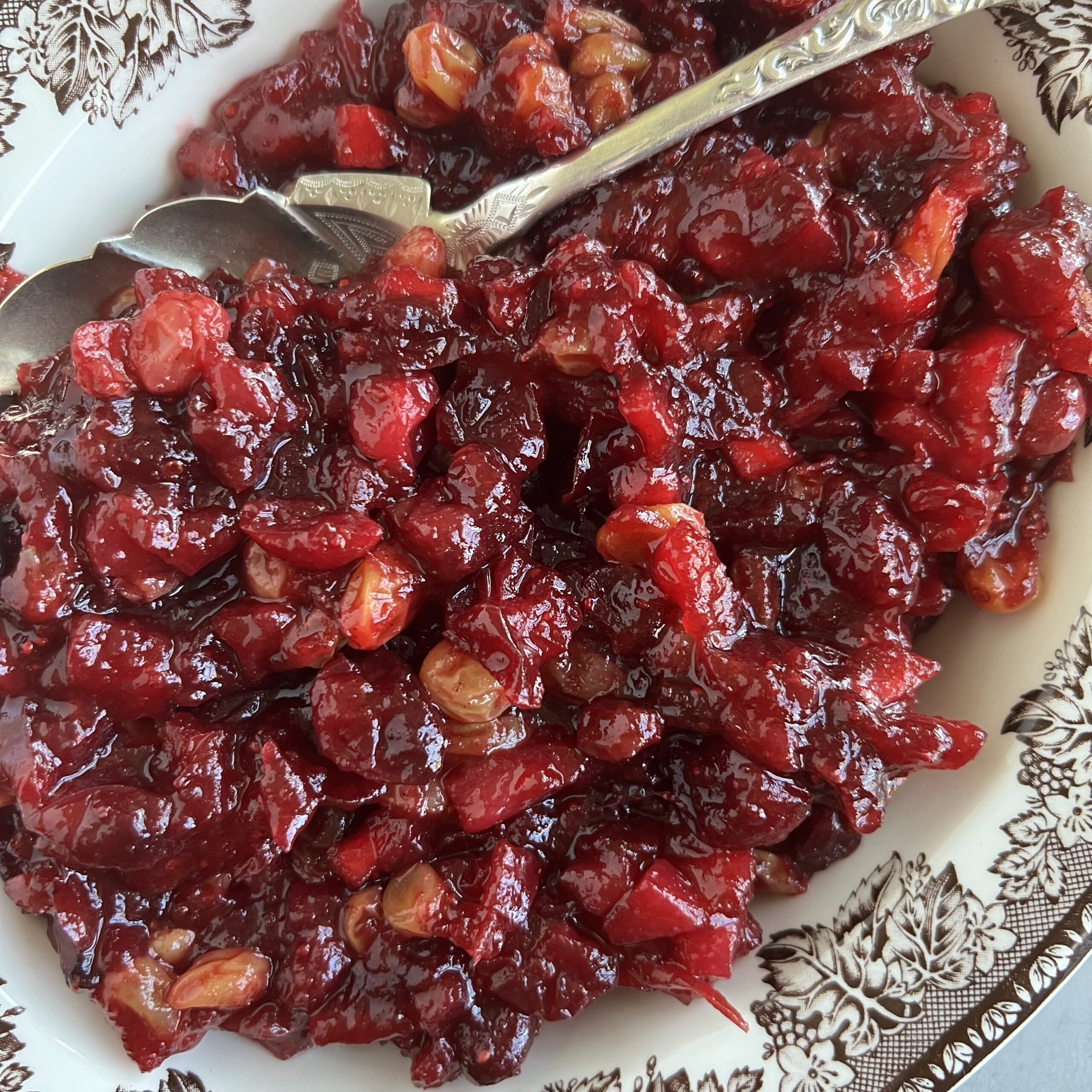 Look at those colors!  I love how it glistens too, adding  a beautiful dish to grace the Thanksgiving spread.
Have a wonderful Thanksgiving everyone!  Watch for leftover turkey recipes later in the week.

Cranberry-Apple-Pear Sauce
Author:
Perla Meyers for Cuisine Magazine November 1979
Ingredients
2 pounds fresh cranberries
3 apples, pared, cored diced
2 pears, pared, cored, diced
2 cups golden raisins
2 cups granulated sugar
1 cup fresh orange juice (about 3-4 large oranges)
2 Tablespoons grated orange peel
2 teaspoons ground cinnamon
¼ teaspoon freshly grated nutmeg
½ cup Grand Marnier or other orange-flavored liqueur
Instructions
Heat all ingredients except the liqueur in a large saucepan to boiling.
Reduce heat and simmer, uncovered, for stirring frequently until mixture thickens, about 45 to 50 minutes. Remove from heat, cool slightly, then stir in liqueur. Refrigerate covered overnight or can make at least month ahead. Serve chilled.