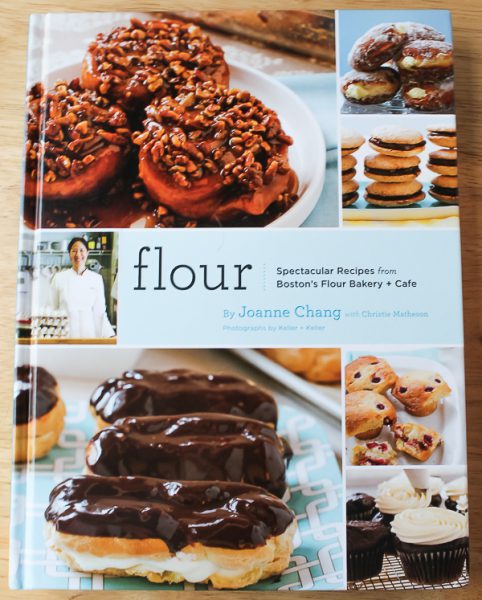 This past Easter we had all the family here in Libertyville.  Easter Sunday also happened to be my birthday, and my daughter Kristina gave me this amazing cookbook.  It truly is one of the best baking cookbooks I have ever seen.  The recipes are not fussy or difficult, and the baked goods are the very best versions of familiar and nostalgic treats.
You will find recipes for classic currant scones, sticky buns, croissants, cream-filled doughnuts, bran muffins, and so much more. Not just breakfast treats, but cookies, cakes, pies, and breads.  I could hardly put the book down when I first started reading it.  My husband Bill loves banana bread, so I decided to make "Flour's Famous Banana Bread."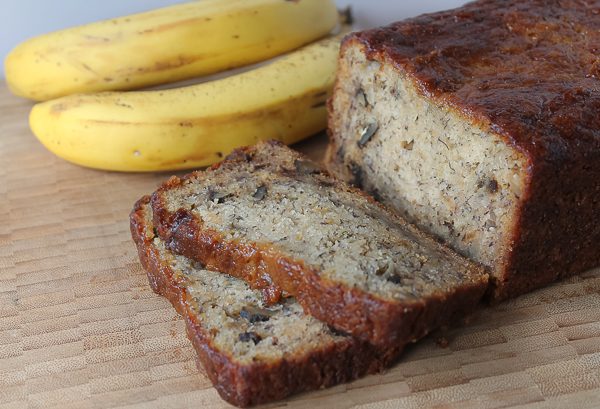 This banana bread is hands down, one of the best I have ever tasted!  It's so incredibly tender and flavorful.  It developed the most wonderful golden crust enveloping the entire loaf.  It cuts like a dream.  I didn't cut it for a day, because I always let banana breads sit at room temperature wrapped in plastic wrap for 24 hours to further develop the flavor and texture.  Be sure to use really, really ripe bananas.
You cannot go wrong with this bread, or the cookbook.  If you love to bake, Flour is a must to have in kitchen!
Flour Bakery's Famous Banana Bread
Ingredients
1-1/2 cups unbleached all-purpose flour
1 teaspoon baking soda
¼ teaspoon ground cinnamon
½ teaspoon kosher salt
1 cup plus 2 Tablespoons sugar
2 eggs
½ cup canola oil
1-1/3 cups mashed very ripe bananas (about 3-1/2 bananas)
2 Tablespoons creme fraiche or sour cream
1 teaspoon vanilla extract
¾ cup walnut halves, toasted and chopped
Instructions
Heat oven to 325 degrees. Butter a 9-by-5-inch loaf pan; set aside.
In a bowl, sift together flour, baking soda, cinnamon, and salt; set aside.
In bowl of electric mixer, beat together the sugar and eggs on medium speed for 5 minutes, or until light and fluffy.
On low speed, slowly drizzle in the oil. Don't pour it in all at once. Add the bananas, creme fraiche, and vanilla, and continue to mix on low speed just until combined.
Using a rubber spatula, fold in the flour mixture and the nuts until combined. Pour batter into prepared pan and smooth the top.
Bake for 1 hour to 1-/4 hours or until golden on top and the center springs back when you press it. (mine was ready in 1 hour). If your finger sinks when you poke the bread, it needs to bake just a little longer.
Let the bread cool in the pan on a wire rack for about 30 minutes, then remove from pan and let cool completely. When cooled, wrap in plastic wrap and store at room temperature for up to 3 days, or frozen for 3 weeks.
Note: like most banana breads, they become even more moist if wrapped and let sit for 1 day. This bread is so good and really moist!