Amy Meyer has been one of my faithful readers for years.  She will email and tell me what latest cookbooks or kitchen treasures she has found.  Amy has great luck at antique events.  I remember once she was very excited about finding a recipe box stuffed with someone's collection.  Lucky for me, she also sent these cookbooks after the flood of The Culinary Cellar.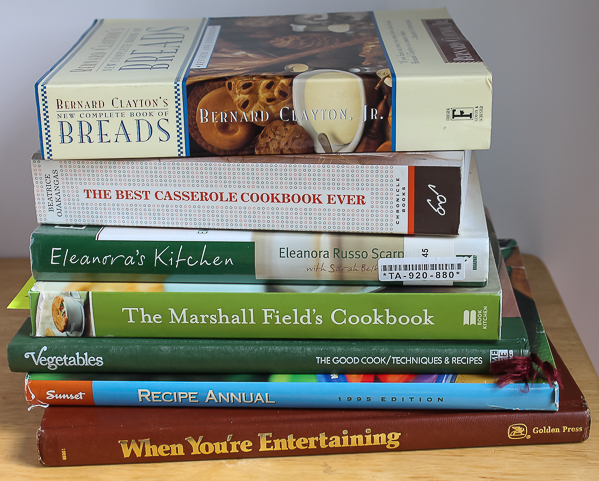 Since Amy has been reading my blog for so long, she was familiar with some of my favorite books and authors, like the classic Bernard Clayton bread book, Sunset magazine books, and definitely the When You're  Entertaining cookbook from the authors of my favorite vintage magazine, Sphere.  These are all great cookbooks and I'm so thrilled to have the ones I lost back on my shelves again.  Thank you, Amy!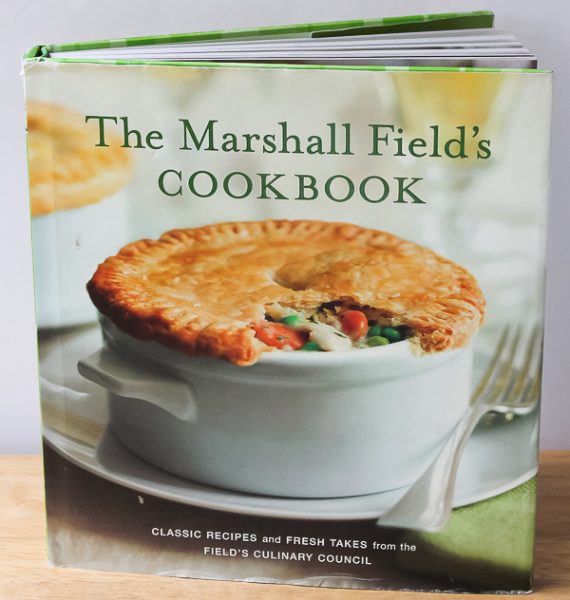 I settled on selecting a recipe from The Marshall Field Cookbook.  Back in 1890, Field's was the first department store in the country to serve food.  I will always miss the great Marshall Field stores, but at least we can still have some of the recipes from their Marketplace which could be found on their lower level.  If I had been shopping for hours upstairs, my next stop was to take the elevator down to pick up a snack or some lunch.  I loved the variety of Marketplace salads.  When I was looking through this lovely cookbook, I found many of their salad recipes.  This is one that I had to make this weekend.  I had just bought some blueberries and grapes which happened to be two of the ingredients.  To say this salad was good is an understatement!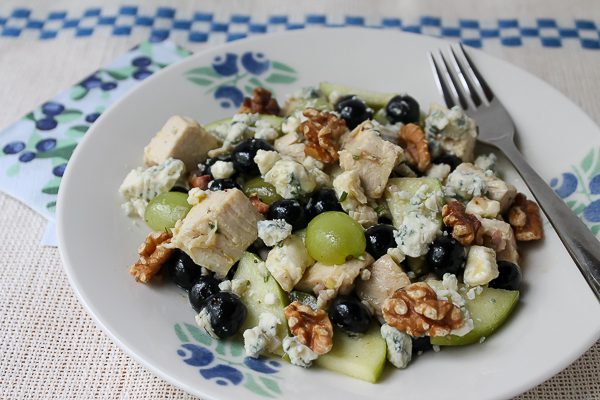 The dressing made with olive oil, Dijon mustard, shallots, honey, lime juice, toasted walnuts, and fresh rosemary is drizzled over a mixture of cubed chicken, Granny Smith apple slices, green grapes, blueberries, blue cheese, and toasted walnuts.  How's that for explosions of flavor, not to mention what a beautiful presentation it makes?  Hands down, one of best chicken salad recipes I have ever tried, and now will be a staple in my kitchen.
Besides the Marketplace recipes, and recipes using the famous Frango mints, many celebrity chefs who were on Field's Culinary Council offered their own recipes.  The chefs include Rick Bayless, Tyler Florence, Marcus Samuelsson, Ming Tsai, Nancy Silverton, Gale Gand, and more.  The recipes contributed their own signature twists on classic items from Field's menus, along with some of their own family favorites.

Blueberry Chicken Salad
Author:
The Marshall Field's Cookbook
Ingredients
Dressing:
2 teaspoons Dijon mustard
2 Tablespoons minced shallot
2 Tablespoons honey
3 Tablespoons freshly squeezed lime juice
1 teaspoon salt
½ teaspoon freshly ground black pepper
1 Tablespoon minced fresh rosemary leaves
¼ cup olive oil
Salad ingredients:
3 cups cooked chicken, cut into bite-sized pieces (I used a rotisserie chicken)
1 Granny Smith apple, unpeeled, cut into ¼" slices
1-1/2 cups green grapes, halved if large
1-1/2 cups fresh blueberries
½ cup coarsely chopped and toasted walnuts or hazelnuts
½ cup crumbled blue cheese
Instructions
For dressing: In a small bowl, whisk together all dressing ingredients except olive oil. Slowly whisk in olive oil to make an emulsion; set aside.
For salad: Combine all salad ingredients in a large bowl and toss. Pour the dressing over the salad ingredients and toss to coat thoroughly. Taste and adjust seasonings, if needed. Serve immediately or cover and refrigerate up to a day. Serves 6.
This is a great summer recipe when blueberries are at their best!