I am guessing Lyn P. from Minnesota either used to live in Hawaii or she just loved Hawaiian cooking.  Either way, I was thrilled when she sent me these cookbooks as I had none from Hawaii to replenish from the ones lost in the flood.  The three "Hawaii's Best" are all from the same author.  The recipes sound delicious and authentic.  One chapter is just "Poke" dishes, which I love, along with sushi, meats, seafood, and potluck ideas.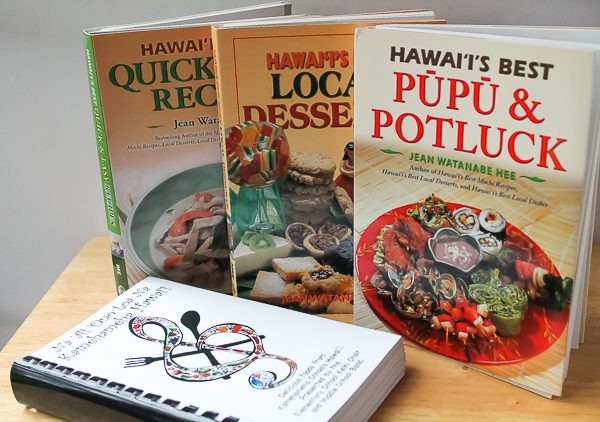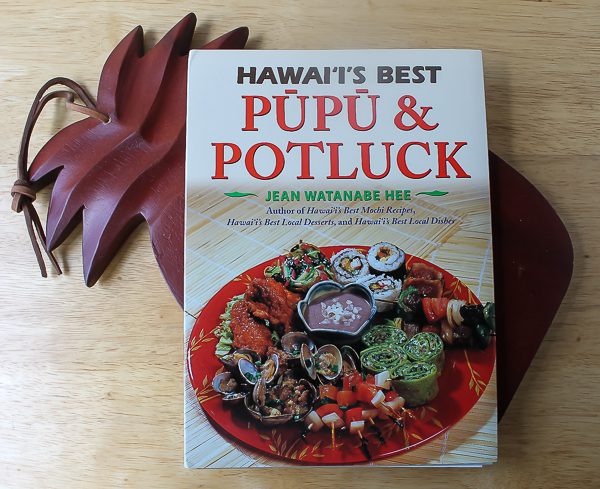 I found a recipe in this book for an appetizer using fresh tuna.  PuPu actually means "appetizer" or "finger food."  As for potluck, the author says at luau's and other feasts, hardly anyone arrives without a dish in hand to share.  It's the classic local way of getting together sharing happy times.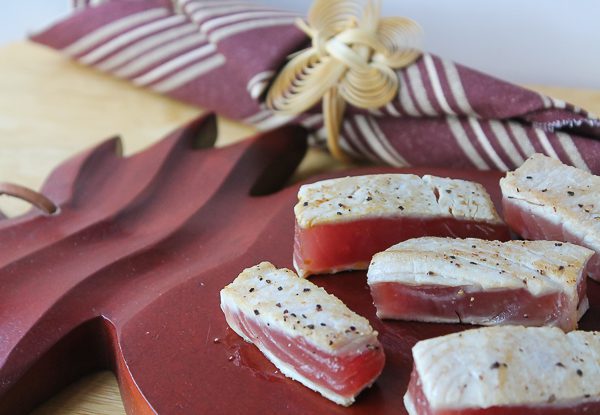 The recipe for the appetizer I made is seared tuna pieces served with a dipping sauce.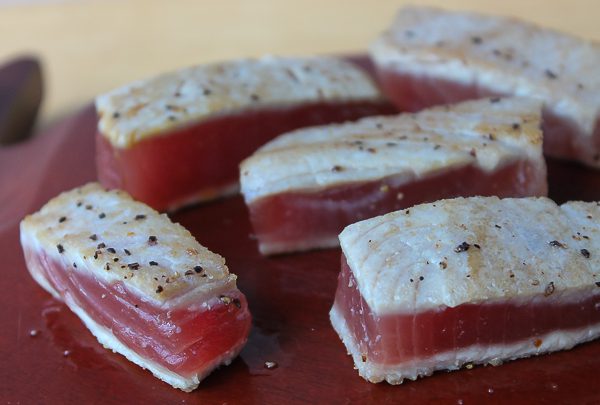 The tuna is first cut into sashimi blocks, then sprinkled with fresh cracked pepper and garlic salt and quickly seared.  The blocks can be kept that size or cut in half for bite-sized pieces.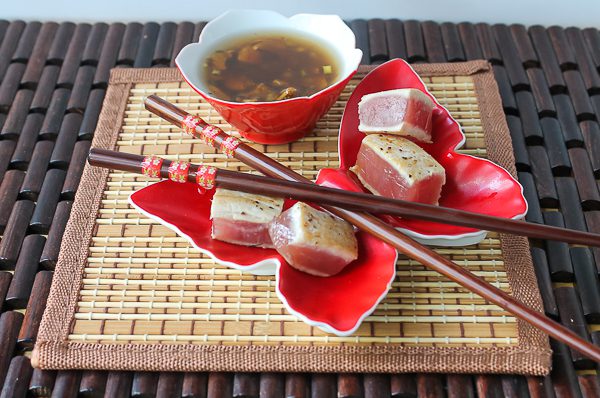 An easy dipping sauce is made with soy sauce, oil, fresh ginger slices, and chopped green onion.  No kidding, I had this made in ten minutes.  Talk about easy party food, not to mention it tastes fabulous!  Serve your guests their own small plate and some dipping sauce for a fun presentation.  If you are cooking outside, the tuna can be grilled.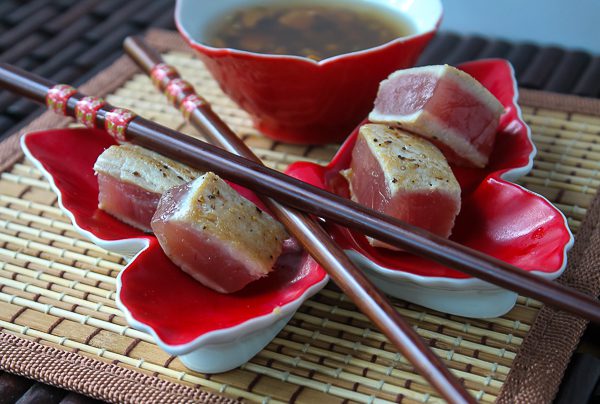 I have never been to Hawaii, but can live through the food from these wonderful cookbooks.  Thank you, Lyn!

Seared 'Ahi
Author:
Hawaii's Best PuPu & Potluck by Jean Watanabe Hee
Ingredients
Dipping Sauce:
1 Tablespoon fresh ginger, finely slivered
1 teaspoon green onion, finely chopped
2 Tablespoons oil
2 Tablespoons soy sauce
For Tuna:
1 pound 'ahi tuna
Garlic salt, to taste
Freshly ground black pepper, to taste
1 Tablespoon oil (I used peanut oil, but canola would be fine too)
Finely sliced lettuce, optional
Instructions
To make dipping sauce: Place ginger and green onion into a small dish. Heat oil in small pot until very hot. Pour over ginger and green onion. Immediately add soy sauce and stir; set aside.
For Tuna: Cut tuna into sashimi blocks, about 1-by-1-1/2 inch blocks. Sprinkle with garlic salt and pepper. Heat frying pan; add oil. Fry pieces for 15-20 seconds on each side and remove,
Immediately serve pieces with the dipping sauce. The pieces can be placed on small plates with or without some sliced lettuce.