Pillsbury Classic Cookbooks are the ones usually seen at supermarket check-out lines.  They are booklet-type publications with all the best recipes from Pillsbury on just about every subject of food and holidays, and have been around for decades.  I knew when the flood took away all my collection of these booklets, they would be very hard to replace as there are so many and out-of-print. Then along came my reader Ann Marie who mailed me two big boxes with dozens and dozens of the classics.  I was so thrilled!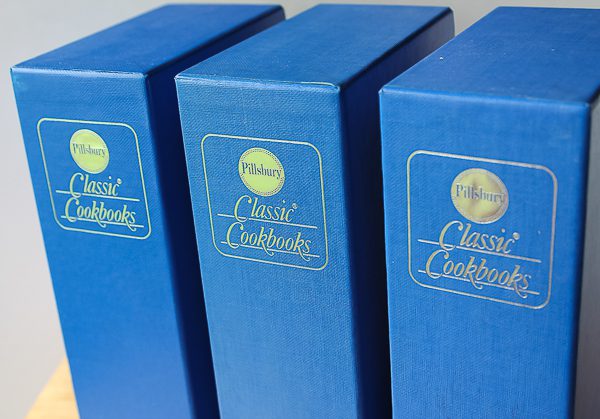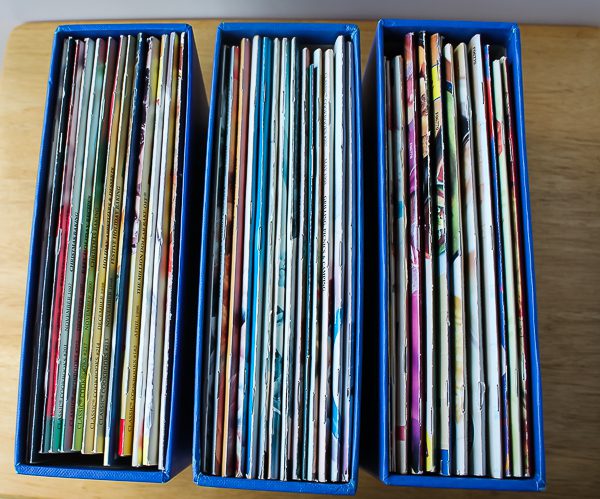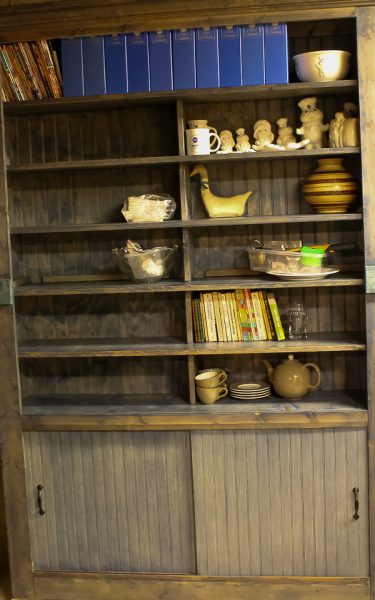 This is how the books look way up on the top of one of my shelves in The Culinary Cellar.  The binders to hold the books are tall and wouldn't fit in the lower shelves, which is where I am going to place many of my Pillsbury Doughboys and other collectibles.  This shelving unit is a work in progress and I'll send more photos as the shelves get filled with all kinds of fun items!
The Pillsbury Classics contain many of the favorites from the Pillsbury Bake-Off which has been held since 1949.  All the recipes are wonderful, but some have become iconic, such as the "Tunnel-of-Fudge" cake which basically made the bundt pan one that every well-used kitchen has at least one.
Another iconic recipe is the "Peanut Blossom Cookies" with the Hershey kiss.  Probably every person who has ever attended a school or church bake sale has seen these.  And guess what?  The cookies did not even win a prize at the Bake-Off!  Amazing.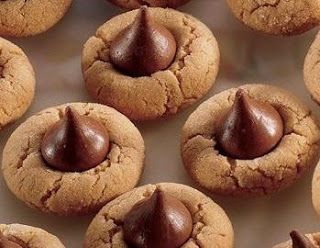 Thank you, Ann Marie, for so generously giving me back the Classic collection.  They are happy on my shelves!
Most of you probably already have this recipe, but here it is once again in case you want to have cookies around for this weekend.

Peanuts Blossoms
Ingredients
1 cup granulated white sugar
1 cup packed light brown sugar
1 cup unsalted butter, room temperature
1 cup creamy peanut butter (not the natural kind)
2 eggs
¼ cup milk
2 teaspoons vanilla extract
3-1/2 cups all-purpose flour
2 teaspoons baking soda
1 teaspoon salt
Two 10-ounce packages plain chocolate kisses
Instructions
In bowl of electric mixer, cream together sugars, butter, and peanut butter.
Beat in eggs, milk, and vanilla.
Stir together flour, baking soda, and salt. Stir into bowl.
Heat oven to 375 degrees. Shape dough into balls; roll in additional granulated sugar. Place on ungreased cookie sheets and bake for 10-12 minutes.
Immediately press a chocolate kiss into each cookie center. Remove cookies from cookie sheet and transfer to a wire rack to cool completely.
Note: If the dough seems too soft to roll into balls, cover with plastic wrap and refrigerate until it i more firm.