If you visit Dawn Lowenstein's Facebook page, I guarantee you will leave it smiling, hungry, and wanting to adopt a kitty!  Dawn's bright and friendly face will greet you with mouth-watering food photos and cute kittens .  She also made me smile when this vintage cookbook ended up in my kitchen from her home in Pennsylvania.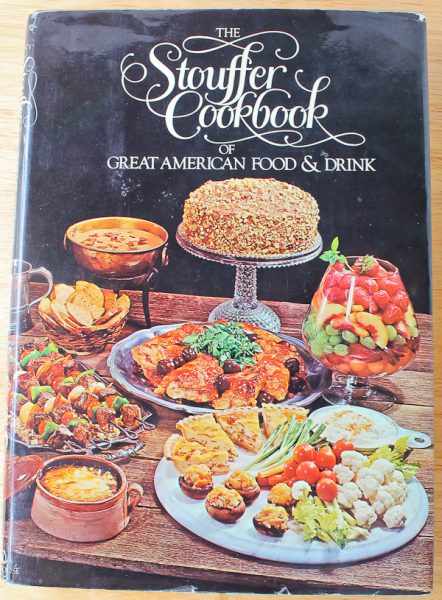 Dawn is another one of the lovely Field Editors from Taste of Home that I mentioned in an earlier blog who generously send me such great cookbooks.  Many people may not even have heard of Stouffer's Restaurants, but are probably familiar with Stouffer's line of frozen foods.  Yep – same family, but I believe Stouffer's is now owned by Nestle's.  However, Stouffer's has a rich culinary history in the American food industry.  In the early 1920's, A.E. Stouffer of Cleveland, Ohio opened a stand-up dairy counter where he sold buttermilk fresh from a churn. He later added an open-grilled cheese sandwich on one-inch thick homemade bread.  When customers asked for a dessert, his wife made her famous Dutch Apple Pie.  By 1924, the first Stouffer's Restaurant opened.  The food was a hit and well-received for its freshly made homestyle food.  The desire for Stouffer's kind of food is what eventually led to their line of frozen foods.
The cookbook is a history of the restaurant's recipes from appetizers and dips, soups, casseroles, hot and cold sandwiches, cakes, salads, to the ever popular Dutch Apple Pie from the original 1920's recipe from Mrs. Stouffer.  I searched the cookbook for the recipes that had been longtime favorites.  Since it is now officially fall, and everything pumpkin is around, I stopped at the Pumpkin-Raisin Muffin recipe.  The sentence about the recipe says: "There isn't a week that goes by that someone doesn't ask for this recipe."  Of course I had to try them!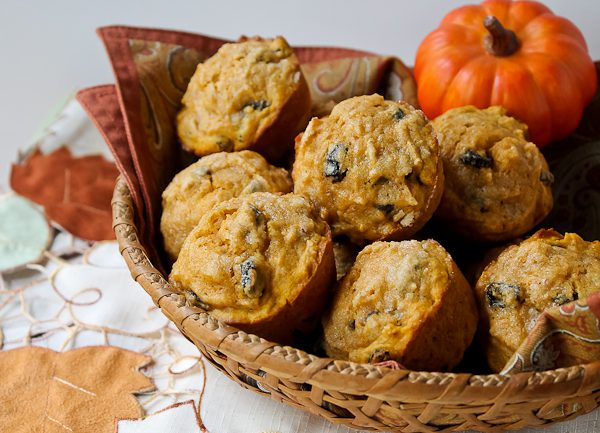 The muffins are moist, flavorful, all bumpy with raisins, and go together in minutes.  We loved them!  Serve warm from the oven by themselves or with slathered with some butter.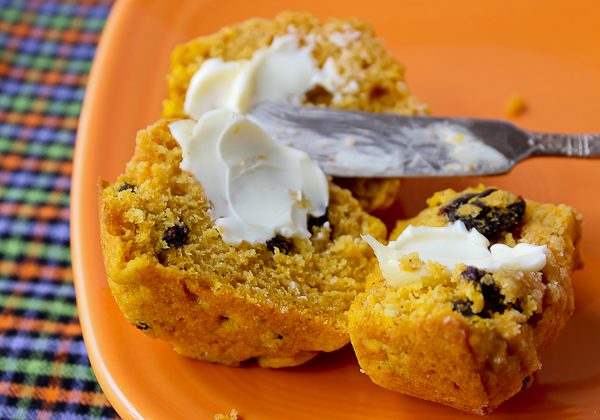 Thanks, Dawn, for this great cookbook.  Keep that beautiful smile and posting those tempting food photos, even if I do leave hungry every time I see your page!

Pumpkin-Raisin Muffins
Author:
Stouffer's Restaurant Cookbook
Ingredients
1-1/2 cups all-purpose flour
2 teaspoons baking powder
1-1/2 teaspoons salt
½ cup granulated sugar
½ teaspoon cinnamon
½ teaspoon ground nutmeg
1 egg
½ cup milk
½ cup canned pumpkin
¼ cup butter, melted
¾ cup dark raisins
1 Tablespoon granulated sugar
Instructions
Heat oven to 400 degrees F. Stir flour, baking powder, salt, ½ cup sugar, cinnamon, and nutmeg together in a mixing bowl; set aside.
In bowl of electric mixer, or by hand, beat egg slightly. Add milk and mix thoroughly. Blend in pumpkin and melted butter.
Add liquid to dry ingredients and stir to moisten. Add raisins and mix just until blended. Do not beat.
Spoon batter into well-greased muffin tins. (recipe says it makes 12 muffins - I found it made 11 muffins). Sprinkle ¼ teaspoon sugar evenly over each muffin.
Bake for about 15 minutes or until golden and testers inserted in center comes out clean. Serve warm.