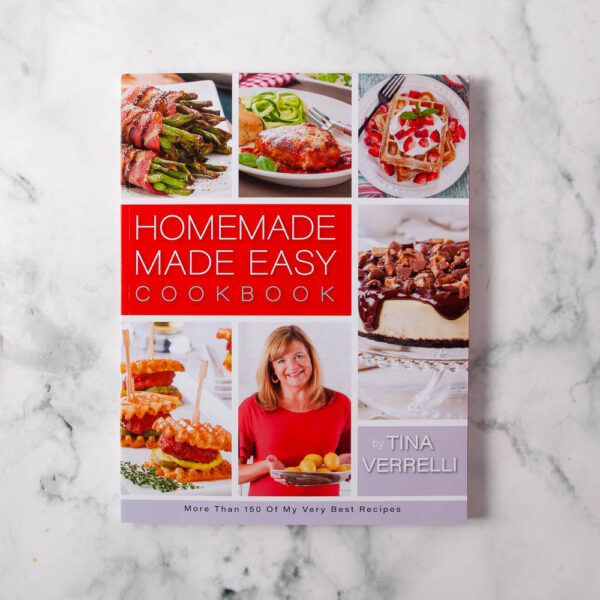 You won't find a sweeter person than Tina Verrelli.  This busy wife, mom of two, food blogger,  former elementary school teacher,  and prize-winning cook wears many hats.  Another hat is one that you might have seen on QVC  where Tina is a presenter for Kitchen Aid.  Tina does it all and always with a smile on her face that lights up a room – and your television screen.
Tina's cookbook is just as it is titled, Homemade Made Easy.  The recipes are family favorites, from-scratch recipes, feeding as crowd, semi-homemade ideas for busy days, some healthy and some indulgent.  In other words, something for everyone.  All of the recipes have been tested multiple times so they are recipes you can trust, not to mention beautiful photography so you can see how some will look.
The chapters of the book are Breakfast and Brunch, Appetizers and Starters, Soups, Salads, and Sandwiches, Chicken and Turkey, Beef and Pork, Seafood, Pasta, and More, Sides, and Desserts.  Some that I ear-marked to make include Pecan-Streusel French Toast Cups, Stuffed Mushroom Florentine Soup (which won a mushroom contest!). Brown Sugar Glazed Salmon, Cheesy Sausage-Stuffed Shells (which I know my husband will love!), along with two others I know he will love:  a meatball pizza, and Shortbread Cookie Banana Pudding.
My husband and I both share a favorite dinner of oven-fried chicken, mashed potatoes, and green beans.  It's an easy and delicious meal we have a couple times a month.  But Tina had an ingredient to add that I had never thought of before.  The recipe I use all the time is when the chicken is dipped in buttermilk and coated in crushed cornflakes.  Tina added some pickle juice to the buttermilk for extra flavor and a nice tang.  We love everything pickle in our house, so why I never thought of adding pickle juice is beyond me!  It's so good, and now I will never make it any other way.  Thanks, Tina!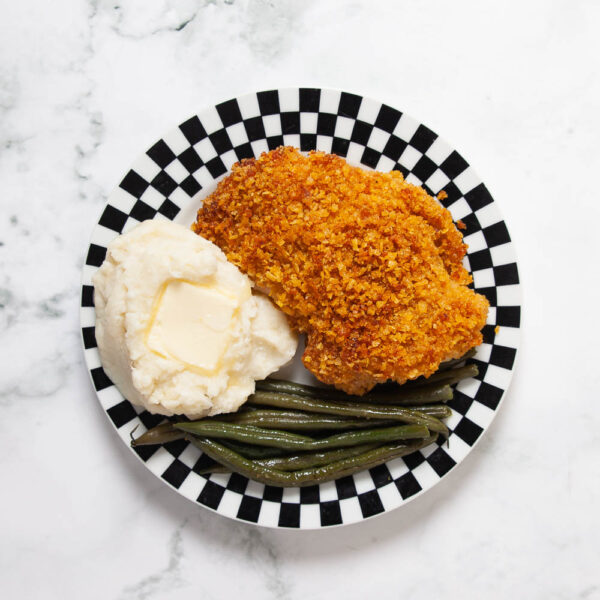 If you love good homemade comfort food you must buy Tina's book.  You will not be disappointed.  Start with this oven-fried chicken this weekend!
Good job, Tina!
Dill-icious Oven-Fried Chicken
Author:
Homemade Made Easy Cookbook by Tna Verrelli
Ingredients
½ cup all-purpose flour
4 cups corn flake cereal, crushed
⅓ cup grated Parmesan cheese
½ teaspoon salt
¼ teaspoon cayenne pepper
¼ teaspoon black pepper
¾ cup buttermilk
¼ cup pickle juice
1 (3-1/2 to 4-pound) chicken, cut into 10 pieces, cutting chicken breasts in half
Cooking spray
Sliced dill pickles for garnish, optional
Instructions
Preheat oven to 375 degrees. Line a rimmed baking sheet with aluminum foil and coat with cooking spray. Place metal cooling rack on the baking sheet which will help make the chicken extra crispy.
Place flour in a large resealable plastic bag. In another large resealable plastic bag, add crushed cornflakes, Parmesan cheese, salt, cayenne pepper, and black pepper. Seal and shake well.
Pour buttermilk into a shallow bowl. Add pickle juice and stir. Place 2 pieces of chicken in bag with flour. Shake well to coat completely. Remove from bag, shaking to remove excess flour, and dip in buttermilk. Next, place into bag with cornflake mixture. Seal and shake well, coating chicken completely.
Place chicken on rack and repeat with remaining chicken pieces. Sprinkle remaining cornflake mixture evenly over chicken on baking sheet. Lightly coat with cooking spray.
Bake 50 to 55 minutes or until chicken is no longer pink in center and temperature reaches 165 degrees and crust is golden brown. Serves 5.