I have a soft spot in my heart for newspaper food editors.  They are the voices of our culinary landscape across the country.  It is heart-breaking how many newspapers no longer employ these industrious women and men, as they are more relevant now than ever before especially when everyone had to physically distance this past year from the world and many started cooking and experimenting with new recipes.  The recipes found in food sections of newspapers were recipes we could trust.  Most newspapers had their own test kitchens to make sure their readers got a tried and true recipe.
Below is my very large filing cabinet that used to be in The Culinary Cellar before it was flooded.  I bought this from a medical practice that was getting new cabinets so it had huge drawers to hold many hanging files, perfect for all my newspaper (and magazine) recipe clippings that I had collected over decades.  It was beyond heart-breaking to lose these clippings as most of them are pre-internet days so they can't be found in a Google search.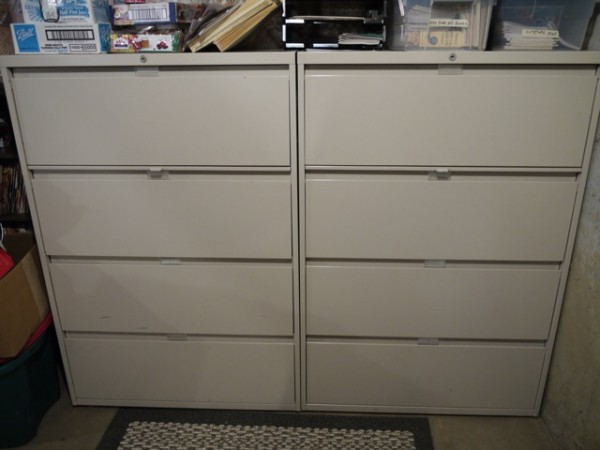 I had dozens and dozens of very categorized files and knew how to find anything.  It was a dream to use and so organized.
The first food editor I want you to meet is Mary Bilyeu of The Toledo Blade.  Mary took over the job from the former editor of over forty years, Mary Alice Powell.  More on Mary Alice later. When The Culinary Cellar experienced the devastating flood, Mary's big heart and love of cookbooks led her to be the first to write about it, and her article would be my first clipping in a new future filing cabinet.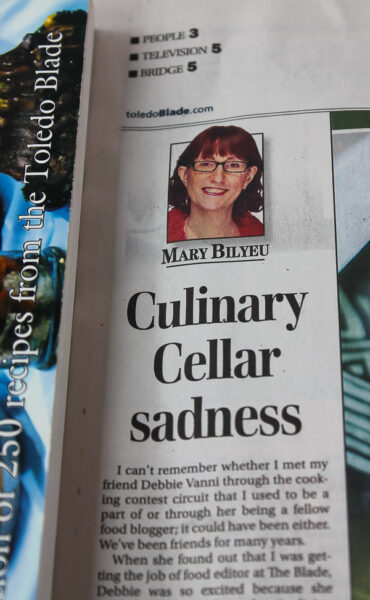 Not only writing an article, but Mary also sent me a box of cookbooks.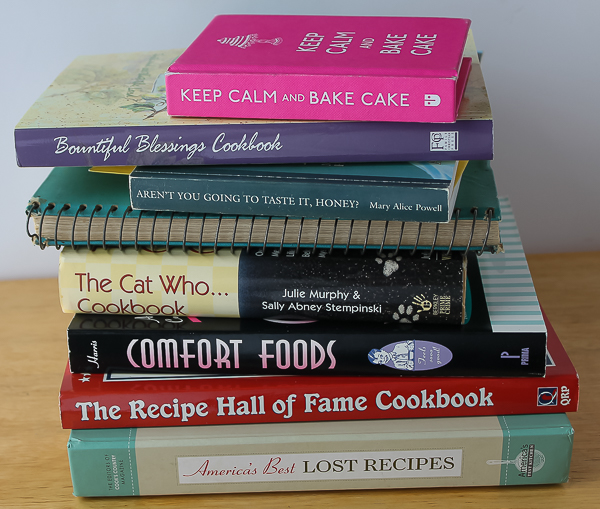 The three vintage books below became instant favorites, with handwritten recipes, old clippings, and, my favorite, scribbled notes of recipes made with personal comments on the side.  These kind of cookbooks are priceless treasures.  I spent many happy hours going through them.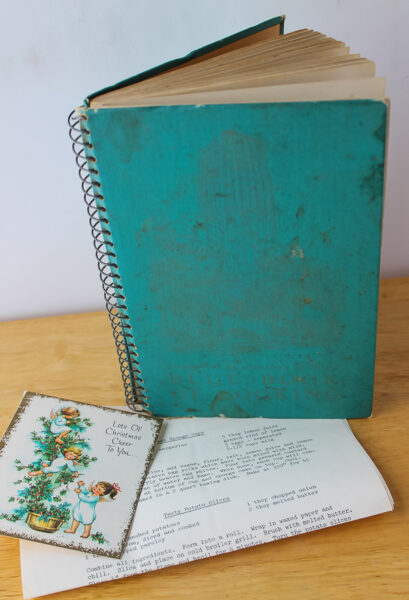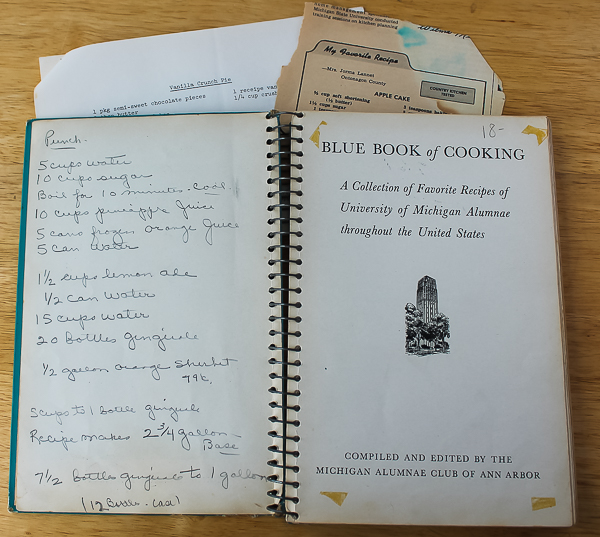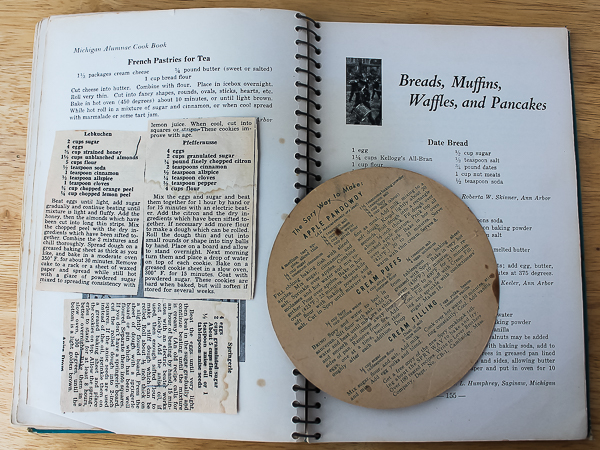 But stop the presses.  When I saw the book, Aren't you Going to Taste it, Honey? by Mary Alice Powell, the retired food editor of The Toledo Blade, my heart skipped a little beat.  I met Mary Alice at my first time competing at the Pillsbury Bake-Off in Orlando, in the '80's, where the judges of the contest were almost exclusively newspaper and magazine food editors.  After the contest while waiting at the airport I ran into Mary Alice as we were waiting for the same flight.  We had a long and most wonderful conversation that I have never forgotten.  Mary Alice is so kind and giving with her passion for the food world.  She loved sharing recipes and never included anything that she didn't think her readers could not make themselves.  Even when photos were taken and something had a small flaw like a crack on the top of a cheesecake, the photographer would ask if she wanted to fix it by covering with whipped cream or make another.  Mary Alice would reply, "No, that's the way it should be printed so our readers will know we are not perfect.  No patches."  To this day, I love  "Perfectly imperfect" photos.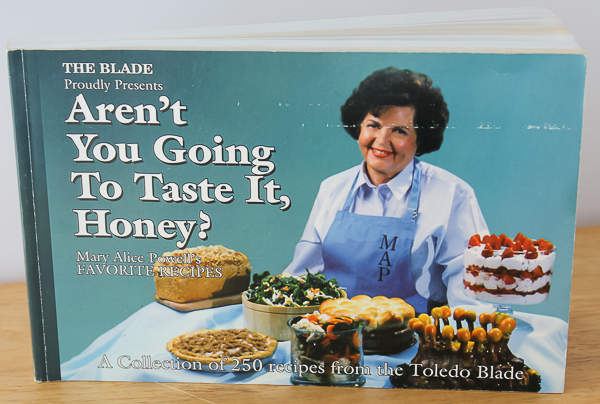 Mary Alice states in the preface that she had so many favorites from over forty years of columns, it was difficult to select ones for the book.  The book covers appetizers, main dishes, accompaniments, salads and dressings, breads and sandwiches, and desserts.  I had a hard time selecting a recipe too, as they all sound so wonderful.  But since one of my favorite meals is short ribs, here it is.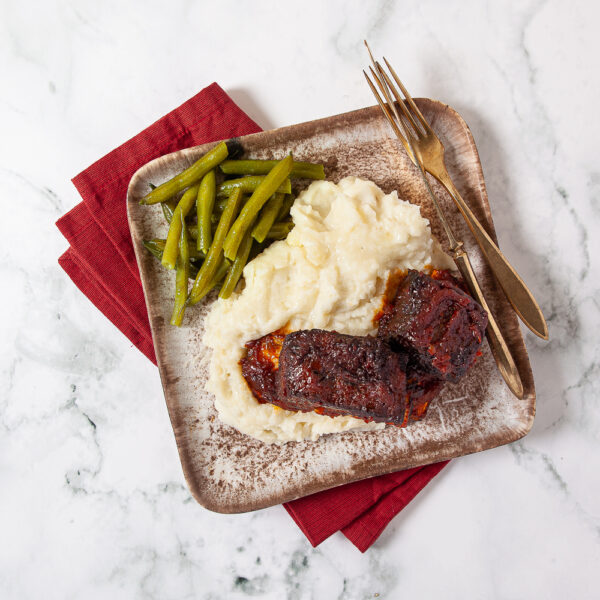 The ribs are so easy and delicious, it became my go-to recipe.  It uses ingredients you probably have at hand.  And of course the aroma is heavenly as the ribs roast in the oven.
Thank you, Mary, for the amazing cookbooks you sent and copies of the newspaper, and especially for Mary Alice's book which will always sit on my shelf where I place my all-time favorites. Thank you both for all you do and have done for the food world.  It wouldn't be the same without you two incredible women.

Barbecued Short Ribs
Author:
Mary Alice Powell, from her book "Aren't you going to taste it, Honey/"
Mary Alice Powell was the longtime food editor of The Toledo Blade.
Ingredients
3 pounds short ribs of beef
2 Tablespoons shortening
1 medium onion, chopped
¼ cup vinegar
2 Tablespoons brown sugar
1 cup ketchup
¼ teaspoon hot pepper sauce
1 teaspoon prepared yellow mustard
½ cup diced celery
1 teaspoon table salt
Instructions
Have ribs cut into sections 2 to 3 inches long.
Melt shortening in heavy frying pan and brown ribs. Add onion and cook 2-3 minutes; do not brown. Add all remaining ingredients.
Cover and cook slowly on top of range, or transfer to a casserole, cover and bake at 325 degrees for 3 hours or until tender. Serves 4. (I did the oven method and they were perfect!)