There are so many Facebook pages filled with nothing but political rants, angry words, and sad commentaries on life.  Forget those and read Lanie Smith's Facebook page.  There is nothing but love, food, and a breath of fresh air from today's confusing world.
Lanie loves her family, cooking, and all things vintage.  This is a woman with a huge heart who not only knows her way around the kitchen but shares with those less fortunate.  Lanie and her husband were once foster parents and took in over time, seventeen children in need.  Lanie and I have written back and forth over messenger and emails over the years and she was always upbeat, a good listener, and great comforter when needed.  When Lanie read about how I lost my cookbooks in the flood, she sent me a big box filled with some from her collection.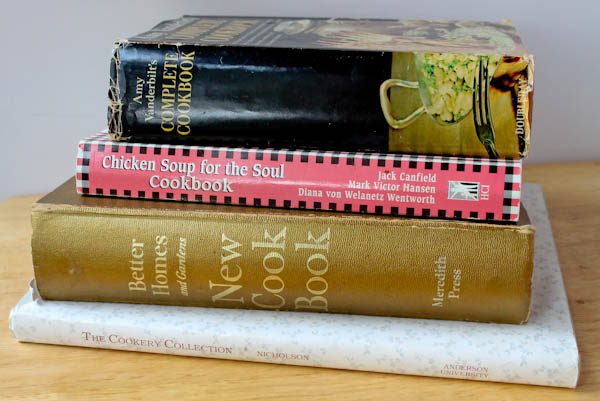 Love the vintage Amy Vanderbilt!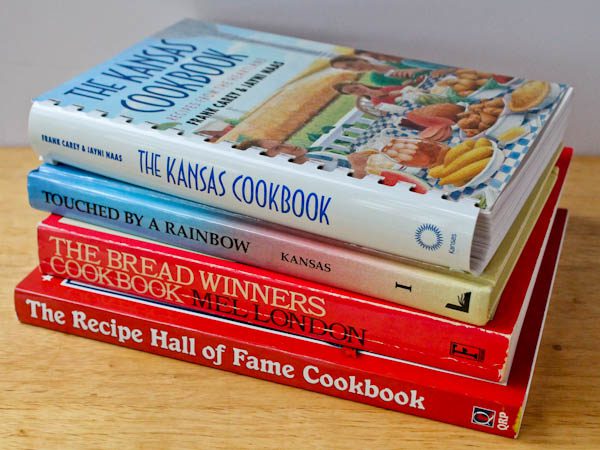 Of course, there had to be a couple from Kansas!  I was so happy to see the Mel London Bread Winner's Cookbook, one of my favorites that I am thrilled to have back again.
When I was looking through all the books trying to figure out what to make, I kept a few things in the back of my mind.  It's autumn, which means warm comfort foods, and if you are my husband, baseball playoffs, specifically the Chicago Cubs, his favorite team.  After looking through all the books and earmarking quite a few recipes, I still couldn't decide.  I went back to Lanie's Facebook page and started scrolling down.  I came across this first, just a quote that she liked and shared:
Crisp air, cozy sweaters,
Changing leaves and warm drinks.
I love autumn!
Then I came across a blog of mine she shared from way back in October of 2015 for a hot German potato salad served with smoked sausage.  Next I found that Lanie was a Kansas City Royals fan.  Then I knew what I wanted to make from the cookbooks to start with- baseball food!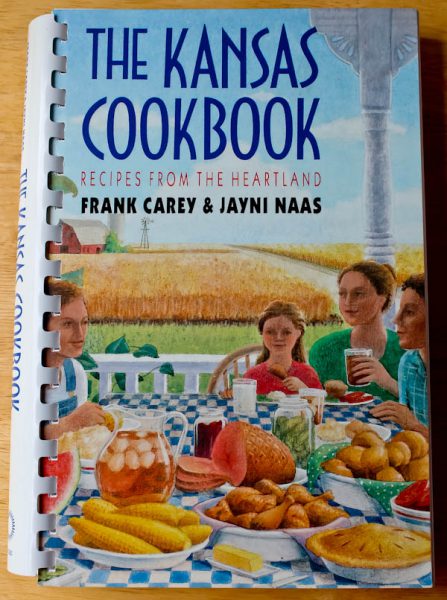 I found everything I wanted in this lovely book from Kansas that combined autumn and baseball!  It also happens that the Cubs won the divisional playoff just two nights ago, and tonight (Saturday) will be playing the first of the best of seven games against the Los Angeles Dodgers for the league champion with the chance to once again make it to the World Series.  So what is needed?  Baseball food!  I found two recipes in this book.  One is for a special relish for hot dogs, and the other a delicious flavored butter to put on corn, either on the cob or scraped off and in a bowl.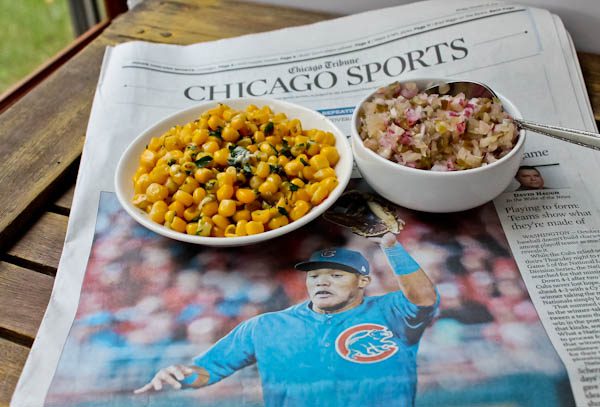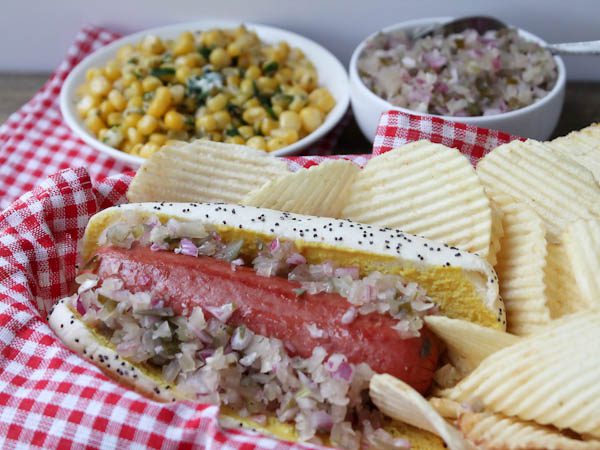 They were both great!
Corn with Anise Butter:
Place 1/2 teaspoon anise seed in 1 cup boiling water and let sit for 30 minutes.  Stir in 2 Tablespoons softened butter, 1/8 teaspoon anise flavoring, 1 Tablespoon chopped fresh parsley and mix well to combine.  Taste to see if it needs salt or pepper.  Spread over ears of hot corn-on-the-cob, or stirred into a bowl of cooked fresh corn kernels.
Hot Dog Relish:
In a bowl stir together 1/2 cup chopped bread and butter pickles, 1/2 cup sauerkraut, 1 small red onion chopped fine, 1 clove minced garlic, 1/4 teaspoon ground black pepper, and 3 drops of Tabasco.  Cover and refrigerate for 24 hours to blend flavors.  Spoon over hot dogs.
These were great, but I wanted to find a "Lanie" recipe and kept searching her Facebook page to see if something sparked an idea.  I came across a photo of Lanie holding up a book in a Barnes & Noble bookstore called Barnes & Noble Cookie Bake-Off.  Lanie was holding it because one of her recipes was inside for a butter cookie!  It seems Lanie was inspired to make this cookie when she attended a musical called The Church Basement Ladies.  In one of the songs, there is a line that goes:  "She'll teach me this song as she stood by the stove, it goes cardamom, cinnamon, ginger, and clove."  Now I knew to find a recipe with at least some of those spices.  I found it on page 423, Spicy Gingerbread Cupcakes with Lemon Sauce!  I could almost taste and smell it just from reading the recipe.  I thought Lanie would like this one. I think she will, and so will you, because they are so wonderful.  And that aroma!  It speaks of autumn.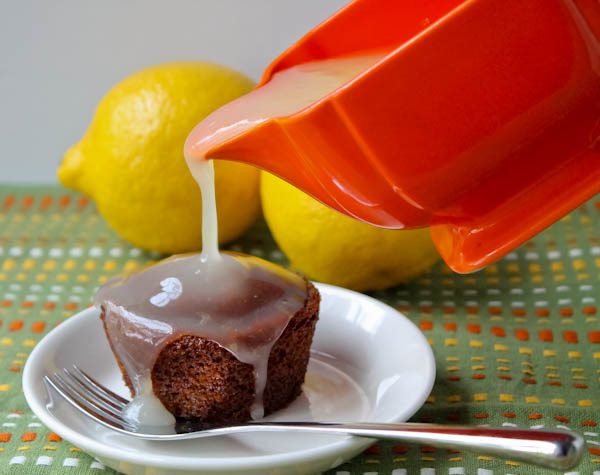 The cupcakes are served warm with a luscious warm lemon sauce.  Oh my, these are so good.  Moist, flavorful, and hard to eat just one.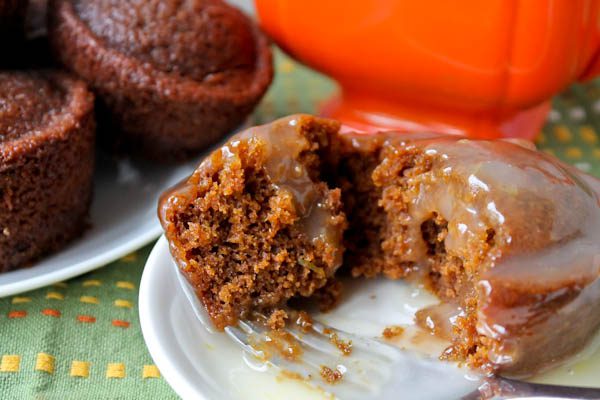 Thank you, Lanie, for all these wonderful cookbooks.  I look forward to finding many more recipes to make from the great state of Kansas!  I also can't wait to find my old favorite recipes from the Mel London bread book.
Thank you for being you.  By the way, do you happen to own any ruby red slippers?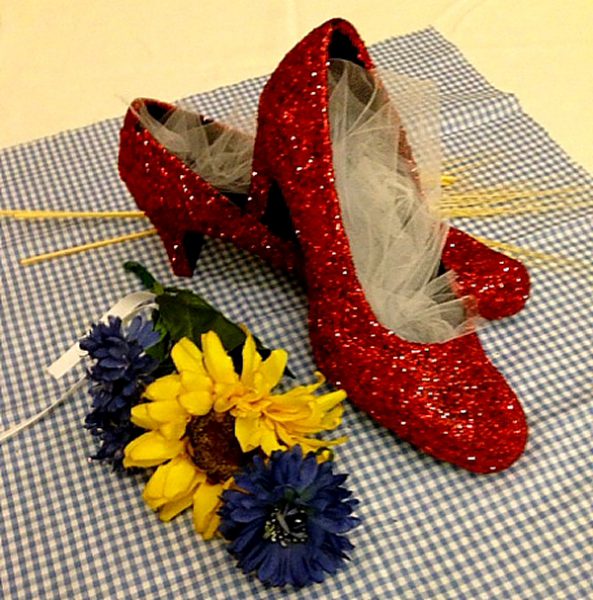 Spicy Gingerbread Cupcakes with Lemon Sauce
Author:
The Kansas Cookbook by Frank Carey and Jayni Naas
Ingredients
Cupcakes:
1-1/3 cups all-purpose flour
½ cup packed brown sugar
½ teaspoon baking powder
½ teaspoon baking soda
½ teaspoon salt
¾ teaspoon cinnamon
½ teaspoon ground nutmeg
½ teaspoon ground ginger
¼ teaspoon allspice
½ cup dark molasses
½ cup boiling water
½ cup butter, softened
1 egg, well-beaten
Lemon Sauce:
1 cup hot water
½ cup granulated sugar
2 Tablespoons cornstarch
Dash salt
2 teaspoons grated lemon rind
2 Tablespoons lemon juice
2 Tablespoons butter
Instructions
For Cupcakes: Heat oven to 350 degrees. Grease 12 muffin cups; set aside.
In large bowl of electric mixer, combine all dry cupcake ingredients. In a separate bowl combine the molasses, boiling water, and ½ cup butter. Add the egg and mix well. Pour this mixture over the flour mixture and mix to combine.
Spoon batter evenly into prepared pan or pans, to make 12 cupcakes. Bake for 18-20 minutes or until a tester inserted into one of the cupcakes comes out clean. Remove from oven and let sit for 15-20 minutes before removing cupcakes from pan to wire rack. Serve warm with warm lemon sauce.
For lemon sauce: Prepare sauce while cupcakes are baking and keep warm. In a saucepan, bring the water to a simmer. In a small mixing bowl, combine the sugar, cornstarch, and salt. Stir a small amount of the hot water into the cornstarch mixture, then add all the cornstarch mixture into the simmering water, mixing well.
Cook over medium heat, stirring constantly, for about 5 minutes or until thickened. Remove from heat and stir in the grated lemon rind, lemon juice, and 2 Tablespoons butter. Serve warm over the freshly baked and warm cupcakes. Makes 12.