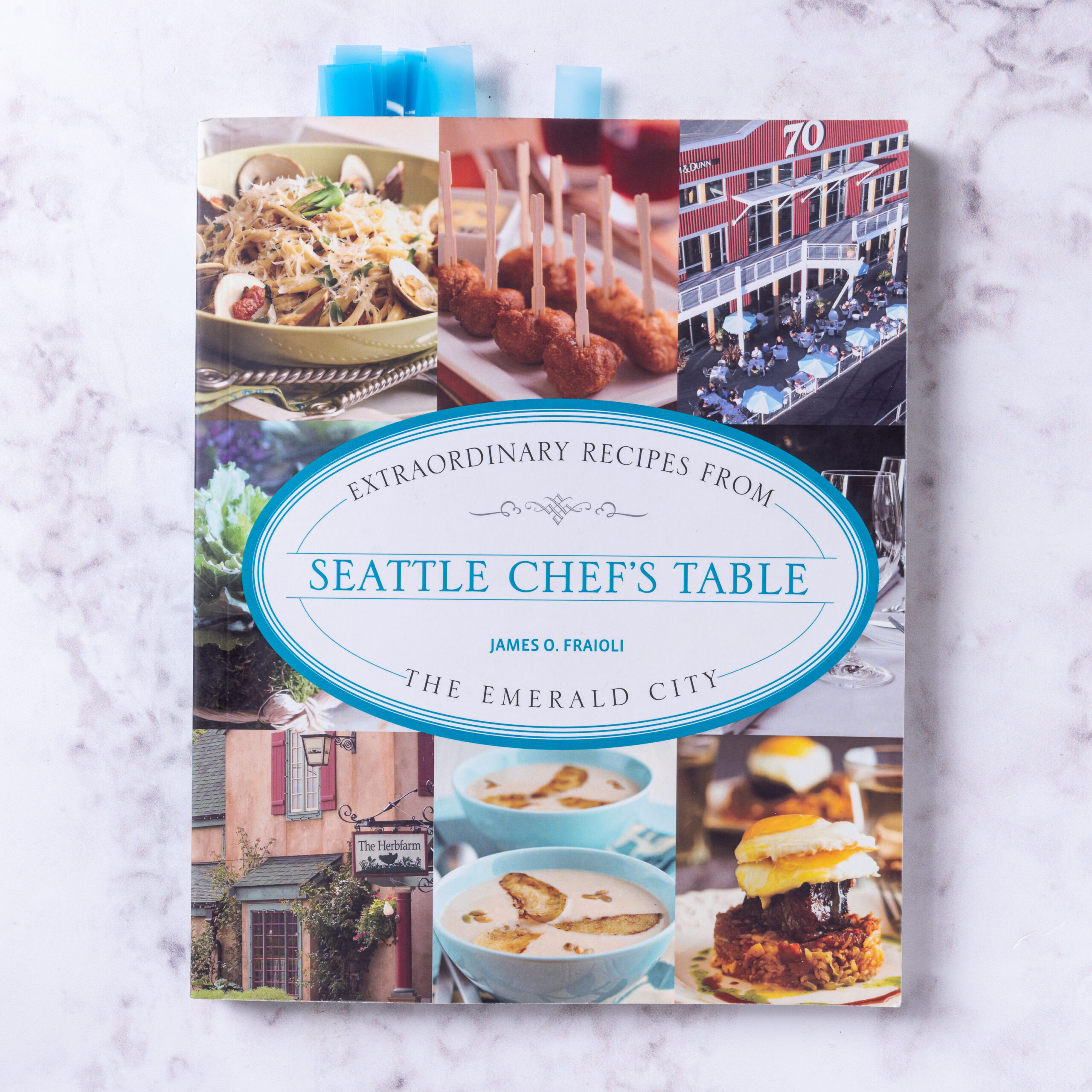 I haven't been to Seattle since 2012, but always wish to return.  There are things I miss about this vibrant city like my friend Kim (who recently sent me this cookbook), my husband's cousins Chuck and Rita, my daughter's sweet high school friend Carrie, and recently I have a new friend I would love to see, Polly.  I also miss the Pike Place Market and all the great food.  Even if I can't see all those lovely people, I can make some of the dishes of Seattle's chefs from this great cookbook.
Seattle Chef's Table is the ode to the city's sizzling food culture and profiles recipes from almost fifty legendary dining establishments, some being James Beard Award winners and other celebrity chefs.  Each page has a photo of a featured recipe along with beautiful photos of the restaurant or a chef profile.  From forty-six restaurants you will find appetizers, seafood, soups, salads, pastas, beef, lamb, pork, poultry, and desserts, all with a Northwest flair.
My husband Bill recently requested meatballs, specifically for a sandwich.  I decided to see if this cookbook happened to have a recipe, and lo and behold, it did.  But as you can guess these were no ordinary meatballs.  The Palomino Restaurant and Bar featured Sicilian Meatballs with an interesting  citrus and cheese topping that included Pecorino Romano cheese mixed with the zests of lemon, lime, and orange, along with parsley, crushed red pepper, and chopped pistachios.  I had never seen meatballs topped in this way but couldn't wait to try it.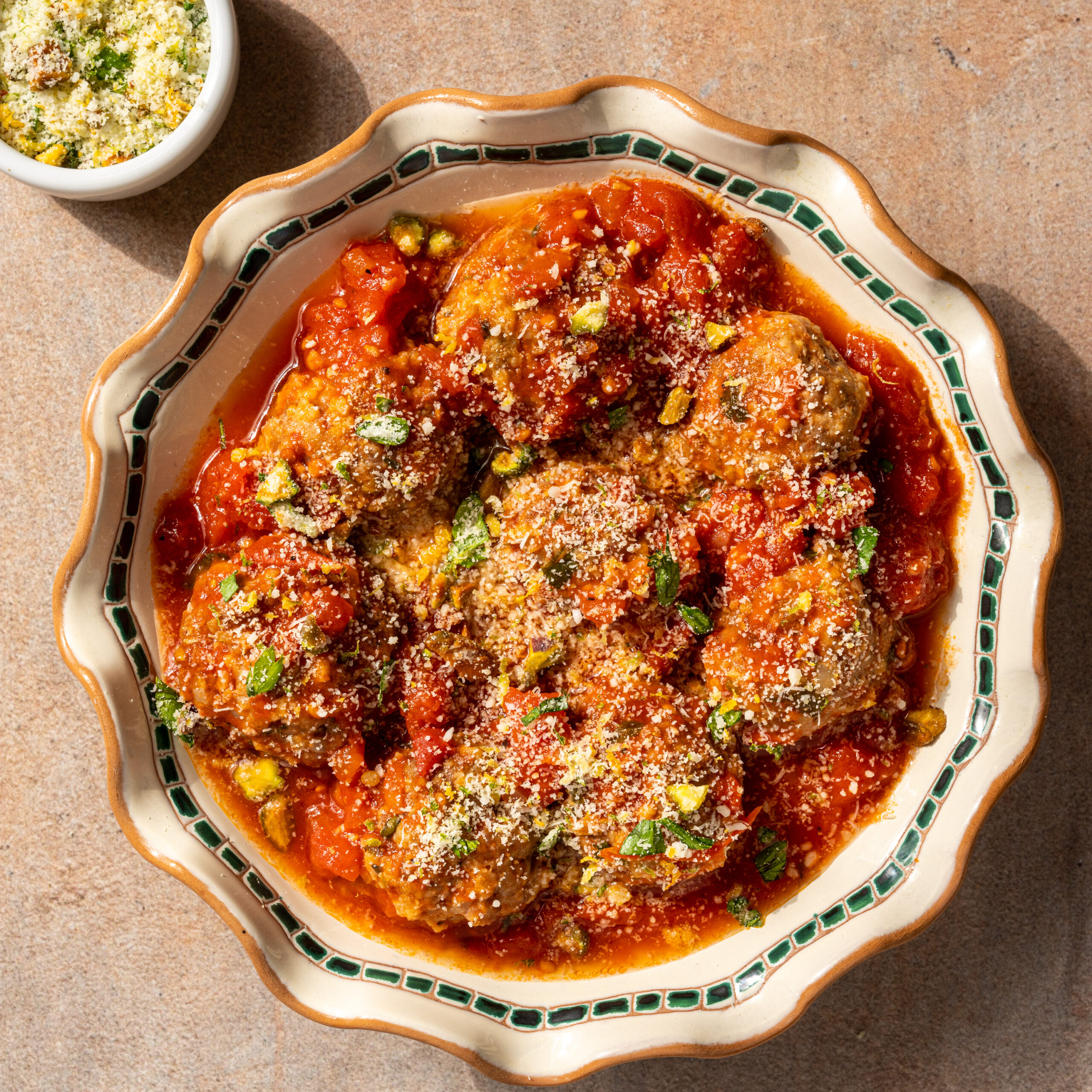 Look at these delicious beauties with the colorful toppings of an unexpected flavor addition to the flavorful meatballs.  I wasn't sure of all the mix of flavors but they were heavenly!  The cookbook also mentions the meatballs are served on soft potato rolls without the topping.  I had found my husband's sandwich.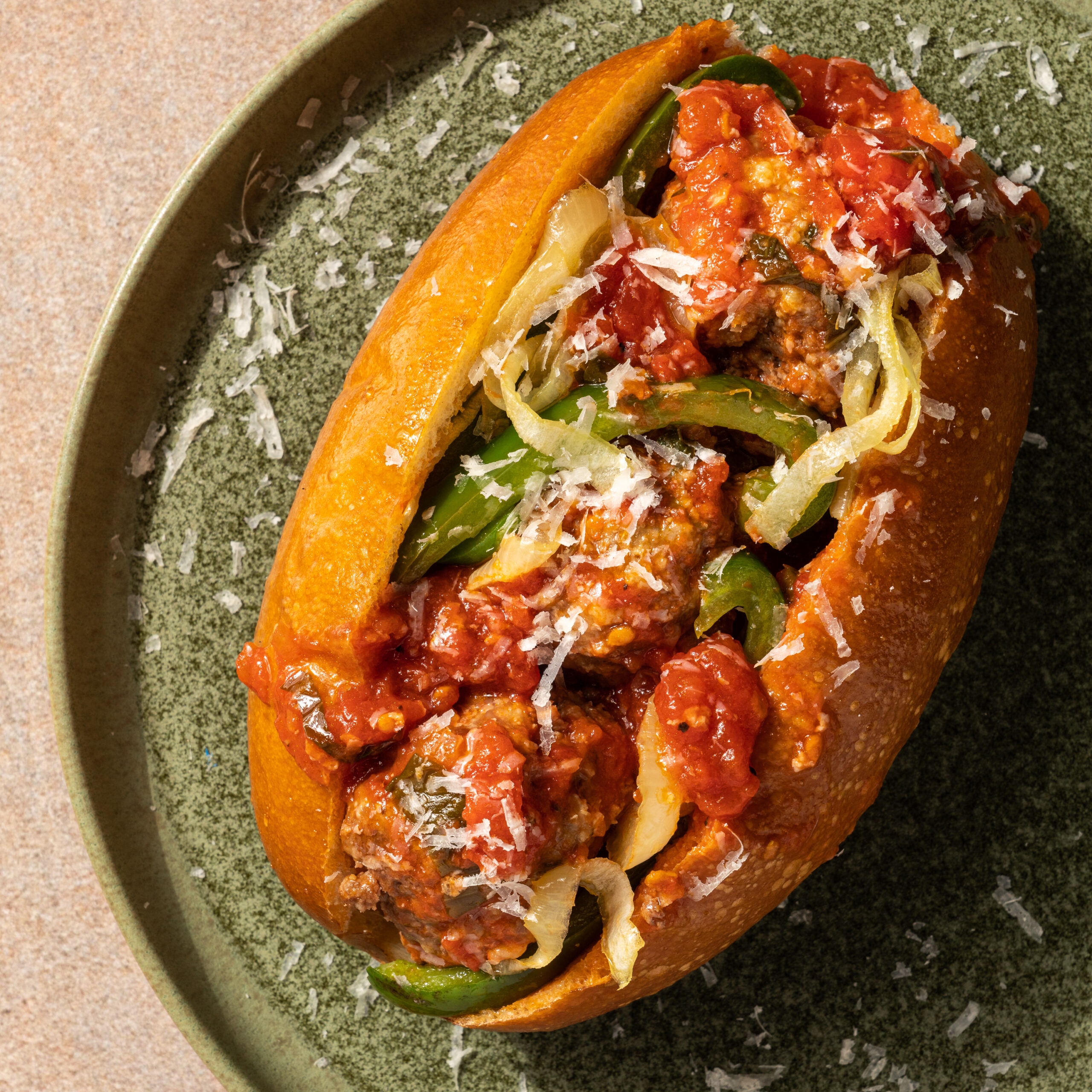 Needless to say, he loved his sandwich, while I indulged in a plate of just the meatballs and topping.
If you look closely at the cookbook photo, there are little blue tabs sticking out of the top of recipes to be made in the near future.  I can't get enough of this cookbook, but you can bet these meatballs will be made again and again.

Sicilian Meatballs
Author:
Seattle Chef's Table by James O. Fraioli
Ingredients
Tomato Sauce:
¼ cup extra-virgin olive oil
½ medium onion, peeled and cut into ¼-inch dice
2 Tablespoons minced garlic
2 Tablespoons chopped fresh basil
2 (28-ounce) cans whole pear tomatoes in juice, crushed by hand
2 teaspoons salt, or to taste
1 teaspoon black pepper, or to taste
For Meatballs:
3 Tablespoons olive oil, divided
2 Tablespoons minced onions
1 teaspoon minced garlic
1 egg
⅓ cup plain panko crumbs
1 Tablespoon Pecorino Romano cheese
1 Tablespoon minced fresh basil
1 Tablespoon minced fresh Italian parsley
¼ teaspoon crushed red pepper
¼ teaspoon black pepper
½ pound ground veal
½ pound ground beef
½ pound ground hot Italian sausage
¼ teaspoon kosher salt
Citrus Cheese Topping:
3 Tablespoons grated Pecorino Romano cheese
½ teaspoon lemon zest
½ teaspoon lime zest
½ teaspoon orange zest (all zests finely minced)
1 teaspoon chopped fresh Italia parsley
2 teaspoons toasted and coarsely chopped pistachios
Pinch of crushed red pepper
Instructions
For Tomato Sauce: Heat the oil in a 2-quart saucepan. Add the onions and garlic and sweat until onions are translucent. Add the basil, tomatoes with juice, salt and pepper. Let simmer for 30 to 45 minutes or until sauce just coats the back of a spoon.
For Meatballs: Heat half the olive oil in a sauté pan over medium-high heat. Add the onions and garlic and sweat until translucent. Remove the mixture from the pan and transfer to a mixing bowl. Add the egg, panko, cheese, basil, parsley, crushed red pepper, and black pepper. Mix well to incorporate. Add the ground meats and salt. Mix well, then form into 1-ounce (golf ball-size) meatballs. Heat the remaining olive oil in the sauté pan. Add the meatballs and brown on all sides. Add the tomato sauce and cook for 15 minutes.
For Citrus-Cheese Topping: Place all the citrus cheese ingredients in a small bowl and toss well to combine. Remove the meatballs and sauce from heat and sprinkle on the topping. Serve hot.