Janine Washle is one of my Facebook cooking friends.  I was very touched when a large box of books arrived along with a note that she had found some wonderful cookbooks along The 127 Corridor Sale, AKA, The World's Longest Yard Sale. Since I had never heard of this event before I had to google it, then asked myself why I had never heard of it!
The 127 Corridor Sale sounds like the most fun road trip ever.  The event began in 1987 by officials in Kentucky and Tennessee to promote attractions and yard sales along the back roads of the two states.  It now spans six states and stretches for 690 miles!  If you travel the entire route, you will pass through Michigan, Ohio, Kentucky, Tennessee, Georgia, and Alabama.  There are about 5,000 vendors along the way offering antiques, hodgepodge from people's closets and attics, making it like a cross between a church rummage sale and an antique roadshow.  Most people love to find bargains and buried treasure but also to socialize, hear stories, meet new people, and basically have a good time.  It's like a journey through rural Americana where you can explore country culture, music, and local cuisine.  Sounds like fun to me, although I will have to wait until next year.  The event takes place annually starting on the first Thursday of August and extending through Sunday.
Now look what the very generous Janine found along the 127 and mailed to me.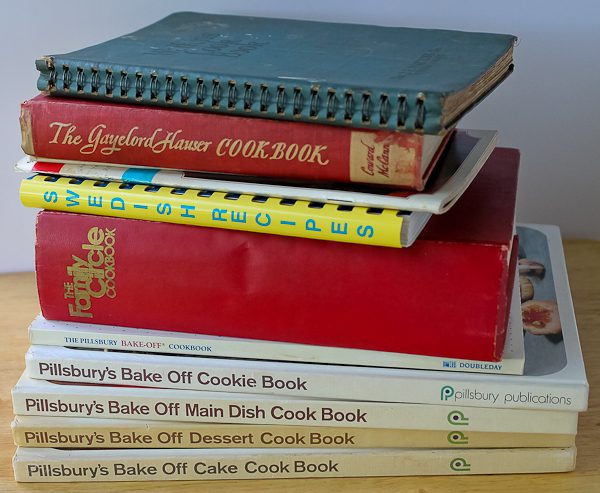 I love having all the Pillsbury books again, along with the vintage Family Circle, Watkins, and Gaylord Hauser, classics all.  But there was one gem that Janine found with a notation inside that is too funny not to show you. The person who previously owned the Swedish cookbook was obviously very protective of it and wrote on the first page: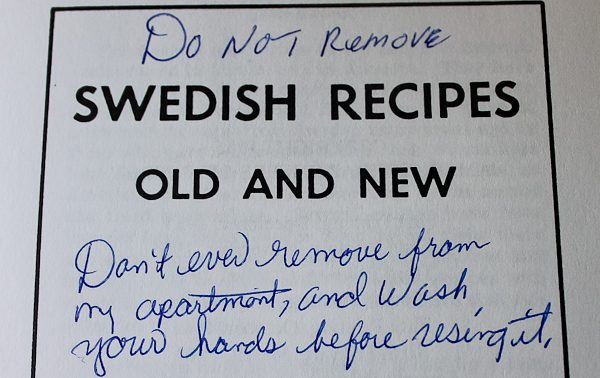 Okay! Okay!  We get the  message!
My goodness, I think it must be a good cookbook that she wanted kept in pristine condition if one had to even wash their hands before opening. Not only that, sounds like you had to sit there with her as you looked at it.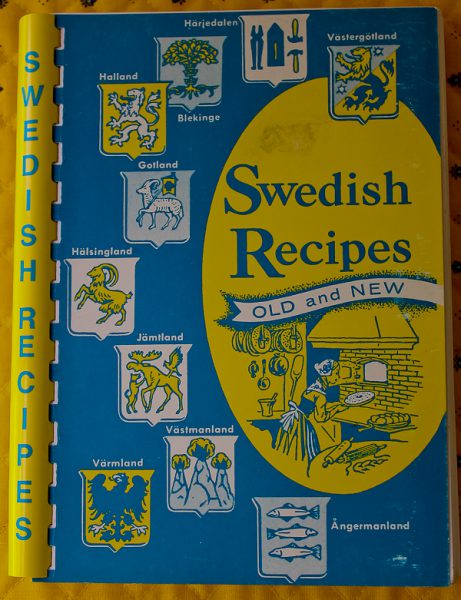 Janine left me a note that said, "I'm not able to get the cookbook back to her apartment, but I can get it back to you in Illinois!"  Thank goodness she did because it's a great cookbook.  I know this because it was one of my favorites I lost in the flood.  However, this one is now much more special.  Not only because it has a priceless notation from the former owner, but because Janine found a book along that long 127 Corridor Sale that her heart told her might fit in perfectly to the Culinary Cellar.  Little did she know how special it was and how happy I am to have a copy back.  Thank you, Janine.  You made perfect choices.
Looking through the cookbook, I almost made some Swedish meatballs but my husband Bill was going on a long workday today and he loves having cookies to munch on here and there during the day.  I found some refrigerator cookies called Brysselkax.  It's a simple butter cookie, the kind that melts in your mouth.  The dough is made into two logs and refrigerated at least several hours or overnight.  When ready to bake each log is brushed with egg white and then rolled in a mixture of sugar and finely chopped almonds, sliced and baked. They are delicate and so good.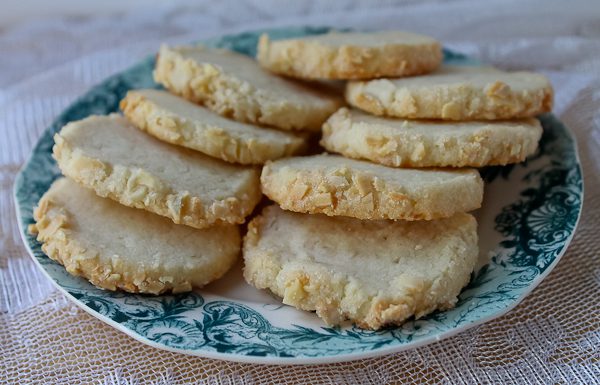 Hopefully I'll be able to make the trip myself down the 127 and search for more cookbooks.  I just don't want to run into the woman who owned the Swedish book.  She would probably inspect my hands to be sure I washed them.  And I hate to tell her, but on page 133 of these refrigerator cookies there is now a little drip of egg white and a butter stain.
Whoops.

Refrigerator Cookies (Brysselkax)
Author:
Swedish Recipes, Old and New
Ingredients
1 cup butter, softened
½ cup sugar
2 cups all-purpose flour
1 teaspoon vanilla or rum extract
1 egg white, slightly beaten
3 Tablespoons finely chopped almonds
3 Tablespoons sugar
Instructions
In large bowl of electric mixer, cream butter; add ½ cup sugar and cream until light. Add flour and extract. Mix well.
Shape dough into 2 equal-sized rolls, about 1-inch in diameter. Wrap each in waxed paper. Chill in refrigerator at least several hours or overnight.
When ready to bake, heat oven to 400 degrees F. Line 2 baking sheets with parchment paper or use ungreased nonstick baking sheets. Stir together the chopped almonds and 3 Tablespoons sugar and pour out onto a flat work surface or cutting board.
Working with one roll of dough at time, brush each with the beaten egg white and then roll each in the almond-sugar mixture, coating entire log. Using a sharp knife cut each log into ¼-inch crosswise slices.
Bake for 8-10 minutes or until edges are just golden. Remove from oven and let cookies stay on baking sheet for a few minutes before removing to a wire rack to cool.