This will be my first Christmas without my mom.  I have found comfort since her death in September by cooking or baking her favorite things.  One thing mom loved at Christmas were these "Molasses Crinkles" cookies.  I remember making these with her many times, and even recall a time when I took them to my grade school class for a treat.  I am not even sure the origin of the recipe.  It may have been in a cookbook or magazine of long ago, or maybe one her own mother made.  All I know is when I make these, the kitchen smells like mom.  She loved anything with ginger, and other spices such as cinnamon, nutmeg, and cloves.  The aromas of Christmas baking; memories of mom.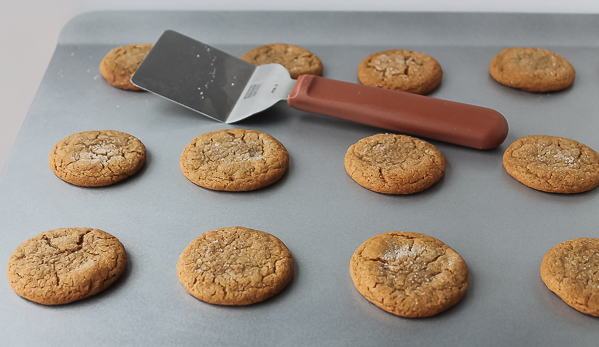 The edges will be crisp and the middles soft.  The cookies are not like a gingersnap.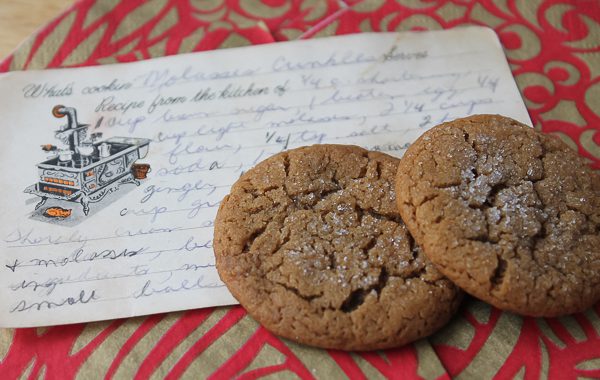 This is the original recipe card that I copied from my mom's card.  From the looks of my handwriting, I probably wrote this in about 6th grade.  It's faded, stained, and even almost gone in spots.  But this is the best kind of card to me.
Here is a more legible version that you can print out.  Happy baking, everyone!  'Tis the season.
Mom's Molasses Crinkles
Ingredients
¾ cup unsalted butter, softened
1 cup firmly packed light brown sugar
1 egg
¼ cup molasses
2-1/4 cups all-purpose flour
2 teaspoons baking soda
1 teaspoon ground cinnamon
1 teaspoon ground ginger
½ teaspoon ground cloves
¼ teaspoon table salt
3 Tablespoons granulated sugar, to coat tops of cookies
Instructions
Heat oven to 350 degrees F. Have 2 cookie sheets ready, either non-stick and ungreased or lined with parchment.
In bowl of electric mixer, cream together butter and brown sugar until well-mixed.
Add egg and molasses and mix well.
In another bowl, stir together flour, baking soda, and all spices. Add to mixing bowl and beat until mixed.
Form dough into a ball and wrap in waxed paper or plastic wrap. Refrigerate until firm, at least a few hours or overnight. (I like to let the dough chill overnight)
When ready to bake, place the 3 Tablespoons of sugar on a small plate. Roll the chilled dough into 1" balls, dip the tops of dough in the sugar and place on cookie sheets.
Bake for about 8 minutes or until cookies are golden and look firm around the edges. Remove from oven, let sit on baking sheet for a couple minutes before removing to a wire rack to cool. Makes about 4-1/2 dozen cookies.