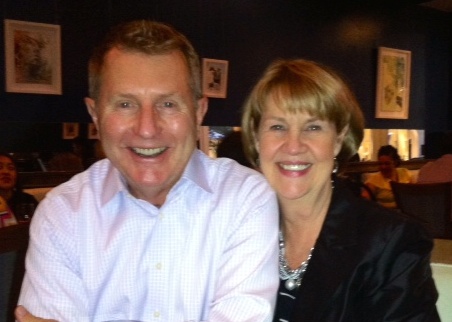 Meet Janice and Larry Elder.  Two of the nicest, sweetest, generous, and talented people I have ever met.  Yes, I am gushing and actually can't gush enough.  If you met them, you would understand.
I first met the Elders at a National Beef Cook-Off contest back in the '80's and was star-struck, as I knew of their accomplishments in the cooking contest world.  There is no way I can even attempt to list all their cooking wins, but I'll give you some idea.  Both are three-time Pillsbury Bake-Off contestants, as well as The National Beef Contest, and National Chicken Contest.  Janice has won trips to France, Tokyo, Portugal, Germany, San Francisco, a stay on the Queen Mary, Caribbean cruises, and many more.  Janice even won a car (a red Mustang!) and talked about all her wins on The Oprah Winfrey Show.  Larry got hooked on contests after he won $10,000 at the Sutter Home Build a Better Burger Contest.  We actually competed together at this contest except I didn't win any money, but won the Most Creative Burger Award.  Larry went on to win many other contests from companies such as Cooking Light, Newman's Own, and a great trip to a spa.  As I said, they are a power contest couple and have had many memorable times together over the years.
Janice enclosed a beautiful letter with the box of books.  In part she said, " I've enclosed a few cookbooks to help you rebuild the cellar.  I know it will never be exactly the same, but I hope the modifications will showcase the affection and respect we have for you and the gratitude we have for the friendships our cooking hobby has provided us over the years.  I've always thought that the friendships were equally or more valuable than the prizes we were able to win." I couldn't have said it better.
Here are all the lovely books Janice and Larry sent.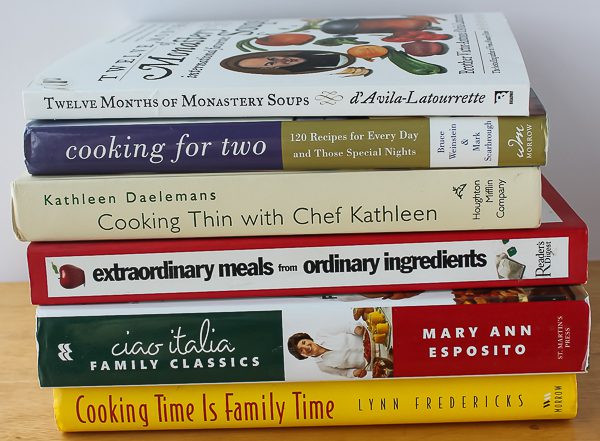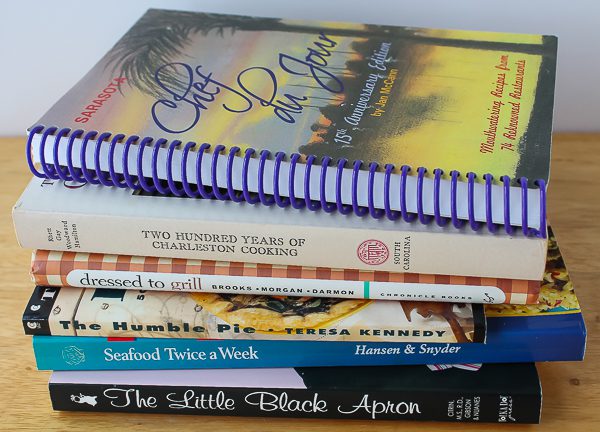 Since it is cold weather season which to me means lots of soup cooking, I decided to make the "Cream of Mushroom Soup a la Romaine" from the most interesting-sounding book, Twelve Months of Monastery Soups written by monks at a real monastery.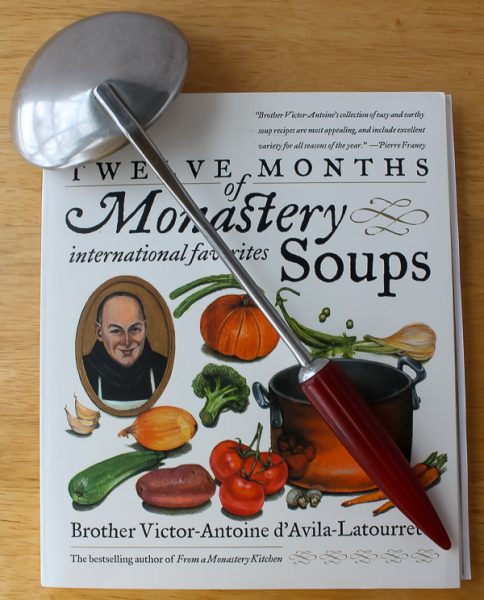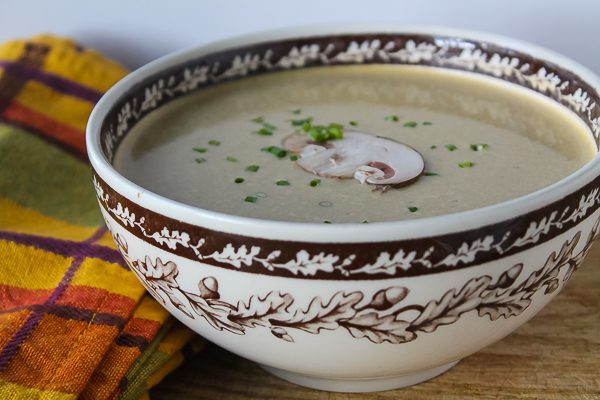 The soup is fabulous.  Easy to make and yet so elegant.  I will be making this again in the months to come.  We couldn't get enough.

Cream of Mushroom Soup a la Romaine
Author:
Twelve Months of Monastery Soups
Ingredients
4 Tablespoons butter
½ pound chopped mushrooms
1 medium onion, chopped
1 carrot, sliced
2 garlic cloves, minced
Pinch of thyme
2 Tablespoons all-purpose flour
1 quart water
Salt and Pepper, to taste
1 pint heavy cream
Grated Romano cheese, for sprinkling (or chives and a mushroom slice)
Instructions
Melt the butter in a soup pot. Add the chopped mushrooms, onion, carrot, garlic, and thyme. Cover the pot and let the vegetables simmer for 5 minutes over very low heat.
Add the flour and stir well. Add the water, stir some more, and bring the soup to a quick boil. Over low heat, simmer for 30 minutes.
Blend the soup in a blender and then return to the soup pot. Add the seasonings and cream and mix well. Reheat the soup, but do not let it boil again. Serve the soup hot sprinkled with some grated Romano cheese, and add a few minced chives and a mushroom slice, if desired.
Thank you Janice and Larry for your fabulous creative recipes over the years, but mostly for your friendship and generosity.
For everyone out there who loves to cook and would like to throw your mixing spoon into the world of competitive cooking and recipe contests, consider becoming a member of Cooking Contest Central where you will learn of all the contests out there to try, plus read about other winners.  You will also be able to read more about the Elders when they were honored in 2013 to be in the Cooking Contest Hall of Fame!