Leftover Thanksgiving turkey ideas will be googled often this week.  Here is a super easy leftover turkey casserole that goes together in five minutes.  All you do is stir together some sour cream, a can of Cream of Chicken soup, several cups of cubed leftover turkey, some poppy seeds, and a topping of fresh bread crumbs drizzled with melted butter and bake until bubbly and the crumbs are crispy. That's it!
The casserole is creamy and comforting, with the poppy seeds adding a nice touch of crunch and color.  The fresh bread crumb topping can be from leftover dinner rolls, or if you have crackers like Ritz or Club, you can crush and use those instead.  Serve with any leftover vegetables you might have and you have an easy meal for the weekend.  And if you're lucky, have another slice of leftover pumpkin pie or other dessert. Since many families are having smaller Thanksgivings due to health concerns, this casserole is perfect for four or less people.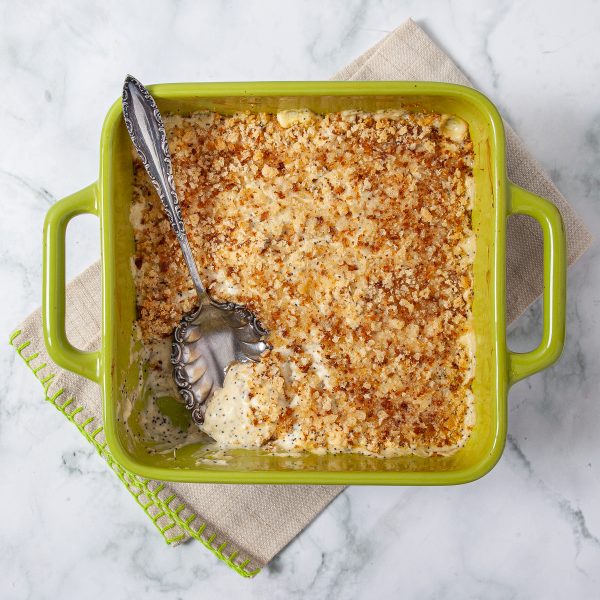 A Turkey Leftover Idea after Thanksgiving
Ingredients
1 can (10-3/4 ounces) Cream of Chicken Soup, undiluted
1 cup sour cream
1 Tablespoon poppy seeds
½ teaspoon salt
⅛ teaspoon black pepper
3 cups cubed cooked turkey
1 cup fresh breadcrumbs (or crushed crackers like Ritz or Club)
2 Tablespoons butter, melted
Instructions
Heat oven to 350 degrees F. Lightly butter an 8-inch square casserole dish; set aside.
In a large bowl, stir together can of soup, sour cream, poppy seeds, salt, and pepper until well blended. Stir in turkey, then spoon into prepared pan.
Sprinkle the top evenly with the bread crumbs, then drizzle evenly with the melted butter. Bake for 30-35 minutes until bubbly on the edges and the crumbs are nice and golden. Let sit for 5 minutes before serving. Serves 4. Serve with a side of vegetables of choice, or leftover veggies from Thanksgiving.