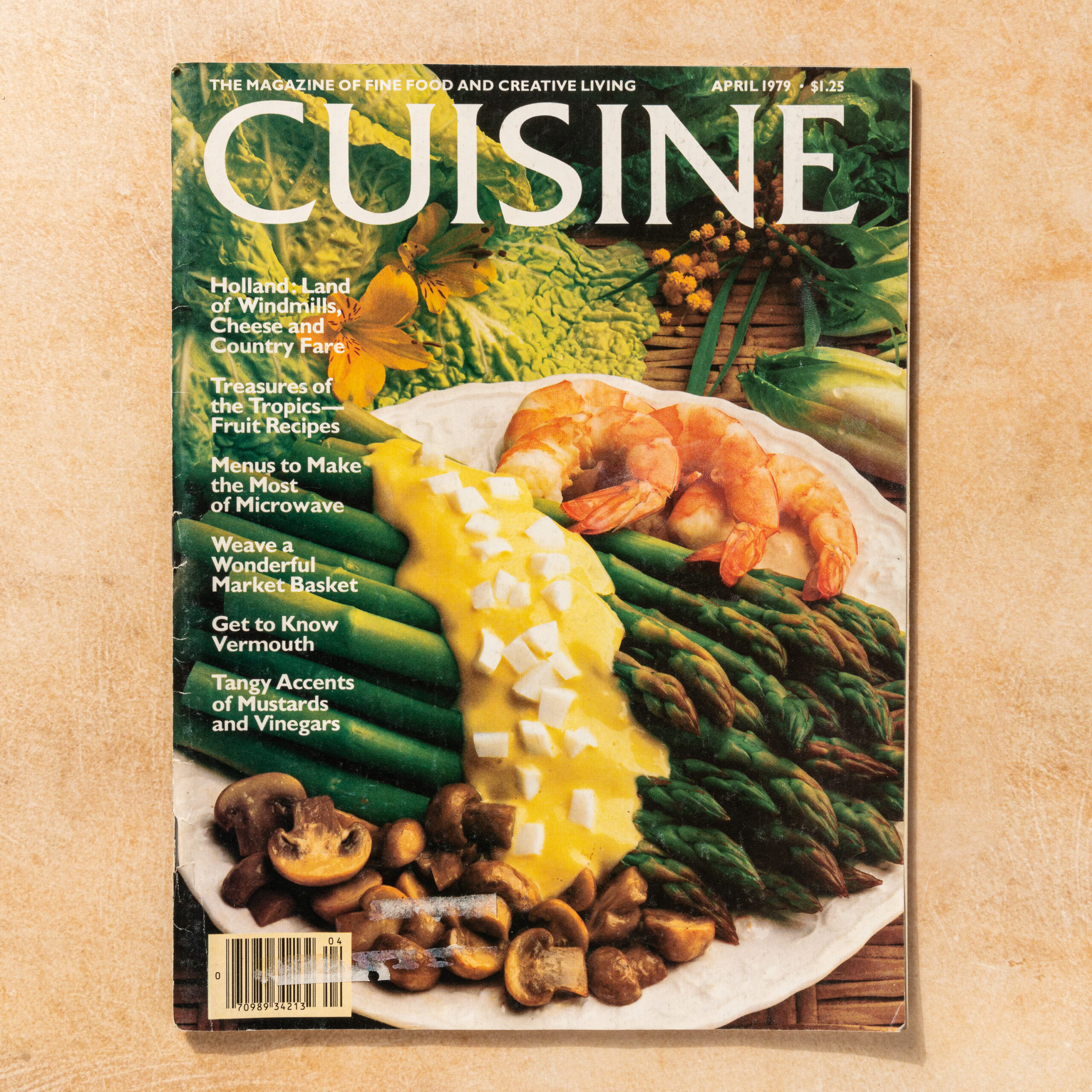 Cuisine magazine from April of 1979 jumps into Spring with most of the articles and recipes from Holland, the land of windmills, tulips, and cheeses such as Edam and Gouda, both which I love.  Cheeses I was not familiar with include Nagelkaas which contains whole cloves, Leiden that is heavily loaded with cumin seeds, and Roomkaas with a buttery rich flavor.  They all sound heavenly to me.
Some of the Dutch recipes to find in this issue include spice cookies (Speculaas), Bitterballen (hors d'oeuvres), Dutch doughnuts (Oliebollen), Hemel en Aarde (mashed potatoes with applesauce), Cheese Soup (Kaassoep); Dutch Boiled Dinner (Hutspot met Klapstuk); and Dutch hot chocolate.
Other articles in this issue are cooking with mustards and vinegars from Perla Meyers, with recipes for Coquilles St. Jacques; chicken breasts in a vinegar and caper sauce; watercress and bacon salad; sweet-sour onions; and veal chops in a mustard sauce.  There is also an informative article about Vermouth, and another on how to select and cook nineteen different exotic fruits.
For the recipe to make from this issue I settled on a savory Dutch Pancake (Pannekoek) filled with vegetables, some fresh dill, and Gouda cheese.  This popular popover-like puffy pancake is versatile as it can be filled with a chicken or meat filling for a main dish, or with jam or preserves for a breakfast treat, or in this case filled with a variety of vegetables, fresh dill, and Gouda cheese for a brunch or supper.  It was delicious!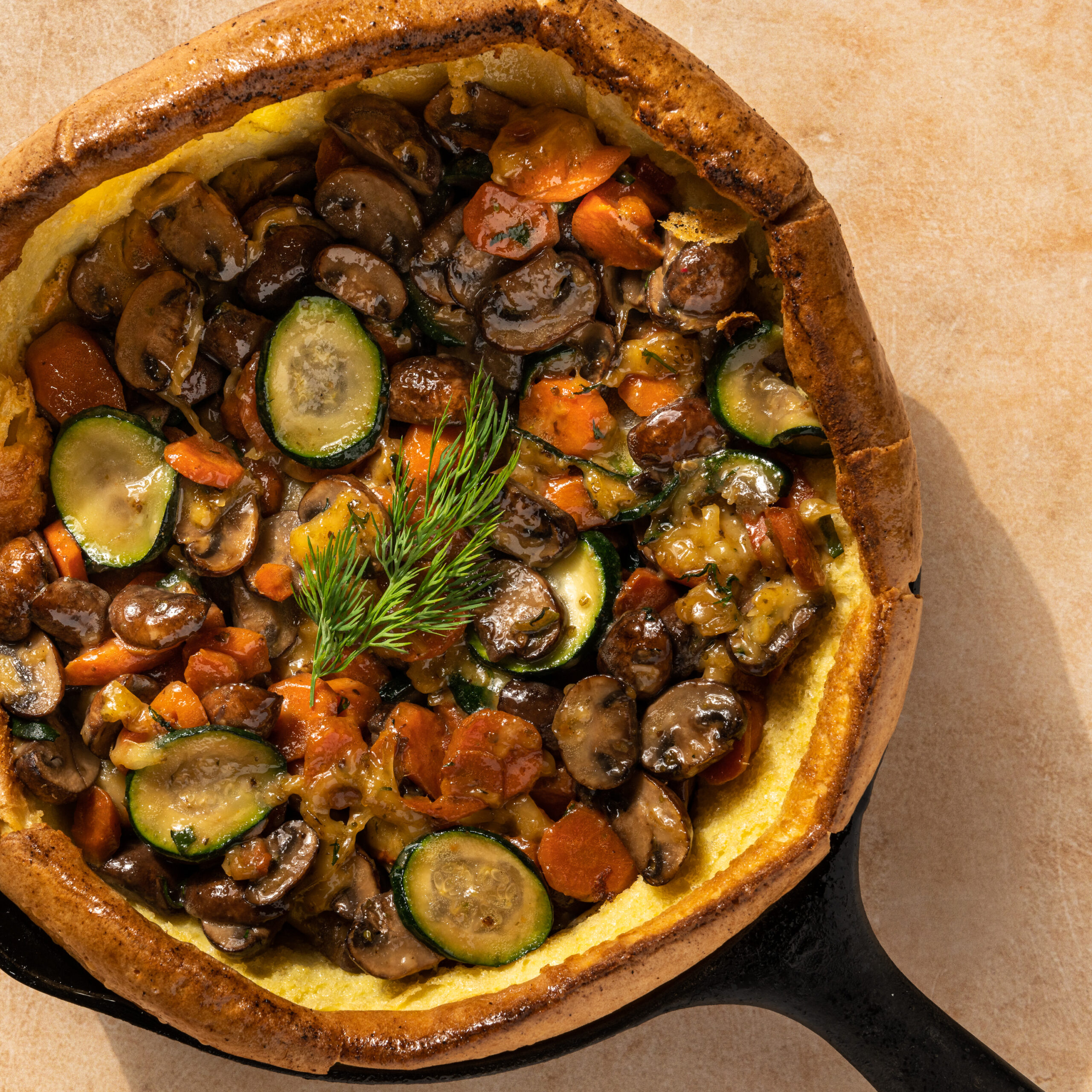 Savory Dutch Pancake with Vegetables
Author:
Cuisine Magazine April 1979
Ingredients
Pancake:
2 eggs
½ cup all-purpose flour
½ cup half-and-half
¼ teaspoon salt
1 Tablespoon unsalted butter
Vegetable Filling:
1 pound mushrooms, trimmed and cut into quarters or halves depending on size
½ pound carrots, pared, cut diagonally into small ¼-inch thick slices
1 medium zucchini, cut diagonally into ¼-inch slices
2 Tablespoons unsalted butter
½ cup sliced pimiento-stuffed green olives
2 teaspoons snipped fresh dill
1 teaspoon dried marjoram or summer savory
½ teaspoon salt
¼ pound Gouda cheese, grated, reserving ⅓ cup for topping
Fresh dill sprigs, for garnish
Instructions
Heat oven to 450 degrees F. Heat a 9-inch heavy ovenproof skillet on lowest shelf until very hot, about 10 minutes.
Meanwhile, for the pancake whisk eggs, flour, half-and-half, and ¼ teaspoon salt; beat until very smooth.
Using heavy oven mitts, carefully remove hot skillet from oven. Immediately add 1 Tablespoon butter and rotate skillet until butter melts and coats pan. Pour batter right away over the butter and return to the lowest shelf of the oven. Bake for 10 minutes. Reduce heat to 350 degrees and bake another 10 minutes. Carefully remove from oven.
While pancake is baking, sauté mushrooms, carrots, and zucchini in 2 Tablespoons butter over medium-high heat in a large skillet until liquid evaporates, about 5-8 minutes.* Stir in the olives, dill, marjoram or summer savory, and ½ teaspoon salt. Reduce heat to medium-low and stir in the grated cheese, stirring constantly until cheese melts and coats vegetables, about 2 minutes.
Spoon vegetable mixture into pancake. Sprinkle with reserved ⅓ cup of cheese and broil until cheese melts and is lightly browned. Garnish with dill sprigs. Cut into wedges and serve immediately.
*Note- have all the filling ingredients completely ready before making the pancake. You have to work quickly!