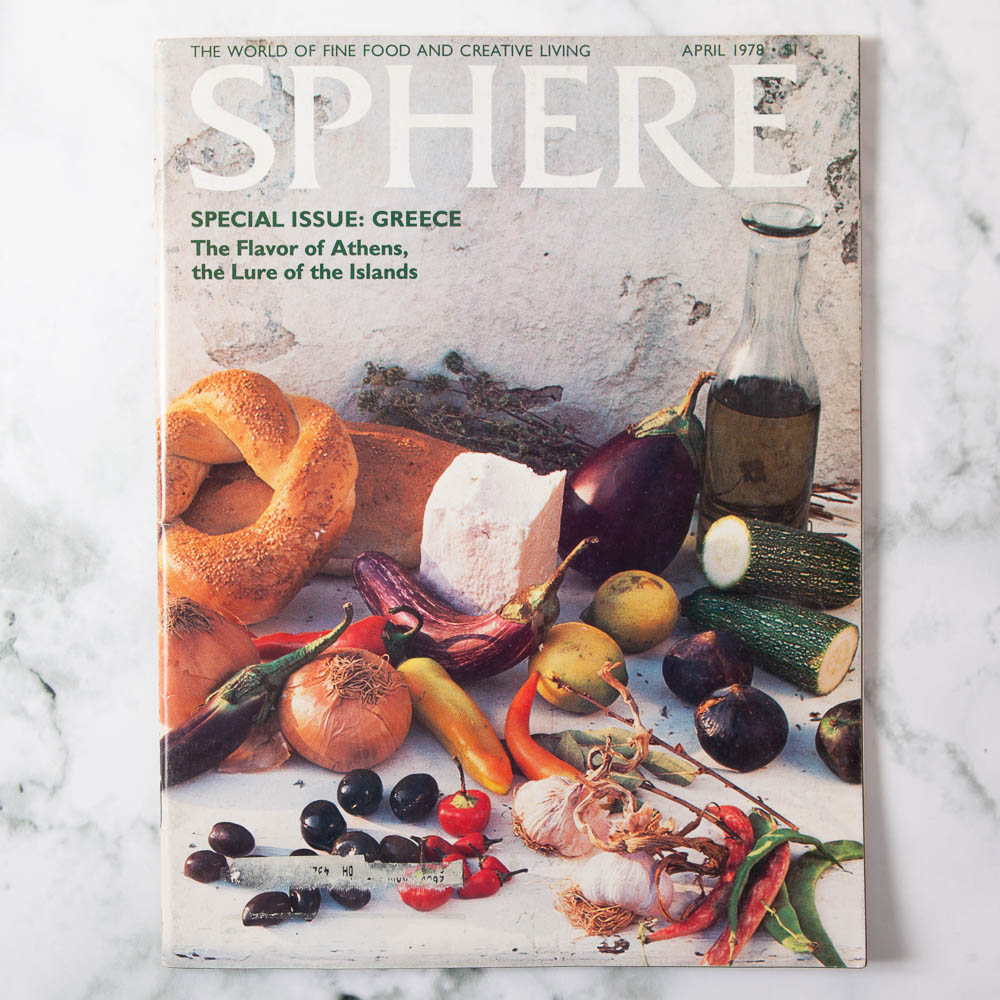 Sphere of April 1978 is a special issue featuring Greece, part recipe, part travel.  An  extensive article of the country will take you on a journey of mythical Greece, its ancient gods, philosophers, architecture, food, and Greeks of the land, sun, and sea.  There are suggestions of what to see, from the famous tourists sites, where to eat, shop, and even what to wear.  I'm sure since 1978 when this was written, some things have changed, but so much is the same as it has been for centuries.  It is still the land of Zeus and Hera, Poseidon, the Acropolis, and Olympic games.
Speaking of the Acropolis, the next article feature called "Dinner Beneath the Acropolis," there is a photo of a table full of classic Greek specialties such as moussaka, spinach pie, shrimp with feta, roast lamb, olives, and more.  The emphasis on natural foods that are simply prepared remain unchanged since Plato's time.  This particular dinner has more than twenty-five items to enjoy.  Many of the recipes are included in this issue.  There is even a page on how to make your own fillo dough.
Many Greek pastries showcase honey, sometimes just a drizzle to honey-soaked cookies.  The Greeks even have an old proverb which states "Ola kala kai to meli glyko" – "All's well and the honey is sweet."  From the article on cooking with honey, I decided to try the  "Spicy Apple Pie" known as Melopitta.  The filling has many elements of an American apple pie except there is an excess of cinnamon, along with lesser amounts of nutmeg and cloves, and the pie is baked in a square pan.  To serve the pie, it is cut into squares, topped with some Greek yogurt, and all drizzled with warmed honey.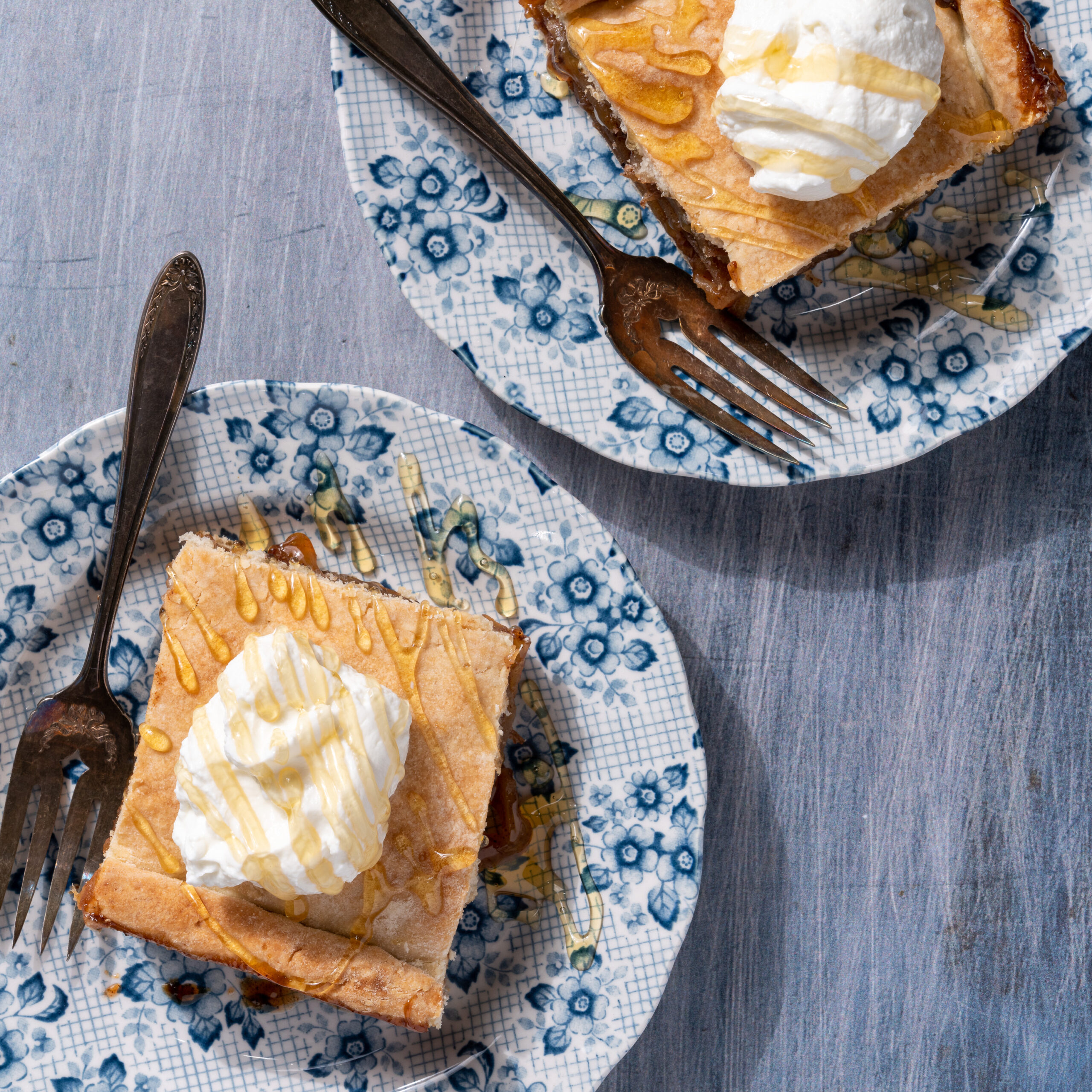 It was delicious and easy to realize why it was called Spicy Apple Pie, from all the cinnamon!  I love cinnamon but it was a lot!  Topping it with Greek yogurt and drizzled with honey was genius.  It was a taste sensation that I'm doing again, and think I even like it more than serving with whipped cream or a scoop of ice cream.

Spicy Apple Pie (Melopitta)
Author:
Sphere Magazine April 1978
Ingredients
2 cups all-purpose flour
2 Tablespoons granulated white sugar
1 teaspoon table salt
1 teaspoon baking powder
¼ cup (4 Tablespoons) unsalted butter
2 Tablespoons vegetable or canola oil
6 to 8 Tablespoons cold water
6 medium Golden Delicious apples, pared, cored, cut into thin wedges (about 5 cups)
1 cup packed light brown sugar
1-1/2 teaspoons cinnamon*
½ teaspoon freshly grated or ground nutmeg
¼ teaspoon ground cloves
¼ teaspoon table salt
Greek yogurt and warmed honey, for serving
Instructions
Mix flour, sugar, 1 teaspoon salt, and baking powder in a large bowl. Cut in butter and oil until crumbly. Stir in water, 1 Tablespoon at a time until dough cleans side of bowl. Knead lightly for 1 minute. Divide dough in half. Refrigerate covered for 1 hour.
Press half the dough lightly to flatten. Roll out on lightly floured surface into a 9-inch square. Fold pastry into quarters; unfold and ease into a 9-inch square baking pan. Refrigerate for 15 minutes. Repeat rolling procedure with remaining half of dough. Fold pastry into quarters and refrigerate wrapped in plastic.
Heat oven to 400 degrees F. Mix apple slices, brown sugar, cinnamon, nutmeg, cloves, and ¼ teaspoon table salt in large bowl. Transfer to the dough-lined pan. Top apple mixture with remaining pastry, pinching together with bottom crust. Bake just until top is golden, about 40-45 minutes. Remove pan to wire rack to cool.
To serve, cut pie into square pieces. Top each with a dollop of plain Greek yogurt, then drizzle pie and yogurt with warmed honey and serve. Serve pie slightly warm room temperature.
*Note- There is a reason it's called Spicy Apple Pie- lots of cinnamon! If you like a little more subdued amount of cinnamon, add just a teaspoon.