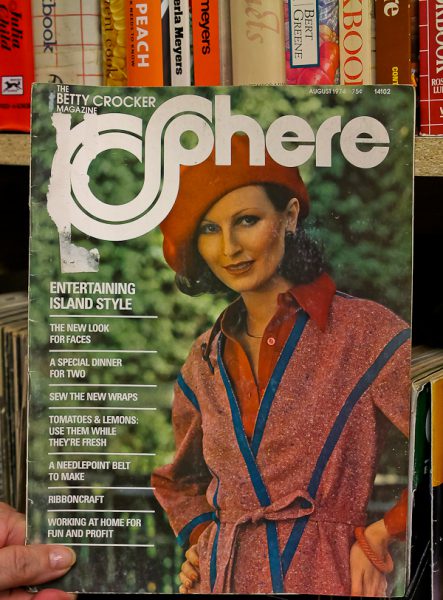 Once again, I have made it down to the last day reporting on my monthly vintage Sphere magazines.  August is always a crazy busy month and seems to fly by.  It's a big month for travel, gardening, outdoor activities, and sometimes just being lazy and not keeping up with writing blogs, of which I have been guilty this month.
This month's issue is full of tropical ideas for clothes, decorating, and of course food, such as serving some items in baskets and pineapple halves.  One "Feast of the Islands" menu offers a Polynesian Punch, crab puffs, grilled fish, coconut sweet potatoes, gingered cucumbers, and an Island Dream Pie that has a macadamia nut crust with a banana rum filling and covered in whipped cream.
An article on cooking with lemons, both sweet and savory include lemony scallops, veal steak piccata, a creamy lemon meringue pie, lemon-glazed pound cake, lemonade, and a refreshing citrus freeze.
For the summer's crop of fruits, there is a recipe for a glazed fruit pie that can be made with your favorite fruit including blueberry, peach, strawberry, grape, raspberry, or nectarines.  A basic recipe is given then go with what is seasonal over the summer months.
Another section is dedicated to the ripe and juicy summer tomato with recipes for tomato relish, several versions of stuffed tomatoes, a creamy soup, fresh tomato juice, and my favorite, a Spanish-Style Ceviche with Tomatoes. There were so many good recipes to try this month, but the ceviche won out for me.  I adore ceviche with all kinds of different seafood.  This recipe called for either haddock, cod, or scallops, and I went with the scallops because they were on sale plus tomatoes are so good right now.  The scallops are first marinated with lemon juice and some pureed tomatoes, then chilled for 2 hours.  In another bowl and also chilled for 2 hours is a mixture of canola oil, green onion, jalapeno, salt, chopped tomato, and oregano.  After the 2 hours, the two mixtures are blended and chilled another 1 to 2 hours.  Drain and serve.  Oh my, was this wonderful.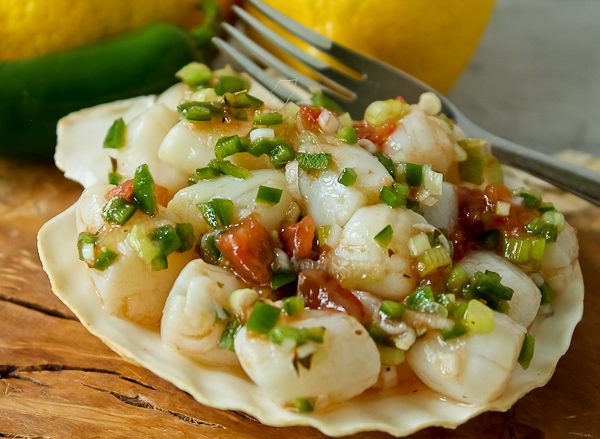 Spanish-Style Ceviche and Tomatoes
Author:
Sphere Magazine, August 1974
Ingredients
3 medium tomatoes, peeled, centers removed
¾ cup freshly squeezed lemon juice
1 pound haddock, cod, or scallops, cut into ¼-inch pieces
¼ cup vegetable or canola oil
¼ cup sliced green onion
3 Tablespoons seeded chopped jalapeno peppers
1 teaspoon salt
½ teaspoon dried oregano leaves, crushed
Instructions
Cut 1 tomato into quarters. Place in blender container; add lemon juice and cover. Blend on high speed until mixture is pureed. Chop remaining 2 tomatoes; reserve.
Place fish in glass bowl; pour lemon juice mixture over fish and cover. Refrigerate 2 hours. Mix reserved tomatoes with remaining ingredients. Cover and also refrigerate for 2 hours.
After the 2 hours, mix the fish and tomato mixtures. Cover and refrigerate another 1 to 2 hours. Drain and serve. Ceviche can be served in scallop shells, over lettuce leaves, or in avocado halves. Makes 6-8 servings.