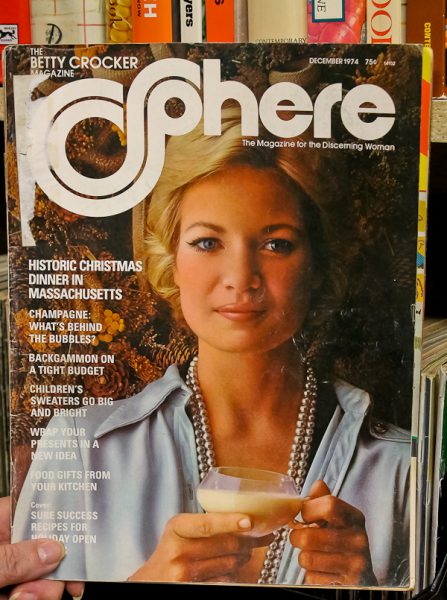 Even though this issue is from 1974, it's comforting to read how so many recipes have stood the test of time when it comes to Christmas cooking and baking.  The article on a New England Christmas dinner included a roast goose, roasted potatoes, maple butternut squash, creamed onions, and cranberry-orange relish.  For food gifts, there are recipes for homemade salts, mustards, and jellies.
An open house spread looks as welcome and appetizing decades ago as it would now, with an array of every kind of cookie, and various cheese spreads using Camembert, Swiss, Blue, Cheddar, or Parmesan.  For spirited beverages, how about a Mexican eggnog, a Christmas punch with Champagne,  Philadelphia "Fish House" Punch with tea, rum, brandy, and peach brandy, or one they we enjoyed this Christmas, a simple and delicious mulled wine.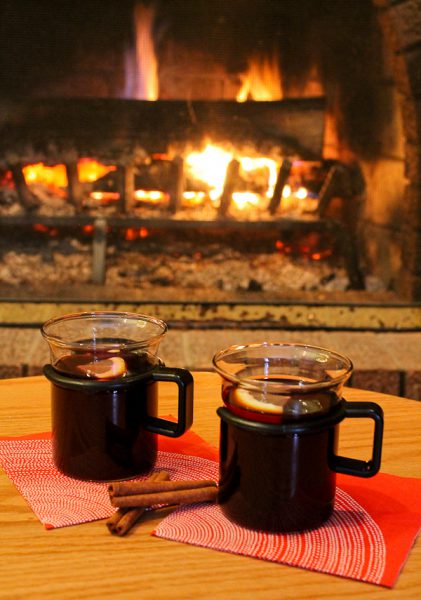 After a marvelous Christmas Day yesterday, we sat around a cozy fire last night and sipped the mulled wine.  It was relaxing after a crazy busy day (and month!) to put up our feet and enjoy each other.  As I am writing this, Kristina has gone into the kitchen to prepare dinner for us and I can hear the pots and pans banging around, and aromas are already swirling around the house giving a feeling as intoxicating as the warm and comforting wine, but maybe even a little better.
With New Year's Eve coming up this weekend, maybe give this mulled wine a try, especially if you are staying home and sitting around a winter fire.  I can guarantee you it will be relaxing.  However, you won't have Kristina out in the kitchen cooking for you.  That you will have to take of yourself.

Mulled Wine
Author:
Sphere Magazine, December 1974
Ingredients
1 cup water
½ cup sugar
Peel of 1 lemon, cut into thin strips
10 whole cloves
1 stick cinnamon, 2 inches long
1 bottle (1 quart) dry red wine
Ground nutmeg
Instructions
Mix all ingredients except wine and nutmeg in a 3-quart saucepan. Heat to boiling; reduce heat and cover. Simmer 15 minutes; strain.
Return to saucepan and stir in wine. Heat until hot. Pour into warmed mugs and sprinkle with nutmeg, and float a small slice of lemon if desired, or add a cinnamon stick. Makes 6 servings, about ¾ cup each.