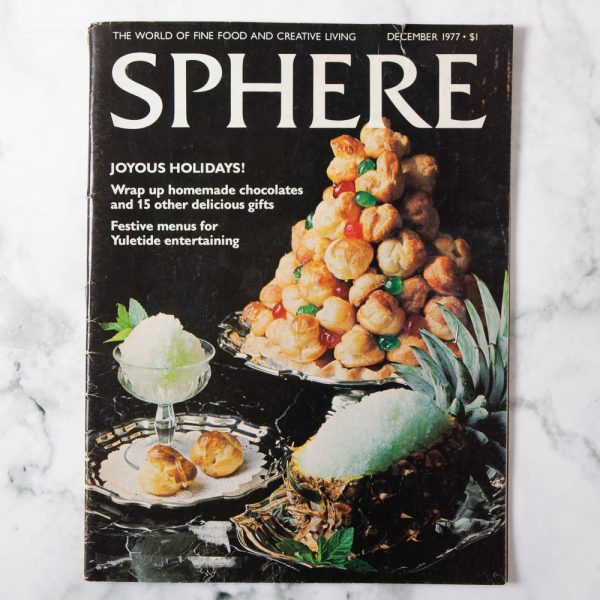 I always loved the festive covers of Sphere's December issues over the years.  Look at that beautiful Croquembouche!
This issue begins with food authority and cookbook author Richard Olney's Provençal Christmas dinner menu of a roast turkey with rice stuffing; spinach gratin; a composed salad; and an upside-down pear tart.  He continues with a New Year's Eve supper menu of Beef Jeremiah (with anchovies, capers, and lemon); "Prisoners of Samarkand," (beef and beef marrow enveloped in homemade ravioli that is drizzled with melted butter and sprinkled with Parmesan); Zucchini in Festa (stuffed halves and baked); Perles Desiree (boiling onions with a long list of ingredients including raisins, pine nuts,  fennel seeds, and a huge variety of dried herbs); Semolina Soufflé with Figs; and Aigo Bouido, a rich broth served the next day as a cure for hangovers!
Sphere's offering of an elegant entertaining menu begin with  duck paté, crudités with chive cream, and oysters in the half shell. The entreé is a filet of venison in puff pastry, served with a chestnut pureé, braised hearts of celery, and a watercress salad.  The meal ends with a pineapple mint sorbet, that gorgeous Croquembouche, and coffee.
The next article is how to make an incredible array of homemade chocolates and other treats including nut caramels; chocolate marzipan; Filbert marzipan; strawberry marshmallows; coffee creams; peppermint patties; cordial cherries; and orange coconut creams.
I didn't feel ambitious enough to make any of the above, so instead I found an easy make-ahead appetizer in the article about delicious gifts of food.  I think homemade gifts from the heart are the best, whether it be a craft or food.  Who doesn't love something wonderful in a jar or tin tied up with festive ribbon handed to you as the giver says, "I made this especially for you."
Sphere suggests a trendy pickled item like pickled salmon, cocktail carrot sticks, or herbed olives in oil. Many would enjoy a homemade bread such as mini bagels; a cheesy and spicy Navidad Bread Ring; Fennel and caraway breadsticks; or cocktail rye bread.  Munchies are always a hit like sweet and spicy nuts; or something to spread on a cracker like a Cheddar Port cheese ball; or my favorite, a homemade Mock Boursin cheese.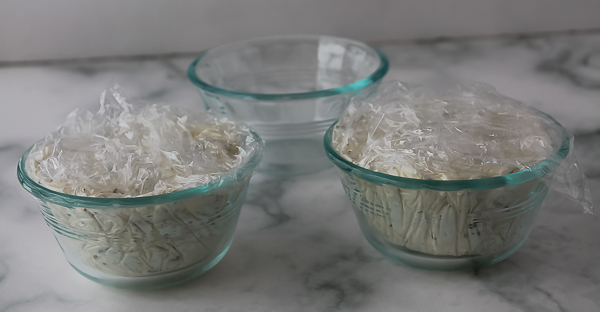 Purchased Boursin Cheese is delicious but rather expensive and it's not a huge amount, so why not make your own?  It's easy, fun to make, and will keep up to 2 weeks in the refrigerator before you serve it.
Two packages of softened cream cheese are mixed with a little whipping cream, crushed fresh garlic, caraway seeds, dried basil, and dried dill weed.  The mixture is divided into your desired size containers (I used small glass custard cups) that are lined with plastic wrap and the top covered well.  Chill and until firm.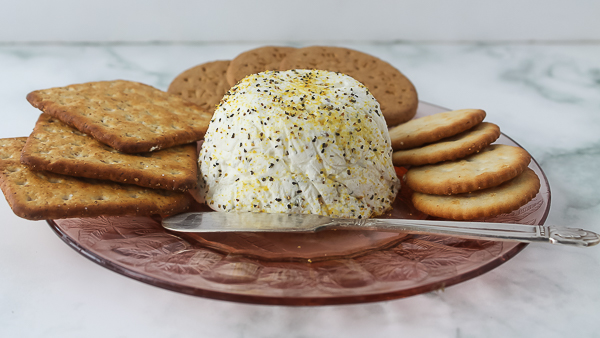 Before serving, sprinkle one all over with lemon pepper, and the other with more dried dill weed.  I found that the lemon pepper one is best with firm buttery type crackers, and the dill weed with thin rye crackers like Finn Crisp.  Place finished cheeses on a serving platter and bring to room temperature before serving to bring out the best flavors.
So easy, so good!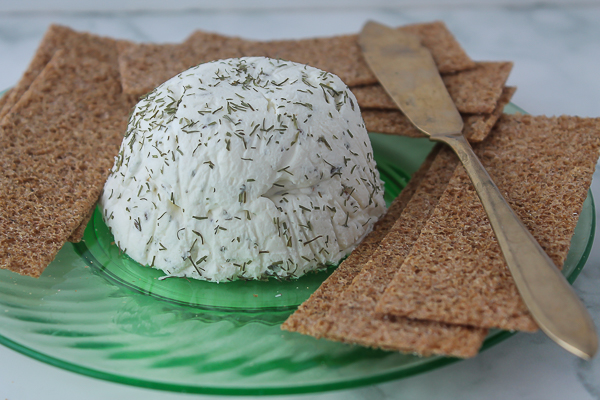 Mock Boursin
Author:
Sphere Magazine December 1977
Ingredients
2 packages (8 ounces each) cream cheese, softened
2 Tablespoons whipping cream
1 clove garlic, crushed
½ teaspoon caraway seeds
½ teaspoon dried basil leaves
½ teaspoon dried dill weed
Lemon Pepper and/or dried dill weed for sprinkling
Instructions
Beat all ingredients in electric mixer bowl (except for lemon pepper and additional dill weed for sprinkling) on medium speed until smooth, about 3 minutes.
Line with containers (about 3-1/2 diameter each) with plastic wrap with over hang. Press cheese mixture firmly into each lined container then pull up over hang to completely cover the top.
Refrigerate, keeping covered, for up tp 2 weeks.
To serve, lift up mixture holding the plastic over hang and invert onto a serving platter. Let come to room temperature before serving. Surround cheese with desired crackers or bread slices.
Note: The recipe suggested using cleaned out 7-1/2-inch cans for forming the cheese, but I found that any small container or ramekin worked fine too.