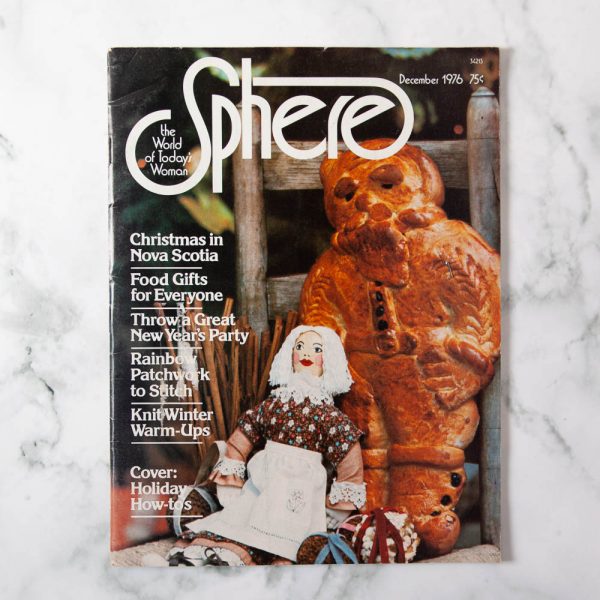 A festive dinner highlights this December 1976 issue with a Nova Scotian Christmas.  This coastal province of Eastern Canada hails the holiday in the spirit of their British ancestors.  This edible ode to Merry old England begins with oyster rolls, Stilton cheese with celery sticks, and a parsley soup.  It then progresses to a roast goose with apple stuffing and potatoes, accompanied by buttered Brussels sprouts and a turnip soufflé.  The customary desserts include mincemeat tartlets, an iced Christmas cake, and steamed Christmas pudding with a Brandy butter.
The next article is titled "Visions of Sugarplums," an array of gifts from your kitchen which will thrill your family and friends, especially when wrapped in attractive containers or wrappers to add to the holiday fun.  The Yuletide treasures go from beautiful pastel butter mints; coconut rum logs; marzipan cookies; and candied almonds, to Baba au Rum, antipasto, dill bread, cranberry orange nut bread, a spiced wine mix, tarragon vinegar, and an assortment of flavored butters.  There is something to please everyone.
I decided to make the super easy, no candy thermometer, double nut fudge.  One of the nuts used is black walnuts which were a favorite of my grandmother.  Black walnuts have a very unique and bold flavor, but if you can't find them regular walnuts will work.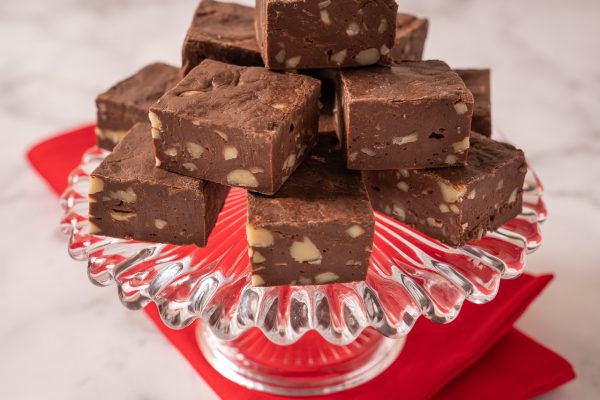 I couldn't believe how easy this fudge was to make.  It hardly took any time at all and is really, really good.  It has a wonderful creamy texture and one of those recipes I will make every year.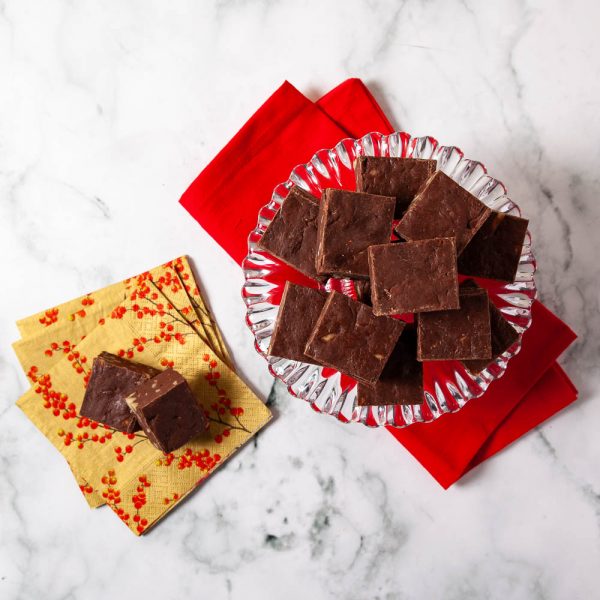 The last article was an elegant meal to bring in the New Year, with hopes of a much better 2021.  Put the madness of 2020 behind you starting with a hot wine punch, hot shrimp toasts, followed by a pastry-wrapped turkey that looks like a tuxedo.  No kidding!  How fun is that?  The pattern is even included with step-by-step instructions.  I've never seen such a decorated turkey.  Serve side dishes like a potato-cheese casserole, a broccoli medley with mushrooms, bacon, water chestnuts, and almonds; and mini popovers.  Dessert is Pears Melba in Meringue Shells.
But if you want a last minute gift idea or just something to enjoy yourself by a warm fire, make this easy and delicious fudge.  Who doesn't like fudge for Christmas?

Double Nut Fudge
Author:
Sphere Magazine December 1976
Ingredients
12 ounce package semisweet chocolate chips
6 ounce bar sweet milk chocolate
14 ounce can sweetened condensed milk
½ cup chopped black walnuts
½ cup chopped almonds
1 teaspoon vanilla
¼ teaspoon salt
Instructions
Line an 8-inch square pan with nonstick foil or waxed paper, leaving some overhang.
Melt chocolates in top of 2-quart double boiler. Cook over boiling water, stirring occasionally until smooth. Remove from heat. Stir in remaining ingredients until blended and smooth.
Spread fudge evenly into prepared pan. Let set at room temperature for a couple hours or until firm.
Invert fudge out onto a cutting board and peel off foil. Flip over and cut into serving size squares. Cover in plastic wrap and keep in a covered container or tin.